Harry & Meghan Netflix Docuseries: Trailer, Release Date
Prince Harry Recalls Royal Family Thinking Meghan Markle Was "Stealing the Limelight"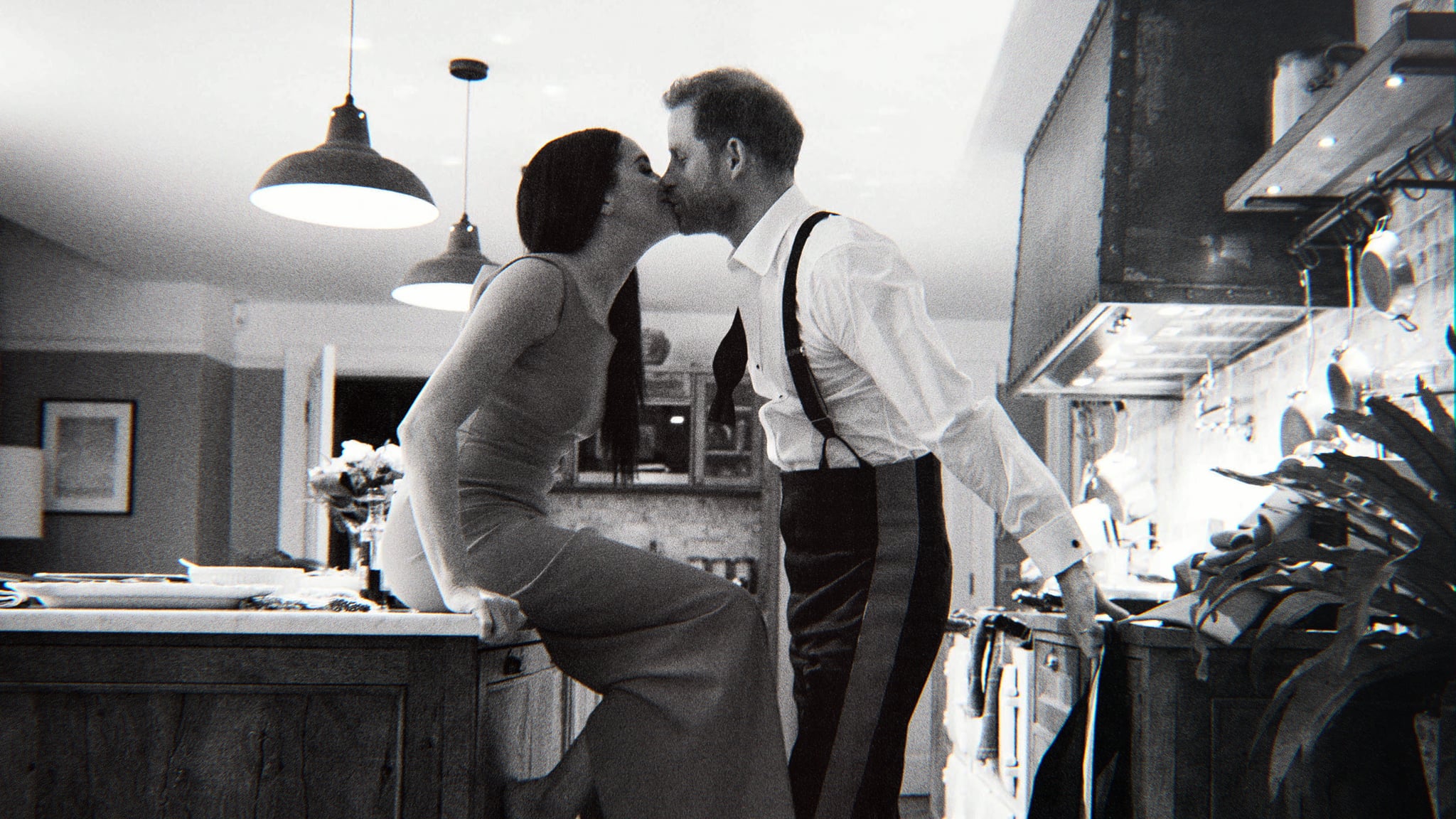 Image Source: Netflix
Meghan Markle and Prince Harry have laid out their side of their story in Netflix's "Harry & Meghan." The long-awaited six-part docuseries debuted in full on 15 Dec., revealing everything from the Sussexes' time with the royal family to the fallout of their exit. Leading up to the premieres of both parts of the documentary event, Netflix has released a series of teaser trailers and clips, the latest arriving on 15 Dec., the same day as part two of the docuseries.
"I wonder what would've happened to us had we not got out when we did."
The new preview opens with Harry discussing the aftermath of Markle marrying into the royal family and how she was perceived to be "stealing the limelight." "The first time the penny dropped for her, M and I were spent the night in a room in Buckingham Palace after an event where every single member of the family, senior members of the family, had been," he says. "And on the front page of The Telegraph, Meghan."
Other trailers for "Harry & Meghan" have teased similar narratives about Markle discussed throughout the docuseries. In a clip that Netflix shared on 14 Dec., Markle, her lawyer Jenny Afia, and her friend Lucy Fraser lay out the "coordinated campaign" that was run against the Duchess of Sussex in the British press to suit "other people's agendas." Markle explains, "A story about someone in the family would pop up for a minute, and they go, 'Gotta make that go away.' But there's real estate on a website homepage. There's real estate there on a newspaper front cover and something has to be filled in there about someone royal."
Meanwhile, another trailer for "Harry & Meghan" part two, released on 12 Dec., details the couple's decision to step down as senior royals and embark on a new life in California. "I wonder what would've happened to us had we not got out when we did," Harry says in the opening few seconds. As the couple talks about the difficult time that led to them leaving, Meghan says, "I wasn't being thrown to the wolves, I was being fed to the wolves." Harry adds they were victims of "institutional gaslighting" and knew they had to "get out."
While there were few big revelations surrounding the royal family in the first part of the docuseries, with much of the narrative recounting Harry and Markle's love story and the role of the media, part two is a bit more damning. "They were happy to lie to protect my brother. They were never willing to tell the truth to protect us," Harry adds in a clip.
However, as per an earlier teaser for part two, Markle and Harry also get a chance to discuss the joyous moments from their wedding. "I just really wanted the music to be fun," she explains. "Even our first dance."
"We're trusting our story to someone else, and that means it will go through their lens."
Harry and Markle's docuseries has been a long time coming. On 19 Oct., the latter gave a rare update on the project, directed by Liz Garbus, in her Variety cover story.
"It's nice to be able to trust someone with our story — a seasoned director whose work I've long admired — even if it means it may not be the way we would have told it. But that's not why we're telling it," Markle said of the docuseries. "We're trusting our story to someone else, and that means it will go through their lens."
Markle and Harry's multiyear Netflix deal was announced in September 2020, which includes the production of documentaries, docuseries, feature films, scripted shows, and children's programming. So far, the only other projects the couple has confirmed for the streamer are their other documentary centred on the Invictus Games and their since-canceled animated series titled "Pearl" (Netflix reportedly axed it due to a stock drop).
Harry and Markle's documentary was rumoured to be a reality TV series, but the couple previously slammed that idea in a statement provided to People. "The Duke and Duchess are not taking part in any reality shows," a spokesman said.
Following said rumours, Markle stressed the difference between a "historical documentary" and a "reality docuseries" in her August profile for The Cut, though she didn't specify which one her and Harry's Netflix project is. "The piece of my life I haven't been able to share, that people haven't been able to see, is our love story," she told the outlet of what it'll cover.
In her profile, Markle said that, at the time, she wasn't aware of what had and hadn't been confirmed about the docuseries, but she did take time to praise its director and share what likely inspired the project. "I will tell you, Liz Garbus is incredible," she said. ". . . When the media has shaped the story around you, it's really nice to be able to tell your own story."
Read ahead for everything else we know about Harry and Markle's documentary so far.
"Harry & Meghan" Netflix Docuseries Part 2 Teaser Clip 2
"Harry & Meghan" Netflix Docuseries Part 2 Trailer
"Harry & Meghan" Netflix Docuseries Part 2 Teaser
"Harry & Meghan" Netflix Docuseries Trailer
"Harry & Meghan" Netflix Docuseries Teaser Trailer
"Harry & Meghan" Netflix Docuseries Release Date
Netflix announced that Volume I will premiere on 8 Dec. and Volume II will premiere on 15 Dec. According to Deadline, Harry and Markle's documentary has been unofficially slated to debut on Netflix for quite a while, though that date has been thrown into question for a variety of reasons. The outlet noted that the streamer was shaken up after "attacks" from former Prime Minister John Major were aimed at "The Crown" season five. Major, as per CNN, reportedly referred to the Netflix drama's depiction of his time in office as "damaging and malicious fiction." "They're rattled at Netflix, and they blinked first and decided to postpone the documentary," a source told Deadline. Now, however, the series will continue on as planned. Reps for Archewell did not immediately respond to POPSUGAR's request for comment.