The Taylor Swift Eras Tour Ticketmaster Drama Explained
European Taylor Swift Fans Overwhelm Ticketmaster in Rush For Eras Tour Tickets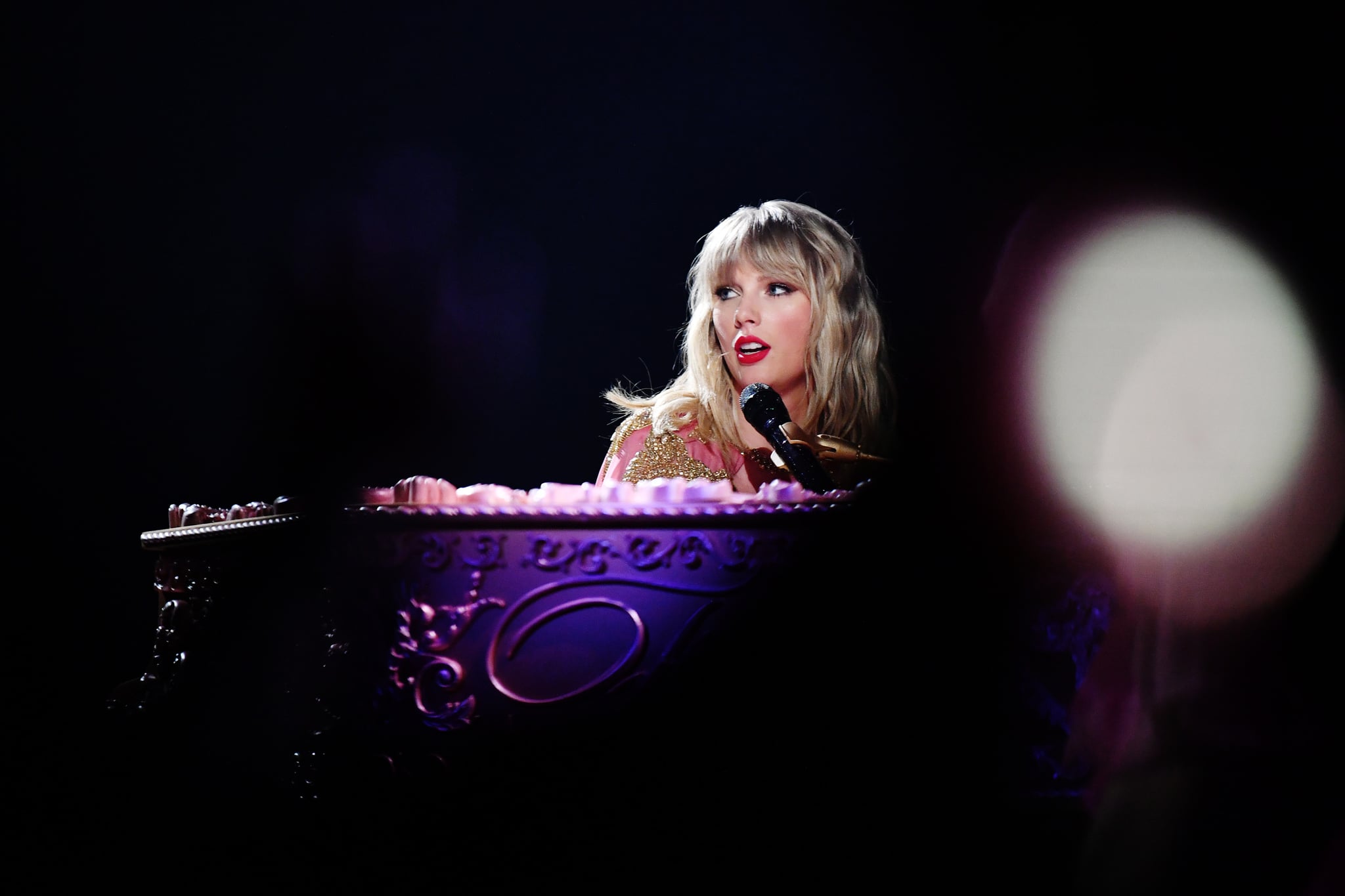 Image Source: Getty / Emma McIntyre / AMA2019
Everyone knew getting tickets for Taylor Swift's The Eras Tour was going to be a challenge. But no one — especially not Ticketmaster, the platform responsible for distributing said tickets — seemed remotely aware of just how messy the process would turn out to be. Now, it seems the mess is getting even bigger for Ticketmaster, as the Senate is set to hold a hearing that could potentially lead to Ticketmaster and Live Nation being broken up as a company.
Swift first announced The Eras Tour on 1 Nov., 2022, and added eight more dates on 4 Nov., 2022. Later, on 5 July, 2023, she announced additional dates in Europe, including stops in France, Germany, and Portugal. The fact that some brides considered changing their wedding dates to attend the tour foreshadowed the chaos that would come when tickets finally went on sale.
Ticketmaster's Verified Fan program allows people to register in advance and gain access to presale tickets. According to The Verge, more than 3.5 million people registered for the program in preparation for Swift's tour — the largest registration in the site's history — and about 1.5 million were given access to the presale. However, according to Ticketmaster, bots and fans without invite codes flooded the site when the presale opened on Nov. 15, 2022, causing the site to crash repeatedly — and evoking extreme ire among Swifties. Fans complained of hours-long wait times that resulted in technical glitches, as well as presale phases that were rescheduled or canceled.
On 17 Nov., 2022, Ticketmaster announced that the general sale wouldn't open at all. "Due to extraordinarily high demands on ticketing systems and insufficient remaining ticket inventory to meet that demand, tomorrow's public on-sale for Taylor Swift | The Eras Tour has been cancelled," the company tweeted.
Soon after tickets first became available on Ticketmaster, they went on sale all over resale sites — selling for £200 to over £19,000, per The Guardian. Even some of the few who did initially get to purchase tickets may have paid more than they expected because of a dynamic pricing model.
On 18 Nov., 2022, Swift took to Instagram Stories to address the controversy, writing a long statement that read, in part, "There are a multitude of reasons why people had such a hard time trying to get tickets and I'm trying to figure out how this situation can be improved moving forward." (Reps for Swift and Ticketmaster did not immediately respond to POPSUGAR's request for comment.) As of 3 Dec., 2022, fans have taken matters into their own hands and are preparing to sue Ticketmaster's parent company, Live Nation Entertainment, according to court documents obtained by Deadline.
On 12 Dec., 2022, an unknown number of fans who had been unable to purchase tickets through the Verified Fan program received an email that let them know they'd been given another chance, thanks to a request from Swift's team. "Congratulations, you have been selected to participate in a limited-time opportunity to request to purchase 2 tickets to Taylor Swift The Eras Tour," read the message, which some fans shared on social media. "You were selected for this opportunity because you have been identified as a fan who received a boost during the Verified Fan presale but did not purchase tickets," it continued. "We apologized for the difficulties you may have experienced, and have been asked by Taylor's team to create this additional opportunity for you to purchase tickets."
Months later, issues plagued Swift's additional round of European tour dates. On 11 July, 2023, when fans logged into Ticketmaster to fight for tickets to Swift's six planned shows in France, they were met with an announcement that ticket sales had been postponed. "The 9 a.m. and 11 a.m. Eras Tour for Paris La Défense Arena has been put on hold. We will keep you posted with a new on-sale time as soon as possible," Ticketmaster announced via Twitter. It added that "all codes not already used will remain valid."
Ahead, here's everything you need to know about how this all happened.
What Is Dynamic Pricing?
In the wake of the presale issues, fans took aim at dynamic pricing, which Swift has reportedly embraced. (Swift also used dynamic pricing for her 2018 tour — as did Bruce Springsteen for his 2023 tour, which led to tickets that cost over $5,000.) Essentially, dynamic pricing means ticket prices can shift based on demand. "In some instances, events on our platform may have tickets that are 'market-priced,' so ticket and fee prices may adjust over time based on demand," Ticketmaster's FAQs read. "This is similar to how airline tickets and hotel rooms are sold and is commonly referred to as 'Dynamic Pricing.'" In the case of The Eras Tour, because of dynamic pricing, some fans were reportedly faced with tickets that cost thousands of dollars after waiting in line for hours, according to Paper.
Why Federal Lawmakers Are Taking Notice
Naturally, Swift fans were irate — but the debacle also caught the attention of federal lawmakers, with some calling for Ticketmaster to be investigated for violating antitrust laws.

"Daily reminder that Ticketmaster is a monopoly, it's merger with LiveNation should never have been approved, and they need to be reigned in," Rep. Alexandria Ocasio-Cortez tweeted on 15 Nov.
Daily reminder that Ticketmaster is a monopoly, it's merger with LiveNation should never have been approved, and they need to be reigned in.

Break them up.

— Alexandria Ocasio-Cortez (@AOC) 15 November, 2022
"Taylor Swift's tour sale is a perfect example of how the Live Nation/Ticketmaster merger harms consumers by creating a near-monopoly," tweeted Sen. Richard Blumenthal of Connecticut. He then went on to quote Swift, writing, "Consumers deserve better than this anti-hero behavior."
Consumers deserve more options, better prices, & fewer barriers to the music & artists we know & love. DOJ would've, could've, should've done (& still can do) so much more to investigate the state of competition in the live entertainment/ticketing industry.https://t.co/aMYXtnqwvr

— Richard Blumenthal (@SenBlumenthal) 17 November, 2022
On 17 Jan., 2023, Reuters reported that the Senate Judiciary Committee will hold a hearing on the lack of competition in the ticketing industry on 24 Jan., 2023, called "That's The Ticket: Promoting Competition and Protecting Consumers in Live Entertainment" as a result of Swift's Eras tour ticketing fiasco.
"The issues within America's ticketing industry were made painfully obvious when Ticketmaster's website failed hundreds of thousands of fans hoping to purchase tickets for Taylor Swift's new tour, but these problems are not new," said Senator Amy Klobuchar about the issue. "We will examine how consolidation in the live entertainment and ticketing industries harms customers and artists alike." Klobuchar believes Ticketmaster and Live Nation Entertainment should be broken up by the Justice Department if any misconduct is uncovered through their investigation.
Ticketmaster's Controversial History Within the Live Music Market
Ticketmaster merged with Live Nation in 2010. Even before that, Ticketmaster was the largest ticket sales platform in the United States, per a report from Northeastern University, and its merger with the world's largest concert promoter meant that the site has maintained a veritable stronghold on concert tickets. Today, according to the report, ticket prices are higher than ever before, and the platform's service fees can nearly equal the prices of some tickets.
Before Ticketmaster and Live Nation took over, the live music business was more locally managed. "There was this history of regional promoters, regional markets, which really paid attention to the regional genres and music scenes," said David Herlihy, coordinator of Northeastern's music industry program. But Ticketmaster started becoming more powerful during the Clinton era, when the government loosened some of its policies on media acquisitions.
Artists have been fighting back against Ticketmaster since as early as 1994, when the band Pearl Jam filed a civil complaint with the Justice Department in response to the platform's excess fees, leading to an investigation that went nowhere, per the Independent. Subsequently, the band went on tour and played only non-Ticketmaster affiliated venues, but finding these venues was a challenge, and major cities like New York were near impossible to book. As a result, the tour was extremely expensive for the band, and they eventually returned to Ticketmaster.
Ticketmaster has also been in trouble more recently. In January 2023, the site was hit with a class-action lawsuit for "predatory and exclusionary conduct," with lawyers for the plaintiffs arguing that Ticketmaster was withholding artists from venues not using Ticketmaster as their primary sales platform, per Rolling Stone, despite previously agreeing not to.
Now, Swift fans are calling for Ticketmaster's demise. "ticketmaster owns livenation, seatgeek, iheartradio, sirius xm, pandora radio, and several stadiums like a tweet from taylor alone isn't gonna fix this," one Twitter user wrote. Others celebrated young fans' sudden interest in monopolies. "Swifties being radicalized against monopolies and getting ready to do some anti-trust lobbying good luck ticketmaster," writer Elamin Abdelmahmoud tweeted.
What Actions Are Being Taken Against Ticketmaster?
On 3 Dec., 2022, Deadline obtained documents that revealed that over two dozen fans of Swift are preparing to sue Live Nation Entertainment, arguing that Ticketmaster had violated the Cartwright Act and Unfair Competition Law, and accusing them of fraud, misrepresentation and fraudulent inducement. "Based on information and belief, Ticketmaster has effectuated this anticompetitive scheme by forcing fans of musicians to exclusively use Ticketmaster for presale and sales prices, which are above what a competitive market price would be," the lawsuit alleges, arguing that the website "intentionally and purposefully mislead ticket purchasers" by allowing "scalpers and bots" into the presale.
Additionally, Sen. Amy Klobuchar, who is the chair of the Subcommittee on Competition Policy, Antitrust, and Consumer Rights, has announced her intention to take action against Ticketmaster. "Ticketmaster's power in the primary ticket market insulates it from the competitive pressures that typically push companies to innovate and improve their services," she wrote on her website, adding she had sent a letter to Ticketmaster President and CEO Michael Rapino expressing her worries.
Meanwhile, Tennessee Attorney General Jonathan Skrmetti has also declared that he is looking into Ticketmaster, per ABC. "We have received complaints about the sale process, and we have previously looked into antitrust allegations involving Ticketmaster and Live Nation. We want to make sure that there are no issues here that merit legal response," he said at a 16 Nov., 2022, press conference.
According to The New York Times, Ticketmaster is also currently being investigated by the Justice Department, though the outlet said the investigation predates the Eras Tour ticketing issues.
The youth activism organisation Voters of Tomorrow has also launched its own antitrust initiative, called Swifties Working to Increase Fairness from Ticketmaster — also known as S.W.I.F.T. "We know all too well what happens when big corporations control high-profit industries like ticket sales: consumers suffer," the organization tweeted. "Now that they've brought Taylor into this, they're going to see just how angry we are."
Has Taylor Swift Addressed the Ticketmaster Controversy?
In a statement shared on her Instagram Story on 18 Nov., 2022, Swift addressed the week's events.
"Well. It goes without saying that I'm extremely protective of my fans. We've been doing this for decades together and over the years, I've brought so many elements of my career in house," she wrote. "I've done this SPECIFICALLY to improve the quality of my fans' experience by doing it myself with my team who care as much about my fans as I do. It's really difficult for me to trust an outside entity with these relationships and loyalties, and excruciating for me to just watch mistakes happen with no recourse."
She continued: "There are a multitude of reasons why people had such a hard time trying to get tickets and I'm trying to figure out how this situation can be improved moving forward. I'm not going to make excuses for anyone because we asked them, multiple times, if they could handle this kind of demand and we were assured they could. It's truly amazing that 2.4 million people got tickets, but it really pisses me off that a lot of them feel like they went through several bear attacks to get them. And to those who didn't get tickets, all I can say is that my hope is to provide more opportunities for us all to get together and sing these songs. Thank you for wanting to be there. You have no idea how much that means."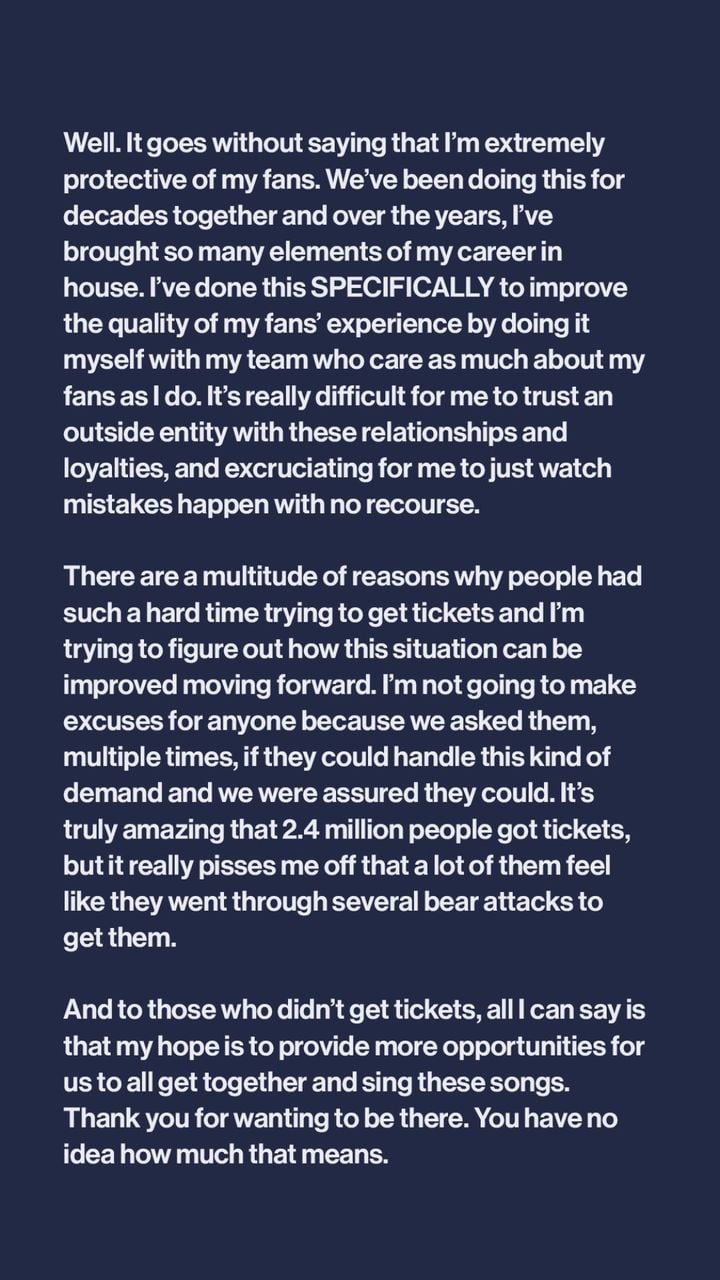 Image Source: Instagram user taylorswift
Swift is also taking action to make sure angry fans get their due. As of 12 Dec., 2022, a select number of fans who had initially attempted to buy tickets received a note from Ticketmaster letting them know that they'd have another shot — all thanks to Swift, of course. "We apologize for the difficulties you may have experienced, and have been asked by Taylor's team to create this additional opportunity for you to purchase tickets," the message read. The note added that fans would be able to purchase tickets sometime before Dec. 23, 2022, with opportunities issued based on tour dates, and promised that more information was on the way.