Usher's My Way Las Vegas Residency at Park MGM
Usher's Las Vegas Residency Is a Master Class in Showmanship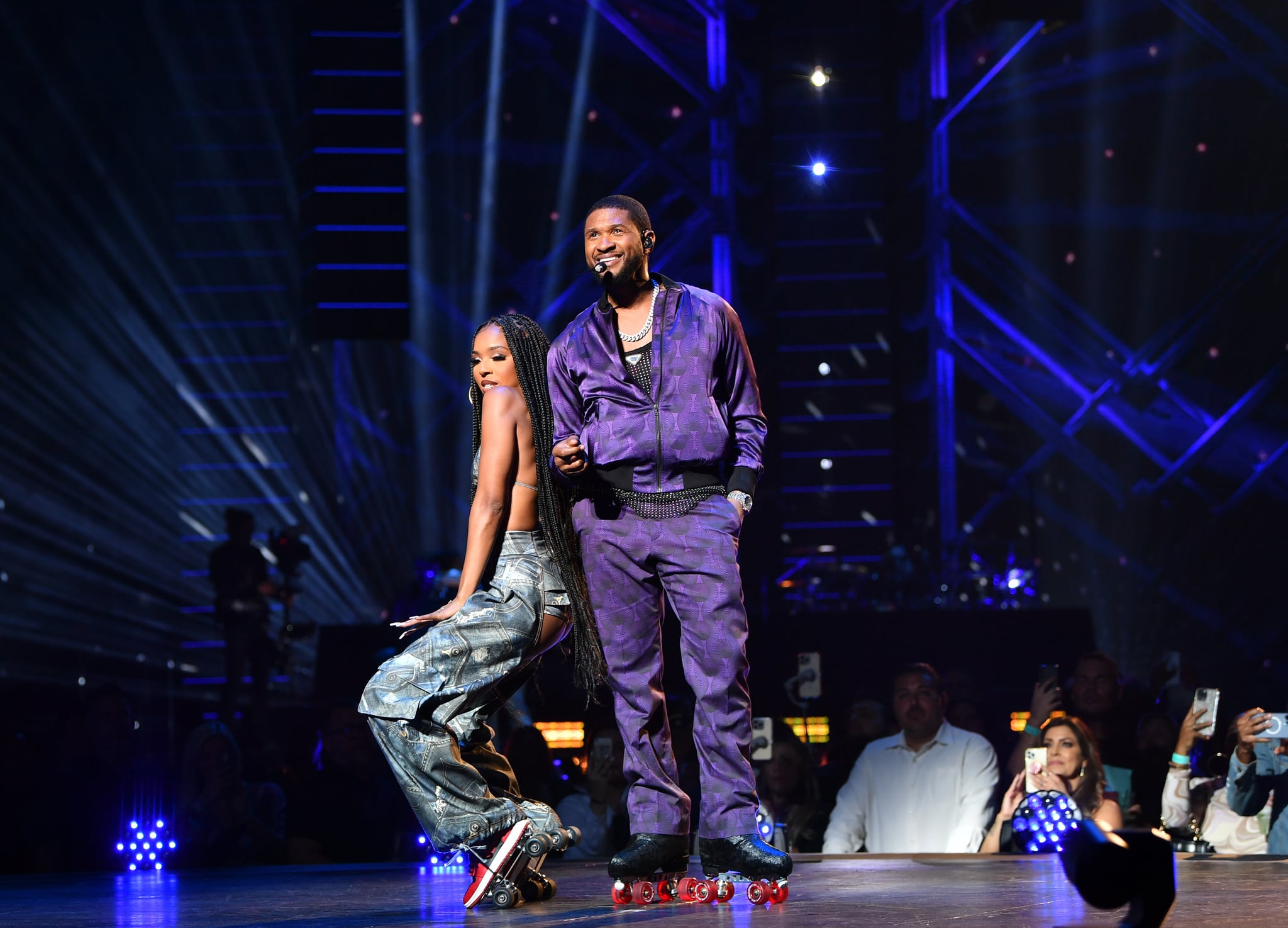 If you plan to attend Usher's "My Way" Las Vegas residency, you'll want to arrive early because you don't want to miss the preshow dance party courtesy of his unmatched fans. As I walked into the Park MGM arena for the show I was attending in late June, my ears were greeted with classic R&B and hip-hop songs like Tevin Campbell's "Can We Talk" and Miguel's "Adorn You" as a DJ encouraged us to stand, dance, and sing along with the rest of the audience. Usher's dancers even came out and interacted with the audience, inviting some lucky attendees to dance with them on stage. The vibes felt more like a house party with all of my best friends than a concert surrounded by strangers. So much so that I didn't even realise the show was starting.
While the title of Usher's residency, "My Way," may be misleading in that its set list spans a lifetime of his music, not just his seminal 1997 album of the same name, it's fitting in that it's clear the show was, in fact, done Usher's way from start to finish. It became instantly clear why the show — frequented by countless celebrity A-listers, from Zendaya and Keke Palmer to the Kardashians and Floyd Mayweather — is held in such high regard by those who attend: the show isn't simply a rundown of Usher's discography; it's a celebration of his unmatched legacy, his mastery of all forms of dance, and yes, a nostalgic walk down memory lane for anyone who grew up loving his music.
Usher kicks off his two-hour show fittingly with "My Way," followed by a medley of some of the most iconic classics from his 30-year career, like "Caught Up," "U Don't Have to Call," and "Love in This Club." As he traverses through his discography, he truly lets his love of dance shine as styles you may not have ever imagined in concert are incorporated into the show. Everyone gasped when Usher and his dancers emerged onto the stage in roller skates for their performances of "Don't Waste My Time" and "I Don't Mind."
The veteran musician had no problem letting other artists shine, too. In one scene-stealing moment during "Bad Girl," Usher's dancer Maria Jade took centre stage in a pole-dancing solo that could make you forget you were at an Usher show. At one point, she flipped upside down on the pole and clapped her legs together to the song's beat repeatedly in what could only be described as an athletic feat.
Later, he entered the audience as he incorporated his remix of Muni Long's "Hrs & Hrs" into the show for an up-close and personal performance. Of course, he didn't disappoint in the serenade department. Mayweather was in attendance with his girlfriend, whom Usher serenaded with "There Goes My Baby." Unlike like the case of Keke Palmer's boyfriend, Darius Jackson, Mayweather was seemingly a good sport about it.
Usher's show incorporates all the best of R&B showmanship into a performance package that is truly unmatched, including his willingness to go off script in the name of working the audience. But he's also not afraid to dial things back. As my show came to a close, he leveled with his fans in the audience, opening up about a close family member who'd played a significant role in his upbringing as an artist who had recently passed away. As he sang the opening lyrics of his final song, "Without You," he didn't hold his tears back, proving that — beyond the impeccable vocal technique and professional dance skills he and his dancers displayed throughout the night's traversal through the music icon's discography — Usher's performances pack an emotional and intimate touch that many artists struggle to achieve (this, even as dollars with Usher's face on them rain down around you).
If you have plans to visit Las Vegas in the coming months, you will not regret snagging tickets to this phenomenal show. Usher has nine shows left to perform at Park MGM throughout October, with his residency wrapping up on Oct. 28 (though fans are hoping he extends it one more time).
Usher's "My Way" Las Vegas Residency Set List
While Usher's set list is rarely the same from night to night, considering how many covers and duets he introduces into the show depending on who's in attendance, these are the Usher classics you can probably count on him performing if you attend.
"Caught Up"
"U Don't Have to Call"
"Love in This Club"
"Lil' Freak"
"Lovers and Friends"
"Don't Waste My Time"
"I Don't Mind"
"Bad Girl"
"Good Kisser"
"My Boo"
"Superstar"
"Can U Handle It?"
"There Goes My Baby"
"Hey Daddy (Daddy's Home)"
"I Need a Girl (Pt. 1)"
"Trading Places"
"U Remind Me"
"You Make Me Wanna..."
"Throwback"
"U Got It Bad"
"Nice & Slow"
"Climax"
"Burn"
"Confessions"
"Confessions Part II"
"DJ Got Us Fallin' in Love"
"OMG"
"Yeah!"
"Without You"
Usher's "My Way" Las Vegas Residency Photos