Who Plays M3GAN?
Here's How the Filmmakers Behind "M3GAN" Brought the Creepy Doll to Life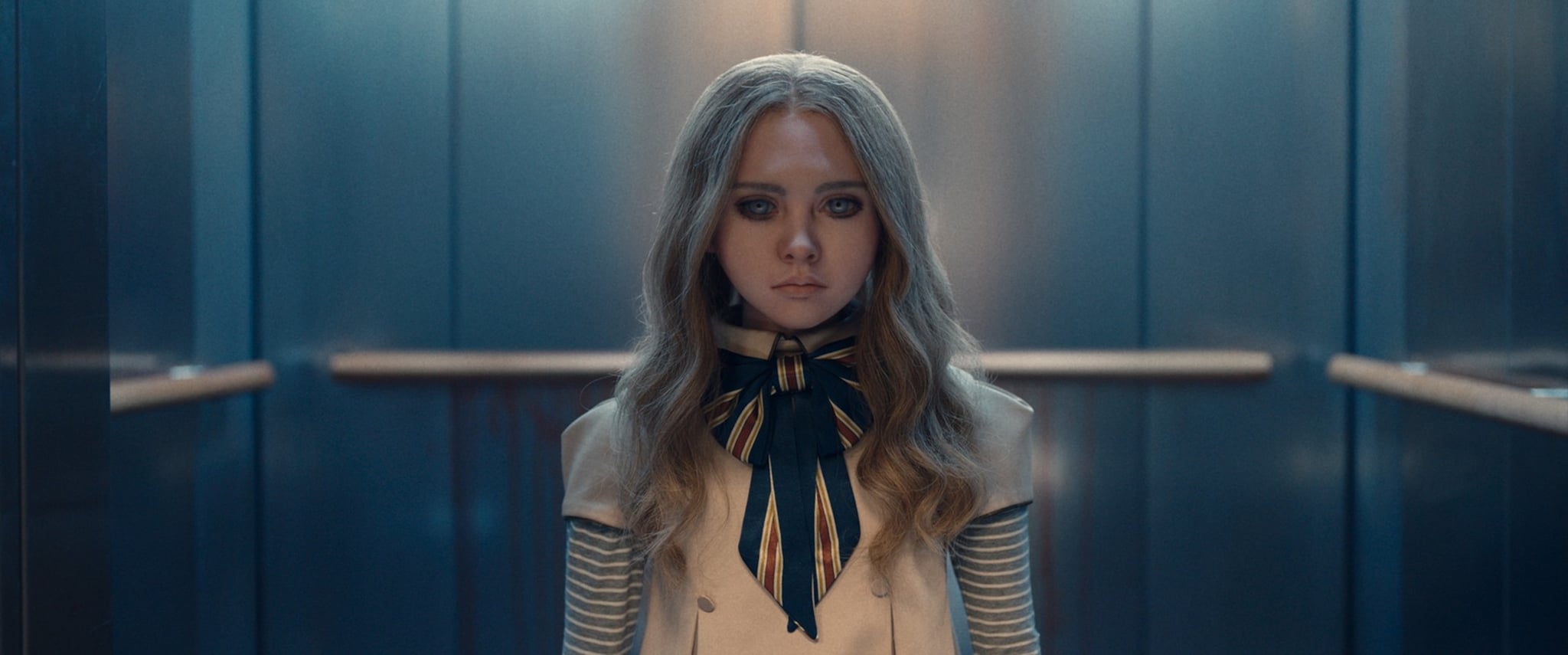 "M3GAN" is the new horror movie about a terrifying AI doll who terrorizes those around her, and it's just as scary and creepy at the trailer promised. M3GAN stands for model 3 generative android and, in the world of the film, she's 100 percent robot. But real life technology hasn't gotten quite as far as the movie would make you think, which might have you wondering how the M3GAN doll came to life. The answer is a combination of acting, puppeteering, and movie magic. Ahead, we're breaking down how she came to grace screens.
Is M3GAN a Puppet?
So far, the "M3GAN" filmmakers have been pretty tight-lipped about how they made the doll. But the Hollywood Reporter reported on Dec. 8 that the film used a real robotic prototype for some of the M3GAN scenes. Violet McGraw, who plays Cady, whose Aunt Gemma (Allison Williams) gives her the M3GAN doll, told the outlet, "They made an actual robot and had a puppeteer team that would make her eyes blink and move her arms and mouth."
Producer James Wan also told THR that making the M3GAN doll look good was the biggest challenge going into the movie. "We've made mistakes before with special effects and so we did not start pre-production until we had M3GAN down perfectly," the horror veteran said. "We worked on M3GAN for a year to figure out how much practical effects, how much VFX and how much CGI we wanted to use to create it. Sometimes we wanted the audience to forget that she was a robot and other times we wanted them to remember that she was a robot."
In a Jan. 3 interview, director Gerard Johnstone also admitted how tough it was to make M3GAN look good on screen, telling Collider he was "naive" about it heading in. "It was just such a fun concept that I didn't really think about how challenging it was going to be to bring this thing to life that we don't quite have the technology for yet, but we will, maybe, in five or 10 years' time," he explained.
Who Plays M3GAN?
However, the on-screen M3GAN isn't always the puppet doll. Sometimes, it's 12-year-old Amie Donald wearing a mask and gloves to look like plastic. It's not clear what scenes used the robot puppet and which used Donald, but it seems likely that M3GAN's viral dancing from the trailer was Donald, since she's a talented dancer, as she often shows off on Instagram.
And though Donald plays the evil villain and McGraw is her unwitting victim, McGraw told THR that they became "best friends" because of how much time they spent together on set. "We became so close and would hang out on and off set, on our lunch breaks. Amie is the sweetest person you will ever meet and she's definitely one of my best friends," the 11-year-old said. But Donald didn't provide the voice for M3GAN.
Who Voices M3GAN?
M3GAN is voiced by Jenna Davis, an actor and singer with over 2 million Instagram followers and 2 million YouTube subscribers. The 18-year-old also previously appeared on Disney Channel's "Raven's Home." She kept her involvement in the project a secret until the trailer debuted last October. She posted a YouTube video of her friends reacting to hearing her voice in the trailer for the first time.