The Woman in the House: Kristen Bell Hints at the Killer
Even The Woman in the House Cast Didn't Expect That Big Twist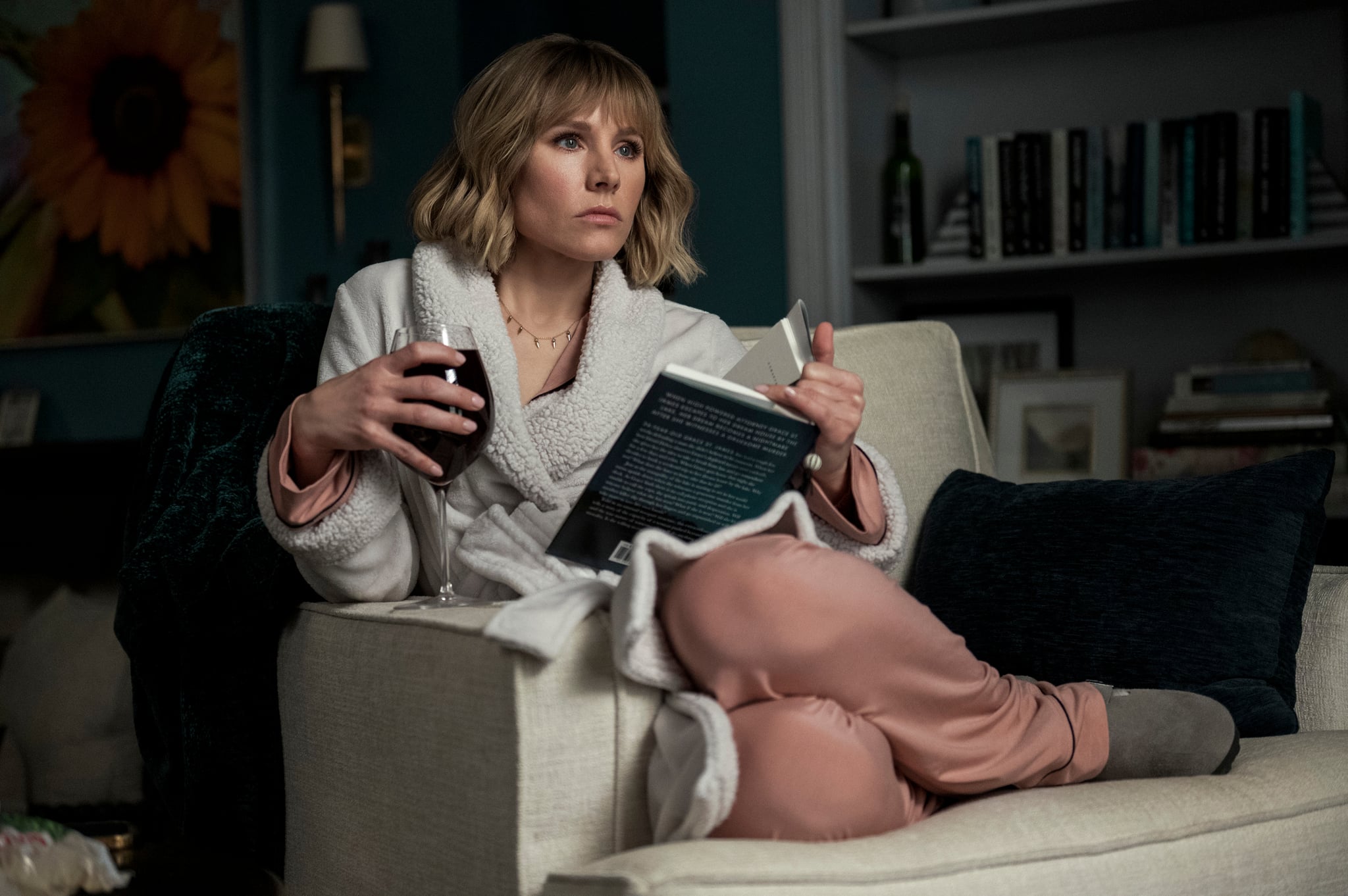 Netflix's The Woman in the House Across the Street From the Girl in the Window is a murder mystery unlike any other. On the surface, it's a dark comedy packed with perfectly placed innuendos and a sentimentality that keeps us hooked between the laughter and endless glasses of red wine. But at its core, the show is more than a satirical take on the typical psychological thriller. It's a beautifully-executed series that will have you asking yourself, "What the hell did I just watch?" and even the cast wasn't prepared for the chaos that ensued.
The series, inspired by A.J. Finn's 2018 novel The Woman in the Window, is the story of Anna Fox (Kristen Bell), a heartbroken mother and wife who attempts to numb her pain away with pills and copious glasses of wine. Once Neil (Tom Riley), a charming, handsome single dad, moves in across the street with his daughter, Emma (Samsara Yett), Anna gets caught up in a gruesome murder investigation. What Anna doesn't know is that her bookish and pragmatic ex-husband, Douglas Whitaker (Michael Ealy), might have more to do with the mystery than she realises.
Stars Kristen Bell, Tom Riley, and Michael Ealy spoke with POPSUGAR ahead of the series premiere on Jan. 28 to offer a peek at what went on behind the scenes and their thoughts on the show's surprise finale. See what the cast has to say about the suspenseful series ahead.
What was your reaction when you read the finale's big twist?
"Reading [about the ending] was a shock," Riley says. "We shot all the episodes at once. So we knew by the time we'd started filming how it was going to end, but reading it, I didn't see it coming."
Were there any notable scenes that didn't make it to the final cut?
"There was a flashback sequence to the wedding dance between me and Kristen's character, and the version that we shot was probably a five-minute choreographed sequence between me and Kristen with all kinds of dance moves and stuff," Ealy says.
What do you think happens after that big cliffhanger in the finale?
"I need to call the writers before I answer that. I have no idea," says Bell, whose personal sleuthing skills include reading lips. Eager to solve more mysteries, Bell, who executive-produces the series alongside Will Ferrell, Jessica Elbaum, and Brittney Segal, adds that she hopes to see her character solve the finale's big mystery "within the first five minutes of episode one, and then we just go into another mystery, like murders follow my character around."
What was the funniest scene to film?
"There were two funny scenes to me," Bell says. "They were with [Ealy and Riley] and they were both attempting to be very romantic with dialogue that was difficult to get through and circumstances that were too absurd. The [first] scene was with Michael where we're outside and he brings me Red Vines and we have this lost-in-each-other's-eyes moment, and it's broken by this dog barking. And there's a scene with Tom where he's attempting to clean my casserole dish," Bell adds, winking playfully. "Then we had to manufacture our hands touching to spark a flame. With both scenes, it was just so difficult. These guys are really wonderful, but they're also really funny and goofy [so] it was hard to get through both of those."
What's one clue you'd give the audience to help suss out the killer?
Bell: There's no way that anyone will figure out who the killer is. It was [easier to predict] on The Good Place that we were in hell than it would be to predict this killer. I guess the only thing I can say is everyone's a suspect.
Ealy: I don't know if there is a clue that would really sell it. You have to really kind of watch everybody carefully because it's not who you think it is.
Riley: I don't want to give a clue. I want people to have absolutely no idea, to go in completely fresh and open to the potential that it could be anyone, because it could be — and is — anyone. Maybe more than one person.
Bell: Maybe it's no one . . .