Youngest Supermodels 2018
How Young Is Too Young to Rule the Runway?
Image Source: Getty / Peter White
In the United States, the average American can expect to retire from the workforce by the age of 63. If you are a model, you'd be lucky if you can make it to your 30th birthday before hanging up the heels and saying so long to the runway. The fashion industry has long been unabashed about its preference for young, fresh faces, especially on the runways of New York, Paris, London, and Milan, but with models strutting down catwalks at the age of 16 and ending their careers (or having their careers ended for them) by 28, has the industry gone too far when it comes to young models on the runway?
Last year was a breakout year for British teenager Hannah Motler (pictured above). Scouted at the age of 12, she was opening shows for Dries Van Noten and Versus Versace while walking in 24 shows for the Spring/Summer 2018 season by the age of 16. Gisele Fox, now 17, was just 16 when she breezed down runways for Prada, Calvin Klein, Dior and Hermès, and she's poised to be a runway regular.
At 16, Kaia Gerber's supermodel status is on the rise. The daughter of icon Cindy Crawford, Kaia made her runway debut in the Raf Simmons Calvin Klein Spring/Summer 2018 show just four days after her 16th birthday. Fast-forward to the beginning of 2018 and Kaia has donned everything from Tom Ford and Alexander Wang in New York to Chanel in Paris and Fendi in Milan, and her career is only just getting started.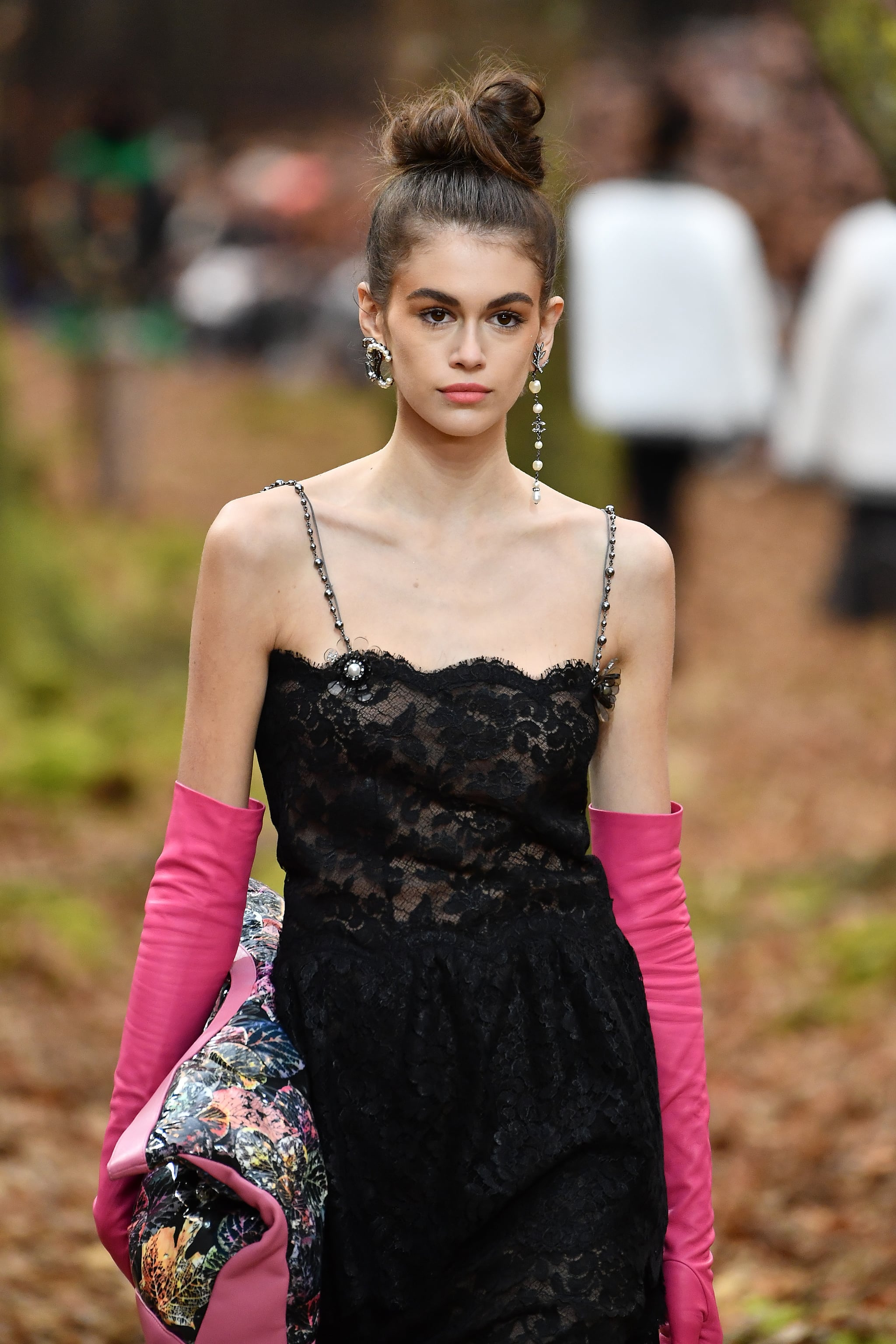 Image Source: Getty / Pascal Le Segretain
When asked about Kaia modelling at such a young age, Cindy told the Associated Press that she was more concerned with Kaia hitting the road than hitting the runway.
"My daughter just got her driver's licence. I'm a lot more concerned about her driving by herself than her entering the world of modelling," Cindy said. "In some ways, I wish I could have pushed it off a year or two. But she's 16. That's how old I was when I started, which is young, but in fashion that's kind of the normal age when people start."
Cindy's right. Models today may seem to be younger than previous generations, but the fashion industry's preference for teens that have barely reached legal driving age is far from a new occurrence. Younger models often have the tall, lean body type high-fashion brands adore, making younger models the ideal season after season.
Tyra Banks has been vocal about her early days of modelling, having started her career at 15 and becoming a sensation at Paris Fashion Week by the age of 18. Gisele Bündchen (pictured below, in the '90s) was just 14 when she began taking modelling seriously in her native Brazil, and she was just 17 when she hit the catwalk topless for Alexander McQueen's shower-themed Spring/Summer 1998 show. Instead of her topless Alexander McQueen moment causing a stir, Gisele became a star, and by 19 she was offered a contract with Victoria's Secret worth $25 million that catapulted her into becoming one of the highest-paid models of all time.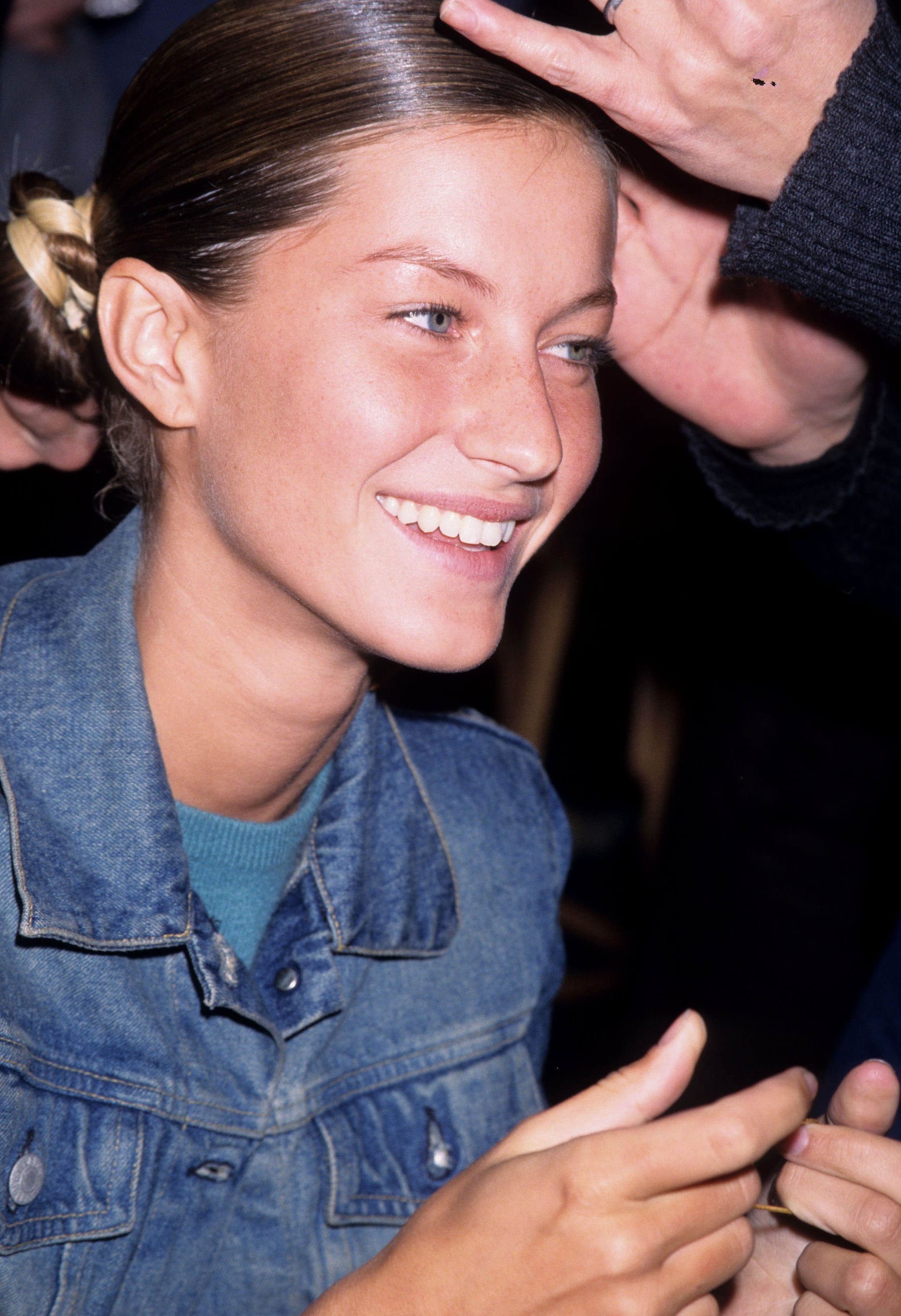 Image Source: Getty / Rose Hartman / WireImage
In July 2017 Lindsey Wixon, once a runway darling, retired at the age of 23 due to a foot injury, ending her career when others her age are landing their first jobs out of college. Lindsey started modelling at the age of 15 and by 2011 she was dubbed a "Supermodel at 17" by CNN, who followed the then-teenager's every move while she worked during Fashion Week and when she returned to her hometown.
Teenagers and children have been working in fashion and entertainment for as long as either industry has been in existence, and while there's nothing inherently wrong with young models hitting the runways, it can be difficult for teens to navigate the very adult world of high-fashion.
Two years ago, the International Journal of Eating Disorders published an extensive report that found that 62 percent of models felt pressured to lose weight, and while the survey was conducted on models over the age of 18, the fashion industry has long been plagued with stories of young models being driven to eating disorders to remain employable.
The risks for young models don't just stop at the potential of developing eating disorders. All models are at risk for unwanted sexual advances by professionals in the fashion industry, but teenage models are especially vulnerable.
In the wake of #MeToo and bringing awareness to sexual harassment and assault in the workplace, model and activist Cameron Russell took to her Instagram to share stories of models who had been sexually harassed and assaulted, with many of the stories coming from survivors who were victimized at the ages of 15 and 16.
Jennifer Sky, a former model who worked in the 1990s, shared a similar story of being abused between the ages of 14 and 17 with WWD.
"I was physically assaulted," Not only was I belittled by men and women on fashion sets, I was made to feel like just a prop. The thing is, maybe actors sign up for that. You sign up for a job that's tough and you're getting paid a certain amount, but these are little kids . . . The adults on the set should have been looking at us as children and thinking, 'Oh my gosh, we can't let this photographer talk to that little girl like that,'" Jennifer told WWD.
"She turned a blind eye as many of her clients, some as young as 15, were sexually assaulted or even raped by agents and photographers."
Meanwhile, former modelling agent Carolyn Kramer told The Huffington Post about her own role in enabling the abuse of models for years, as she turned a blind eye as many of her clients, some as young as 15, were sexually assaulted or even raped by agents and photographers.
In October 2013, New York passed a law aimed to protect models under the age of 18 by classifying them as child performers, requiring underage models to have a permit before doing any work. Under the law, models under the age of 16 must have a guardian on set or at a show, models must meet suitable academic standing, and employers must have a permit to work with underage models.
For its part, the Council of Fashion Designers of America, CDFA for short, has its own health initiative to help combat potential mistreatment of young models. Listed in its initiative is the request that CFDA members not hire models under 16 for runway shows, the request that models under the age of 18 not work past 10 p.m. for fittings or shoots, and the request that photographers and show producers consider using venues with areas where models can change in private.
Sara Ziff, a model and founder of a non-profit created to protect models from workplace abuse and hold businesses and abusers accountable called Model Alliance is working to protect models of all ages, but Lindsey Wixon might have had the right idea in 2014 when discussing the laws put in place by the city of New York with The New York Times. "I started at a really young age, but I think it's good to keep it at 18 and above. For some girls, it's a little too much pressure."