Spanx Suit Your Fancy Plunge Low-Back Bodysuit Review
This Spanx Bodysuit Is My Secret to Achieving the Perfect Going-Out Look
As POPSUGAR editors, we independently select and write about stuff we love and think you'll like too. If you buy a product we have recommended, we may receive affiliate commission, which in turn supports our work.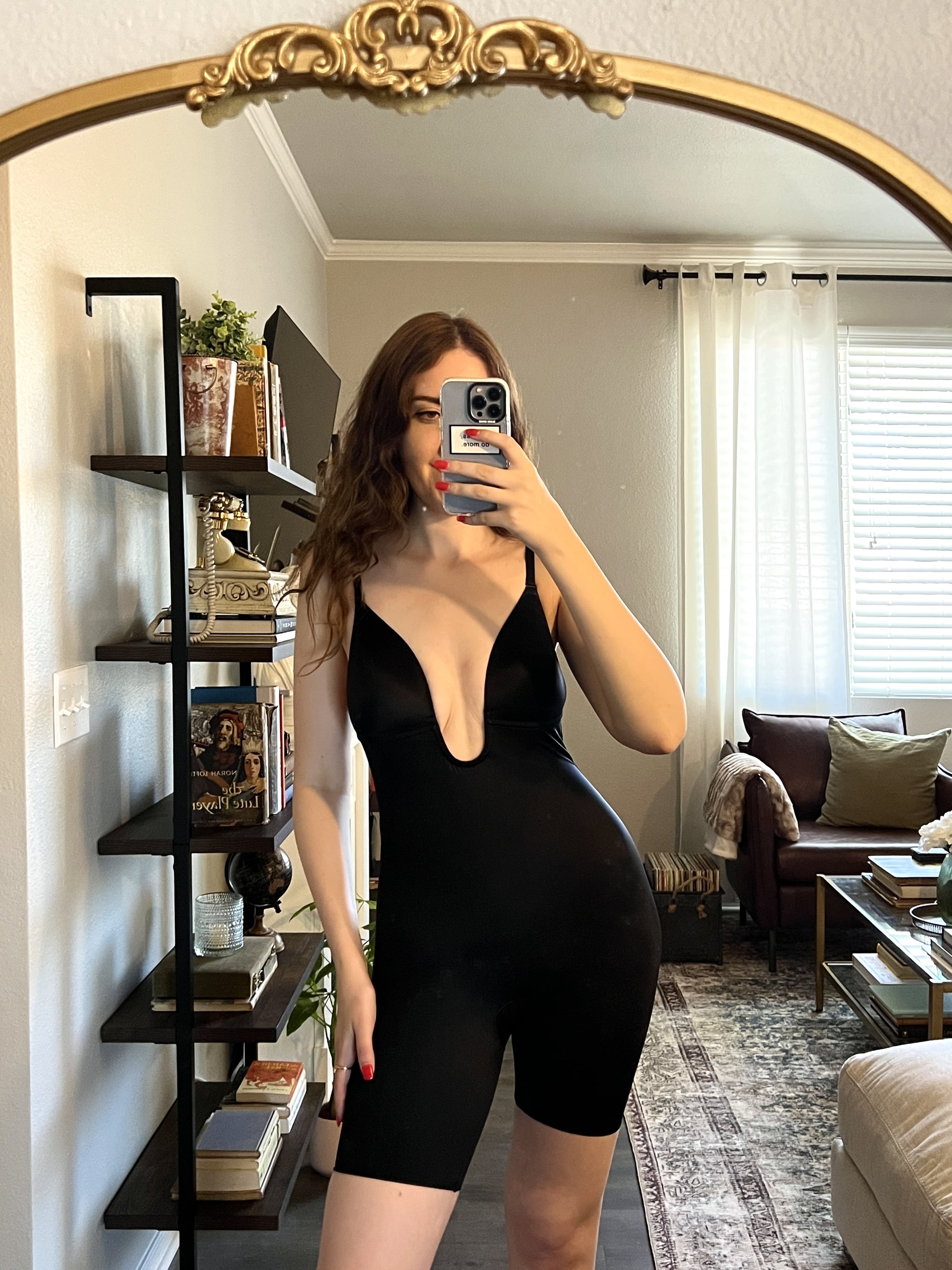 Long before bodysuits and booty-lifting leggings became staples in our fashion vernacular, there was Spanx — the clothing brand built by and for women, which has been credited with developing some of the most beloved undergarments in fashion today. While the label's reputation is most closely associated with shapewear, Spanx has managed to redefine the intimates category entirely by producing pieces that emphasise the importance of feeling and looking good — rather than just the latter.
Since its inception, Spanx has expanded into a number of different categories like activewear, clothing (faux-leather leggings FTW), and bodysuits which can be worn on their own or underneath your clothing for a more smoothed-out look. In the midst of a particularly busy season — filled with endless weddings, cocktail dates, and evening parties galore — I decided to test out Spanx's Suit Your Fancy Plunge Low-Back Mid-Thigh Bodysuit (£132) to see how it felt, looked, and most importantly, held up beneath my go-to bodycon cocktail dress. Keep reading for my honest review of Spanx's bestselling shapewear — and to see why it's the ultimate essential for creating the perfect going-out look.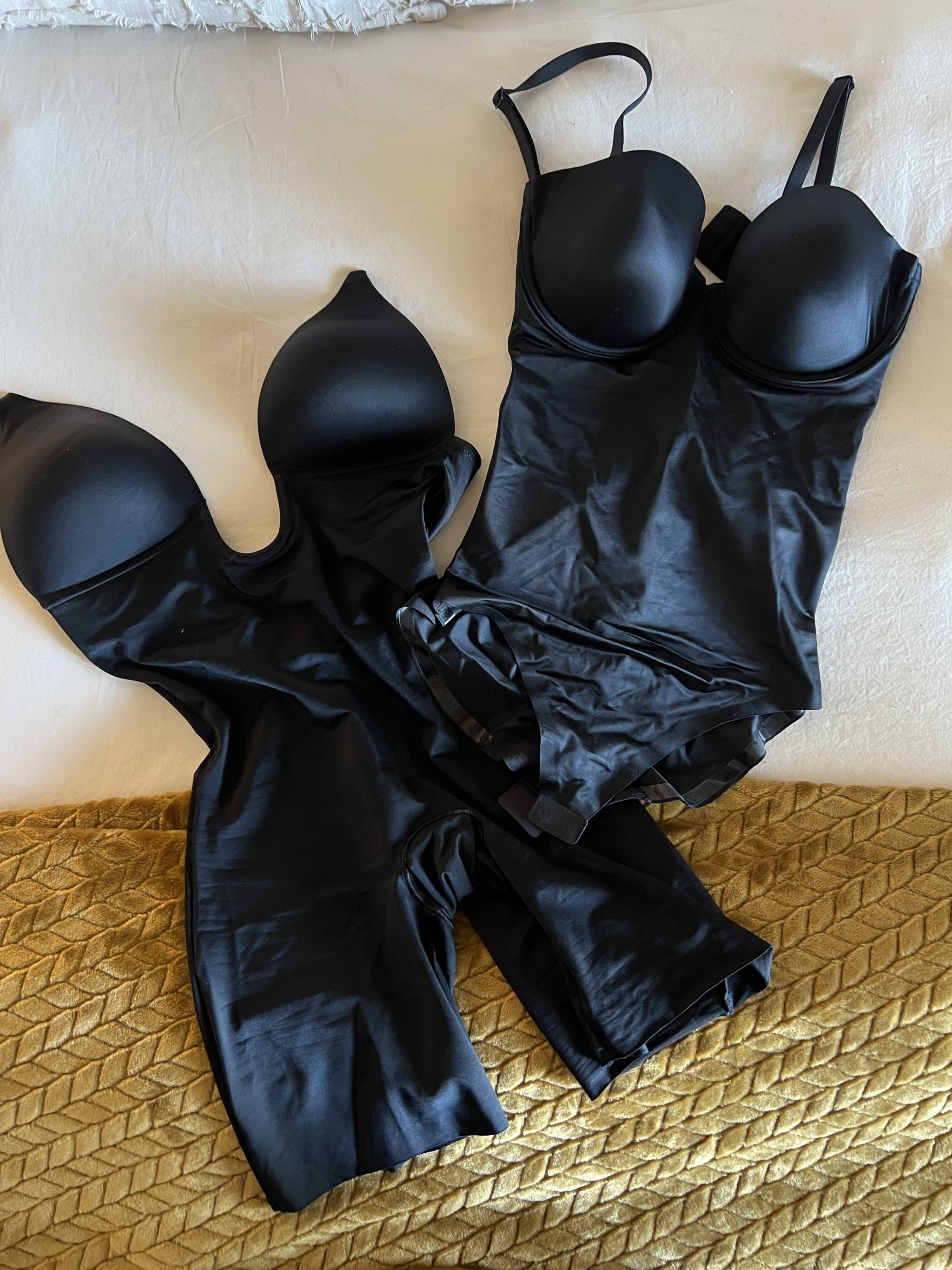 What I Like About This Spanx Bodysuit
The better question is what's not to like about this Spanx bodysuit? I have more of an hourglass figure with a small upper body, medium-size bust, and pretty rounded waistline — which means that shopping for shapewear (or really any kind of fashion) is complicated, to say the least. I've always struggled to find bodysuits that ticked all of my sizing boxes, were comfortable, and most importantly, were effective at helping me feel smoothed out and confident, even in my tightest bodycon dresses. After years of shopping and failing to find the perfect fit, this Spanx bodysuit has proven to be the exception.
My favourite thing about this thigh bodysuit is its versatile design. The style is fitted with five-way convertible straps that are adjustable and able to be contoured to work with a number of different silhouettes, including: traditional, halter, criss-cross, racerback, and narrow back. Unlike other shapewear pieces, this style boasts a low-back design, along with a U-neckline, both of which are ideal for teaming with lower necklines and strapless styles. The bodysuit is also crafted from a shaping fabric that's designed to conform to the body's frame and keep everything pulled together, all while helping to create a smoothed-out, universally flattering look.
Another amazing (albeit lesser known) detail on this Spanx bodysuit is the gusset accent which is located at the crotch area. Since there's never a romantic way to talk about going to the bathroom, let's just call the gusset design what it really is: a total lifesaver for work events, weddings, or pretty much any professional setting where you want to look pulled together while still having easy access to use the restroom (and all without having to take your bodysuit or dress of completely).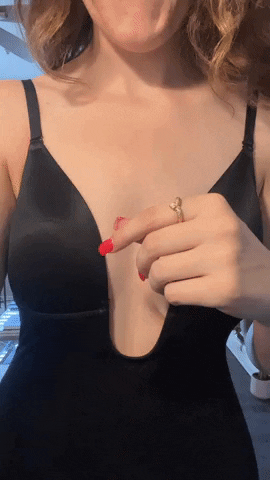 What's Worth Noting
As detailed on Spanx's website, this bodysuit features a lightly padded design that's great for providing basic bust coverage and keeping the nipple concealed — but it's not necessarily ideal for those with larger busts who are looking for more support up top. The intimate style features a compressive design that's tight-fitting and helps to keep everything pulled together. My bra size is a 32D and I found that my boobs fit comfortably within the bodysuit, and even had a subtle lift to them thanks to the style's snug fit. After I removed the straps in favour of a strapless design, the bodysuit's fit became noticeably looser up top. This didn't prove to be much of a problem for me since I layered the bodysuit underneath a bodycon dress with it's own built-in layer of bust support. However, if you're someone who has bigger boobs or just prefers more padded bust support, it might be better to shop out another bodysuit style that features built-in cups and is geared to your specific bra size — like Spanx's Suit Your Fancy Strapless Cupped Mid-Thigh Bodysuit (£132).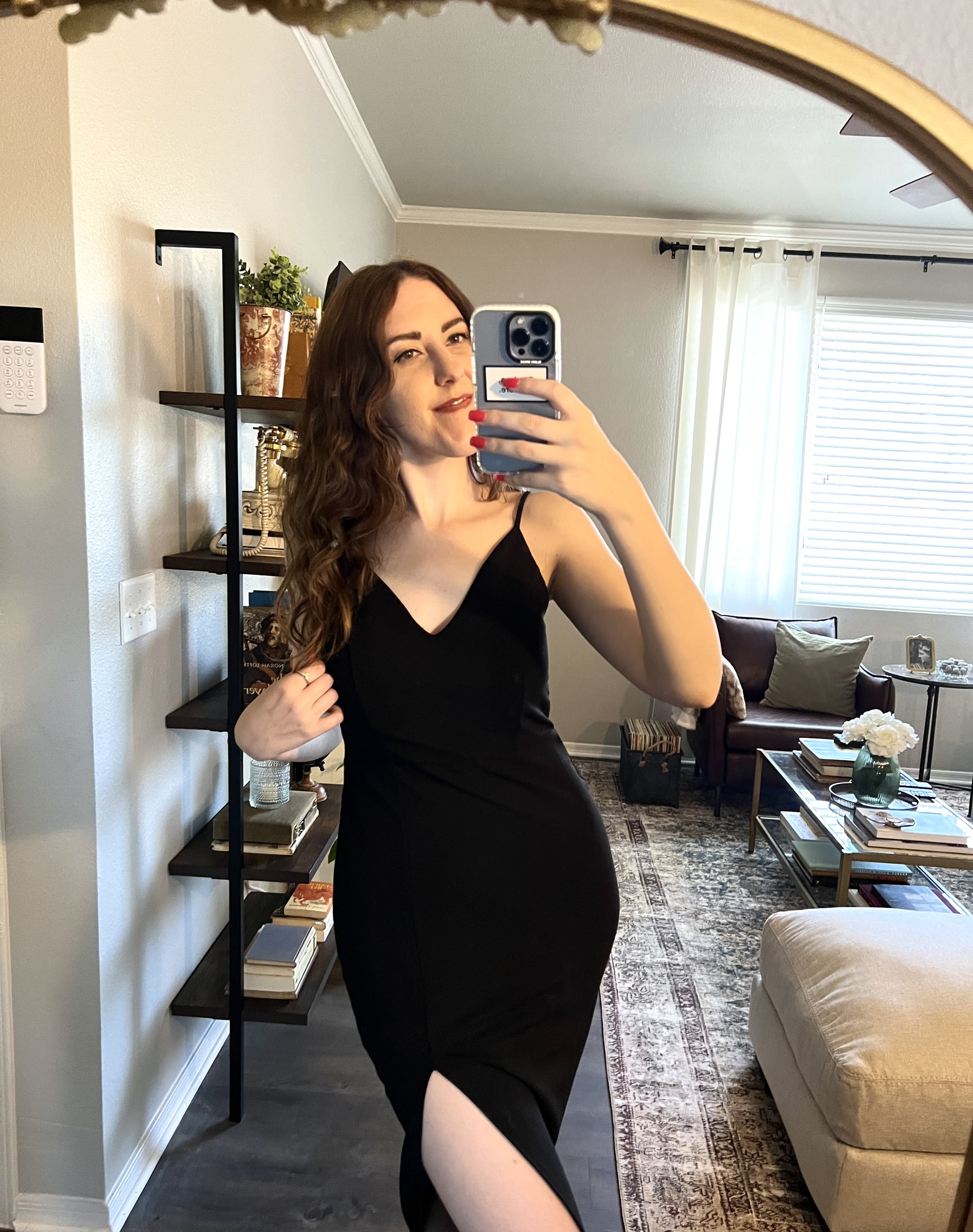 Who Is This Spanx Bodysuit Best For?
This bodysuit is perfect for anyone who wants to feel (and look!) their best in even the tightest ensembles. The style provides all the same benefits of typical shapewear — think a more smoothed-out, tucked-in feel that keeps everything pulled together — but via a more comfortable design that aims to conform to the shape of your body, rather than constrict or minimise it. While the bodysuit is made from a durable material that's built to last, it's still lightweight enough to be slipped underneath a body-hugging dress or jumpsuit, and won't show creases or lines through your outfit — almost like you'll forget that you're wearing it at all. Whether you're navigating a busy wedding season, are prepping your resort wardrobe ahead of your next holiday, or simply want to perfect your going-out look before your next date night, this Spanx shapewear is the ultimate undergarment to have for it all.
Additional Details
The bodysuit is available to shop in two colourways: very black and champagne beige.
This style is designed with versatility in mind and comes with adjustable straps that can be converted into five different ways, including: criss-cross, halter, traditional, narrow back, and racerback.
The bodysuit is available to shop in US women's sizes XS through XL, and shoppers are encouraged to reference Spanx's on-site size guide to find their perfect fit.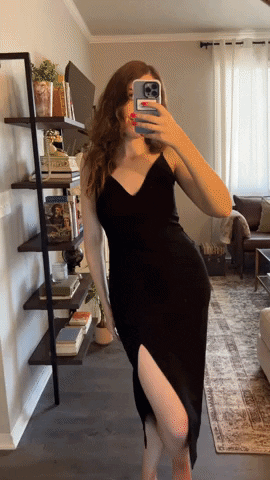 Where Can I Buy This Spanx Bodysuit?
This low-back bodysuit is available to shop at John Lewis.
Rating:
Image Source: POPSUGAR Photography / Kyley Warren