How Should My Swimsuit Fit?
How Should a Swimsuit Really Fit? We Talked to the Experts
I have two older sisters, Cindy and Dezré. Cindy, like me, is pear shaped. Dezré's body is what you would call rectangular shaped. We often wonder if women have body image issues because we're constantly being compared to food or shapes. Suffice it to say, relationships with our bodies can be complicated and swimsuit shopping can be a headache, especially in 2020 when the majority of our shopping is done online (by the way, there are pros to online swim shopping: you get to avoid poor dressing room lighting and overwhelming sales floor associates creating pressure to decide on a suit right then and there.)
Whether you're shopping online or in store, it's imperative you know your perfect fit. Thankfully, despite each shopper's unique body and experience, there are a couple of universal practices that swim experts swear by. Read on for the advice straight from swim designers, buyers, and merchandisers to discover how you should shop to find your best fit.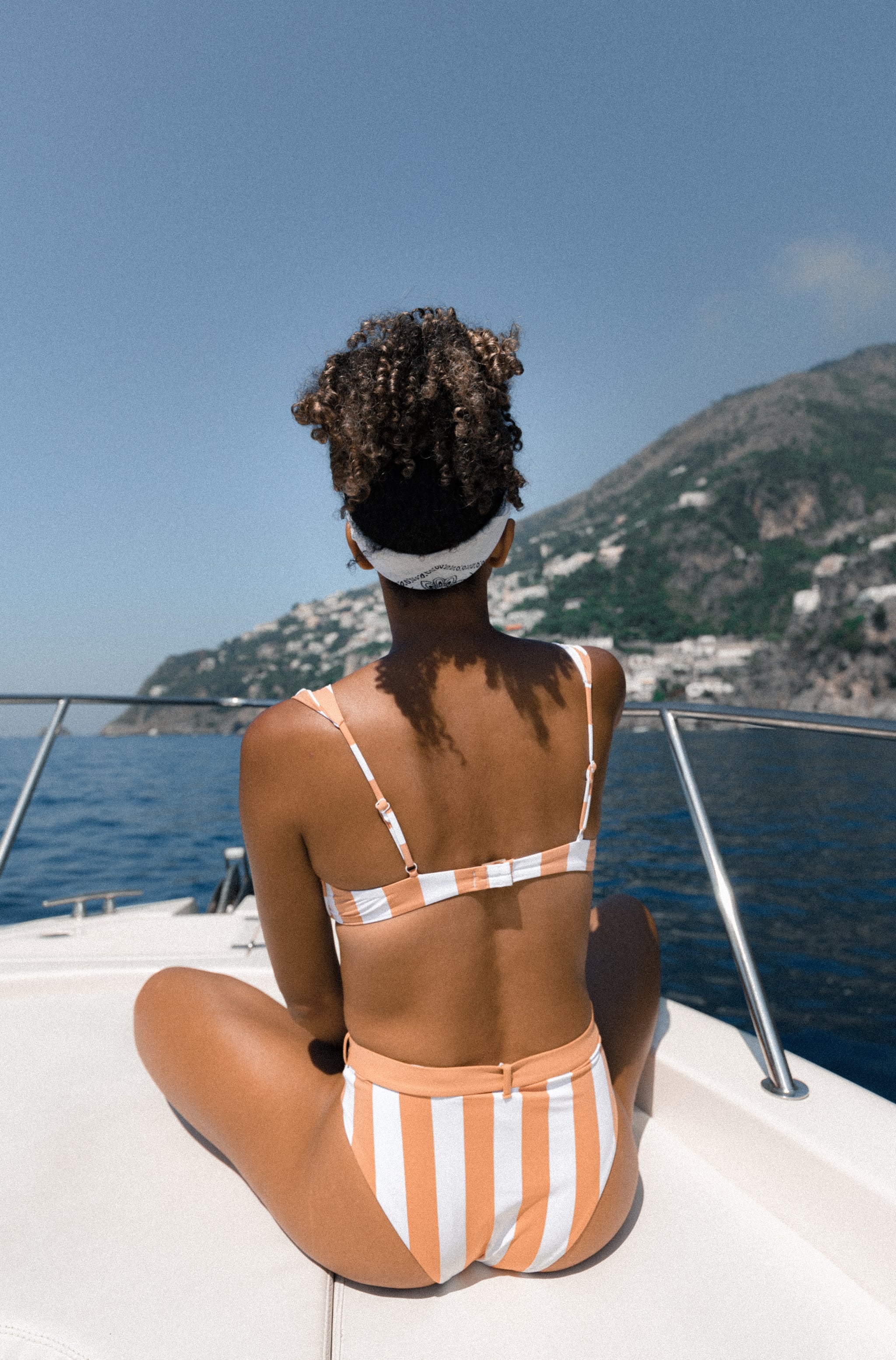 How Do I Know If My Swimsuit Fits Properly?
Short answer: there should be no adjusting. If you're constantly pulling up straps or having to re-tie tie bottoms, something is wrong. MaryAnn, a merchandiser from Net-a-Porter suggests moving around in the suit before purchasing. "Squat, lunge, walk. Whatever you can in the suit and notice what moves and what doesn't," she says. The goal is for nothing to move. You don't want the bathing suit to slide and you don't want to readjust between movements. If you do, the suit doesn't fit.
I'm In Between Sizes, Should I Size Up or Down?
Sizing up could result in a saggy fit. Sizing down could result in too tight of a fit. So what do you do? It depends on what you plan to do in the swim suit. Are you more of a reader and sun tanner who uses a bathing suit as an accessory? Or do you swim and enjoy recreational sports while in your swimsuit? "Swim fabrics stretch when wet, so staying true to size or sizing down is best when you're in the water," Tyler Conrad from Summersalt swim told me. If you stay on the drier side, sizing up could be beneficial to make you feel more comfortable and secure in your suit.
How Can I Get My Straps to Stop Falling?
Regardless of how adjustable straps can be, my small shoulders never seem to hold them up properly. If you're like me, opt for "racerbacks or halter tops where the crossing or tying will hold the bathing suit and straps in place," Tyler says.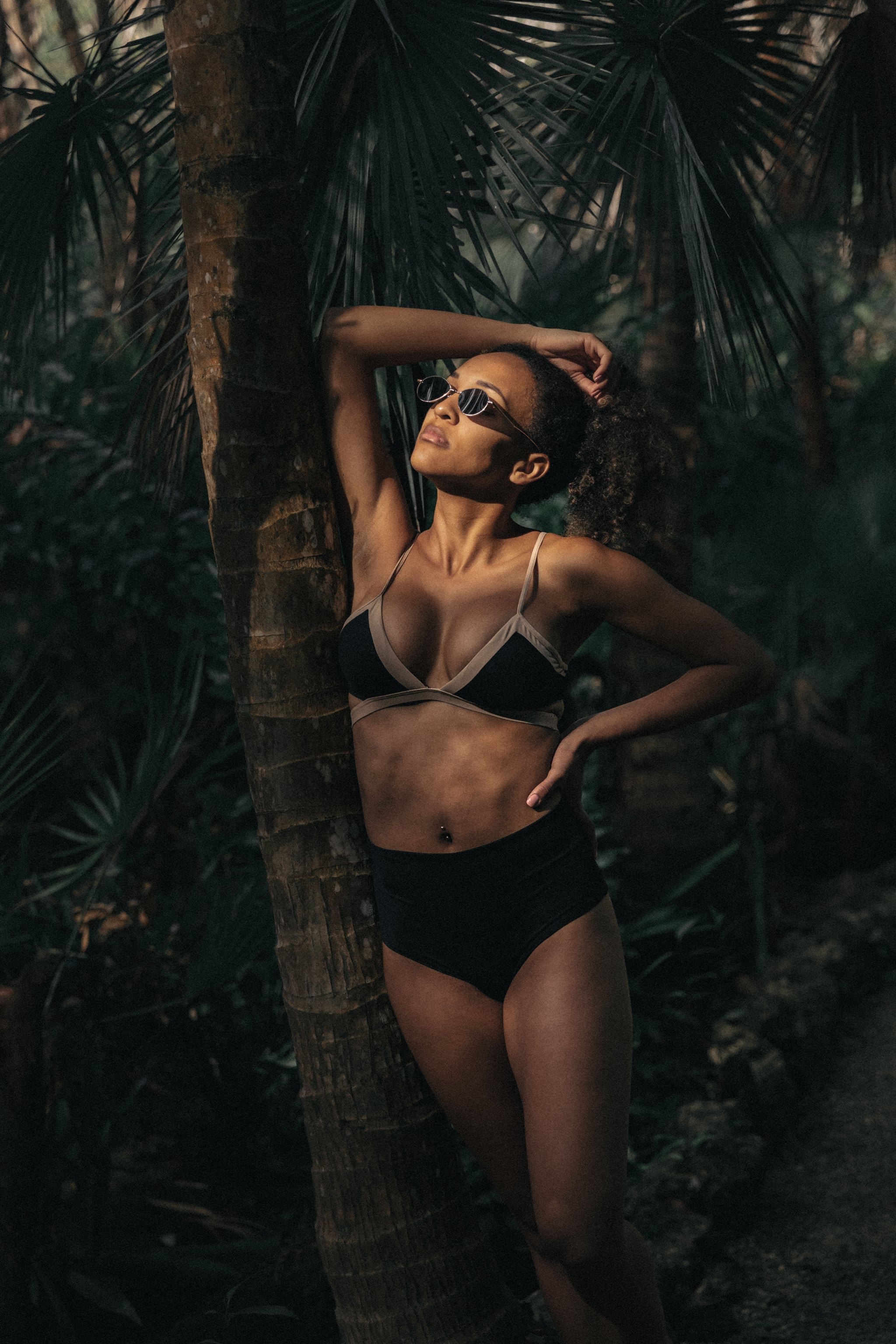 How Can I Find Supportive Tops For a Large Bust?
If you have big boobs, you don't always need to purchase your swim tops with underwire. Swim buyer Marissa Mendias of Hurley recommends bathing suits with adjustable bands. The key here is to make sure the band feels snug on the loosest setting. This is because bathing suits naturally stretch out the more you wear it and wash it. By being able to tighten the band over time, you'll get adequate support with each wear. Marissa also suggests bathing suits with wide straps. "Wider straps help distribute the weight of your boobs better, causing less strain on your shoulders and neck."
Why Do My Bottoms Stretch So Much
In the past, I focussed a lot more on style than fit. I would constantly buy bathing suits that were cute or trendy and completely disregard fit. When my bottom half started growing, I would size up to ensure proper coverage and prevent bulging. But really, what I was doing was ensuring my suit wouldn't fit and eventually sag or even start to slide off when I was in the water. Swimsuits are made of elastic. "Elastic stretches out over time", a swim designer at Speedo told me. Fabric is also key to stretching. Shoppers should stay in their means but make sure they don't compromise on fabric. "Although it seems like a great economical decision, thin and inexpensive swimsuits aren't durable enough for increased chlorine, sun and salt water," she added. High quality fabrics have stretch and recovery properties that will last you through multiple seasons.