The Naked Laundry: Sustainable, Affordable Indian Clothing
The Naked Laundry Wants to Make Wearing Indian Clothing Accessible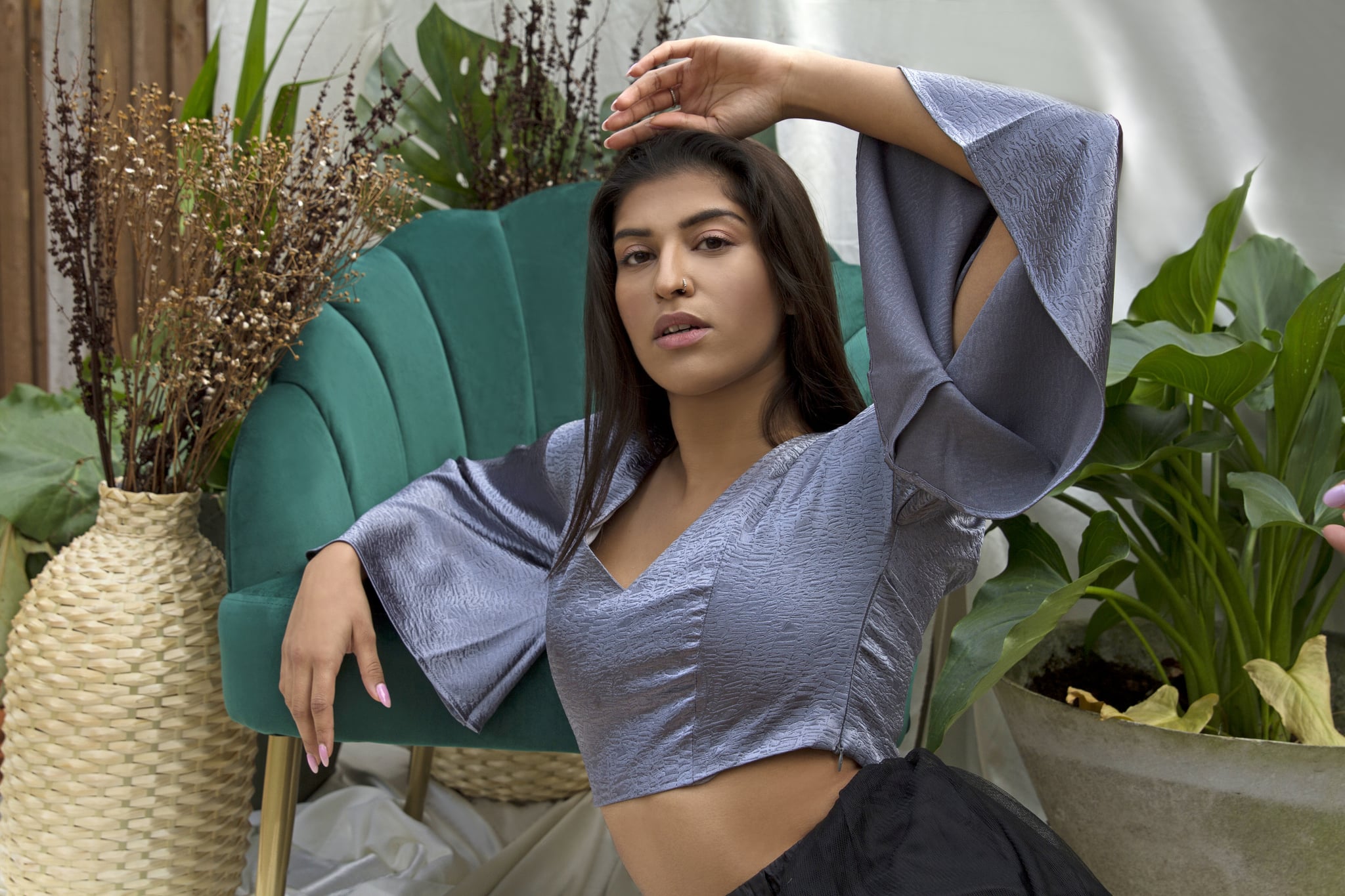 The Naked Laundry is a new clothing brand founded by Nikita Ladwa for South-Asian women everywhere. It specialises in crop tops that double as sari blouses and its aim is to put the stressful blouse-fitting saga to an end, once and for all. Targeted at Asian women in the UK, the brand also has a pretty solid presence in India — and we caught up with Nikita to find out why she launched The Naked Laundry and the inspiration behind her favourite pieces.
POPSUGAR: Tell us a little bit about how the brand came about and what made you want to start it.
"If you do lose a few pounds here and there, you can still fit into the size. It is satin and it's stretchable, so it's super comfy as well."
Nikita: The Naked Laundry came about a few years back, when I was at university and it was born from a struggle of mine. Being at university, you don't have a lot of budget, and I used to study in Leicester, which is a very Asian area. When we used to have functions like Garba and Puja, I really didn't have the attire, and I couldn't really afford for my mum to send me new clothes on a regular basis. One time I had my mum's old sari, but I don't think she realised that I wasn't as thin as she was back in the day. So there was me, pinning and tucking her sari blouse. And I was like, "Okay, this is not efficient. It's not working for me."
That's how The Naked Laundry came about. I wanted to design crop tops that you can wear with saris, lehengas, as well as with Western clothes. The name is because naked, for me and for the business, is about having those contemporary but muted colours and minimalistic palettes.
PS: You're right, it's really, really hard to find Indian clothes that fit! What is different about these blouses that make them so much easier to wear?
N: We wanted to incorporate it in UK sizes. With Indian clothes, when you do go and get these blouses done, they are literally made to your size. So if you are on your period, if you're pregnant, if you've lost weight, that means that you then need to fork out another £60 to get it done. Or you go all the way back to India and get a whole new piece done. And if it's with a lehenga or a sari, that means that you have to then match the right style, match the right fabric. So UK sizes seemed the best way because that's what everyone is familiar with and if you do lose a few pounds here and there, you can still fit into the size. It is satin and it's stretchable, so it's super comfy as well.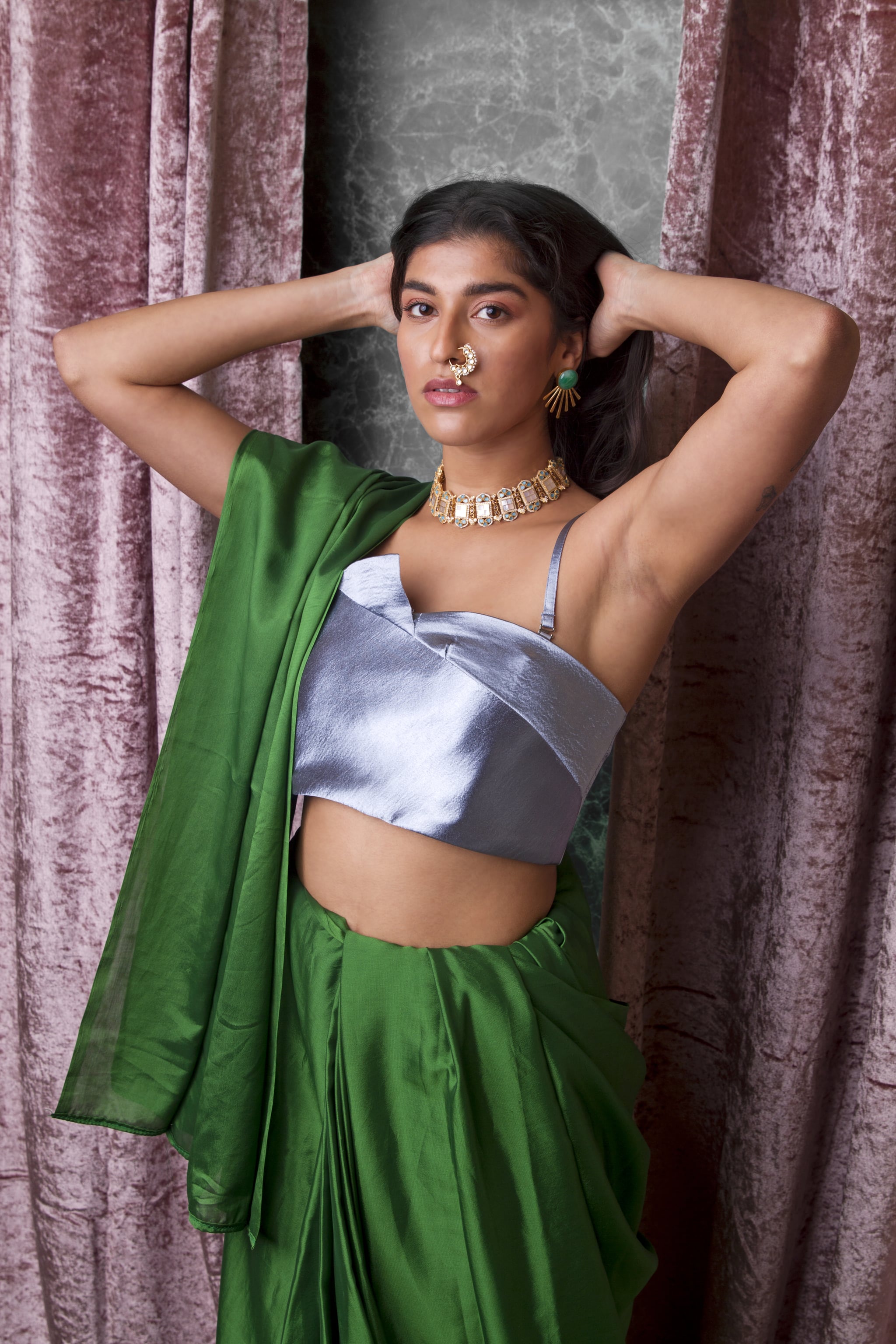 PS: That makes sense! What's the process of designing the blouses like, and where do you get your inspiration from?
N: I design the blouses myself and we do all the sampling at home. My mum was actually a tailor before as well, and so was my grandma, so the trade does run in the family, but we've never followed it through until I had the business. I have a team in India that put the samples into manufacturing and give me the helping hand that I need for production.
PS: That must be really exciting for them as well, being able to put their skills to use. How involved are your family in the business?
N: It's crazy, honestly! I've actually only gone full time with The Naked Laundry a few months ago. I didn't imagine it to be in the middle of a pandemic, but my gut was just telling me to just take the risk. I went full time with it and I predominantly do everything by myself, but if I need a helping hand, my mum's here, and then my grandma's in India with all of my mum's sisters. Everyone does a bit of everything, but I bring the modern aspect to it.
PS: You've only recently gone full time, so what were you doing before? And at what point were you like, "Okay, no, I'm done with that now, this is what I want to do?"
N: I was actually working in fashion and beauty, doing social media and digital marketing. I still get to use it with The Naked Laundry, which I'm thankful for. Whilst I do the creative side of things, I'm still very heavily involved in all of the departments in marketing and finance and everything. With a start-up, you have to be.
The turning point for me was knowing that this is what made me happy. Lockdown has made loads of people come out their shell. They're like, "Okay, this no longer makes me happy." And I was one of many that felt this way. I wanted to work for myself. I could see The Naked Laundry growing, and I don't think I would have been able to follow my dream if I didn't quit my full-time job. If you're going to do something that is just not for you anymore, you know. Your gut tells you, your body tells you, your mind tells you, and you just know, okay, this is it, onto the next chapter.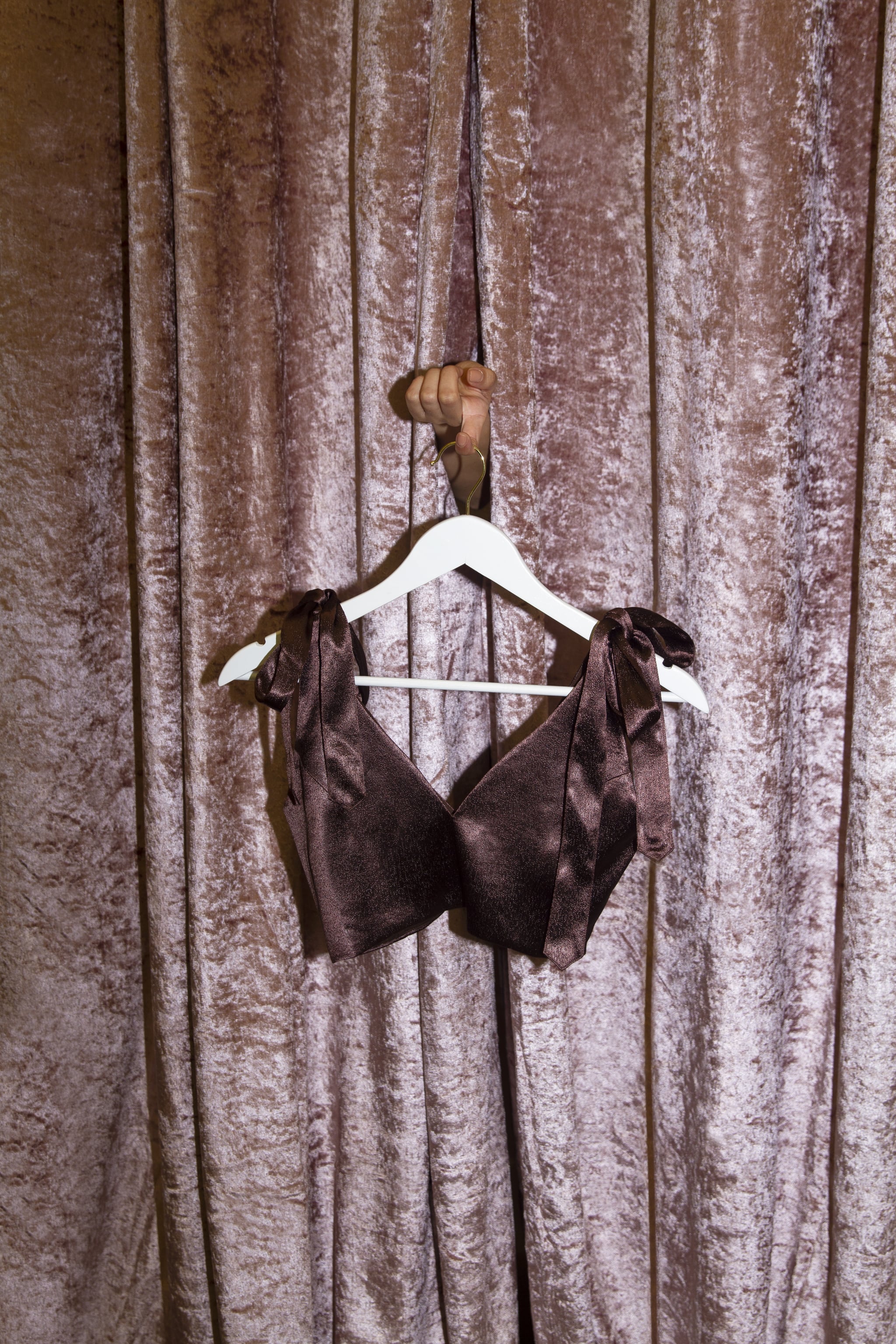 "My favourite piece is definitely the tie-on bow crop top! I've been able to wear it probably more than 20 times in the last year"
PS: It must come through in your work as well, now that you're actually doing what you really love? Do you have a favourite piece that you've made?
N: Yeah exactly, and we're a brand that wants to help, that's in your budget, and also one that's super comprehensive where if you're going out, or you're going to a traditional wedding, you can still wear the same thing and no one will ever know it's the same look.
My favourite piece is definitely the tie-on bow crop top! I've been able to wear it probably more than 20 times in the last year, as it's just been so comfy and it flatters my body. It's super versatile because you can tie the bows up and down. And even if I want to pin a sari to it, then it's not damaging the fabric either.
PS: It's really a good style for everybody! Obviously, your aim and the priority starting the brand was with sari blouses. But do you have any plans to extend that range into different types of Indian clothing?
N: For the time being, I want The Naked Laundry to be the go-to place for crop tops and sari blouses. We're growing with the sari blouses, and people are becoming more familiar with us for this, but we'll eventually look into other avenues.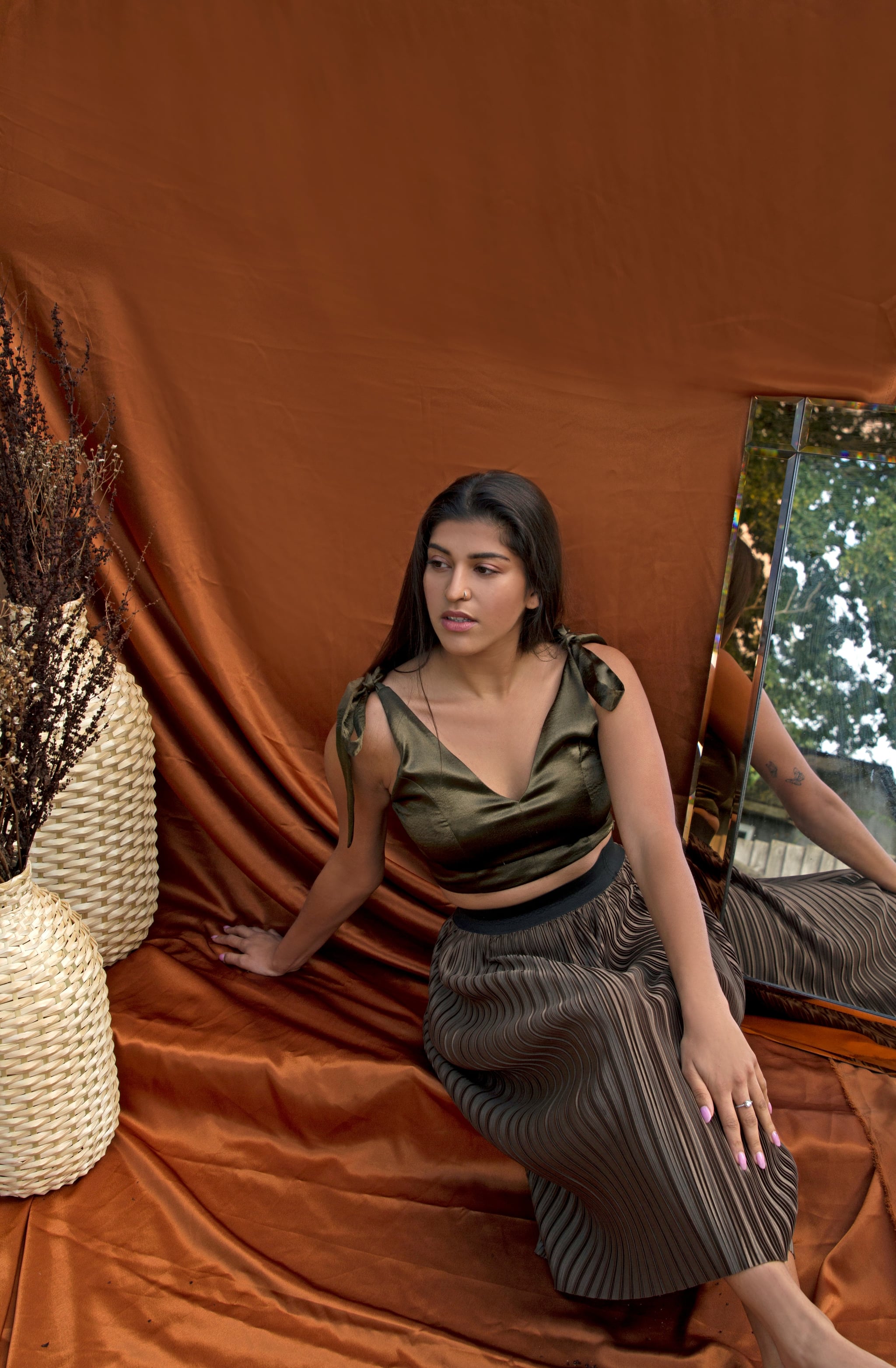 PS: How do you decide who to work with? Would you consider designer collaborations?
N: We don't really look at who the biggest stockists are, we just want it to match our brand and the concept of the brand, and what we believe in. We want to play our part in being sustainable and making sure your wardrobe only has the statement pieces, as opposed to having five billion pieces that you really don't need.
I would definitely consider collaborations, especially with designers in India. The whole concept is based on satin, so if they're able to bring more textured satin, or something that's a lot contemporary, almost just something new that obviously, London hasn't seen, I'd definitely be open to it.
In India, there's so much variety. The little bazaars they have, you want to be there because that's where the hustle and bustle is. That's what India is known for, and that is what would work well for us, as opposed to working with the top fashion houses, because they have a niche themselves.
PS: Finally, do you have any big plans for 2021? What's the next step for the brand?
N: Getting more stockists on board! I would love to be in a retail store. We're currently stocked in SilkFred and Little Mistress, and we're trying to get into a lot of the places in India as well. Whilst we are an Indian brand in London, a lot of our customers are from India, so it makes sense for us to hopefully open up a hub there as well.

Shop The Naked Laundry on their website now.
Image Source: The Naked Laundry