Mikaela Shiffrin Wins Gold in Giant Slalom Olympics 2018
Mikaela Shiffrin Took a Nap, Then Took Home Olympic Gold in Giant Slalom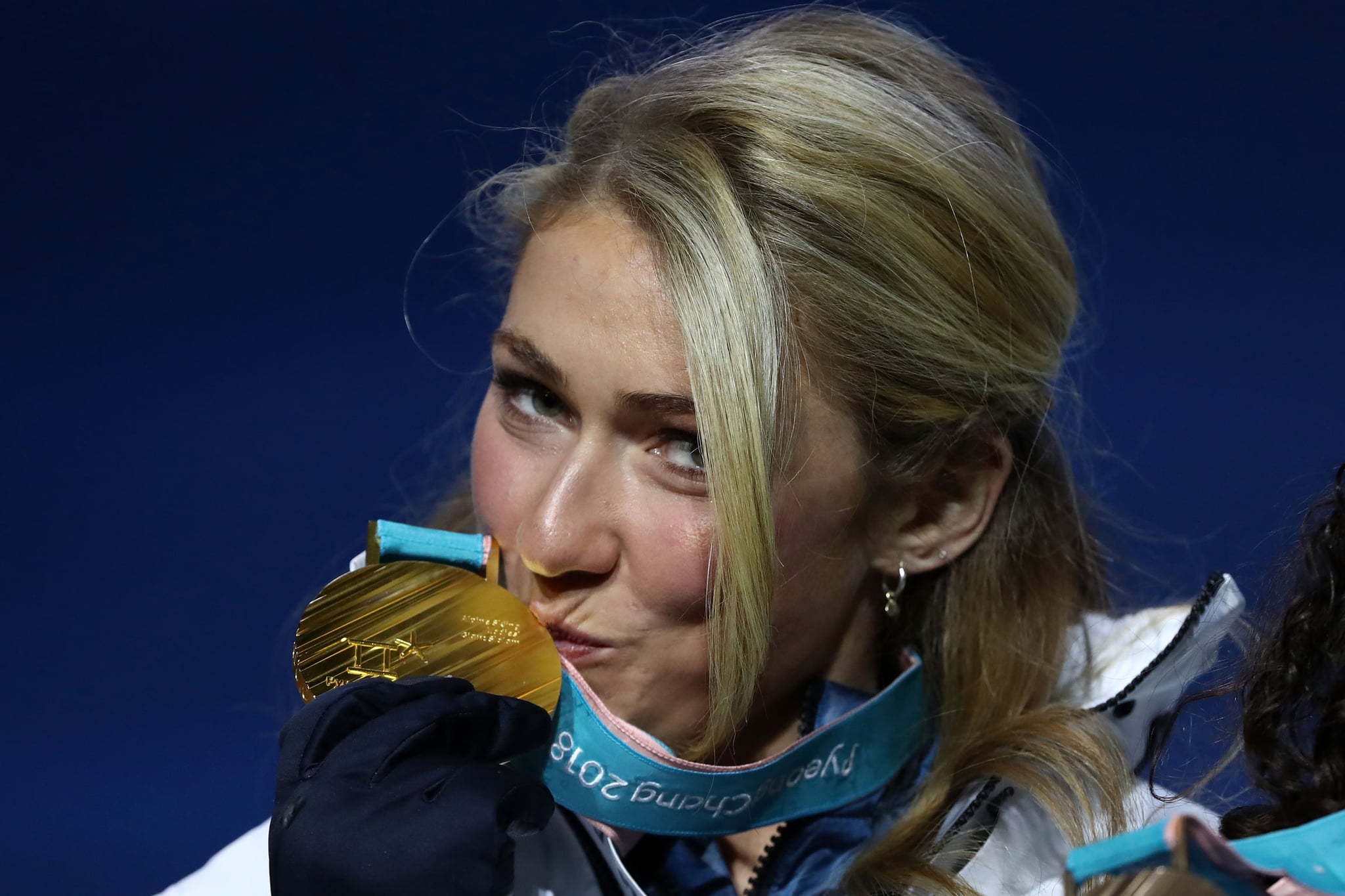 US Olympic skier Mikaela Shiffrin did what she came to do. At 2014 Sochi Olympics, when she was just 18 years old, she finished in fifth place for the giant slalom. At the time she said, "The next Olympics I go to, I'm sure as heck not getting fifth." Now 22, the American made good on that goal during her much-anticipated debut race, skiing with power and purpose, and won gold!
GOLDEN GIRL Mikaela Shiffrin takes gold in giant slalom! #BestOfUS #WinterOlympics https://t.co/KX4CHncv2t pic.twitter.com/zHJudPT4i0

— #TokyoOlympics (@NBCOlympics) February 15, 2018
She had two runs, trailed by .20 seconds in her first run, but powered through the challenging course to make up the time in her second run. Mikaela actually had about an hour between runs, so she put on her big headphones, turned up her music, and . . . took a nap.
She says, "I do it on every race." She didn't fall into a deep sleep this time, but said, "For me, that's one of my favorite times during a race day is when I can like lie down and take a deep breath and get ready for the next run." Mikaela scored a combined time of 2:20.02, which was .39 seconds faster than Norway's Ragnhild Mowinckel, who won silver. Federica Brignone of Italy took the bronze.
Valentine's Day race day conditions were perfect, unlike the last few days of strong winds. When Mikaela saw her winning time, she placed her hand over her heart, then fell to the ground in exhilaration. She paused for a moment, then got up with an infectious, proud grin! But this isn't it for her.
With one gold in the bag, Mikaela has the opportunity to win three more in the Pyeongchang Games (not four, since her compressed schedule due to race postponement earlier in the week forced her to have to skip the Super-G on Saturday). Fellow skier Bode Miller is the only American to win three gold medals in the Olympics, and Mikaela's amazing downhill skills could have her stealing that title and making history!