What Are the COVID-19 Vaccine Side Effects?
Here's Everything We Know About the Side Effects of the COVID-19 Vaccines, So Far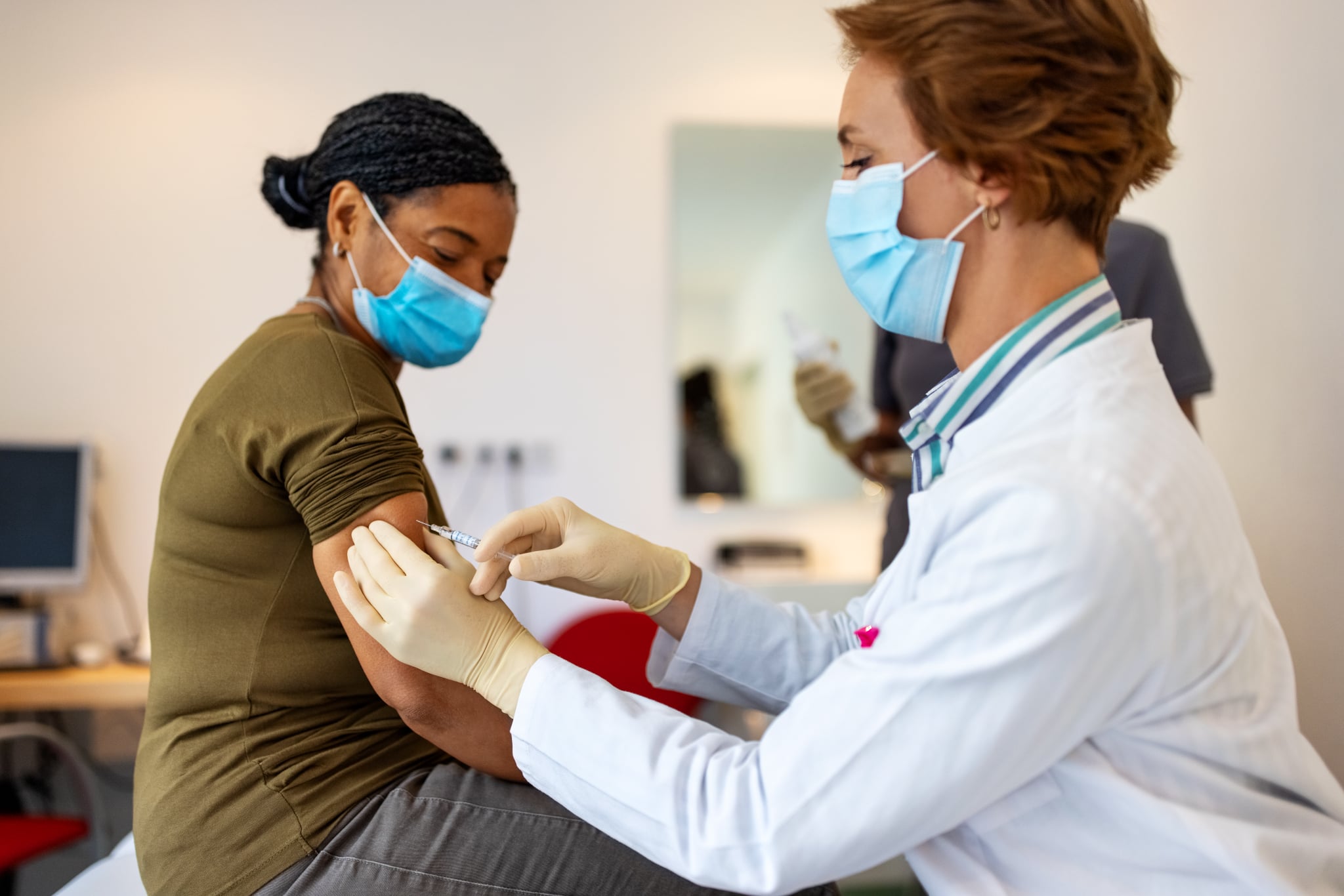 As of 30 Dec., all three COVID-19 vaccines — from Pfizer, Moderna, and most recently Oxford-AstraZenca — have been approved in the UK, which means we're starting to wonder what kind of side effects we can expect from the vaccine. As data continues to emerge, here's a look at what the numbers and experts are saying about the three vaccine candidates that are furthest along.
What Are the Side Effects of the Pfizer Vaccine?
The vaccine developed by Pfizer and BioNTech, determined to be 95-percent effective at preventing COVID-19, has reported several common side effects. According to gov.uk, very common side effects include:
Having a painful, heavy feeling and tenderness in the arm where you had your injection. This tends to be worst around 1 to 2 days after the vaccine
Feeling tired
Headache
General aches, or mild flu like symptoms
According to America's Food & Drug Administration, minor side effects include:
Injection site reactions, reported by 84 percent of trial participants
Fatigue, reported by 63 percent of trial participants
Headaches, reported by 55 percent of trial participants
Chills, reported by 32 percent of trial participants
Joint pain, reported by 24 percent of trial participants
Fever, reported by 14 percent of trial participants
More serious side effects were rare, occurring in less than 0.5 percent of patients, and were less frequent in participants over 55 years old. The side effects were also more likely to occur after the second dose of the vaccine.
Bell's palsy, a temporary facial muscle paralysis, occurred in four patients who received the vaccine compared to none who took the placebo, three of which were unresolved by the time the vaccine was submitted to the FDA in November. "The four cases in the vaccine group do not represent a frequency above that expected in the general population," the FDA noted. Some participants also reported swelling of the lymph nodes.
Overall, the FDA said the vaccine's clinical data "met the prescribed success criteria," according to the Wall Street Journal. The fact that side effects often occurred soon after patients got the vaccine indicates that it's triggering a strong immune response, said Angela Rasmussen, PhD, a virologist and affiliate at the Center For Global Health Science and Security at Georgetown University, in the Wall Street Journal article.
Pfizer Vaccine Allergic Reaction Reports: What We Know
Severe allergic reactions were not a significant issue in the clinical trials, as Pfizer explained that its trials didn't include people with a "history of severe adverse reaction associated with a vaccine and/or severe allergic reaction (e.g., anaphylaxis) to any component of the study intervention(s)." But when the Pfizer/BioNTech's COVID-19 vaccine was administered here in the UK on 8 Dec., two members of the NHS experienced allergic reactions to the shot — both have a history of severe allergies. Thankfully, they are both recovering well. As of now, the UK's Medicines and Healthcare products Regulatory Agency advised that people with a history of "significant" allergies to vaccinations, medications, or food should not receive the Pfizer BioNtech vaccine.

What Are the Side Effects of the Moderna Vaccine?
Moderna's COVID-19 vaccine is 94.5 percent effective and, according to the company, led to mostly mild or moderate side effects. These included:
Injection site pain or redness
Fatigue
Muscle pain
Joint or muscle pain
Headache
The Moderna vaccine is waiting on FDA analysis, but the company said that preliminary analysis "suggests a broadly consistent safety and efficacy profile across all evaluated subgroups."
Moderna COVID-19 Vaccine Allergic Reaction Reported
On 24 Dec., a Boston doctor reported a severe allergic reaction after receiving the Moderna coronavirus vaccine, according to The New York Times. It is the first case of an allergic reaction linked to the Moderna vaccine. The doctor, Hossein Sadrzadeh, MD, a geriatric oncologist at Boston Medical Center, has a severe shellfish allergy, and said he felt dizzy and had an increased heart rate immediately after receiving the vaccine.
According to a statement from David Kibbe, a spokesman for Boston Medical Center, Dr. Sadrzadeh self-administered his personal EpiPen after he started to develop an allergic reaction. He was taken to the Boston Medical Center Emergency Department, evaluated, treated, and discharged.
What Are the Side Effects of the AstraZeneca Vaccine?
AstraZeneca halted its clinical vaccine trials in September, after two participants suffered serious neurological reactions. The trials resumed when it became clear that it was not related to the vaccine, and on 30 Dec., the vaccine was approved in the UK by the Medicines and Healthcare products Regulatory Agency (MHRA). "An independent Data Safety Monitoring Board determined that the analysis met its primary endpoint showing protection from COVID-19 occurring 14 days or more after receiving two doses of the vaccine. No serious safety events related to the vaccine have been confirmed," the company said in a statement on 23. Nov., 2020. According to gov.uk, very common side effects (meaning they may affect more than 1 in 10 people) of the AstraZeneca coronavirus vaccine include:
Tenderness, pain, warmth, redness, itching, swelling or bruising where the injection is given
Generally feeling unwell
Feeling tired (fatigue)
Chills or feeling feverish
Headache
Feeling sick (nausea)
Joint pain or muscle ache
Common side effects (may affect up to 1 in 10 people) of the AstraZeneca coronavirus vaccine include:
A lump at the injection site
Fever
Being sick (vomiting)
Flu-like symptoms, such as high temperature, sore throat, runny nose, cough and chills
Uncommon side effects (may affect up to 1 in 100 people) of the AstraZeneca coronavirus vaccine include:
Feeling dizzy
Decreased appetite
Abdominal pain)
Enlarged lymph nodes
Excessive sweating, itchy skin or rash
Gov.uk also explains that: "In clinical trials there were very rare reports of events associated with inflammation of the nervous system, which may cause numbness, pins and needles, and/or loss of feeling. However, it is not confirmed whether these events were due to the vaccine."
POPSUGAR aims to give you the most accurate and up-to-date information about the coronavirus, but details and recommendations about this pandemic may have changed since publication. For the latest information on COVID-19, please check out resources from the WHO, the NHS, and GOV.UK.