Halsey Opens Up About Health Struggles Ahead of Tour
Halsey Opens Up About Health Struggles: "My Body Is Rebelling Against Me"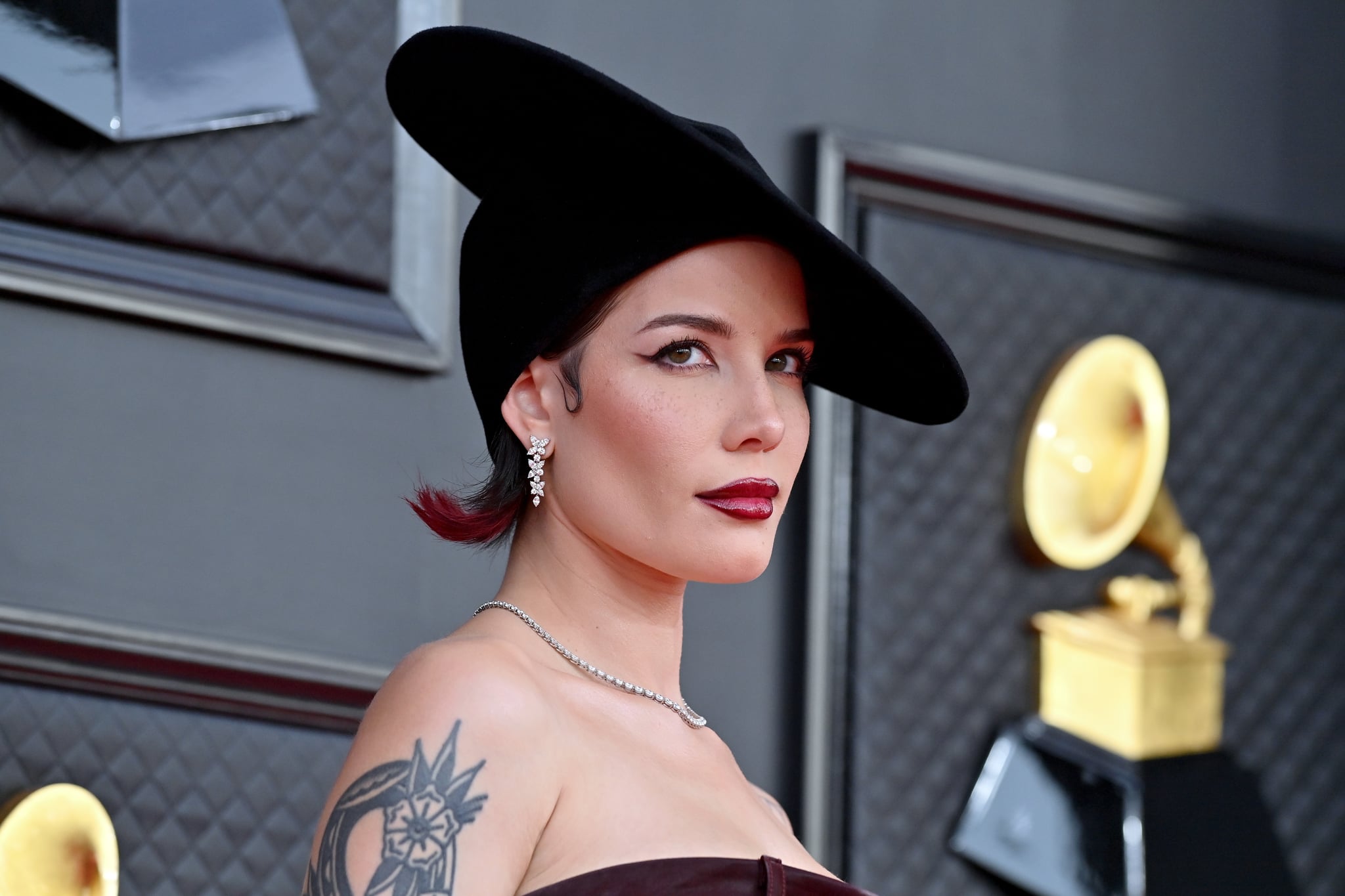 Halsey's lifelong health issues hit a tipping point in the months after they gave birth to her first child, Ender. On May 10, the new mum, who uses she/they pronouns, shared an update on her Instagram Stories to address the concerns of fans worried about her wellbeing and whether she would be well enough to perform on her upcoming "Love and Power" tour, which is set to kick off in West Palm Beach, FL on May 17.
"So I know a lot of you guys have been wondering what's going on with my health and some of you saw a TikTok that I posted yesterday, basically confirming that I'm allergic to like literally everything so I just wanted to give you a little update," they said while lying in bed with a heart monitor taped to their chest. In the TikTok, captioned "everything is fine," Halsey wrote, "just found out I'm allergic to coffee so there goes my entire personality."
After a few seconds of sipping on a matcha latte, they added, "and also potatoes, corn, spinach, ginger, garlic, milk, wheat, crab, shrimp, carrots, peppers, almonds, peanuts, cashews, blueberries, apricot, cantaloupe, grapes, onions, grapefruit, turkey, cauliflower, squash, hempwater (?), mustard, nutmeg, mackerel, celery, pear, rye, yeast, lemons, coconuts, bananas, pea, [and] soy. For Halsey, who has been open about their struggle with endometriosis and has experienced autoimmune issues throughout their entire life, the lengthy list of allergies is just one symptom related to her newly diagnosed conditions.
"I've known I've had autoimmune issues for most of my life, especially having endometriosis but it's been exacerbated since I had Ender."
"Obviously, my health has changed a lot since I got pregnant and gave birth," she said. "I started getting really, really sick and I've been kind of sick pretty much most of my adult life, but it started getting really bad." After being hospitalised for anaphylaxis on multiple occasions, Halsey saw several doctors and underwent testing that resulted in her being diagnosed with Ehlers-Danlos syndrome, a connective tissue disorder; Sjögren's syndrome, an immune disorder often accompanied by dry eyes and a dry mouth; mast cell activation syndrome, anaphylaxis caused by allergic symptoms; and Postural Orthostatic Tachycardia Syndrome (POTS), a blood circulation disorder. "I'm still looking for answers to the root cause of some of these things that could potentially be another type of autoimmune disease," she said. "I've known I've had autoimmune issues for most of my life, especially having endometriosis but it's been exacerbated since I had Ender."
With a mountain of health complications to manage, Halsey intends to put their health first when it comes to their upcoming tour. "I haven't toured in so long," they said. "I just can't tour the way that I used to when I was younger where I basically didn't give a sh*t about my body and worked insane hours and days in a row. I've learned a lot about doing my job under the conditions that I'm experiencing. I'm posting this just because I wanted to keep you guys updated and 'cause I know a lot of you have the same conditions."
The "Love and Power" tour is fast-approaching, but Halsey plans to deliver a show that leaves both herself and fans feeling fulfiled. "I'm on a treatment plan right now. I'm in rehearsals for the tour. I'm really excited and really confident that I'm going to be able to do it in a way that's healthy, where I can perform my best for all of you," they said. "[The tour] is going to be delving into this weird, body horror about everything that I've been experiencing, feeling like my body is rebelling against me a little bit . . . I have a lot of angst, I have a lot of energy, and I have a lot of confusion that I want to get out on that stage. Hopefully I've built a show that really reflects that and can be a cathartic place for you to release some tension if you are feeling or have ever felt similarly."