High-Protein Vegan Chili Instant Pot Recipe
This High-Protein, Vegan 4-Bean Instant Pot Chili Recipe Has Almost 30 Grams of Protein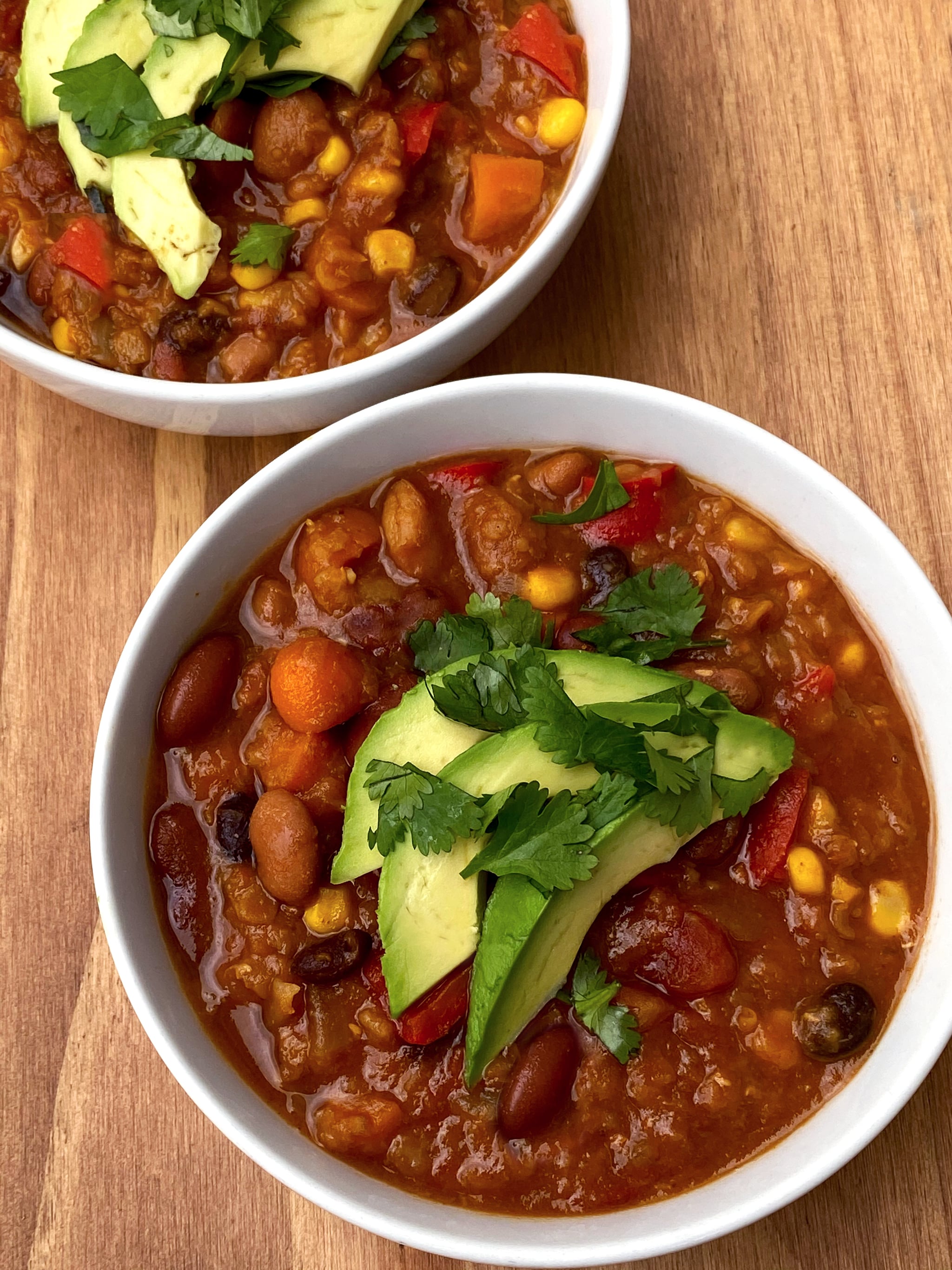 This hearty vegan chili only takes 10 minutes to prep, so you can throw the ingredients in your pressure cooker and dinner will be ready in about 30 minutes. This recipe is packed with plant-powered protein including kidney, pinto, and black beans, as well as red lentils that cook down to a supersoft texture, which adds a satisfying creaminess to this chili. Each serving is about 480 calories and offers almost 30 grams of protein and more than 20 grams of filling fibre.
The flavour of this chili is very mild spice-wise to accommodate my two young kiddos' sensitive palates, but feel free to add cayenne powder or diced jalapeño pepper for extra kick. We just add a little hot sauce to our individual bowls if we want to up the heat. You can also add whatever toppings you like including a few slices of avocado, a dollop of guacamole or vegan sour cream, fresh coriander, or some vegan shredded cheddar.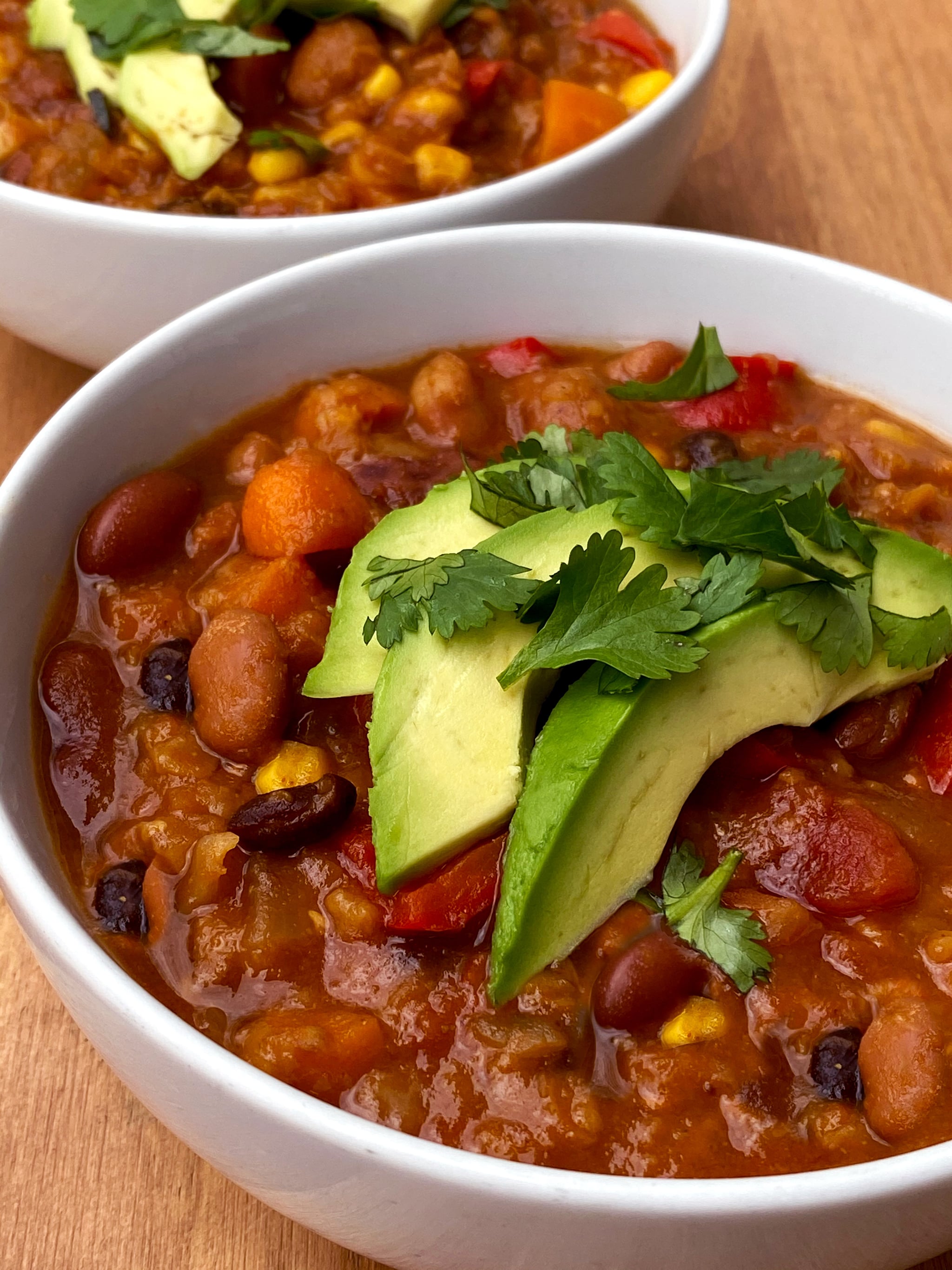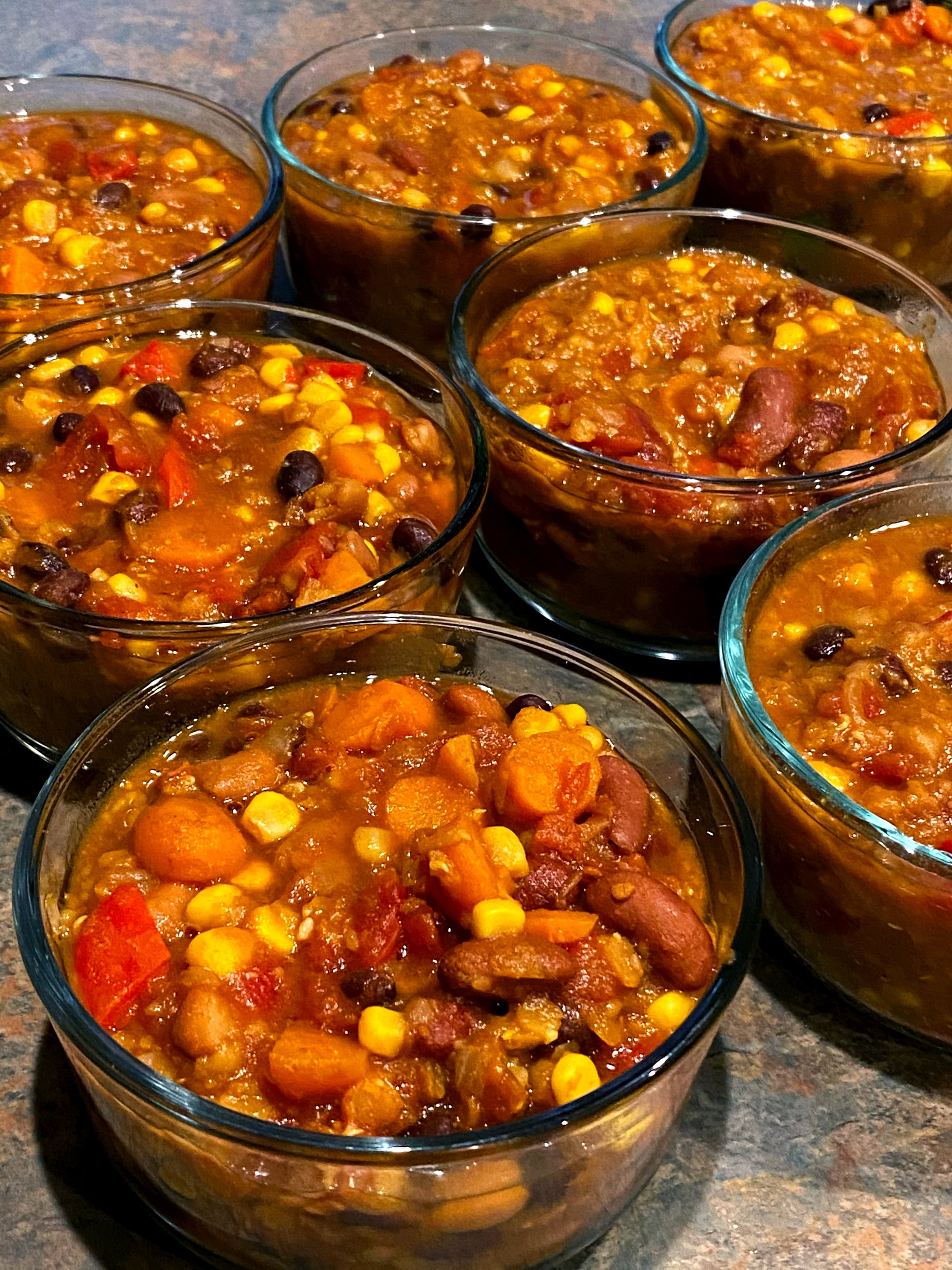 I added red bell pepper and carrots to this recipe, but feel free to use whatever veggies you love or have on hand — sweet potatoes, mushrooms, and green peppers would also be delicious! And while this chili is cooking, you can bake up some healthy vegan cornbread to go along with it. This makes about eight two-cup servings, so it'd be the perfect quick and simple recipe to meal prep on Sunday so you can have chili for the week or to store in the freezer for easy dinners.
Vegan 4-Bean Chili Instant Pot Recipe
from Jenny Sugar
Notes
I didn't add salt while cooking since I'm trying to reduce my salt intake. I felt like it didn't need any, but feel free to add salt to your bowl.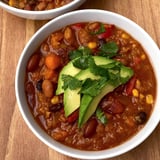 Ingredients
1 medium yellow onion, diced
1 1/2 cups carrots, diced
1 red bell pepper, diced
1 tablespoon minced garlic
1 1/2 tablespoons chili powder
2 teaspoons ground cumin
1/2 teaspoon paprika
2 14.5-ounce cans diced tomatoes (I used salt-free)
4 cups vegetable broth (32 ounces; I used Trader Joe's Organic Low-Sodium)
15-ounce can kidney beans, rinsed (about 1 1/2 cups)
15-ounce can pinto beans, rinsed (about 1 1/2 cups)
15-ounce can black beans, rinsed (about 1 1/2 cups)
1 cup red lentils
1 cup frozen corn
Directions
Turn your pressure cooker on the sauté function, and add the onions, carrots, red pepper, and garlic. Cook for about five minutes, stirring occasionally.
Add the spices, and stir well. Add the diced tomatoes, veggie broth, canned beans, lentils, and corn, and mix well so everything is covered by the liquid.
Secure the lid of your pressure cooker, making sure the vent valve is closed, then pressure cook on high on manual mode for 12 minutes. It should take about 15 minutes for the pressure to build before the cooking time begins.
Once it's done, allow the pressure to naturally release for 10 minutes, then open the vent valve to release the remaining pressure in the pot.
Serve warm with your favorite toppings. Store leftovers in airtight containers in the fridge for up to five days or in the freezer for several weeks.
Here's the nutritional information from verywell.com for one two-cup serving (makes about eight):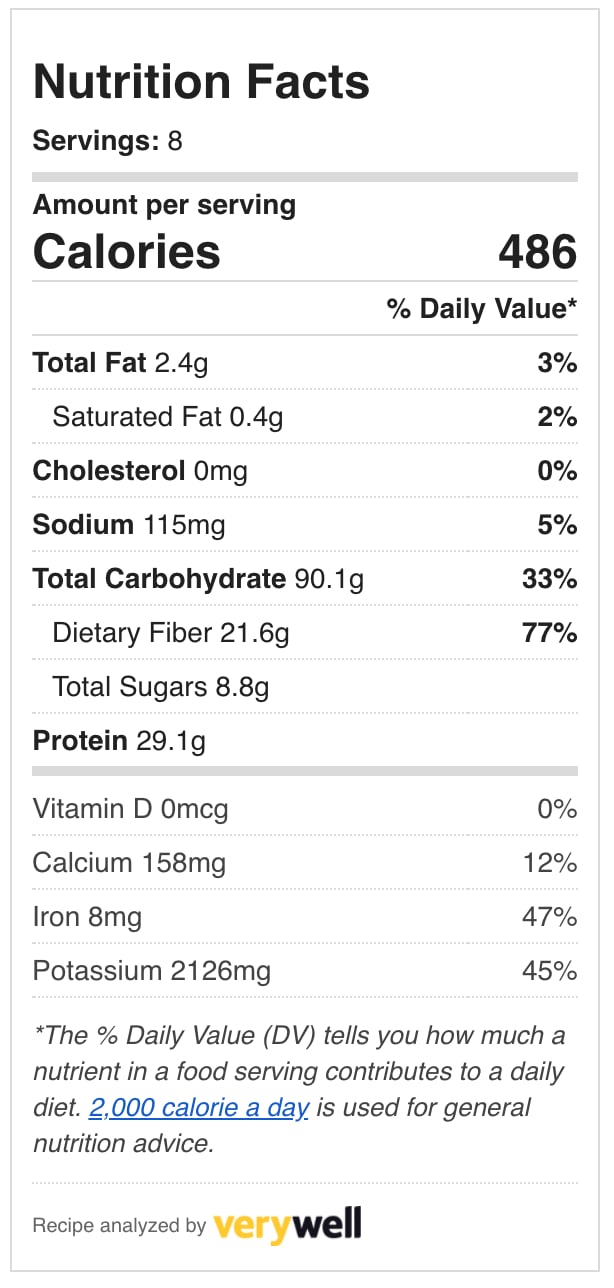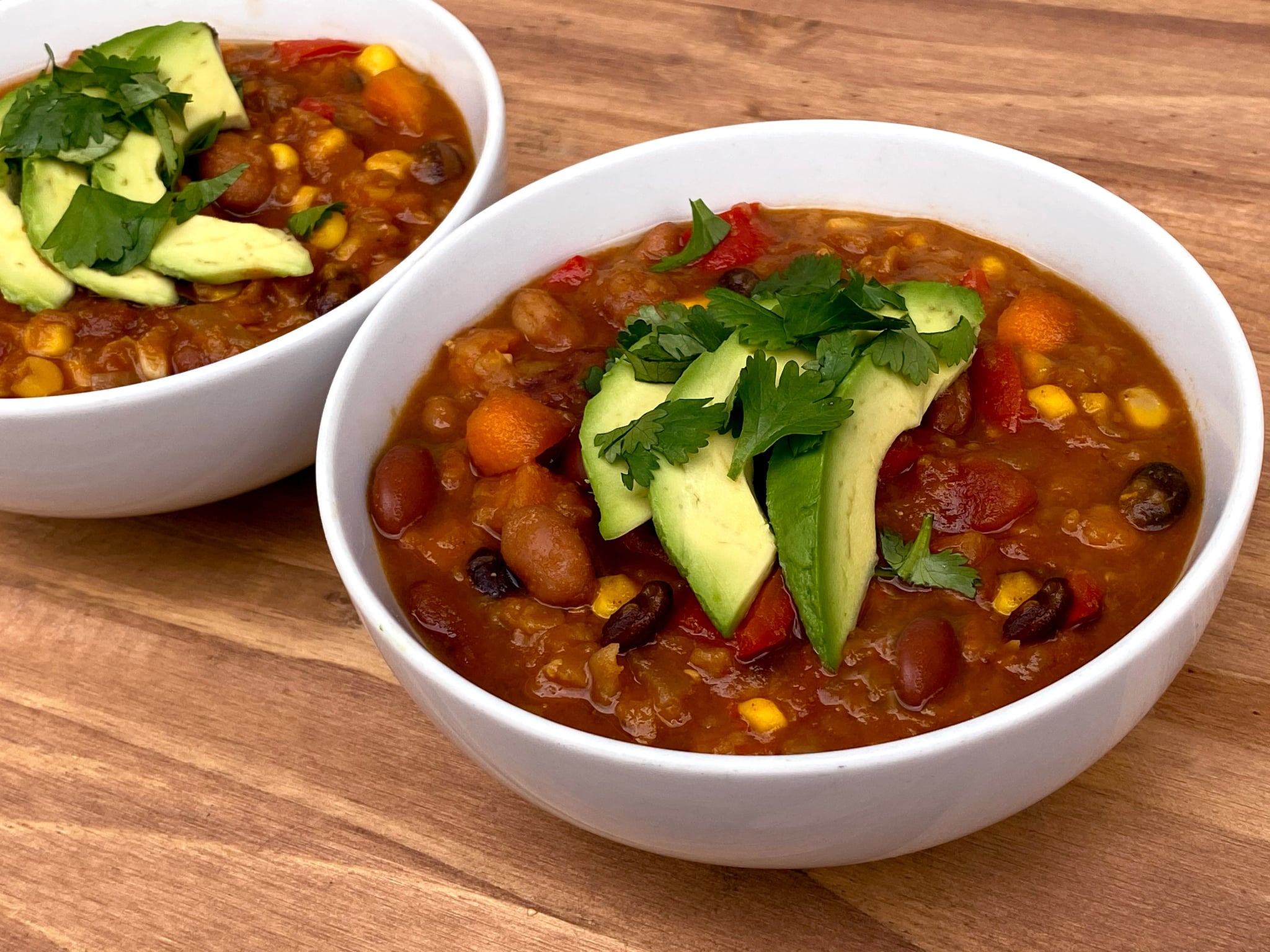 Information
Category

Chili, Main Dishes

Yield

8 servings

Prep Time

10 minutes

Cook Time

30 minutes

Total Time

39 minutes, 59 seconds
Nutrition
Calories per serving

486