How to Book a Coronavirus Test In the UK Online or In Person
Everything You Need to Know About Getting Tested For COVID-19 in the UK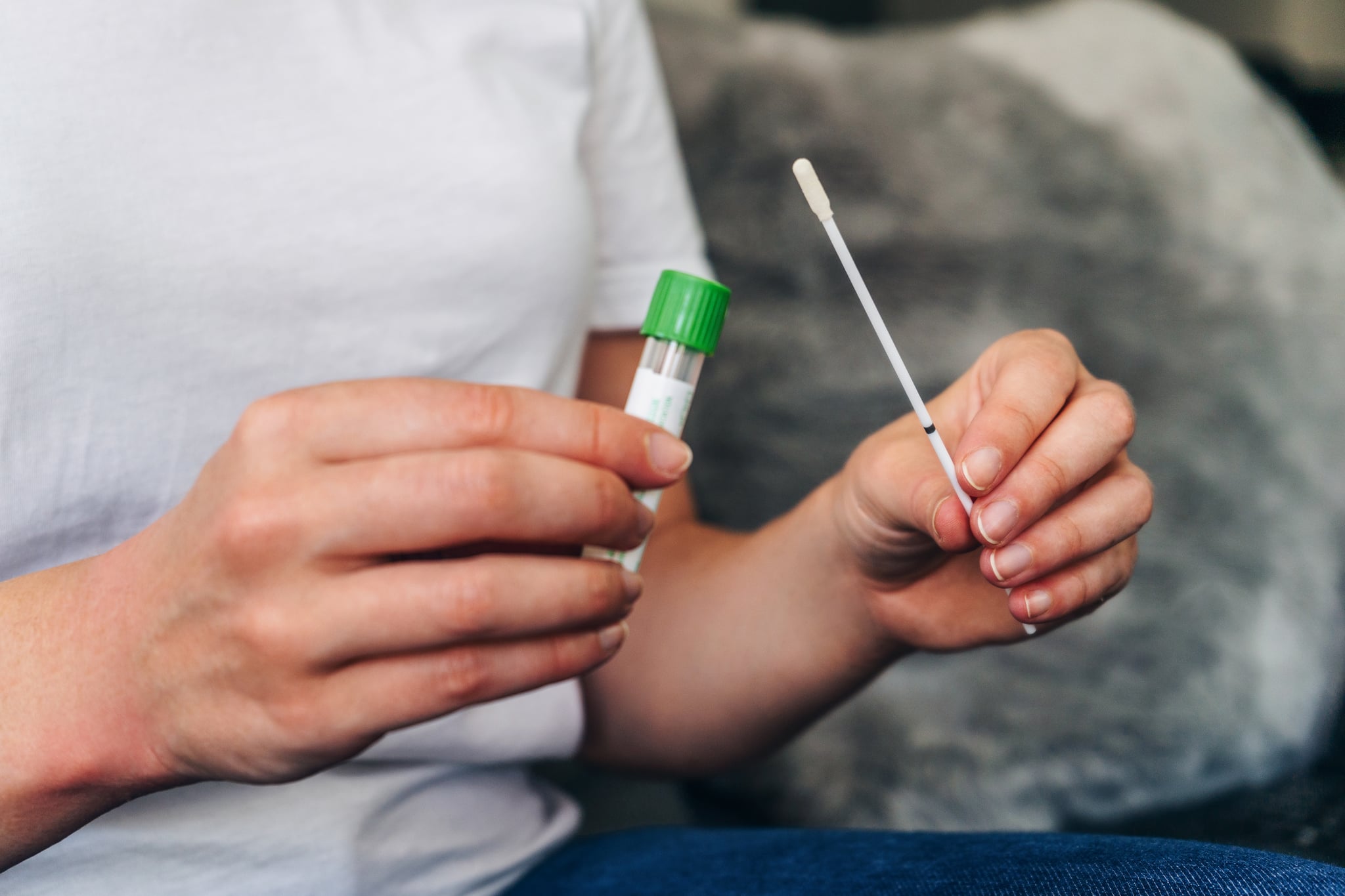 As the COVID-19 pandemic continues to impact our daily lives, there's one topic that's still on everyone's lips: testing. Thankfully, testing is far more widespread in the UK these days, and anyone who is experiencing symptoms of coronavirus can get tested, regardless of their age. But there are still a few things to know about getting your hands on a test if you live in England, Scotland, Wales, or Northern Ireland.
First, it's worth noting that the UK government advises that the best time to get tested for coronavirus — to ensure accuracy — is within three days of developing symptoms. However, it's crucial that testing is done within the first five days. The most common symptoms to watch out for are a high temperature; a new, continuous cough; or a loss or change to your sense of smell or taste.
It's also worth noting that daily limits on the number of tests administered do exist, so booking your test as soon as possible is important to ensure you don't miss your five-day window. There are exemptions in place for care homes and essential workers, where there is more access to testing, and in the case of the former, regular testing of both residents and workers is taking place regardless of symptoms. If you have any trouble booking for a test, the online coronavirus services are available in England, Wales, and Scotland. Anyone in Northern Ireland should seek the advice of their GP.
Once you do have your test done, it's also important — nay, crucial — that you self-isolate until you receive your results, so you're not potentially spreading the virus in your community. Ahead, see a full breakdown of exactly how to get tested for COVID-19 in the UK.
How to Register For an At-Home Coronavirus Test Online in the UK
Until recently, travelling to an in-person test centre was the only reliable way to be tested for the novel coronavirus, but at-home test kits are now available through the UK government website. Performing the test yourself isn't difficult — it involves taking a swab of the inside of your nose and the back of your throat, using a long cotton bud — and is ideal for anyone who isn't able to leave the house to be tested.
The trickier aspect of the at-home test method is getting the timing right. The NHS says that it's crucial that you're tested within five days of developing coronavirus symptoms, but it's even better if you can get tested within three days. Since you need to factor delivery times into that five-day period, it's advised that on days one to four, you can get tested at a site or at home. If you're ordering a home test kit on day four, you must do so by 3 p.m., but if you wait until day five, you've left it too late and must visit a test centre. You can order your test on the government website, and the NHS has created a helpful video explaining exactly how to perform the test yourself.
How to Book For an In-Person Coronavirus Test in the UK
While at-home coronavirus tests are now available through the UK government website, booking an in-person test is still a simple and foolproof way to find out if you have the virus. Since March, the government has set up drive- and walk-through testing centres around the UK, and an appointment is always required to attend. The simplest way to book a test is through the government website, where you will have the option to order a home test or book an appointment at a testing centre.
If you're unable to use the internet to book, or are having trouble accessing the booking portal, the NHS website has a plethora of information on checking your symptoms and finding the best avenue for testing.
How to Locate Your Nearest Coronavirus Testing Centre
To locate your closest coronavirus testing centre, visit the UK government website and click the button, "Get a coronavirus test". While you can view all of the drive- and walk-through testing centres scattered around the UK on Google Maps, all centres require an appointment to visit, so the government website is the best avenue to use.
How Long It Takes to Get Coronavirus Test Results Back
If you're receiving a test for coronavirus because you or someone you live with is experiencing coronavirus symptoms, it's crucial that you and your household self-isolates until you receive your results. The NHS website says that you should receive your results by text or email within one day of having the test, so there's barely any down time at all, but it's still best to allow a little bit of extra time for at-home tests due to postal times.
How to Get Tested For Coronavirus in Northern Ireland
The Public Health Agency in Northern Ireland stresses that testing within the first three days of developing coronavirus symptoms is advised, although testing in the first five days is considered effective. The same guidelines apply as in England, with both at-home test kits and in-person coronavirus tests being available for symptomatic people, free of charge. Similarly, there are also additional services available for care home, and essential workers. You can apply for your test, and locate your nearest testing centre, via the NHS website.
How to Get Tested For Coronavirus in Scotland
In addition to the testing services established by the NHS, the UK government has established a network of COVID-19 testing facilities across Scotland, in the same way as the other three nations of the UK. That means, testing is now available for anyone who is experiencing coronavirus symptoms, with priority given to key workers. A list of testing centres can be found on the Scottish government website, but you will require an appointment to attend. To book an in-person or at-home test, follow the steps on the NHS website.
How to Get Tested For Coronavirus in Wales
To apply for a coronavirus test in Wales, you must be experiencing one of the main coronavirus symptoms: a high temperature; a new, continuous cough; or a loss or change to your sense of smell or taste. The Welsh government website is very clear, so you shouldn't have any trouble identifying whether you're eligible for a test and, from there, either ordering a home test kit or booking an appointment at a testing centre. As the demand for tests is still extremely high, there is a daily limit in place and priority will be given to key workers and care homes.
POPSUGAR aims to give you the most accurate and up-to-date information about the coronavirus, but details and recommendations about this pandemic may have changed since publication. For the latest information on COVID-19, please check out resources from the WHO, the NHS, and GOV.UK.