Kristen Hayden 1st Black Woman With US National Diving Title
Kristen Hayden Becomes the First Black Woman to Win a Senior US National Diving Title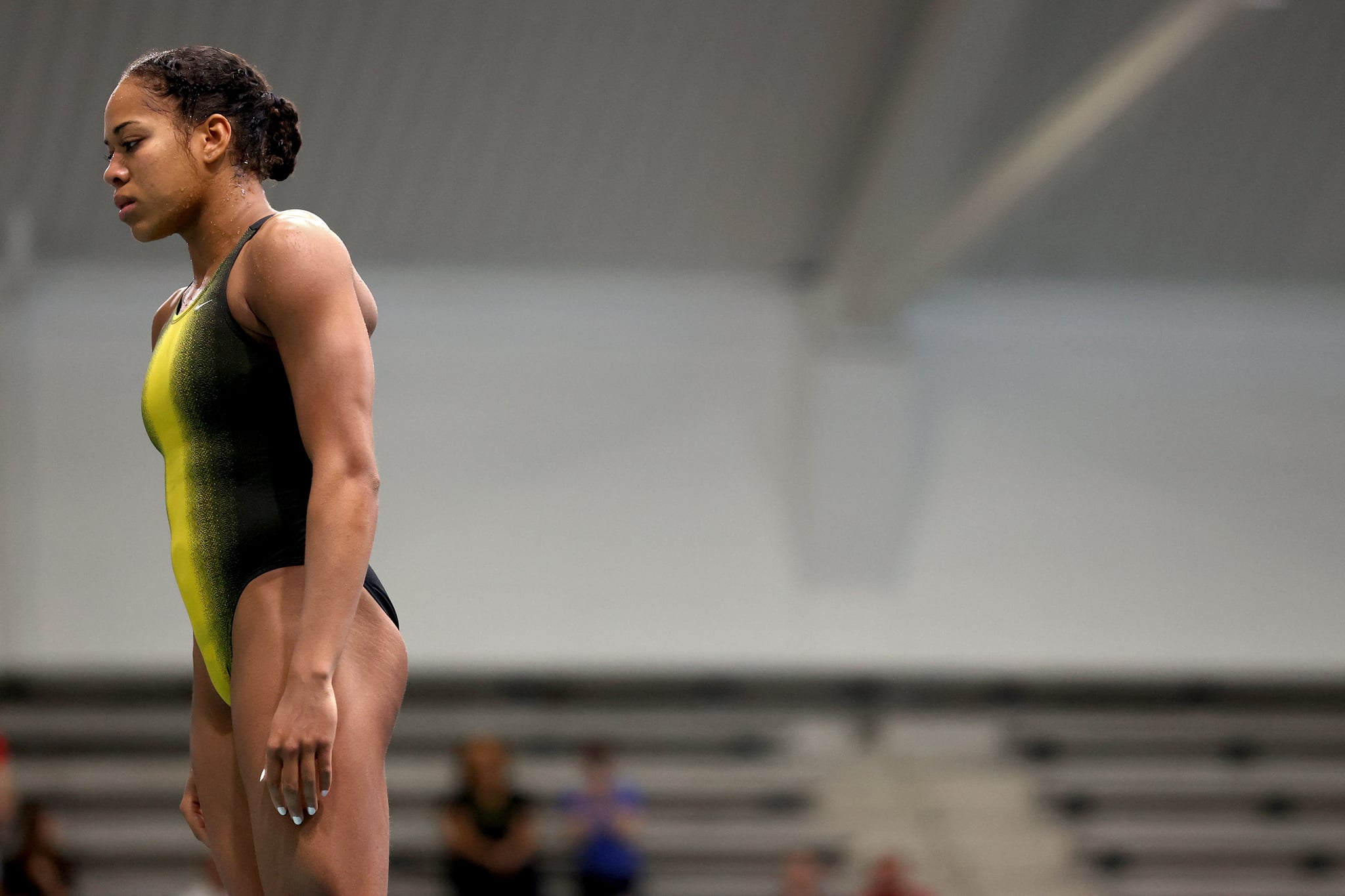 Image Source: Dylan Buell / Stringer
Kristen Hayden made history on Dec. 13 when she became the first Black woman to earn a senior US national championship title in the sport of diving. She and teammate Quinn Henninger won the mixed synchronized three-meter springboard event at the 2021 USA Diving Winter National Championships. They are both divers from Indiana University — she's a graduate student, and Henninger, the 2021 Junior Pan American Games champ in the men's three-meter springboard, is a freshman. It was their first synchronized competition together, according to USA Diving.
Hayden is only the second Black diver to claim a US national title. Mike Wright became the first Black athlete to win a national title in 2010 for his performance in the one-meter springboard event.
Hayden made history a second time over because she became the first Black US diver to earn a berth to the FINA World Championships; they take place in Japan next May. "Quinn and I did awesome," Hayden, from Hillsborough, NJ, told USA Diving, "we came in with an open mindset. We just wanted to have fun. Of course, we wanted to make the team but it was also our first time doing synchro together and we just wanted to do the dives the best we can."
"You read about people like that, you watch Serena Williams, Simone Biles, Simone Manuel, but when it's yourself it's insane."
When asked about her history-making results, Hayden said, "I don't think words can even describe the feeling." She added, "You read about people like that, you watch Serena Williams, Simone Biles, Simone Manuel, but when it's yourself it's insane. I think the whole diving community is headed in the right direction and I just want to be a good example for young Black Americans or any minority really for diving in the US."
Ahead, see a short clip of Hayden embracing her partner after their performance clinched history for her:
That moment @kristen_hayden made history. She just became USA Diving's FIRST Black female National Champion and the FIRST ever Black U.S. Diver to qualify for the @fina1908 World Championships. We are so proud of Kristen and her synchro partner @HenningerQuinn 😭 pic.twitter.com/mXIoAXg02N

— USA Diving (@USADiving) December 13, 2021
Hayden told the Minnesota Spokesman-Recorder that she has a background in gymnastics and started diving when she was in the fourth grade. She dove at the University of Michigan her freshman year, then completed undergrad — and continued collegiate diving — at the University of Minnesota. Hayden is a founding member of USA Diving's Diversity, Equity and Inclusion Council, and she finished in fourth in the women's three-meter springboard final at the US Olympic Trials this summer, writing on Instagram that she was fewer than 18 points from making the Olympic Team.
USA Diving reports that Hayden is set to compete in more national championship events this week: the women's synchronized three-meter, the individual three-meter, and the individual one-meter.