Marbled Protein Chocolate Banana Bread Recipe
Got Ripe Bananas? Make This Chocolate Marbled Banana Bread With 10 Grams of Protein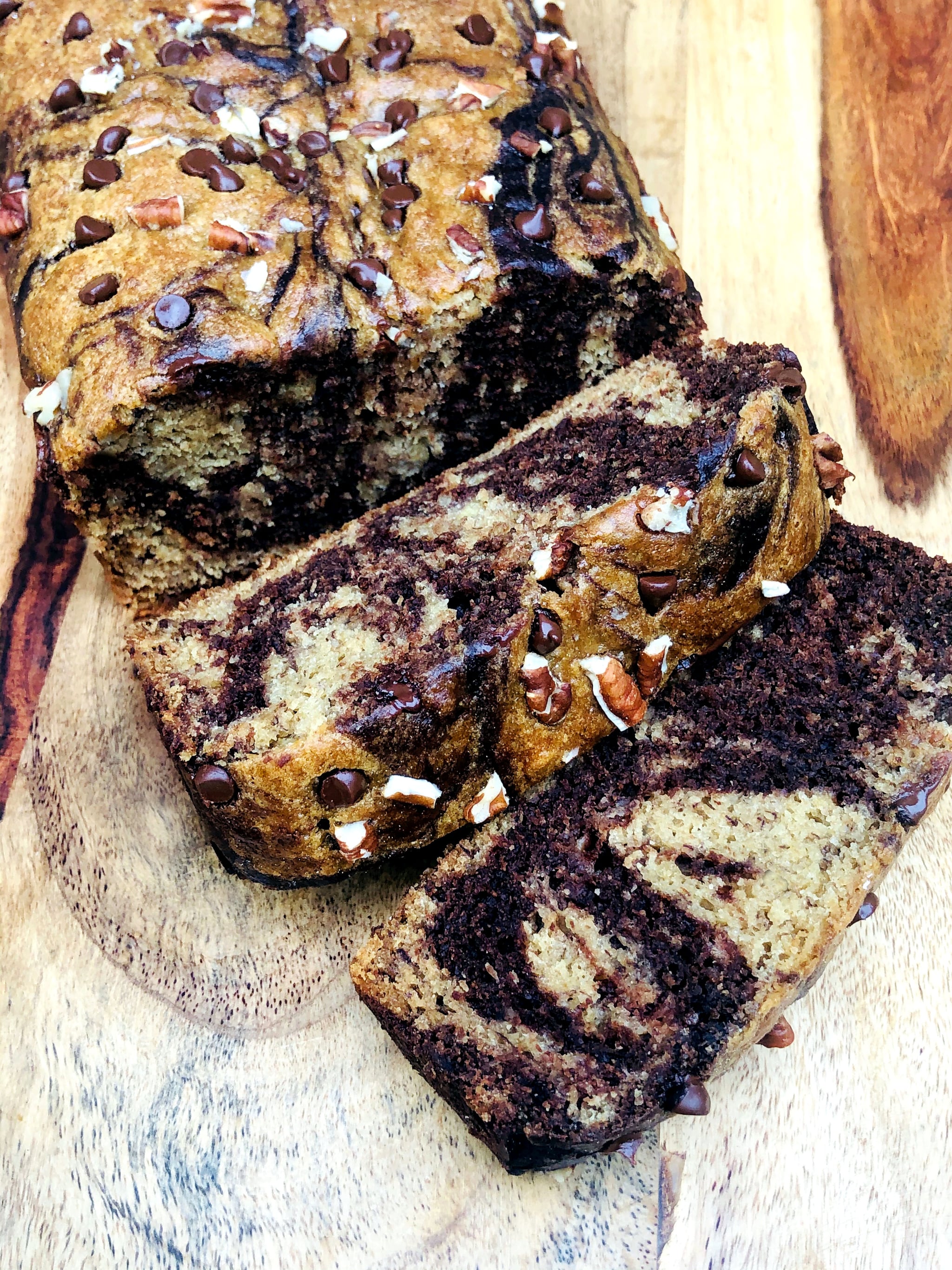 Baking for me has always been a stress reliever and a way for me to clear my head and lift my mood. Since the abnormally hot temperatures lately quickly ripened all my bananas, I immediately turned to a comforting recipe my mom has made since I was a kid: banana bread. I couldn't decide whether to make regular or chocolate, so I combined the two!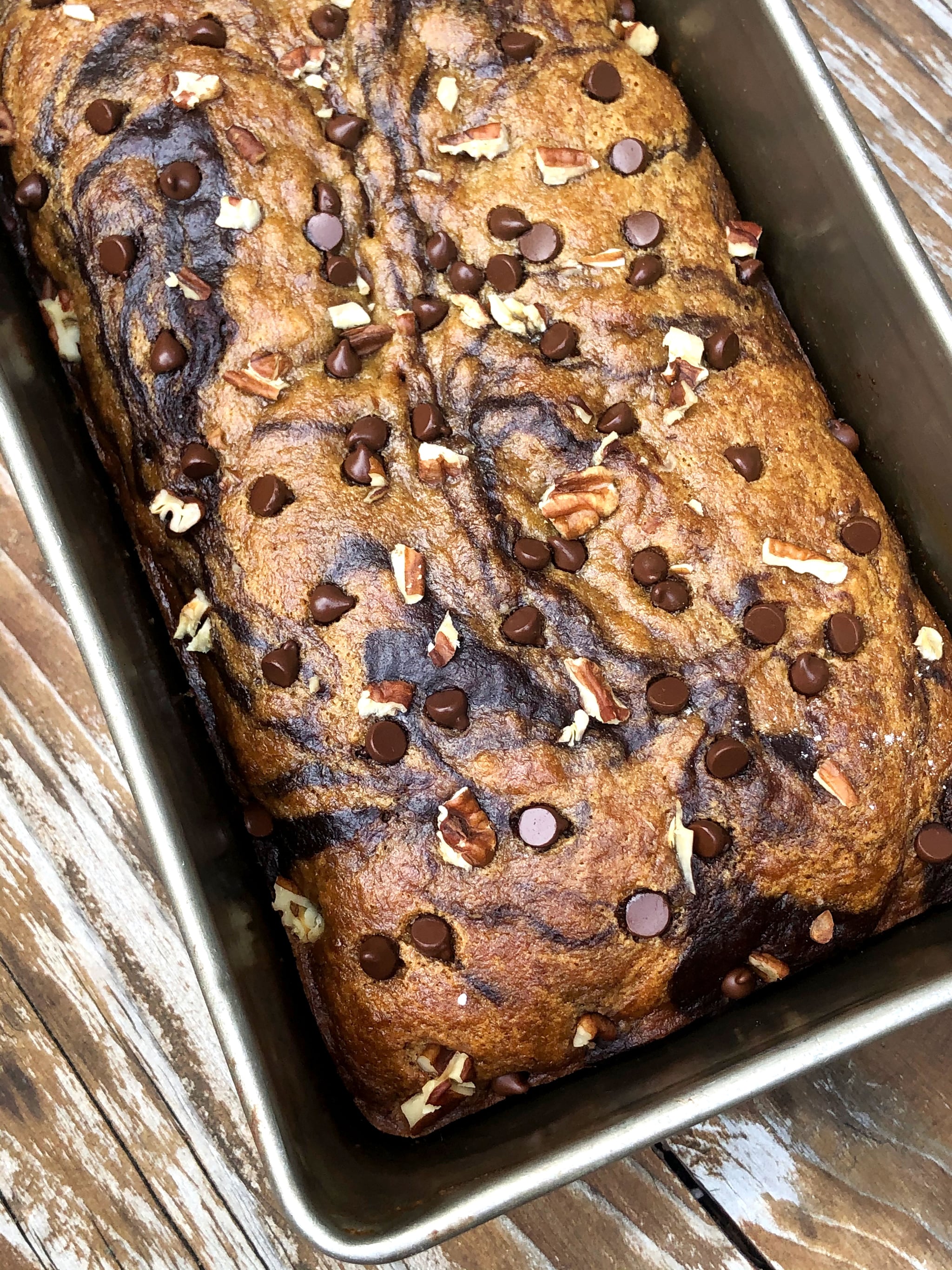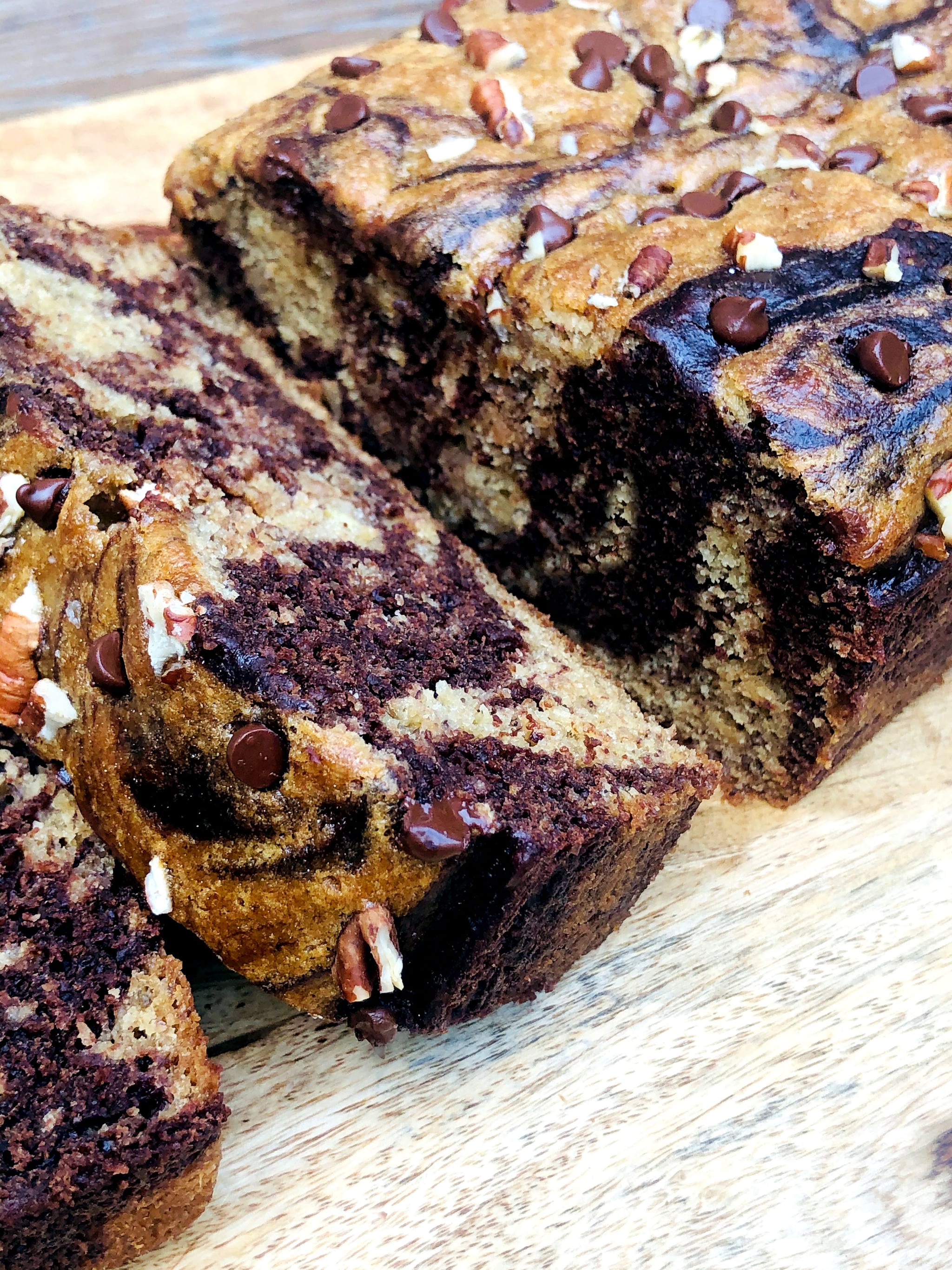 This vegan recipe is easy and delicious and is done baking in 45 minutes. I added vanilla plant-based protein powder to the batter (because it's my latest obsession!), which not only enhanced the sweetness so I could cut down on the white sugar but also made this bread more satiating — one slice has almost 10 grams of protein.
Smeared with a little nut butter, this perfectly moist chocolate marbled banana bread makes a delicious breakfast, snack, or after-dinner treat. This also freezes well so you can whip up a double batch, slice it up, and save some for later.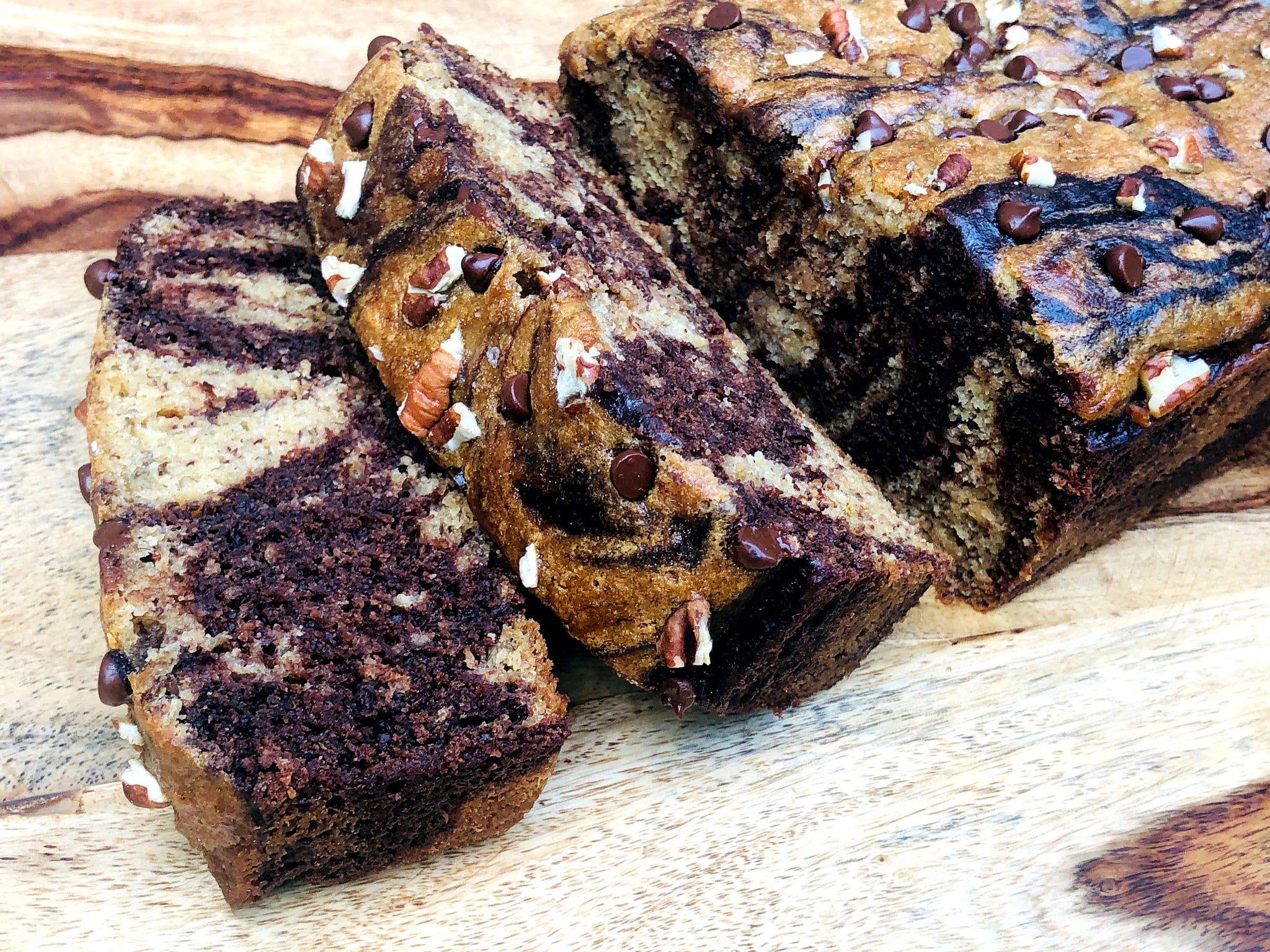 Vegan Chocolate Marbled Banana Protein Bread
From Jenny Sugar, POPSUGAR Fitness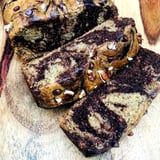 Ingredients
3 medium bananas (1 cup mashed)
3/4 cup sugar
2 tablespoons olive or coconut oil
1/3 cup unsweetened nondairy milk (I used Silk Unsweetened Vanilla Almond and Cashewmilk)
1 teaspoon vanilla extract
1 1/3 cups white whole-wheat flour
1 serving vanilla plant-based protein powder (about 1/3 cup; I used KOS, which has 20 grams of protein per serving)
3/4 teaspoon baking soda
3/4 teaspoon salt
3 tablespoons unsweetened cocoa powder
6 tablespoons boiling water, divided
1 tablespoon nondairy mini chocolate chips (optional)
1 tablespoon chopped pecans (optional)
Directions
Preheat oven to 350°F. Lightly grease an eight-inch loaf pan.
In a large bowl, mash the bananas with a fork. Mix in the sugar, oil, nondairy milk, and vanilla.
Add the white whole-wheat flour, protein powder, baking soda, and salt, and mix until just combined.
Now it's time to make the chocolate batter. Scoop out one cup of the banana bread batter into a small glass measuring cup or other heatproof bowl. Add the cocoa powder and three tablespoons of the boiling water (you'll use the other three in a second). Mix until a silky chocolate batter forms. Set aside.
Add the remaining three tablespoons of boiling water to the original batter, and mix until smooth.
Ready to get creative? Drop a large spoonful of the regular batter into your prepared pan. Now drop a large spoonful of the chocolate batter. Continue alternating between the two until all the batter is in the pan.
Now for the marbling! Poke a butter knife into the batter, and swirl it around about six times; don't overdo it, because you want to maintain the two separate flavors. Toppings are optional.

Bake it for 45 to 50 minutes or until a toothpick inserted in the center comes out clean.
Store leftovers in an airtight container in the fridge for up to five days, or freeze.
Here's the nutritional info for one piece (makes eight):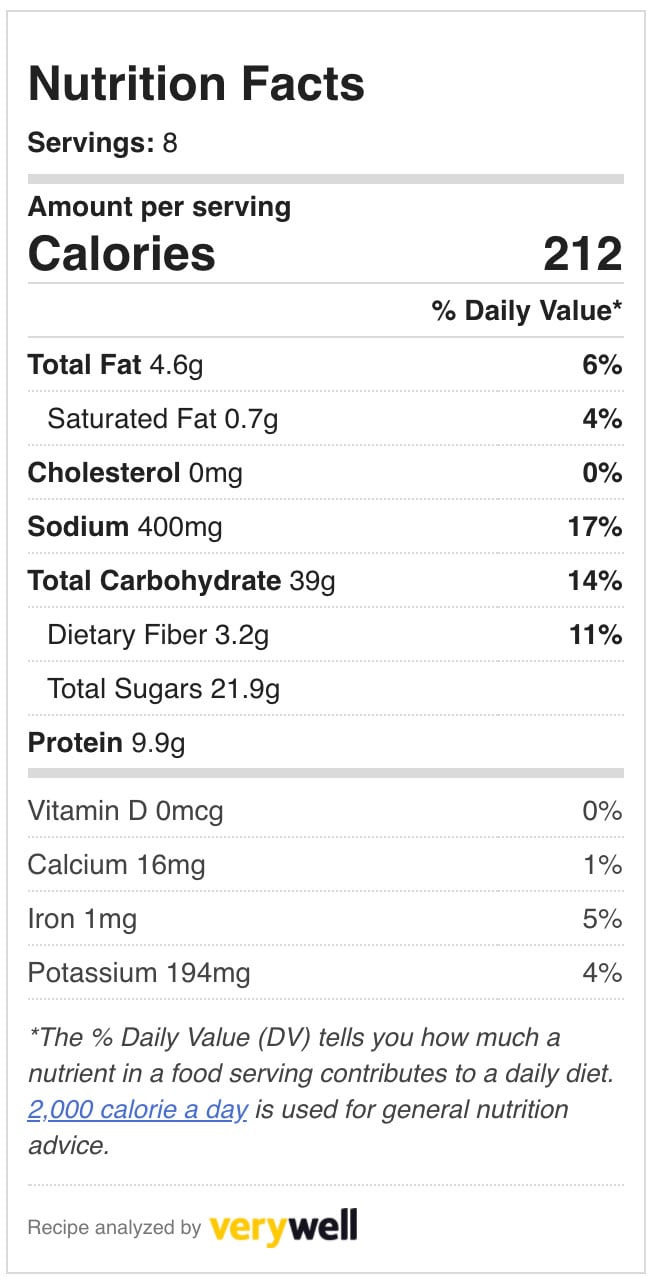 Information
Category

Cake, Desserts

Yield

8 servings

Prep Time

10 minutes

Cook Time

45 minutes

Total Time

54 minutes, 59 seconds
Nutrition
Calories per serving

212