Modern Pentathlon: What the Sport Is and How It's Scored
Modern Pentathlon Is the Most Thrilling Olympic Event You're Probably Not Watching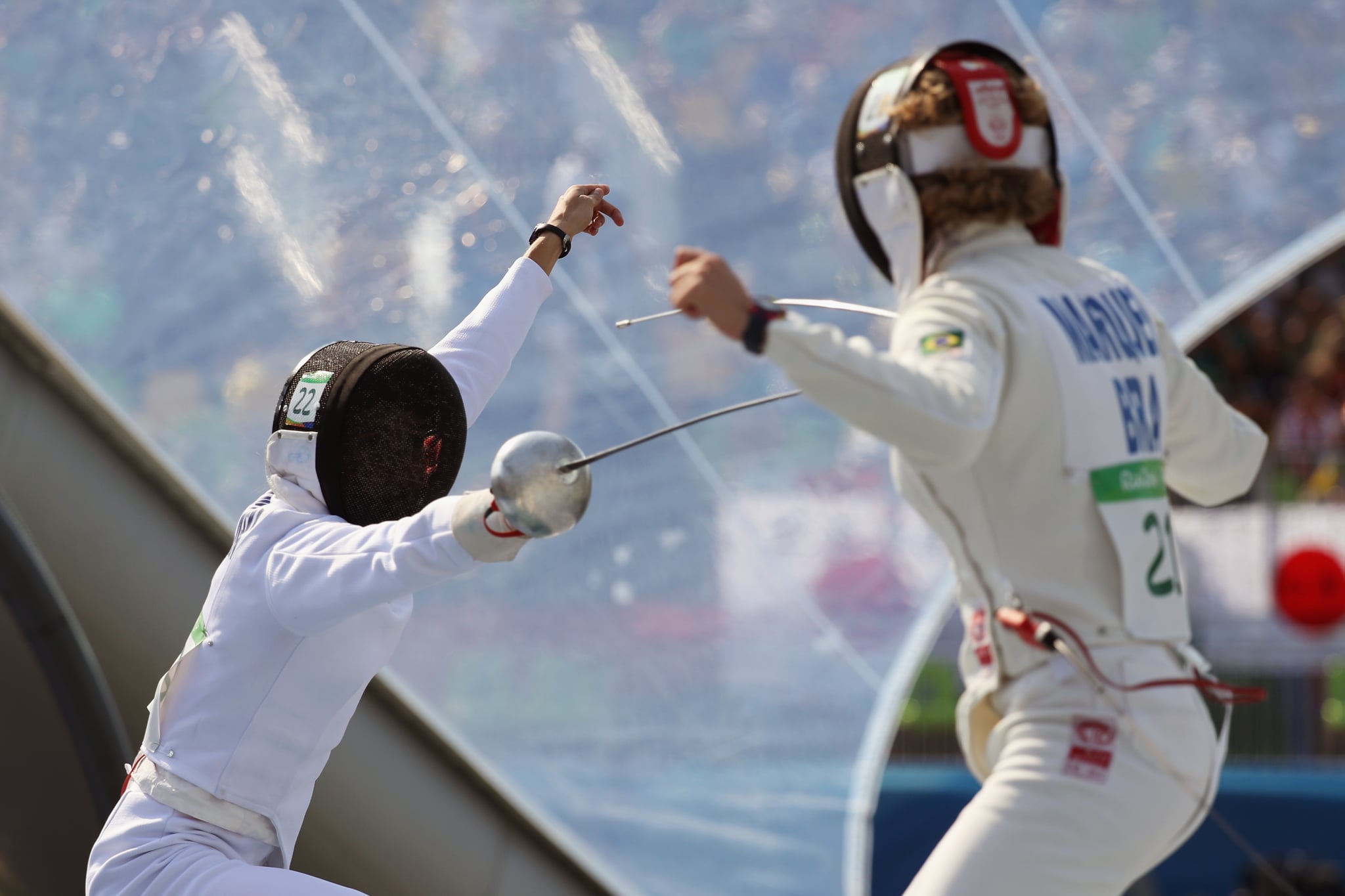 One of the most iconic but perhaps lesser known Olympic sports is the modern pentathlon, a multi-part event that requires athletes to master not one, but five different disciplines. Before athletes from around the world show off their skills in Tokyo this summer, learn more about what modern pentathlon entails and how to follow along.
What Is the History of the Olympic Pentathlon?
According to the sport's official Olympics page, the pentathlon is one of the most iconic Olympic sports, dating back to the Games in ancient Greece. Back then, it consisted of running, jumping, spear-throwing, discus, and wrestling, and it was viewed as uniquely important and admirable among the Olympic sports.
When the modern Olympics launched in 1896, the pentathlon was not part of the competition. It wasn't until 16 years later, at the Stockholm Games in 1912, that the modern pentathlon was introduced. The Olympics website notes that Baron Pierre de Coubertin, the founder the International Olympic Committee who's considered the father of the modern Olympics, was the biggest proponent of the modern pentathlon; he believed that the sport would test "a man's moral qualities as much as his physical resources and skills, producing thereby a complete athlete."
What Events Are Included in the Modern Pentathlon?
The modern pentathlon's component events have changed almost completely from its ancient predecessor. In fact, the only component that remains the same is running. In the modern event, running is paired with pistol shooting, fencing, swimming, and horse riding. Beginning in 2012, the pistol shooting event was modified to use a laser pistol, instead of a traditional pistol with bullets, both for safety reasons and to reduce environmental impact.
How Is Modern Pentathlon Scored?
Until 1980, competitors accumulated points while competing in five events held across five days — one event per day. Today, it's a little different. For starters, the entire competition takes place in one day, divided into two big sections. During the first "section," athletes compete in fencing, swimming, and horse riding, collecting points along the way.
According to NBC Olympics, in the fencing event, athletes first compete in a "ranking" round, where they face off against each other in round-robin fashion and get ranked based on their number of victories. Then, a bonus round produces matches based on those rankings, and athletes earn more points from victories in those rounds. Swimming is simpler: points are earned based on how close an athlete's time is to the bar of two minutes, 30 seconds. Similarly, if athletes finish the riding course in the time allotted, they get a full 300 points; if not, penalties are deducted.
The points from the first three events then determine starting positions for the final, which combines shooting and running. There are four shooting stations throughout the course, where athletes must hit five targets before continuing the race. The first three across the finish line win gold, silver, and bronze!