2-Ingredient Chocolate Truffles Recipe
These 2-Ingredient Chocolate Truffles Are So Easy to Make, but Taste Like an Elaborate Treat
If you need a new life motto to live by and are tired of the whole "live, laugh, love" thing, allow me to introduce you to one that has brought me great joy (and fixed a lot of problems): when in doubt, chocolate is always the answer. Good, right? And it's even better when there's little to no baking involved. So when I first spotted this recipe for two-ingredient chocolate truffles by TikTok user @audreysaurus, I was intrigued. All the benefits of baking with hardly any work? I'm in!
It only takes a few minutes of prep time before it sits in the fridge for two hours (which you can spend watching more TikTok videos, obviously). The only two things you need are cocoa powder and condensed milk, and the final result looks absolutely delicious. After all, who wouldn't enjoy a pretty, homemade chocolate dessert that you can eat with your fingers? Exactly.
Check out the full recipe below and see for yourself how amazing these are!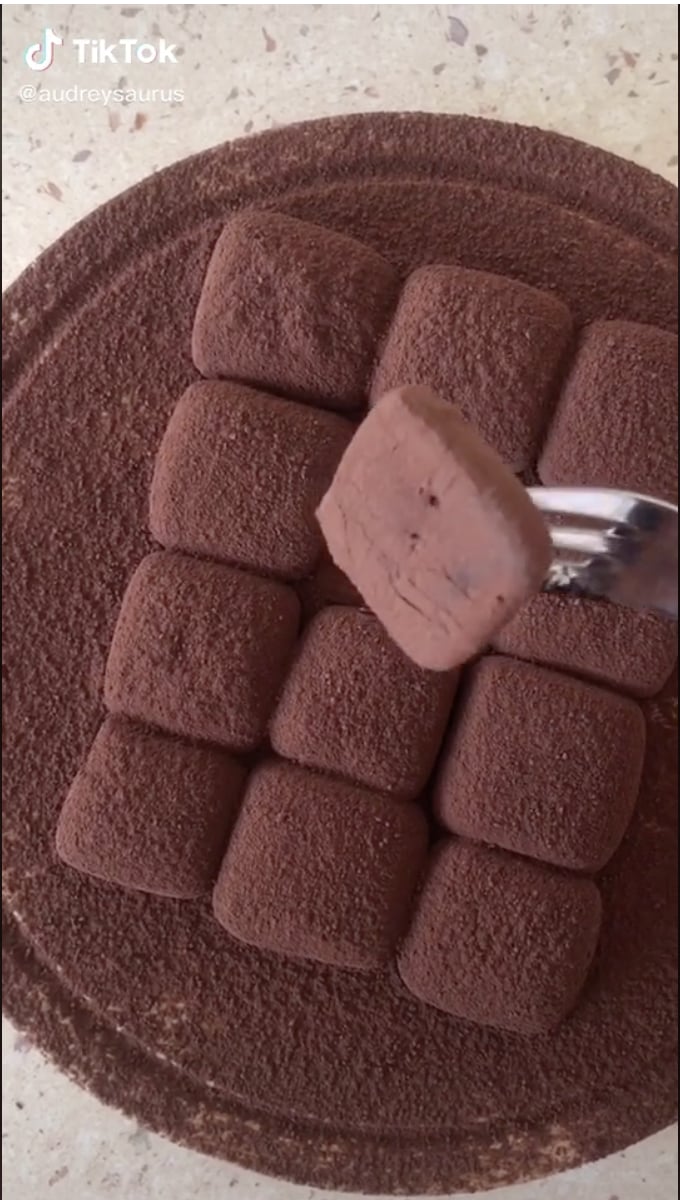 2-Ingredient Chocolate Truffles
TikTok user @audreysaurus
Ingredients
1 can sweetened condensed milk
1 cup unsweetened cocoa powder
Directions
Pour the condensed milk into a saucepan. Put it on the stove on low-medium heat. Stir continuously until small bubbles form in the milk.
Pour warm the condensed milk into a mixing bowl. Note: it will burn if left in the pan for too long!
Use a sifter to pour the cocoa powder into the bowl. Do a little at a time, then mix with a spatula or large spoon. Repeat until all the cocoa powder is mixed in. Audrey says, "If you do it all in one go, it's really clumpy and it's hard to mix. It's not fun!"
As you mix, your batter should start to become thick and gooey — resembling chocolate brownie batter. The finished product will have a fudge-like texture.
Put a large piece of plastic wrap over a rectangular bread pan. Sprinkle it with cocoa powder.
Pour the cocoa and milk mixture into the pan, then flatten it with a spatula. Bring the excess plastic wrap over the batter and gently press it to the batter.
Cool it in the fridge for approximately two hours.
Remove the pan from the fridge and use the plastic wrap to pull the truffle loaf out. Place it on a cooking board.
Use a sharp, large knife to cut one-inch strips crosswise. Then go back and cut the same strips lengthwise, leaving you with square-inch squares. With your fingers, pick up each square and gently prod them to round the edges out. This gives it a prettier finish (but it's totally unnecessary if you just want to eat them!).
Put them on a plate and dust with cocoa powder for the finishing touch.
Share with your friends or eat them all yourself. Enjoy!
Information
Category

Desserts

Yield

Makes 30-35 truffles

Prep Time

15 minutes

Cook Time

2 hours

Total Time

2 hours, 14 minutes, 59 seconds