Krispy Kreme Throwback Party Doughnuts
Krispy Kreme Is Taking Us Back to the '90s With Party Ring and Jazzie Doughnuts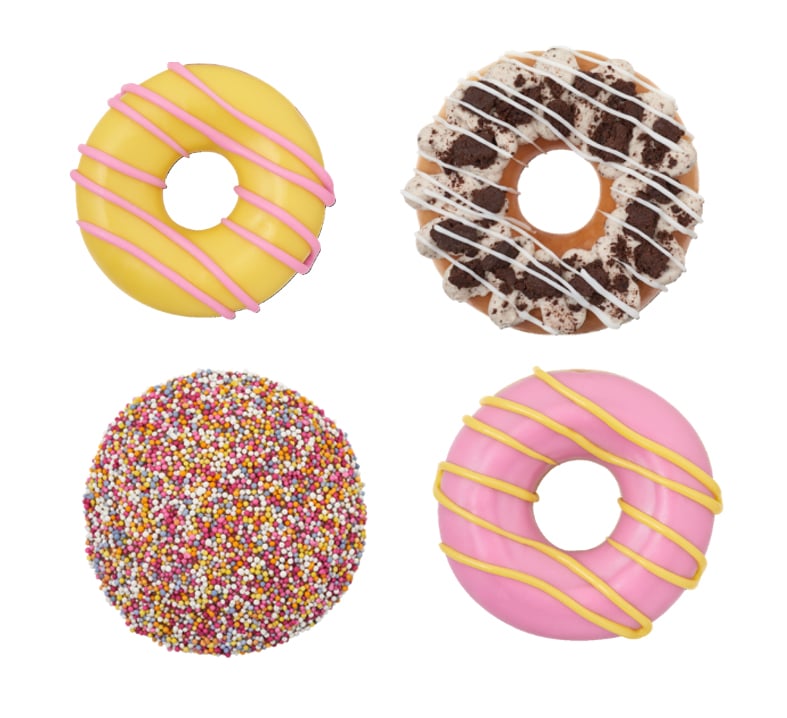 After paying homage to The Simpsons and making S'more Doughnuts a reality, Krispy Kreme is celebrating the start of the Summer holidays with the launch of a retro-inspired doughnut range that looks (and tastes) like your favourite nostalgic birthday party snacks.
In true '90s style, the classic iced-ring doughnut is getting a party ring-inspired makeover, with the addition of candy floss-flavoured icing in the pink or yellow we know from the famous iced biscuits. There's also a chocolate brownie batter-filled doughnut that pays homage to the pick-n-mix classic the jazzie, complete with multicoloured hundreds and thousands scattered over the top. The final addition to the range is the Cookies & Kreme doughnut, which is decorated with vanilla frosting and topped with crunchy cookie pieces. There's also a complimentary range of slushies and shakes with similarly retro flavours, including an Oreo Kreme shake. Yep, you read that right.
The doughnuts are available now, sold individually or as part of a sharer dozen. On Wednesday July 10, to celebrate the launch, the special edition doughnuts are buy one, get one free at your local Krispy Kreme store. That means you can get both the pink and yellow party ring doughnuts and share with a friend eat them too quickly and make yourself sick, just like you did the last time you ate them at a birthday party.
Image Source: Krispy Kreme