Chrissy Teigen Green Bean Casserole Recipe
Chrissy Teigen's Green Bean Casserole Recipe Relies on a Controversial Ingredient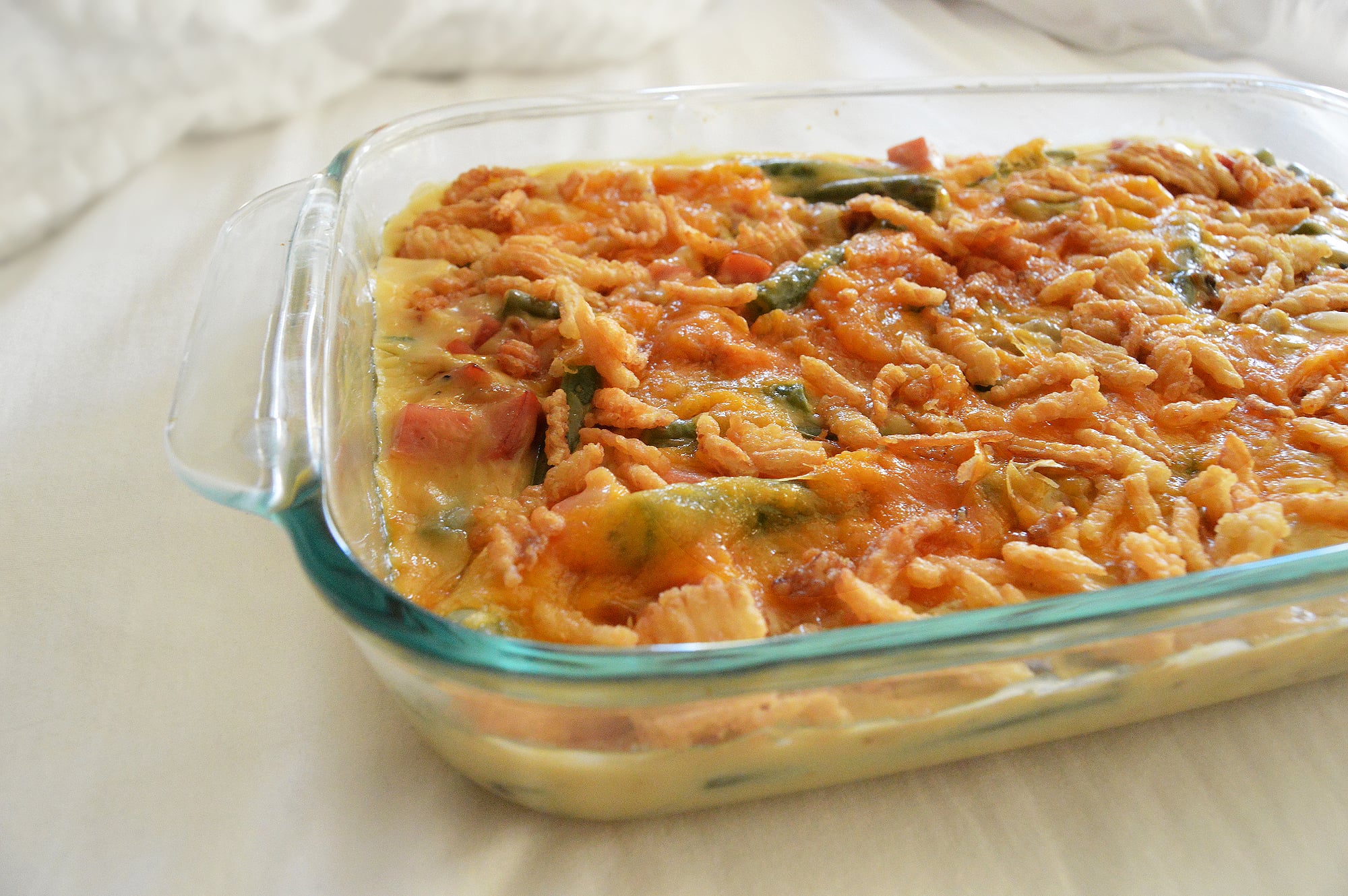 Chrissy Teigen knows a thing about feel-good food — her cookbooks, food blog, and YouTube channel all revolve around food that fills our hearts as much as our stomachs — food like green bean casserole, a Thanksgiving staple and a universal favourite.
This Cheesy Green Bean Casserole recipe requires only 20 minutes of prep, yet serves 8-10 people and tastes like you spent the whole day in the kitchen. How is it possible? Well, according to Chrissy, the key to making this casserole is canned mushroom soup. I'll admit, as I reached for the last two cans of condensed soup in the back of my pantry, I felt like I was committing some kind of cardinal cooking sin against the grandmothers that invented the green bean casserole. But Chrissy's assuring words stuck with me. "Permission granted!" she proclaims on her blog upon revealing the controversial ingredient. Sometimes it makes sense to stick with a classic.
The green beans are certainly the star of the dish, but it's the ooey-gooey cheese, the crispy fried onions, and of course, the creamy mushroom soup that takes the flavour to another level. A recipe that's as delicious as it is easy might sound too good to be true, but once you have a bite (or two), there's no doubt you'll be craving it for Thanksgivings to come. Read on to learn how to make Chrissy Teigen's Cheesy Green Bean Casserole.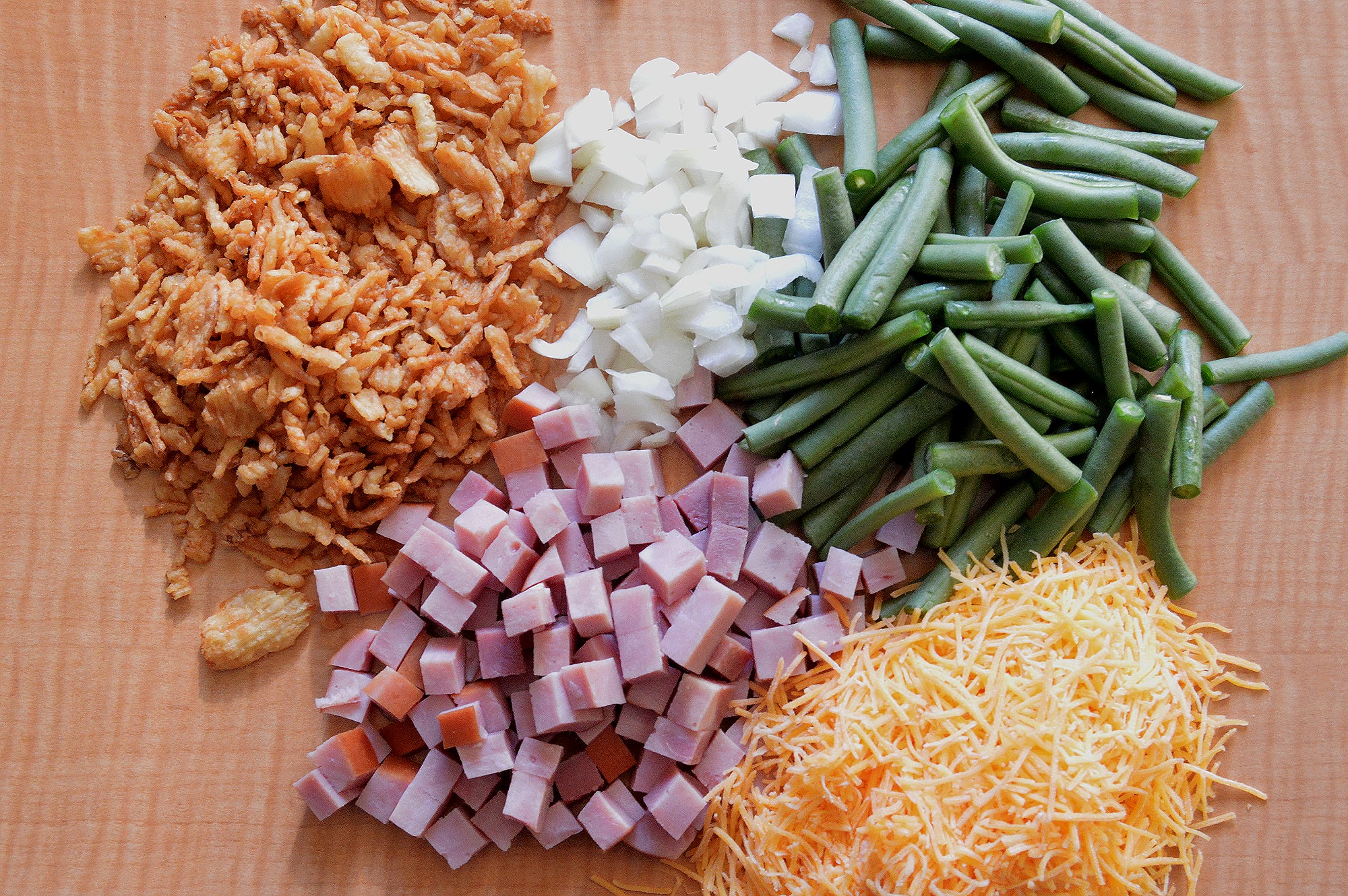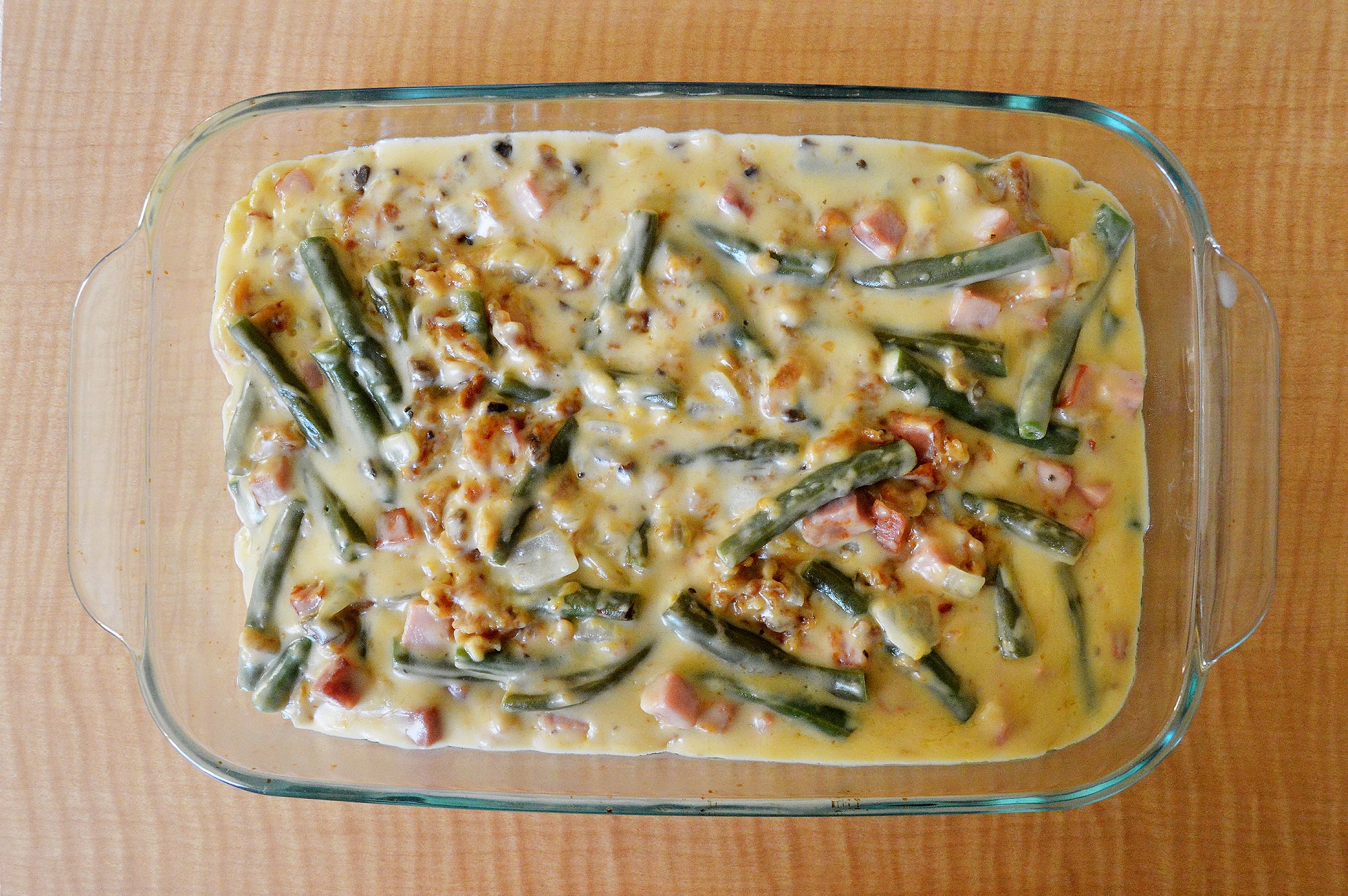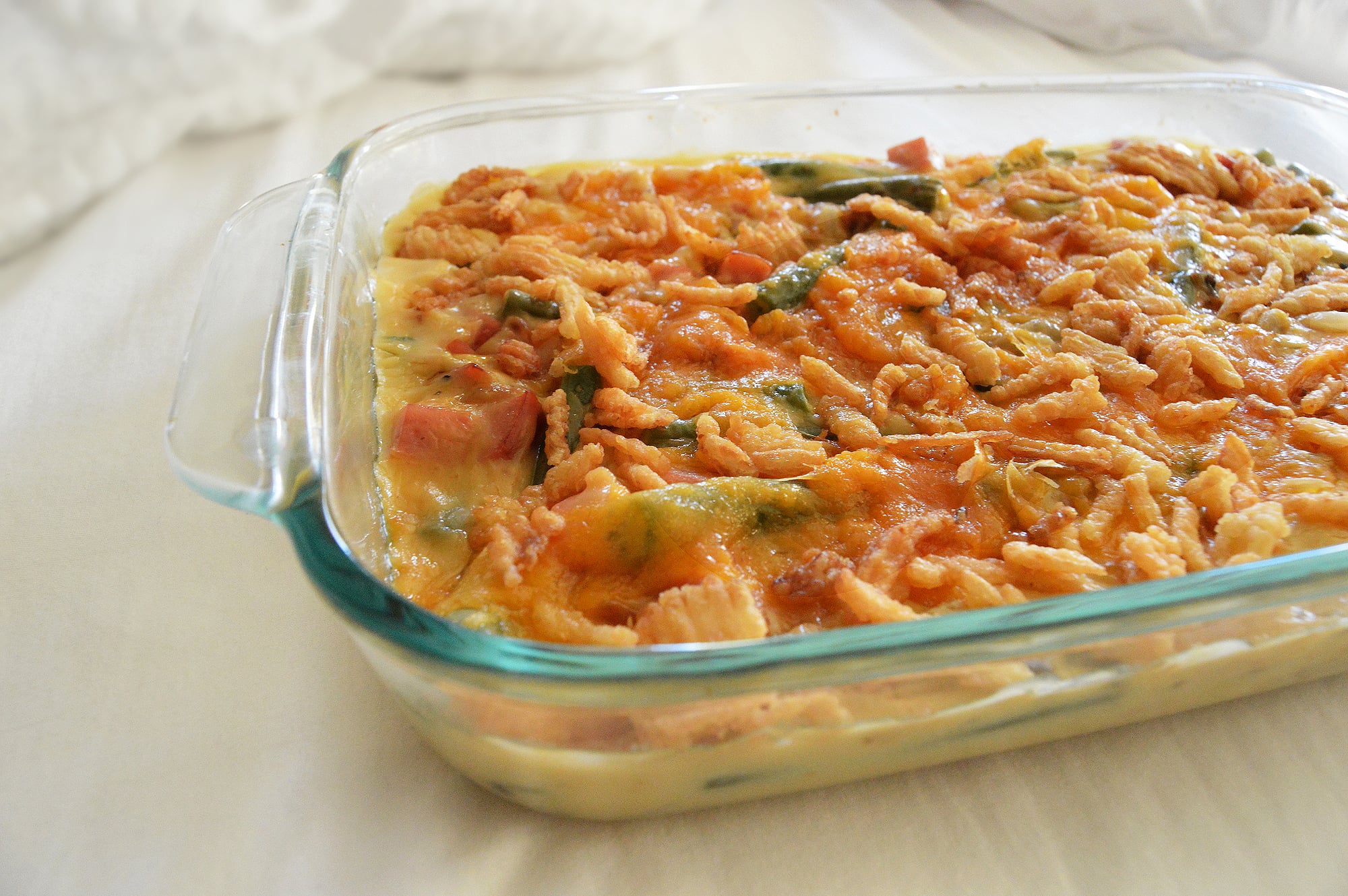 Chrissy Teigen's Cheesy Green Bean Casserole
Cravings by Chrissy Teigen
Notes
Omit the salt if you're using cured ham.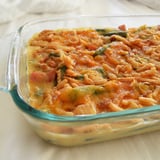 Ingredients
4 cups chicken broth or water
2½ cups fresh green beans, cut into 2-inch-long pieces
2 (10 oz.) cans of low sodium cream of mushroom soup
¾ cup half-and-half
1 teaspoon garlic powder
½ teaspoon kosher salt
½ teaspoon freshly ground black pepper
8 oz. uncured ham, cubed
½ cup onions, diced
2½ cups shredded cheddar cheese, divided
1 cup canned French fried onions, divided
Directions
Preheat the oven to 350°F. Bring the chicken broth to a boil in a small pot, add the green beans, and cook until tender-crisp, 5-6 minutes. Drain into a bowl, and save the chicken broth for another use.
In a large bowl, whisk together the mushroom soup, half-and-half, garlic powder, salt, and pepper. Stir in the cooked green beans, ham, onions, 2 cups of the cheddar, and and ¾ cup of the fried onions.
Spray a 10-x-12-inch baking dish with cooking spray, and add the mixture to the casserole. Sprinkle with the remaining ½ cup cheddar, and bake until bubbly and crusty, 40 minutes, adding the remaining ¼ cup French fried onions during the last 10 minutes of baking. Remove from the oven, let sit for 5 minutes, and serve.
Information
Category

Side Dishes

Yield

8-10

Prep Time

20 Minutes

Cook Time

1 Hour

Total Time

1 hour, 19 minutes, 59 seconds
Image Source: POPSUGAR Photography / Kalea Martin