Instant Pot Chicken Enchiladas Recipe With Photos
These Easy Instant Pot Chicken Enchiladas Are Perfect For a Backyard Date Night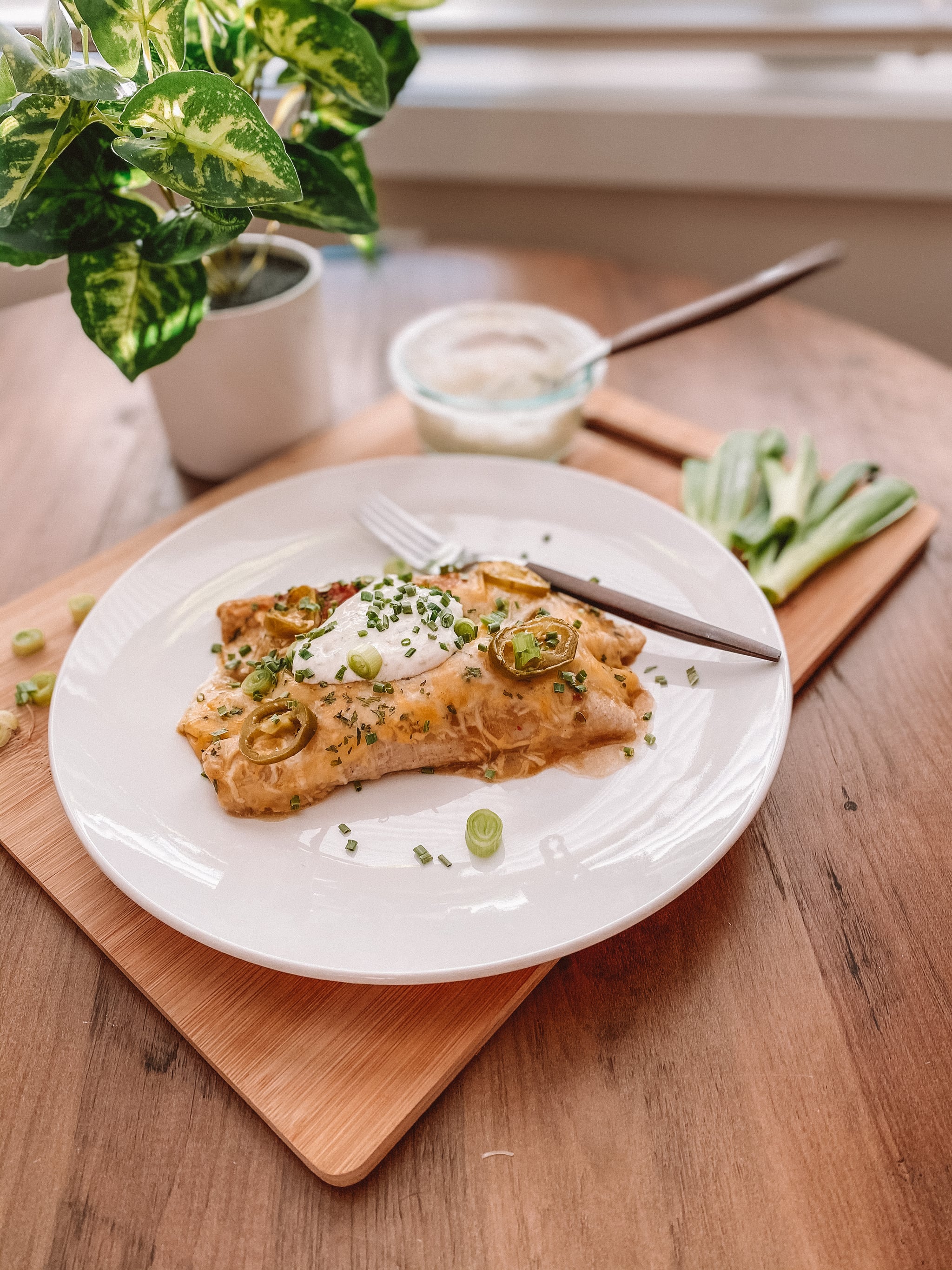 If you want to make a delicious meal to share with your partner for a backyard date night this summer, look no further than this recipe for easy Instant Pot chicken enchiladas. This recipe still brings all of the cheesy and delicious taste of traditional enchiladas but swaps a few ingredients for slightly healthier options. Trust me, you'll feel like you're enjoying an amazing meal at your favourite Mexican restaurant!
This recipe does require an Instant Pot, but no worries if you don't have one on hand - you can always use your oven instead. Just make sure to bake your chicken at 400 degrees for 22-25 minutes in a glass baking dish if you are opting to use your oven. And if the ingredients list and instructions look a little intimidating, don't worry! You might already have a lot of things in your kitchen already, and many of the steps are quick and easy. Keep reading for the full recipe and more photos of this irresistible dish.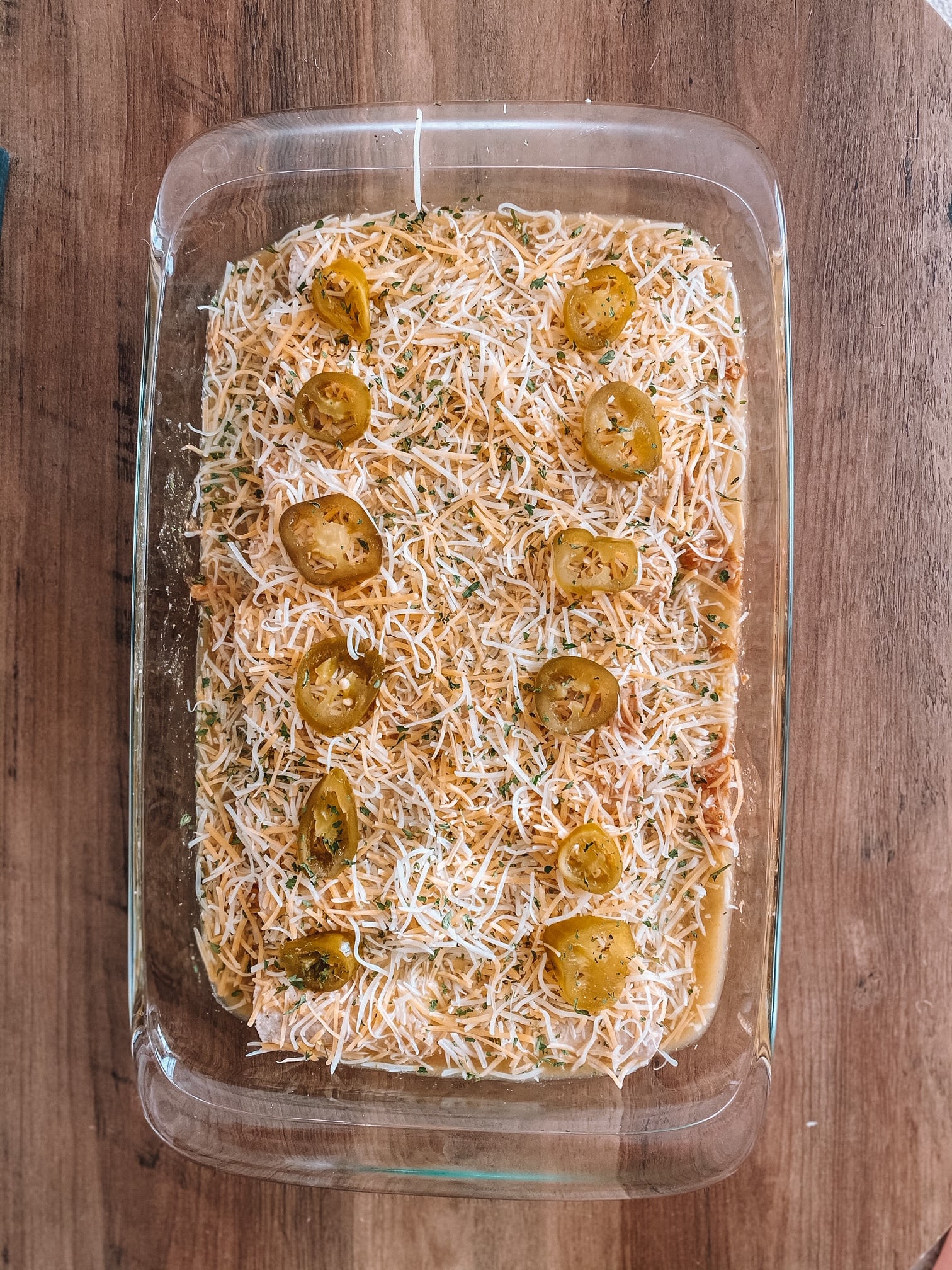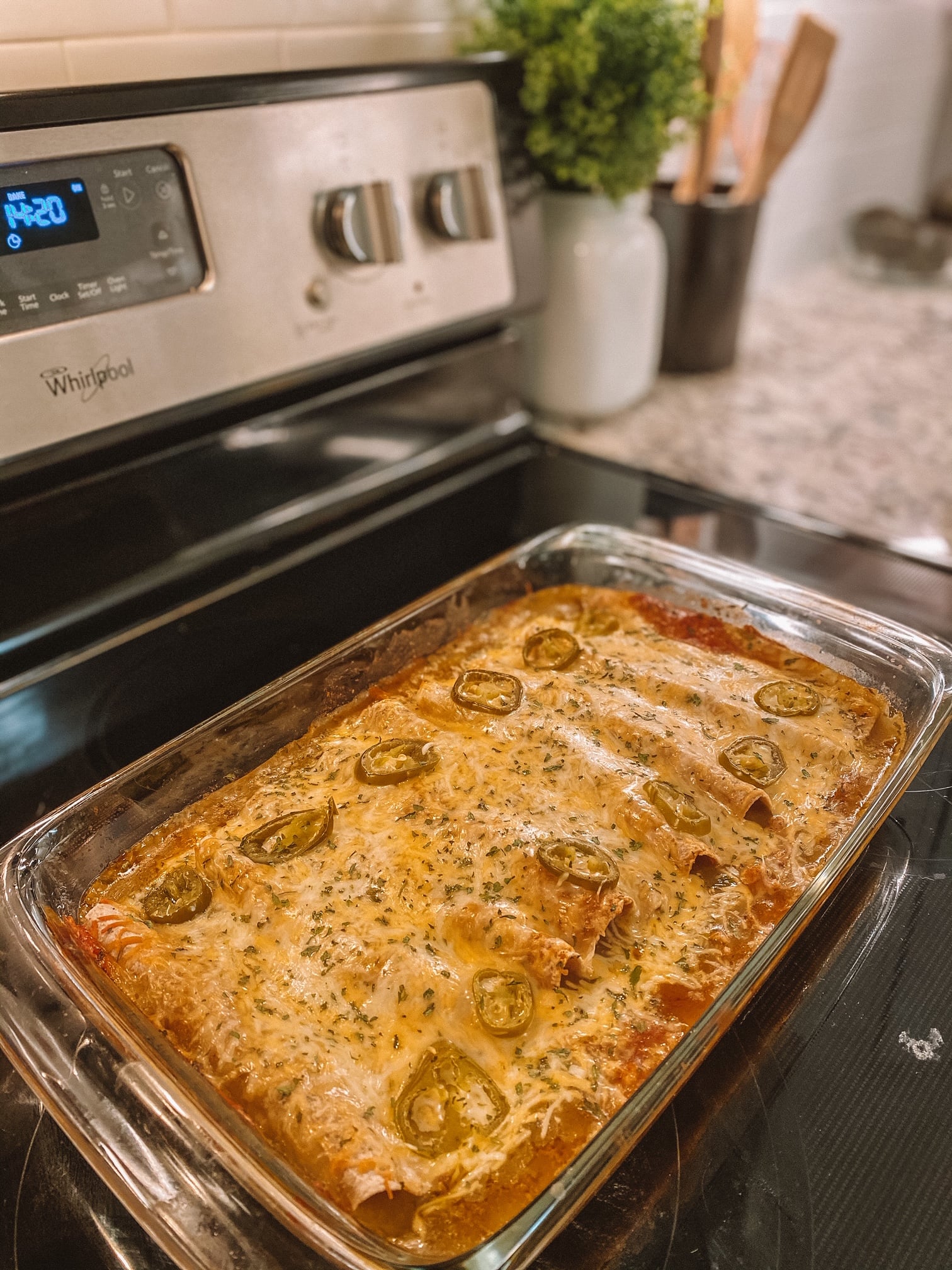 Instant Pot Chicken Enchiladas
Original Recipe by Taylor Celentano
Notes
This recipe requires a 6-8 Quart Instant Pot and a 15" x 10" Pyrex or glass baking dish.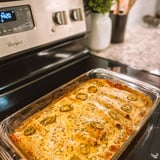 Ingredients
3 tablespoons olive oil
2 12-ounce cans of green chile enchilada sauce
1 15-ounce can of black beans
1 pound of raw chicken tenders
1 medium sweet onion (chopped)
1 red bell pepper (chopped)
3/4 cup frozen corn
4 cloves of garlic (minced)
1/2 cup pickled (or fresh) jalapeños (chopped)
1 teaspoon cumin
1 teaspoon paprika
1 teaspoon chili powder
2 teaspoon onion powder
2 teaspoon garlic powder
1 cup lite shredded Mexican blend cheese
10 whole wheat small tortillas (soft taco sized)
1 tablespoon dried (or fresh) cilantro
1/2 cup greek yogurt
2 teaspoons onion salt (or onion powder)
1/4 cup chopped green onions
Salt and pepper for taste
Directions
Pour about 1/2 cup of your green enchilada sauce into the bottom of your Instant Pot and place your raw chicken on top.
Sprinkle in your cumin, paprika, chili powder, onion powder, and garlic powder. Mix well and pour 1/4 a cup more of your enchilada sauce on top.
Set your Instant Pot to pressure cook for 8 minutes. While your Instant Pot is doing its thing, start your sauté pan with your olive oil and toss in your chopped red bell pepper.
Sprinkle in salt and pepper, stir well, and let sauté for 7-8 minutes.
Add in your onion mix well and sauté for another 7-10 minutes.
Add in your minced garlic, let sauté for 2 minutes.
Add in your corn and black beans, stir well, and let sauté for 2-3 minutes. Cover your veggie mixture and remove from heat. [Preheat your oven to 415 degrees.]
Remove your Instant Pot lid and use two forks to pull chicken pieces onto a cutting board to shred (keep the sauce in the pot).
Once all chicken has been shredded, move back into the sauce and stir well, coating the chicken once again in your sauce.
Line your pyrex dish with 1/2 cup of enchilada sauce.
Take your first tortilla and lay flat on cutting board (or counter space). Add a small spoon full of shredded chicken, a small spoon of veggie and bean mixture, and then fold over and wrap under (make sure not to fill your tortillas too much otherwise it will become a huge mess and your tortillas could tear open).
Lay each rolled tortilla (fold down) into your pyrex dish.
Continue wrapping and rolling each tortilla until you've filled your dish, laying each rolled tortilla tightly next to each other horizontally.
Top with another two cups of enchilada sauce, making sure to cover the rolled tortillas generously. Sprinkle on your cheese, cilantro, and jalapeño slices evenly.
Bake for 25-27 minutes, checking on it periodically (you want it to bubble and ooze but you don't want to burn the cheese on top).
Once done baking, let it sit and set/cool a bit on your stove top. Use this time to prep your toppings.
Thinly chop your green onions. Mix your greek yogurt and onion salt (or onion powder) together.
Top your enchiladas with a dollop of your greek yogurt mixture, sprinkle on a few green onions, and enjoy!
Information
Category

Main Dishes

Cuisine

Mexican

Yield

4 Servings

Prep Time

30 minutes

Cook Time

27 Minutes

Total Time

56 minutes, 59 seconds