Sweet Potato Cast Iron Skillet Pizza Recipe
This Cast Iron Sweet Potato Pizza Takes Regular Pizza Up a Notch — and It's So Easy to Make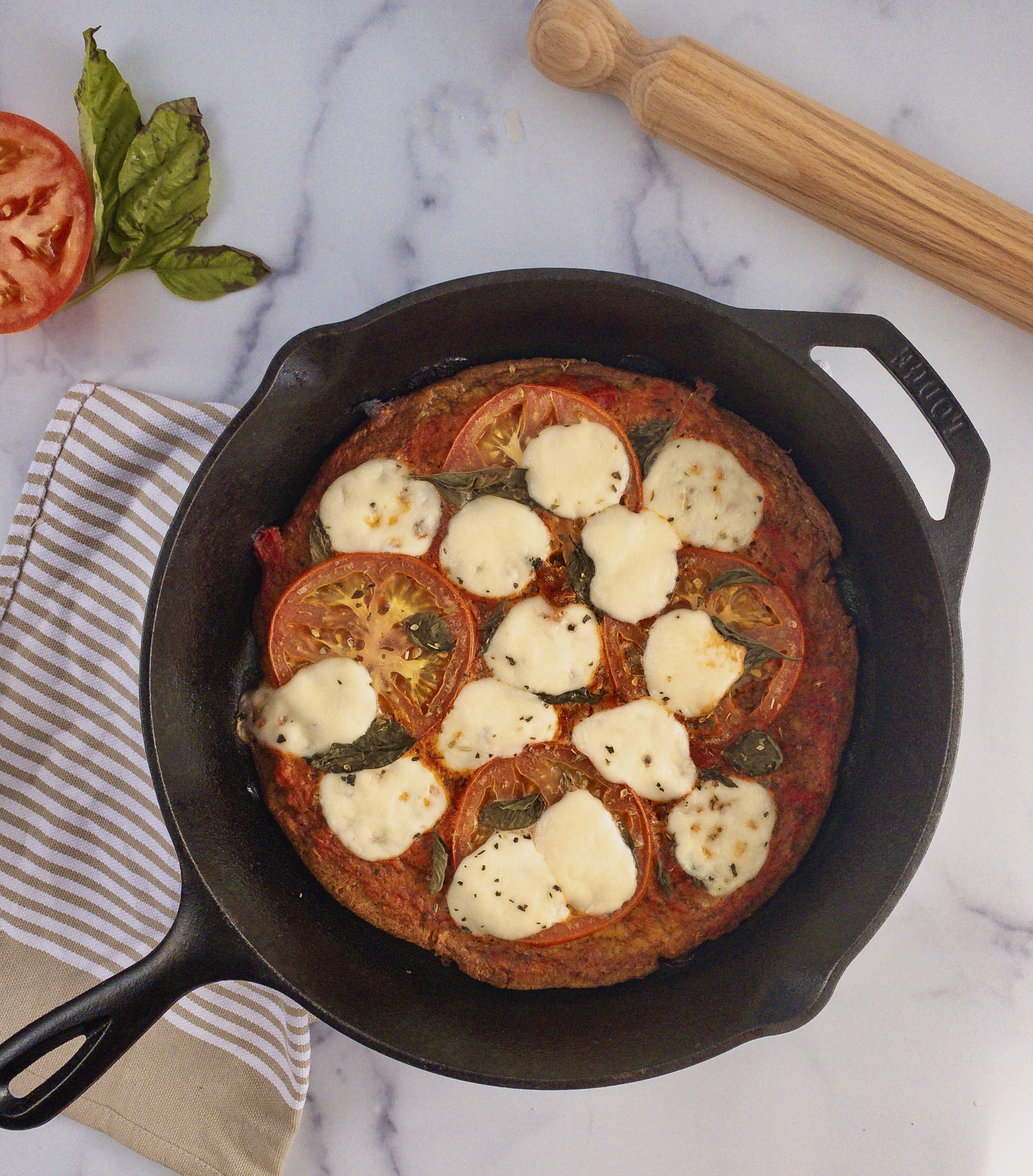 If you're already a fan of The Peachy Prodigy, then same. And if you haven't heard of Garianne Sheridan's food blog, then allow me to introduce you to your newest obsession. Whether you're looking for a delicious new recipe to try or want to check out her fun travel guides, The Peachy Prodigy is your girl. I've been a fan of hers for a while, so when I saw this recipe for cast iron sweet potato pizza, I knew I had to try it. I love all kinds of pizza — crusts, dough types, toppings, flavour combos, you name it — so trying to re-create this one was a no-brainer.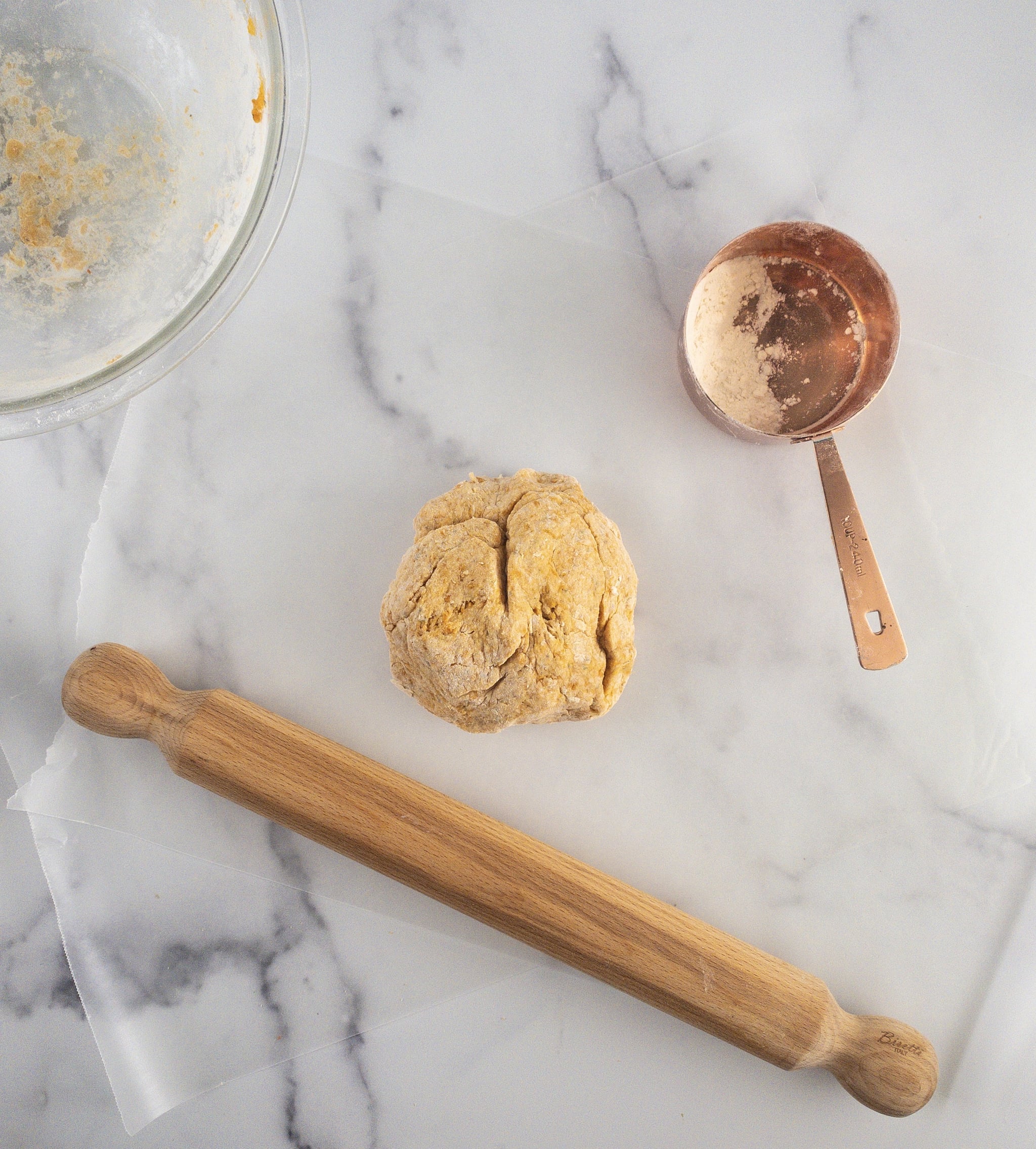 The dough is so simple and so delicious. All you need is a sweet potato, flour, bicarbonate of soda, and spices. The Peachy Prodigy uses rosemary in her recipe, but I didn't have any available, so I used dried oregano instead, and it was still just as delicious. I also recommend rolling out your dough between two pieces of wax paper. This eliminated the mess of flouring my countertop and was so easy to flatten and transfer to my cast iron pan.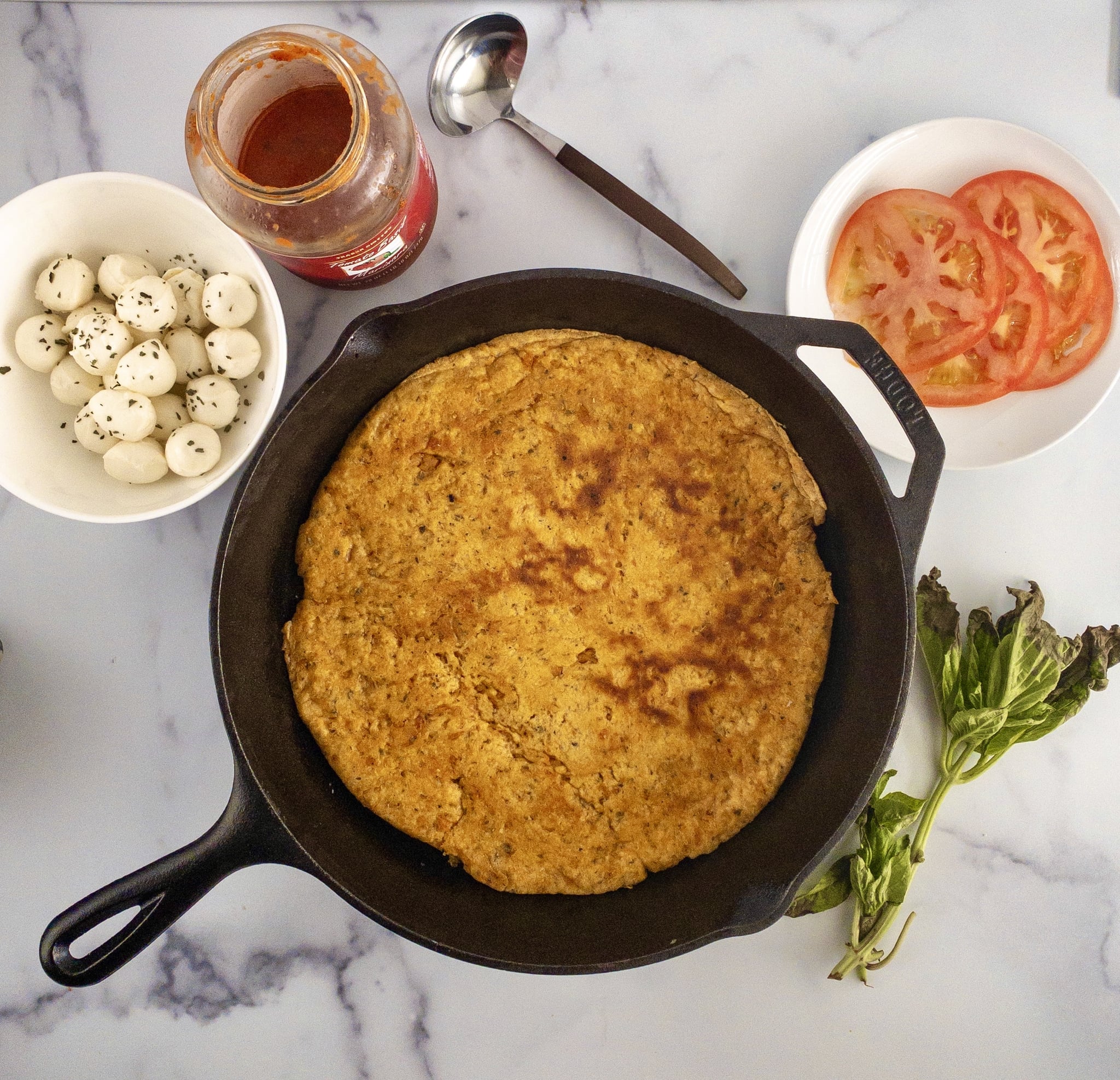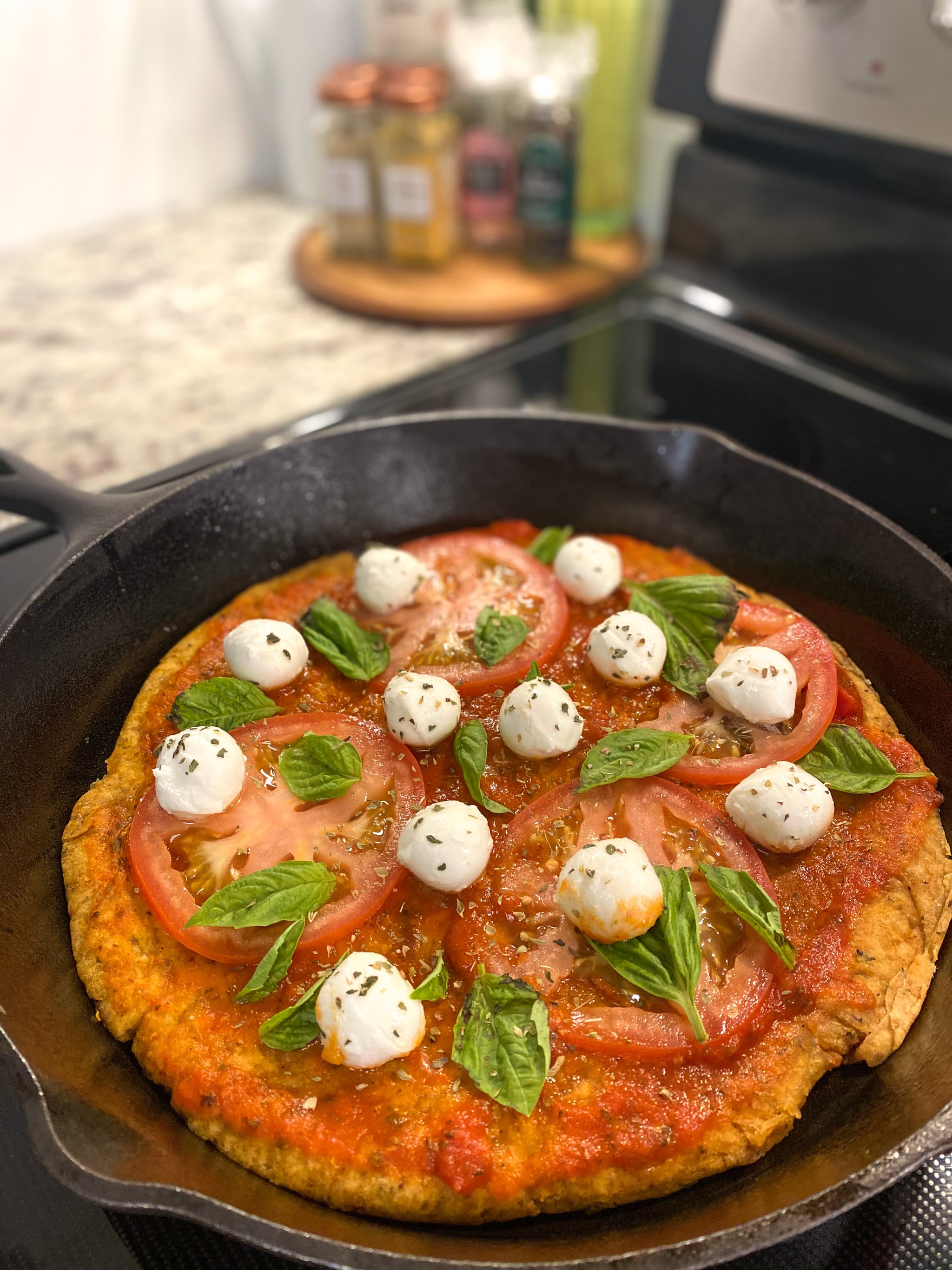 I chose to make a Margherita style pizza, mostly because I had fresh mozzarella and basil I wanted to use before it went bad, but feel free to mix up any of your favourite topping combos. Not only is this a delicious dinner idea, it's a great way to get your partner or roommates to join you in the kitchen to make their own pizzas. You'll be using a cast iron skillet, which gets very hot to the touch, so just be careful.
The first bite was my favourite because I couldn't believe the texture and flavour of the crust. Browning the dough before baking it gives it a crunch, but the rest of the bite is soft, sweet, and fluffy.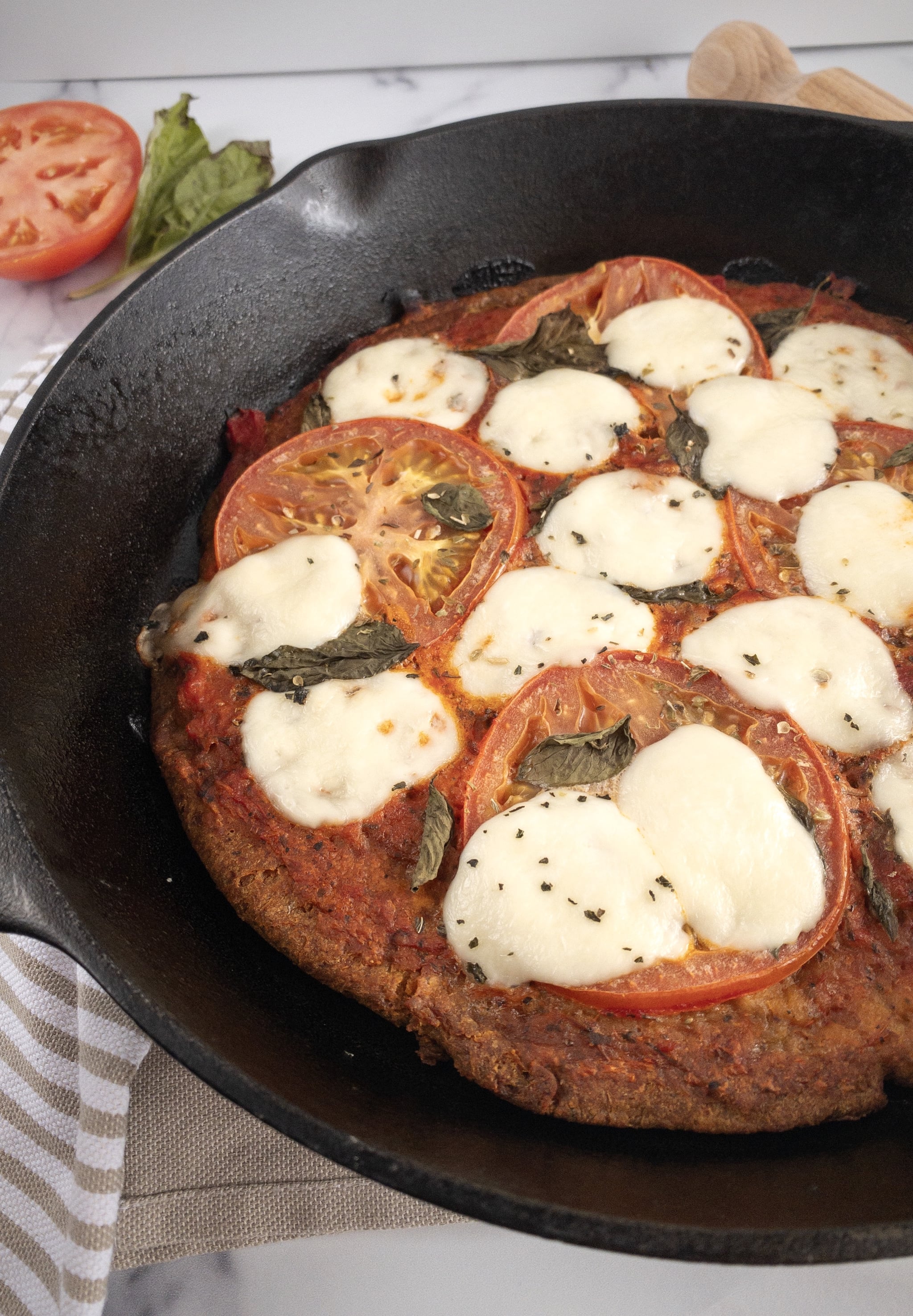 Sweet Potato Cast Iron Skillet Pizza
The Peachy Prodigy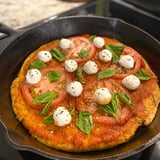 Ingredients
Pizza Dough:
1 medium sweet potato
1 cup flour
1 teaspoon sea salt
1 teaspoon oregano
1 teaspoon tapioca flour
1 teaspoon of baking soda
Toppings:
2 tablespoons of jarred tomato sauce
12-14 pieces of fresh mozzarella cheese
4-5 slices of fresh tomato
18-20 pieces of fresh basil
dried oregano
dried parsley
Directions
Poke holes around the sweet potato and put in the microwave for 6 minutes.
Once done, remove the skin from the sweet potato and transfer it into a medium bowl to mash — add in the oregano, sea salt, and then the flours and baking soda until it forms a dough-like consistency.
Place on floured surface, so it doesn't stick (you can also place between two pieces of parchment paper, so it doesn't stick).
Roll out with a rolling pin and transfer into oiled cast iron skillet. I used olive oil.
Let the base brown in the skillet over medium heat on the stove top for about 3-4 minutes. Once browned, flip and let the other side sit for about 2 minutes.
Top with sauce and all other toppings.
Sprinkle with oregano and parsley and transfer into oven at 500 degrees. Bake for about 12 minutes.
Let cool for about 5-8 minutes, slice and enjoy!
Information
Category

Main Dishes, Pizza

Cuisine

Italian

Yield

(1) 12"personal pizza

Prep Time

15 minutes

Cook Time

12 minutes

Total Time

26 minutes, 59 seconds