This Candle Hilariously Captures the Struggle For Lefties
This Lefties Candle Smells Like "the Weird Scissors," and We Finally Feel So Seen
As POPSUGAR editors, we independently select and write about stuff we love and think you'll like too. POPSUGAR has affiliate and advertising partnerships so we get revenue from sharing this content and from your purchase.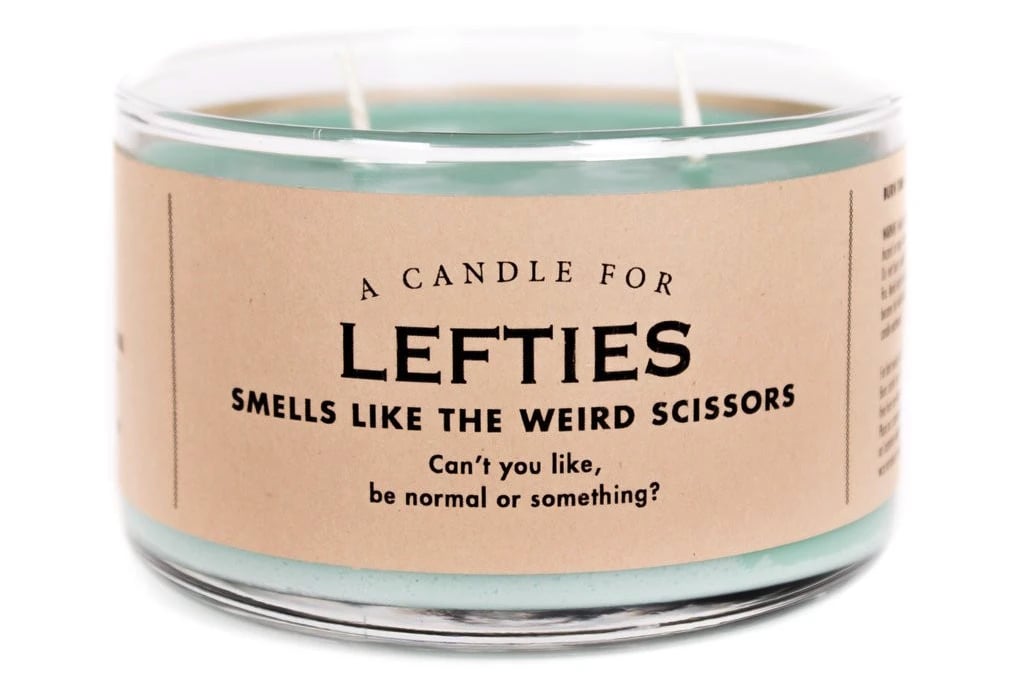 *Taps mic*: This one goes out to all the lefties out there who know the pain of always being forgotten. Yep, if you're left-handed and know what it's like to constantly bump elbows with people, sit at awkward desks, and try using tools not built with you in mind, Whiskey River Soap Co.'s got your back. The company decided to do something for lefties that almost nobody else ever seems to do: see us. Their Lefties Candle ($24) is specially curated for the 10 percent of the world who just can't seem to catch a break.
This candle has a preschool paste jar scent, but jokes that it smells like "the weird scissors" that just never seem to work. We're also willing to bet there are hints of never winning in Mario Kart because your controller is rigged for right-handed winners, and like smudges of pencil marks across a notebook (and your hand) as you go against the grain. It has a burn time of about 60 hours, and the label features the hilarious phrase, "Can't you like, be normal or something?"
It makes for the perfect lighting for dinners in, during which you'll bump elbows with your guests at least six times when you both go to take a bite to eat. In truth, it might be the only thing made just for you, because candles don't care what hand you use to light them with.