Ninja Blast Portable Blender Review
Ninja's Blast Portable Blender is Powerful Enough For Smoothies, Shakes, and Frozen Cocktails
As POPSUGAR editors, we independently select and write about stuff we love and think you'll like too. If you buy a product we have recommended, we may receive affiliate commission, which in turn supports our work.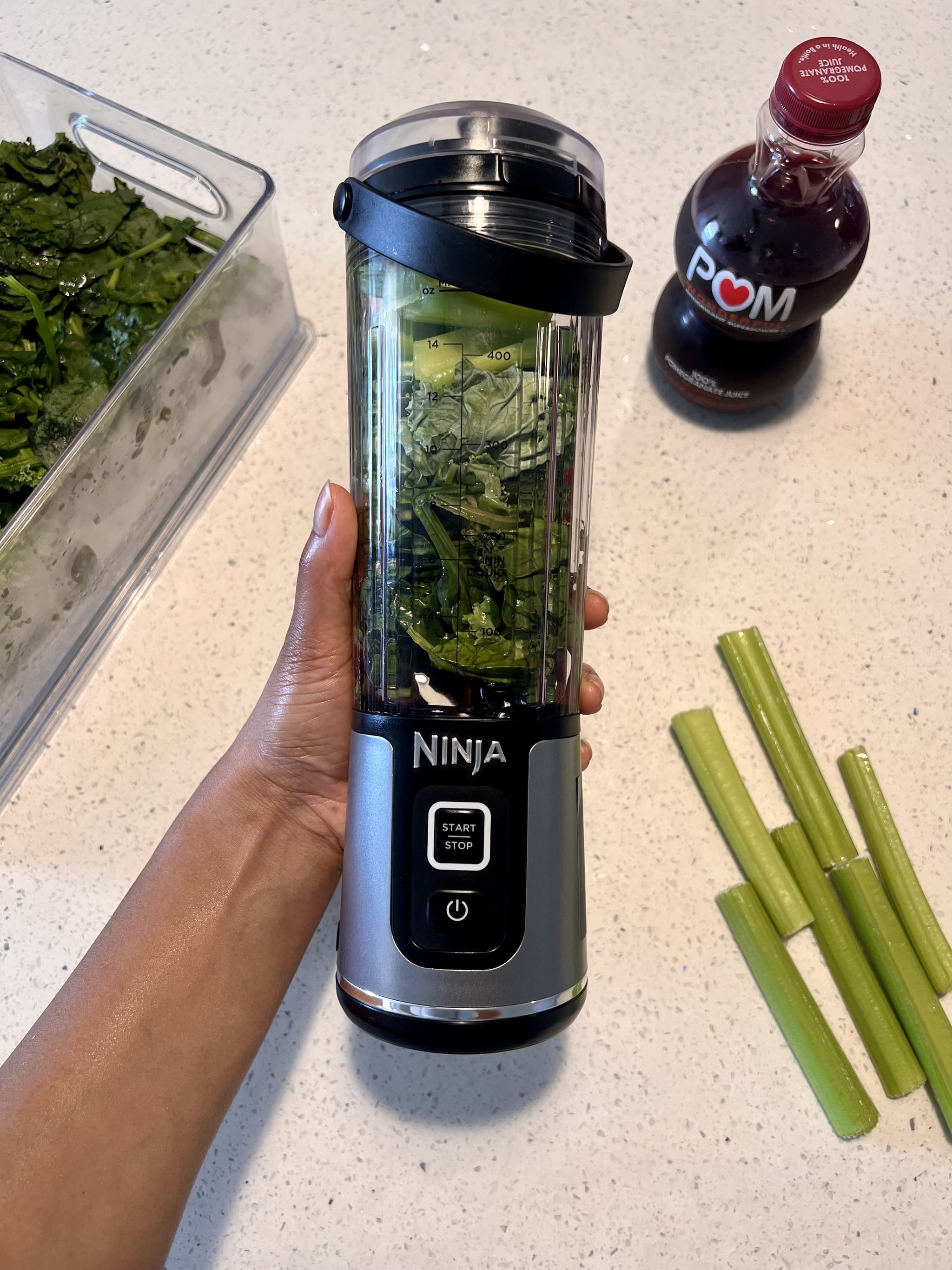 There's something about the summertime that makes me crave fresh, sweet, yet healthy smoothies, and for that, I need a high-quality blender. However, living in an apartment with limited countertop space, I needed a blender that was slim and easy to store. I also wanted something that can cut through and shred ice cubes to keep me cool during the sweltering heat — and also for frozen margs if we're being honest. There are plenty of personal-size blenders on the market, but I've always found them to not be powerful enough for my needs, until the Ninja Blast Portable Blender (£50) came into my life.
What I Like About the Ninja Blast Portable Blender:

The Ninja Blast Portable Blender is a cordless rechargeable personal-size blender you can take on the go. It's perfect for making smoothies, protein shakes, quick and small blends, and even frozen summer cocktails — from ice cubes to frozen fruits and veggies, it all turns into a smooth texture that can rival actual blenders. The personal blender has sharp stainless steel blades, two smaller ones on top of a base of four larger ones that alternate in direction. The ribbed design of the vessel part is not just for a stylish look, but according to the brand, it helps create a vortex to push the ingredients inward.
What I love most about this blender is how it's designed for convenience in every way possible. The blender is a compact design that can fit in the palm of your hand, plus it has a carrying handle on the lid too. But, the best part, is that it can fit into most cup holders making it perfect for your daily commute if you drive. I can even slip this into backpacks, tote bags, and even gym bags without worrying about it leaking, since the lid screws on tightly and suctions onto the vessel. It's beyond easy to use with only two buttons: one to power on and the other to start and stop a blend. The start and stop button has an LED light that changes colour to alert you of any issues or when it's ready to blend. Plus, the base also has a cheat sheet on the side for what each lighting pattern means.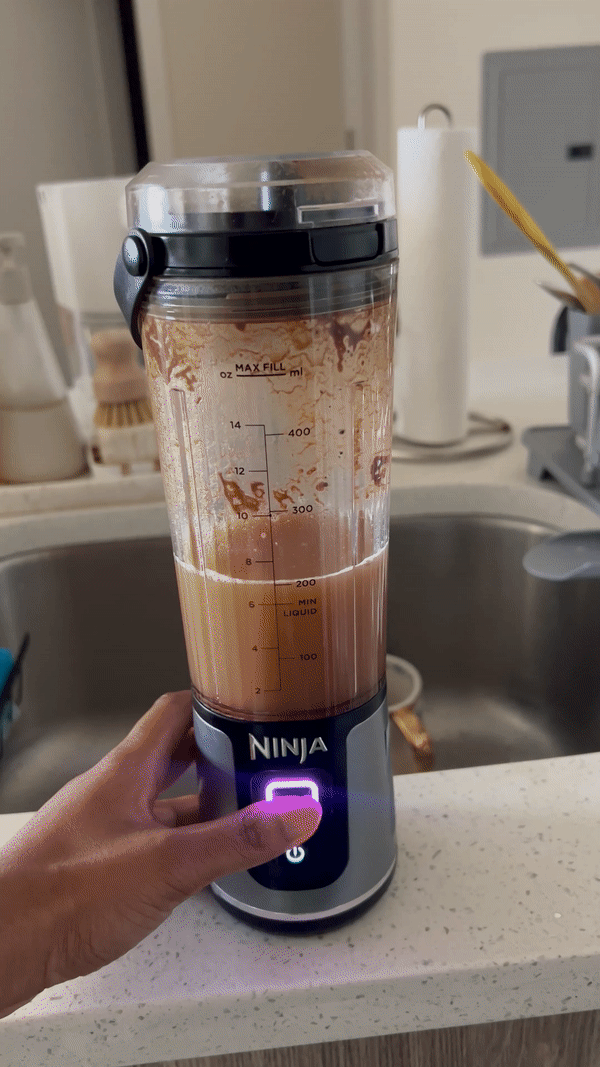 It's super easy to clean as well; just blend a cycle of water and dish soap and watch the stuck-on gunk disappear before your eyes. After I'm done with my drink I just fill half of it up with water or do a quick rinse, to make it even easier to clean when I get home or if it'll be awhile before I'm able to access a sink and dish soap. The ribbed vessel and lid are dishwasher safe too.
Another underrated feature I appreciated was the fact that it utilises a USB-C charging port. USB-C are the most common charging port, besides Apple's iPhone models, so even if you lose the one they provide you with, or forget to pack one, you're bound to be able to find a spot to charge up, if you happen to run out of battery. The base gives you around 15 blends per charge and gets fully charged within two hours.
What's Worth Noting About the Ninja Blast Portable Blender: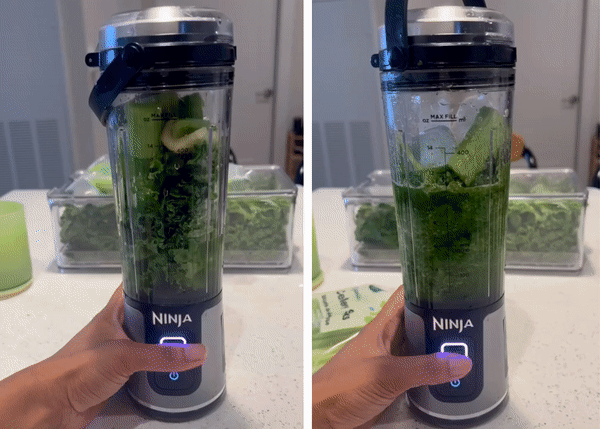 Although this blender is pretty powerful for a personal-size, rechargeable option, the blades aren't able to do their job if the vessel is overstuffed with greens, fruits, and the works. You'll notice a flashing orange light around the start-stop button that will alert you if this happens, and if it does it's a simple fix. I just take out some of the contents and make sure there's enough space for the blades to rotate. Once it's pulverised I add in the rest.
Another thing I noticed is that, unlike bigger blenders, you have to chop up things like celery or carrots into smaller pieces for them to blend thoroughly into a smooth texture. For the times, it comes out a bit chunky, I just run the blender again.
Who's the Ninja Blast Portable Blender Best For?
The Ninja Blast Portable Blender is great for anyone who lives a busy lifestyle and needs a quick yet fulfilling smoothie on the go. However, I love using this at home too, since I love that it's small-space friendly, and compact and that it's easy to clean and store. It's built to fit into your daily routine, from its convenient carrying handle and cup-holder-friendly design to its USB-C-based charging capabilities.
Additional Details:
The Blast Portable Blender has a capacity of 18 ounces.
It comes with 7.4-volt motor base, a blending vessel, an easy-open sip lid with carrying handle and a USB-C charging cable.
The sip lid and blending vessel are BPA-free and dishwasher safe. The motor base is not, and should not be submerged in water.
It's rechargeable via USB-C port.
You can get it in two colours.
Where is the Ninja Blast Portable Blender Available?
The Ninja Blast Portable Blender is available directly through the brand's site (£50).
Rating:

Image Source: POPSUGAR Photography / Anvita Reddy