What to Know Before Wedding Dress Shopping
3 Things I Wish I'd Known Before Going Wedding Dress Shopping For the First Time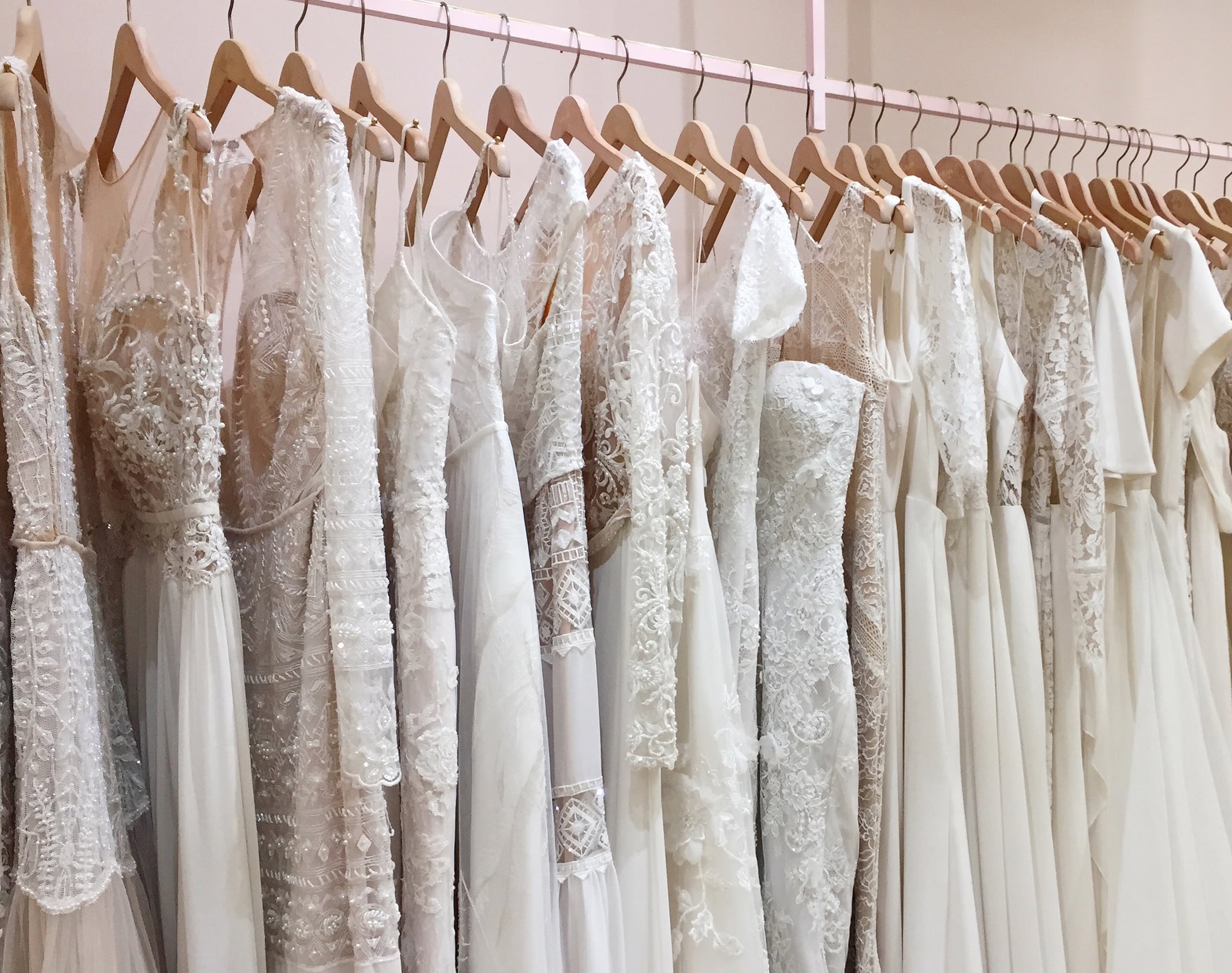 Up until about three weeks ago, everything I knew about wedding dress shopping was a direct result of my addiction to Say Yes to the Dress. Countless hours spent watching the mind-numbing goodness of the wedding dress shopping show led me to believe that one only needed two things to be adequately prepared for wedding dress shopping: an aggressively curated Pinterest board and a wildly unrealistic budget. Easy enough, right?
But after venturing out to find my own wedding dress for the first time, I quickly learned that there's actually more to know about the gown-hunting process than my cherished lowbrow TV made it seem. The sizing options are rough, the privacy is limited nonexistent, and so many other elements of the whole operation are not at all like your typical shopping experience.
In the interest of making sure that you, dear reader, don't have to learn these lessons on the fly like I did, I've broken down some practical information that might be of use ahead.
1. Don't expect to try on a gown in your actual size.
The average woman is around a size 16, but you wouldn't know it by walking into a standard bridal salon. I quickly learned that brides only have a tiny selection of sizes available. It was manageable to get clipped into a size 14 or stuffed like a sausage into a very snug size 8, but it was a little bit of a buzzkill to figure out that I couldn't actually try on gowns closer to my size (especially considering the price tags). If you don't fall somewhere in the 8 - 14 size range, I would recommend doing some research on bridal salons that specialise in keeping size-inclusive samples stocked on the floor!
2. Definitely wear underwear.
I am not ashamed to admit that I'm not a fan of undergarments. I will go to nearly any length to avoid wearing a bra, and if I'm wearing leggings, there's a 100 percent chance that I'm not wearing knickers either! Luckily, I was wearing both when I went to my first bridal salon, because — surprise! — your fitting room attendant will be standing with you for the duration of your appointment. If you're not comfortable with the idea of chilling bra-less for hours on end with someone you've never met, might I suggest wearing a full set of undergarments. Flesh-toned is best as it's least noticeable under sheer gowns.
3. Prepare to relinquish control.
There are a few things I'm really great at, and shopping is one of them. I'm at my most decisive and efficient when I'm inside a department store, so I was totally prepared to take the lead in my wedding dress shopping experience. Unfortunately, you don't really get to flex your shopping muscles during the wedding dress search. Instead, you're asked to describe your style or show a Pinterest board to a sales assistant, who then selects or suggests gowns for you to try on. I can't describe my style to save my life and I haven't used Pinterest in years, so I was at a bit of a loss when I realised I wasn't allowed to just pull gowns directly off the rack and try them on. Some bridal salons will let you do this, but many will try to narrow the options quickly (often to avoid you falling in love with a dress you can't afford).
In the end, I trusted the stylists who work with brides day in and day out, and they all pulled looks I ended up loving. But it would have definitely been helpful to have a quick, three-word summary of my style ready to go. (And, you know, maybe my Pinterest password, too).
Image Source: POPSUGAR Photography / Lisa Peterson