Woman Married Her Husband's Best Man
How I Married the Best Man at My First Wedding — and Learned to Live With a Bachelor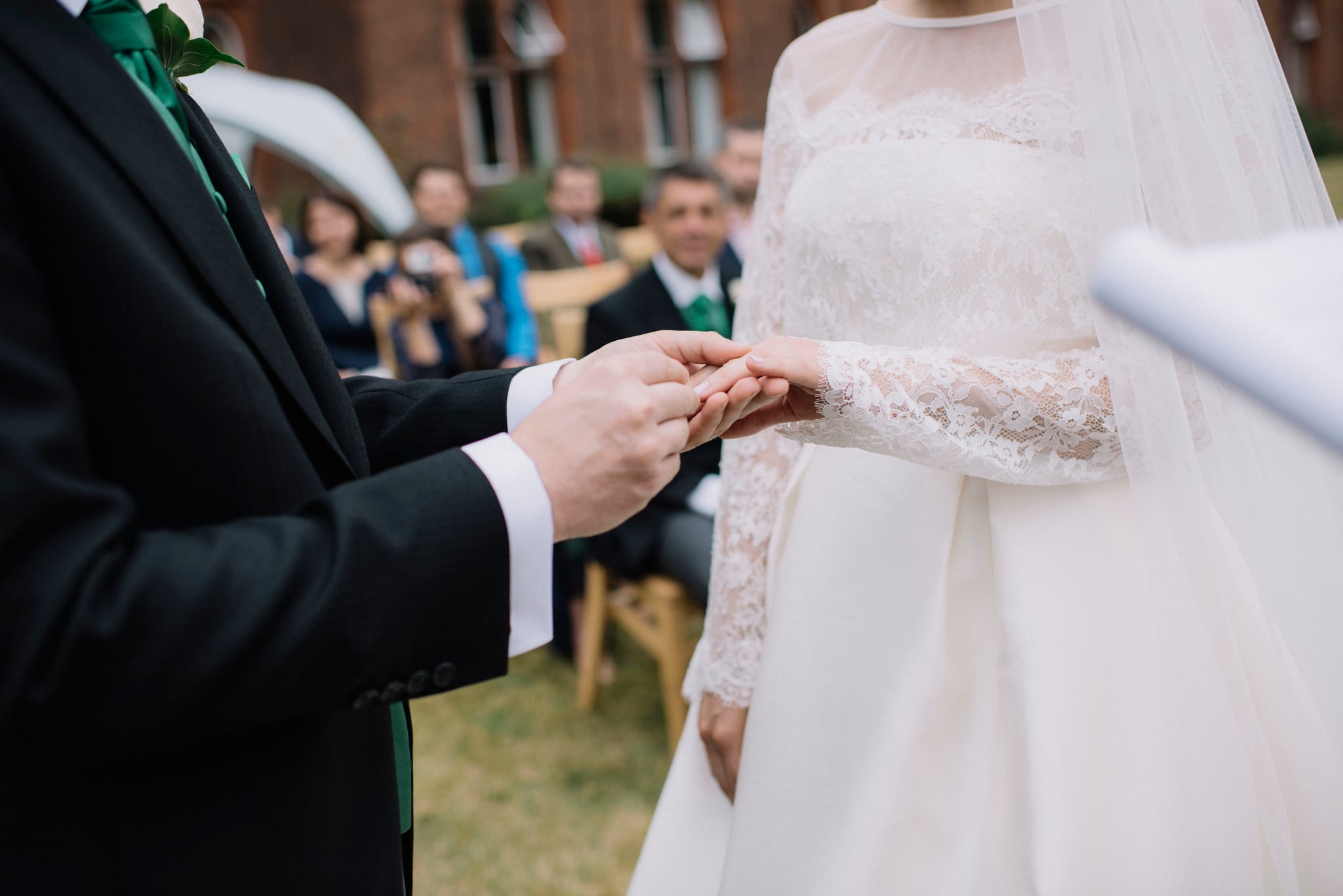 When people ask how I met my husband Shaun, I always feel slightly embarrassed. Because the truth is that I was introduced to him four weeks before my first wedding when I was only 22. Shaun was to be our best man. He and my first husband had been at law school together — although I'd never seen Shaun before because he'd been living abroad with a Scandinavian girlfriend.
When we first said hello to each other, I felt this odd shiver down my spine. It wasn't just that he was tall, blond, and extremely handsome. Or that he was warm and friendly. Or that we were able to immediately talk as though we'd known each other for years. It was all these things.
I'm often asked if I felt attracted to Shaun at the beginning. It's true that I did feel a "wow!" moment. But the truth is that because I was getting married, I would never have considered looking at anyone else. If I hadn't been engaged, I would have been very flattered if he'd asked me out. But he was surely out of my league! I never considered myself to be good-looking; my best feature was my blonde hair but, that was about it. I was also desperately shy and hadn't had many boyfriends. Shaun on the other hand, had left a trail of broken hearts behind him — and continued to do so.
During my 27-year marriage, Shaun brought lots of girlfriends over to visit us. I became good friends with one. She was actually a centrefold model with a very kind heart (she looked after her grandmother). Meanwhile, Shaun was a fantastic godfather to our three children and always arrived laden with presents. He also looked after them when my first husband and I went away once.
Because we were friends for so long, we talk about everything.
However, I used to worry about him. He'd make such a good father! Surely it was time he got married? So my best friend and I decided to match-make. We introduced him to her sister and for a whole year, it seemed serious. But then Shaun did what he usually did and broke it off. He was in his early 40s then and enjoying life. He says he was scared of commitment.
After my first marriage ended (for reasons which are too personal to discuss but which were not prompted by Shaun), I moved into a house with my youngest son who was then 14. The older two were at university. It was a very tough time for us all and had come after a great deal of soul-searching and pain.
I found this three-year stage very difficult to manage. Once, when the lights fused, I had to pay a lot of money to an electrician — only to find that I could have done the job myself for free by simply knowing how to press the trip switch.
Shaun and a male cousin of mine were very kind about coming around to help after that. And slowly, one thing led to another. At first, I was really worried, as I didn't want to lose Shaun as a friend. His track record was not good and my first husband (understandably perhaps) warned me against him. But Shaun promised that he was now ready to commit and that he would never let me down. Something told me that I had to take this leap of faith. It wasn't easy for the children because they suddenly had to make this jump from seeing Shaun as a godfather to a step-father.
When we first got married, we only lived together for three days a week. This was partly because Shaun's home was in the north and we were still working out where to live. I have to say that I did find this hard but in hindsight, it gave us both time to adjust. I was used to living with the man whom I'd been with since I was a young girl and Shaun was used to his own space.
Then we moved several miles to a pretty seaside town where neither of us had lived before. It helped us set our own traditions as a new couple. Gradually, we both learned to make compromises. As a bachelor, Shaun was (and still is!) very set in his ways. He likes to load the dishwasher in a certain way and I get quite offended when he tells me how to do things in the kitchen. After all, I'd been a working-from-home mom for years!
It wasn't easy for him either — marrying a divorced mother of three brings its own challenges. Shaun had to accept that my children come first and that I sometimes did things he didn't approve of — like helping my youngest when he runs out of money.
But the good thing is that because we were friends for so long, we talk about everything. We're not afraid to voice our thoughts, which is much healthier than tiptoeing around eggshells. He's also always making me laugh. He's taught me, too, to take time out. This might be a long walk with the dog along the beach, a great holiday, or simply watching a film.
At the same time, Shaun is completely understanding when it comes to my work. As a writer, I need long periods of peace and quiet. I will often go up to my study for "a few minutes" and come down some hours later. He never minds.
In turn, I've learned to shut the door on his study when he's playing his loud music instead of asking him to turn it down. I've also learned not to tidy his clothes: he can't bear me to touch any of his things as he likes to do it himself. This took some getting used to, but actually it's rather nice not to iron shirts any more!
Shaun and I have been married for eight years now. Every day is different — never boring! But the best thing that has happened is that we are now grandparents. My daughter and her husband gave birth to a beautiful little girl a year ago, and this has helped to bring us all together. They live around the corner from us and I look after my granddaughter two days a week (sometimes I am mistaken for her mu by strangers!). Even though Shaun has never had children of his own, he is very good with her. His favourite trick is to raise one eyebrow which makes her roar with laughter.
The other wonderful event is that our new arrival has brought the whole family together. Shaun and I now meet up every now and then with my first husband and his wife. Ironically, I used to know her when we were much younger, and I genuinely like her.
Another brilliant thing about Shaun is that he is genuinely proud about my work. He was very supportive when I worked as a writer in a high-security male prison before we got married — even though lots of other friends thought I was mad to put myself in a potentially dangerous situation. He was also really thrilled when my book, My Husband's Wife (which drew inspiration from my jail experience) reached the bestseller list in the UK. And now he is telling everyone that the book is about to come out in the US and that it's already had some great reviews.
Is My Husband's Wife based on any of the characters in my real life? No. But I couldn't have written it without having gone inside a prison and being married twice. I never expected my life to be so eventful. It's taught me a lot. And I am very grateful.
Jane Corry is a writer and journalist and has spent time as the writer in residence of a high-security prison for men, an experience that helped inspire My Husband's Wife, her debut thriller. Corry runs regular writing workshops and speaks at literary festivals worldwide, including The Women's Fiction Festival in Matera, Italy. Until recently, she was a tutor in creative writing at Oxford University.