Being Fat Has Never Stopped Me From Having Good Sex
Being Curvy Has Never Stopped Me From Having Good Sex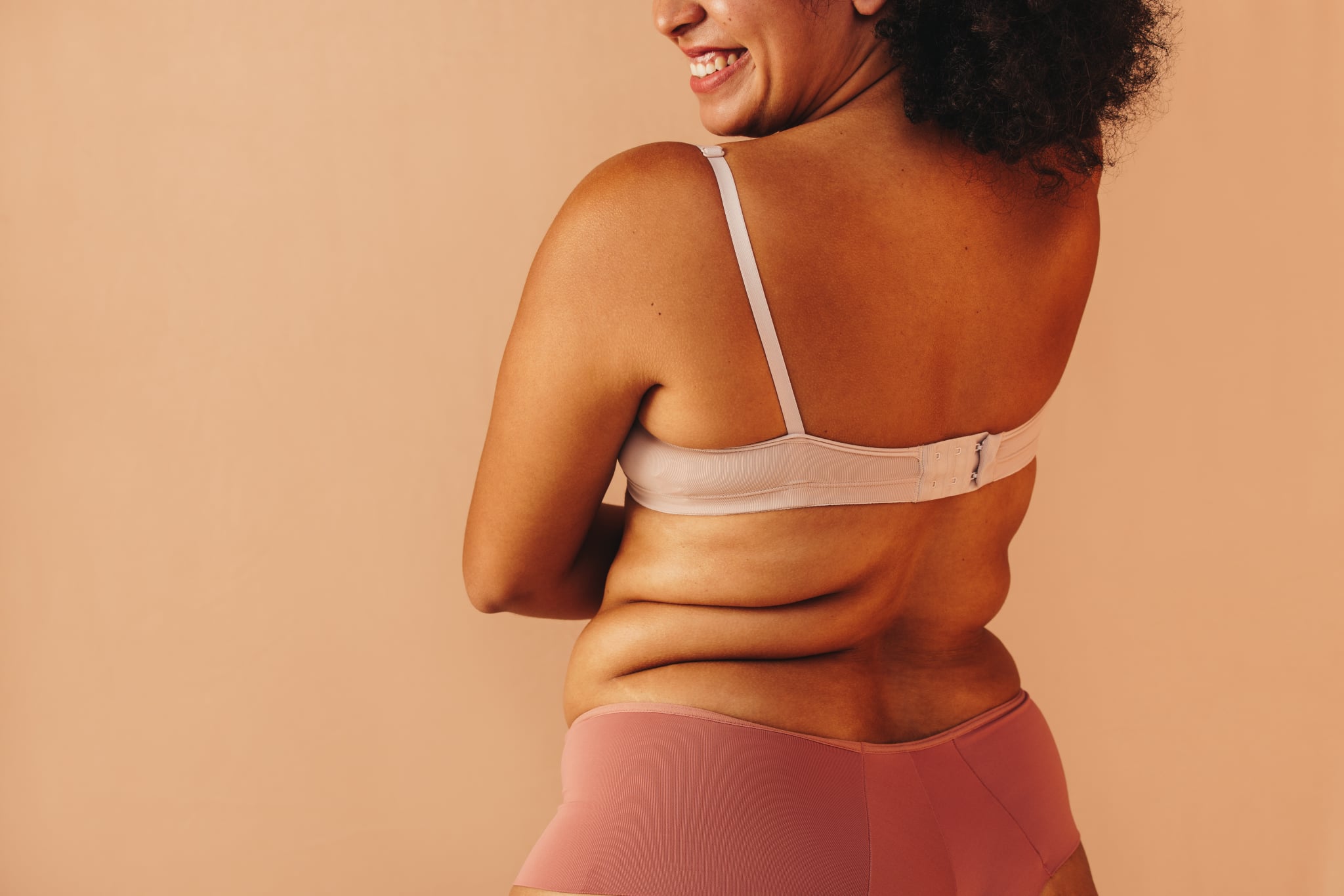 There's no denying that I'm a ripe size 18 and my large chest often becomes a hiding space for food crumbs. But despite how much the world seems to love singling out my fatness, my size isn't something I often think about — especially not during sex.
As a bigger girl, I grew up knowing that it would be up to me to love my body. I had to accept that while everyone may not like my size, all that matters is that I do. Because of that, I created one rule around sex: if I wanted to have it, I needed to love my body enough before showing it to someone else. And I did.
The first time I ever had sex, I didn't even notice the ways my rolls jiggled or how large my thighs looked. I focussed on the intimacy and pleasure in that moment, and no part of the experience included thinking about my insecurities. But of course, I'm human, and even though I am body confident, there have been a few moments when I've become hyper-aware of my size during sex. The first time was when my partner asked me to get on top in cowgirl.
I didn't want my size to hinder the possibilities of exploring what my body could do and how it would make me feel.
It was my first-ever uni hookup, and I had no idea how I was supposed to rock this man's world without falling to my death off of a lofted twin bed. The way I saw it, I could either tell him I thought I was too big to get on top or, later, explain to my resident advisor why I was naked on the floor of my room in dire need of medical attention. But then, a little inkling of confidence popped up into my head, and I just went for it. I didn't want my size to hinder the possibilities of exploring what my body could do and how it would make me feel.
And honestly, it was a breakthrough moment for me. I didn't fall to my death, nor did my partner die of suffocation. I learned that placing my hands on my partner's shoulders could help stabilise me, and that being on top actually helped me feel more confident during sex. Most importantly, I realised that while sex can be clumsy and some positions may be risky, trying out what feels right for me was crucial as I learned what I liked and what I didn't. After that moment, I was reminded that I am just as deserving of receiving pleasure with my body as anyone else.
The next time I was reminded of my size during sex was when I hooked up with a partner whom I'd describe as a sexy lumberjack. He had a thing for telling me what to do, and I learned that I had a thing for being told what to do. In the middle of a foreplay session, he got on top of me and told me to touch myself. But when I reached down to do just that, my hand got stuck between our stomachs — and he didn't even notice.
My hand remained stuck between our stomachs for a good two minutes before I finally had to suck in the embarrassment and tell him. I was mortified. I immediately started thinking of ways I could ghost him and remove him from my life as quickly as possible. But he reached down, grabbed my hand, pulled it up, and kept going as he held it.
I understood at that moment that this man was fully aware of the imperfections that came with my body, and yet all of them were just as attractive to him as they were to me. I asked myself, if my sexual partner wasn't bothered, why should I be?
Then, there was the time when a man made me feel weightless during sex. Never in my life had I been with someone who could throw me around the way this man could. He had endurance and strength and muscles, and showed it all off by flipping me over and tossing me around effortlessly as we moved into different positions. For the first time in my life, I felt dainty and safe. It was something I didn't know I needed until it happened. Maybe because it actually made me feel "normal" — like I was finally experiencing something that most women get to have during sex.
That experience, and all the ones before it, only reinforced that my fatness wasn't something I needed to close off from partners, but rather embrace during sex with them. And though I have had my fair share of awkward and cringe-worthy sexual situations because of my size, the day I allowed myself to be OK with my body opened the door for a better life; I now have more self-love, more respect for myself, and most importantly, better sex.