I Used a Vibrator on My Girlfriend For the Best Sex Ever
Bringing a Vibrator Into the Bedroom Led to the Best Sex of My Life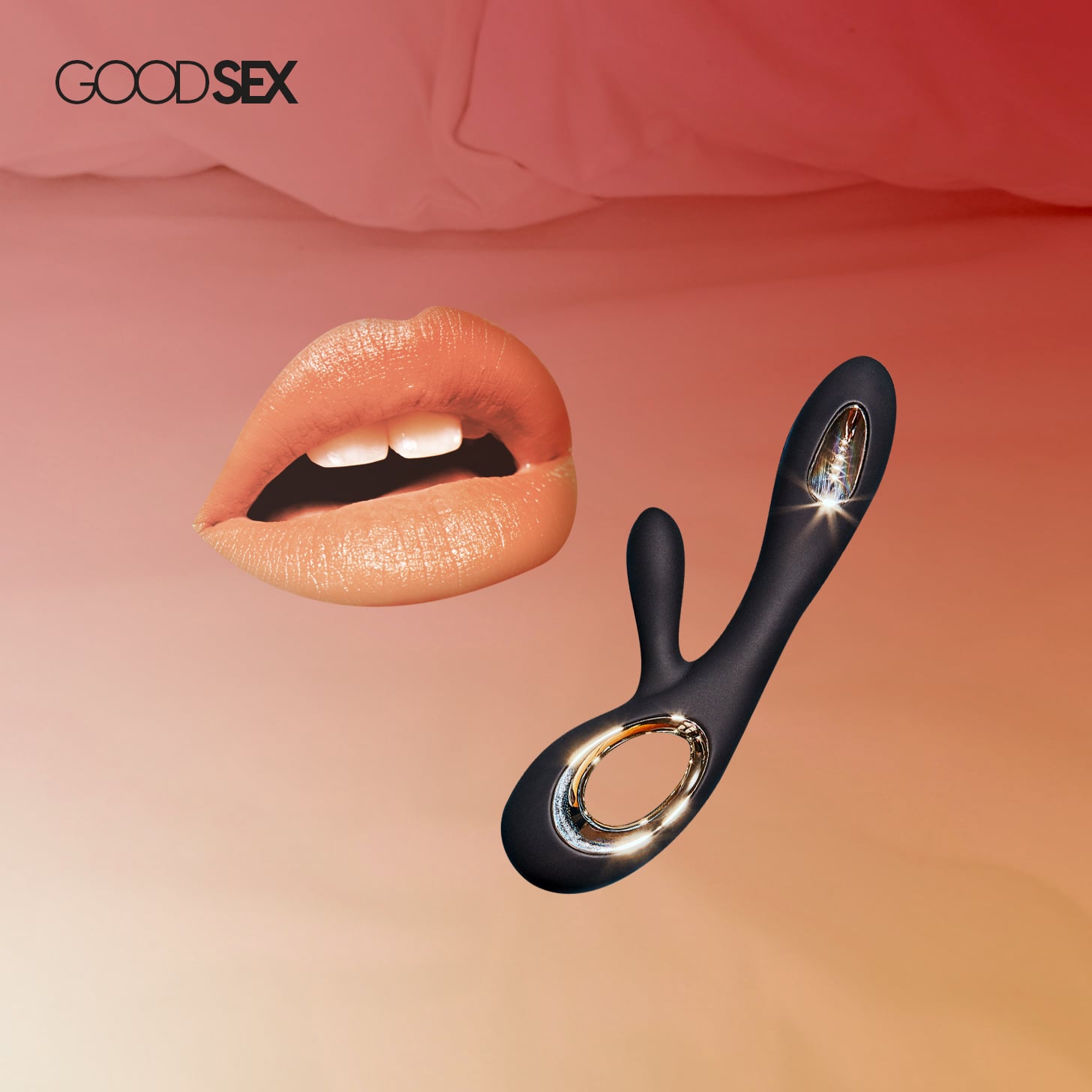 Welcome to Good Sex, POPSUGAR's twice-monthly essay series featuring people's hottest, horniest experiences. Whether you're looking for some new ideas to bring back to the bedroom or you just want a voyeuristic thrill, Good Sex has you covered.

---
My girlfriend and I matched on Hinge during the early stages of the pandemic. The chemistry was immediate, and we quickly went from cute Zoom dates to sharing nudes and sending sexts in an effort to find an outlet for our increasing desire for each other. But with three months to go before we had any hopes of seeing each other in person, all this did was ramp up the sexual tension between us to an all-time high.

Prior to meeting, I talked a big game, insisting I was dominant. But in reality, I was insanely nervous at the prospect of turning our texts into reality. At the time, I was unsure how to navigate my nonbinary identity, so I reverted to gender roles to find my place in our queer relationship. I thought leaning into my masculinity would equate to having more confidence, so I pretended to be assertive enough to take the lead — yet really, this was a facade at best.
It also didn't help that I had only ever had queer sex with two women, so my experiences paled in comparison to my girlfriend's strictly lesbian diet. Once we'd set a date to meet, I couldn't stop worrying: "What if I'm bad?" "What if I have no idea what I'm doing?"
I missed my exit four times when driving to pick her up from the airport, unable to pay attention to the map due to nerves. When we met, the air between us was electric. I got out of the car to hug her and was overwhelmed by the chemistry between us. I couldn't even hold eye contact with her. Something about being in person for the first time provided such a strong layer of attraction that I was unable to act, shying away like a school kid facing their crush for the first time.
Once we got back to my place, we laid down on my couch immediately, and I leaned down to kiss her for the first time. We began making out, caught up in the moment with each other.
Before things escalated, I sarcastically joked about how I'd be the best she ever had, despite having little experience with woman before. Noting my overconfidence as thinly veiled anxiety, she asked if there was anything we could do to calm my nerves.
I hadn't anticipated her question, but I immediately knew how to respond: "Would you be OK bringing sex toys into the mix?" I asked her.
Sex toys are familiar territory. Since I first added them to my sexual repertoire seven years ago, I've had countless experiences with them — both by myself and with others. I felt confident in my ability to use them to enhance my own pleasure and my partner's. My vibrator has always felt like a friend I could call on when I wasn't necessarily sure I could get the job done, so the idea of introducing it into our first sexual experience eased my anxieties.
But my girlfriend admitted she'd never used a vibrator before. Unexpectedly, this admission made me feel calmer. Knowing this would be a new experience for both of us — me, because I was still new to having sex with women, and my girlfriend, because it would be her first time introducing a vibrator to the mix — gave me confidence. We would both have to let ourselves be vulnerable, which added a new level of intimacy to the experience.
"My girlfriend admitted she'd never used a vibrator before. Unexpectedly, this admission made me feel calmer."
After a little discussion about logistics and consent, my girlfriend agreed to involve a sex toy. Then, she laid on her back as I used the vibrator on her. I went slow, but she was initially shocked by how strong the pulsations were. She then relaxed and eased into the new sensation and began to enjoy herself.
As she got into it, I began to touch myself while holding the wand on her. Soon enough, her body jolted upward. We moaned in unison before finally, she came loudly — much to the dismay, I imagined, of my neighbours on the other side of my thin flat walls.
My girlfriend barely took a moment; we switched turns immediately, giddy with anticipation and excitement at the newness of the experience. I laid on my back, and she used the vibrator on me, fingering me while rubbing the wand on my clit. I came almost instantly.
Of course, having just watched someone I was insanely attracted to orgasm because of me had been extremely hot. But the mutual vulnerability, exploration, and trusting communication we'd had to use to get to this point took the experience to a different level. I felt so close to my partner — and it made the sex incredible.
The beauty of the sexual experience wasn't just that we both orgasmed, but also that we found mutual ground navigating sexual strengths we both brought to the table. Exploring new territories together, aware neither of us could know what would come from it, led to some of the best sex I've ever had.
Fortunately, this also started our relationship off on the foundation of understanding, patience, and trust. Three years later, we're still happily together. And even when the sex is more comfortable than new, that early experience provided a level of intimacy that allowed us to go on to expand our communication — and sex-toy collection — immensely.
Image Source: Getty / Plume Creative; POPSUGAR Photography Matthew Kelly; Unsplash Sincerely Media