Brett Kavanaugh News and Sexual Assault Allegation
We Can't Let Men Accused of Sexual Assault Appropriate Victimhood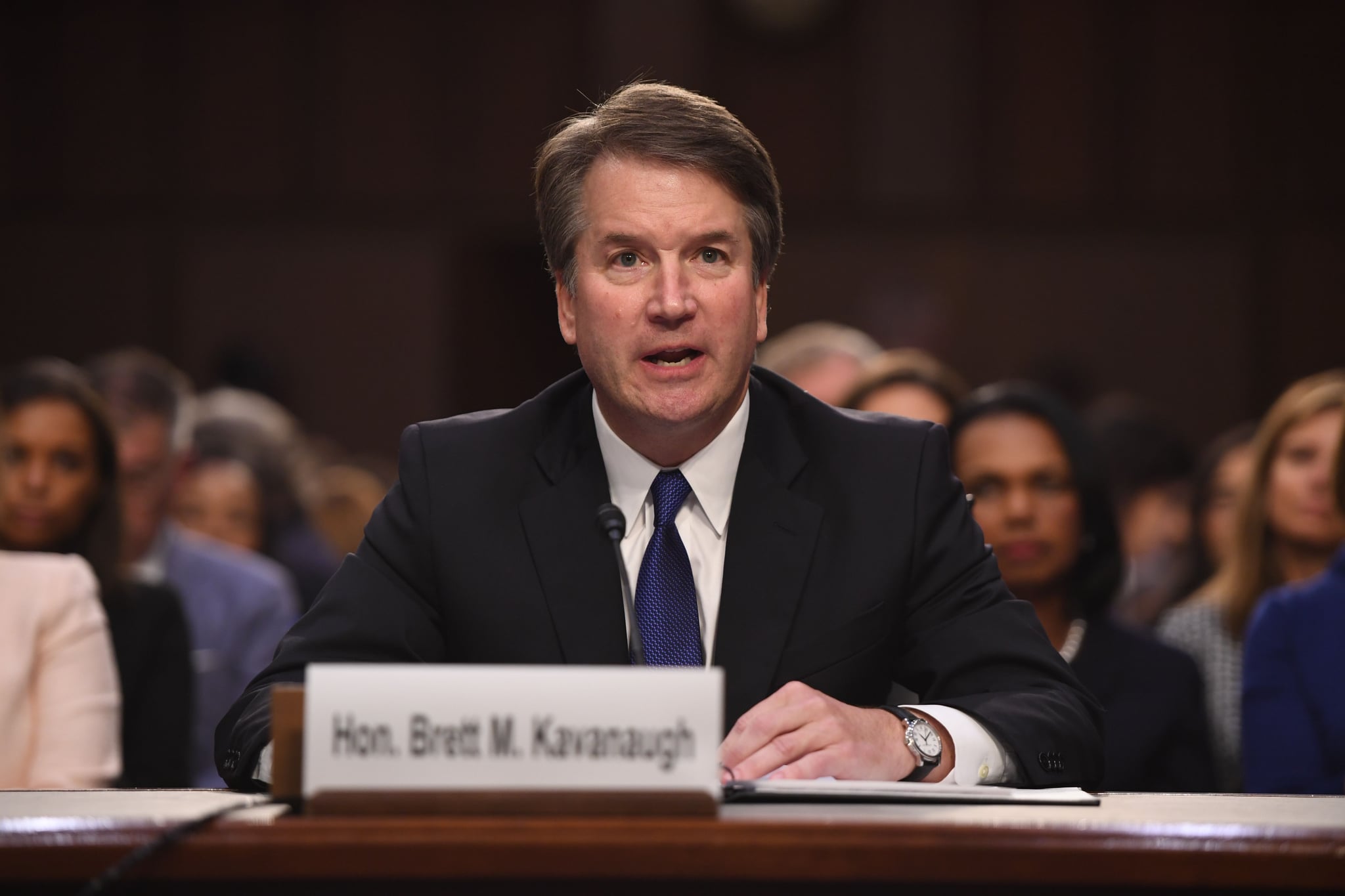 On Sept. 16, Dr. Christine Blasey Ford came forward publicly to allege that Supreme Court nominee Brett Kavanaugh attempted to rape her at a high school party when he was 17 and she was 15. The credible accusation came in the middle of Kavanaugh's already chaotic confirmation hearings, prompting Republicans on the Senate Judiciary Committee to call for both Kavanaugh and Ford to testify before the committee. They're making this demand despite the sexism that women who testify about sexual misconduct before Congress have faced before. And the fact that it would mean asking Ford to testify at the same table as a man she claims tried to rape her. And the fact that it would happen just days after she first made the difficult decision to share her story and her name. Did we mention every Republican member of this committee is male?
"If this is the standard, what must a woman do — what can a woman do — to be believed?"
Meanwhile, Kavanaugh's defenders have been busy mounting a campaign to represent him as the real victim in this situation. President Donald Trump extended sympathies to Kavanaugh and his family. Sen. Bob Corker claimed he "can't imagine the horror of being accused of something like this." While Trump has said that Ford should testify and be heard, neither man nor any of Kavanaugh's defenders have even acknowledged the experiences of Ford and her family following her coming forward. Instead, their rhetoric suggests that there's nothing worse than being a man accused of assault — including being a woman who says she was assaulted.
The implied message of extending sympathy to accused men is that women lie about or "misinterpret" sexual assault, and we should feel sorry for men like Kavanaugh, who are being wrongly entrapped. In response to allegations of misconduct against Trump, Press Secretary Sarah Huckabee Sanders has suggested allegations should only be investigated if the perpetrator has confessed. If this is the standard, what must a woman do — what can a woman do — to be believed? Ultimately, to reflexively pity accused men is to transform credible allegations of sexual violence from women into reductive "he-said, she-said" narratives, all while offering zero suggestions for how women can actually "prove" their experiences in a satisfactory manner.
The preservation of a man's reputation is frequently assigned priority when women accuse men of assault. We saw this in 2016 in the case of Brock Turner, a young, white Stanford athlete sentenced to just six months in county jail for sexually assaulting an unconscious woman. The judge who decided Turner's sentence expressed concern about the "severe impact" years in prison could have on Turner, but apparently wasn't concerned at all with whether sexual assault had had a "severe impact" on Turner's female victim.
There will always be those who feel sorry for or absolve men accused of sexual violence of responsibility and represent all accusations of assault made by women as calculated, misandrist plots. Kavanaugh's age at the time of the alleged incident seems to be one particular point of sympathy among his predominantly male defenders, who bemoan that Kavanaugh was only 17 at the time of the alleged incident. Ironically, as writer Lauren Duca has pointed out, the young, undocumented woman whom Kavanaugh tried to prevent from accessing abortion care while on the DC Circuit Court was also 17, and Kavanaugh seemed comfortable saddling with her with a lifelong consequence.
"Women like Ford come forward not for any perceived advantage, but despite being aware that doing so is certainly against their best interests and safety."
Senate Majority Leader Mitch McConnell and Senate Judiciary Chairman Chuck Grassley have criticized the timeline of Ford's decision to come forward, while Sen. Orrin Hatch suggested Ford was simply "mixed up." Sen. Grassley further trivialized the allegations by claiming he'd "hate to have someone ask [him] what [he] did 35 years ago," as if attempting to rape a woman is just an embarrassing, run-of-the-mill teenage boy thing and Kavanaugh is being unfairly scrutinized.
Ford's allegations involve Kavanaugh covering her mouth, increasing the volume of music at the party to cover her screams, and attacking her and trying to remove her clothing, leading her to seek therapy afterward. "I thought he might inadvertently kill me," Ford, who is now 51, told the Washington Post. "He was trying to attack me and remove my clothing."
Anonymous accusations of assault are often discredited on the basis of their anonymity, but so are public allegations against famous men in positions of power, as defenders of the accused men suggest women who come forward are merely seeking attention and opportunity. Of course, this dismisses the reality that survivors have nothing to gain and everything to lose — their reputations, their safety, the safety of their families and loved ones — in coming forward.
Notably, a woman who publicly accused former Alabama Senate candidate Roy Moore of assaulting her as a teenager was the victim of an arson attack on her home last year. On the 2016 campaign trail, after roughly two dozen women accused Trump of sexual misconduct, the then-candidate unleashed character attack after character attack on each woman — including sharp criticisms of their looks and personal lives — before crowds numbering in the thousands.
On Tuesday, The New York Times reported that Ford is now being subjected to death threats and has had to evacuate her home and request security for herself and her family. Women like Ford come forward not for any perceived advantage, but despite being aware that doing so is certainly against their best interests and safety.
Anywhere from 63 to 90 percent of sexual assaults go unreported, with survivors often citing fear of being blamed, intimidated by law enforcement, socially ostracized, and, of course, disbelieved as reasons for not reporting. If survivors choose to come forward at all, it's not uncommon for them to do so after years of private grappling, and as a result, the evidence they are capable of providing is often limited to their own testimony.
In light of the inherently gendered nature of credibility and who is more likely to receive trust and sympathy — as we're already seeing with the response to allegations against Kavanaugh — it should hardly be surprising that so few survivors come forward.
When we treat accused men as if they're the ones being victimized and oppressed, we create a false equivalence between holding male abusers accountable and the traumatic experience of being subjected to sexual assault. We suggest that these two entirely different experiences are somehow comparable; that the act of assaulting someone and the act of coming forward are somehow both oppressive behaviours. And even more dangerously, we suggest that sexual assault is something women lie about to victimize men. The appropriation of victimhood by men accused of sexual assault is dangerous in any space — and certainly in Congress, as senators prepare to make a decision that could alter the future of the country.