What to Do If You See Someone Being Harassed
This Viral Illustration Shows the Simple Way to Help If You See Minorities Being Harassed
With a spike in reported hate crimes against minorities since Donald Trump's election, people might be wondering how to help if they see an attack. Twenty-two-year-old artist Marie Shirine Yener, who goes by Maeril, created an illustration addressing this topic over the Summer, and it's going viral once again. The four-step illustration includes tips for bystanders witnessing Islamophobic harassment like "engage conversation," "keep building the safe space," and "continue until the attacker leaves," but it applies to harassment of different groups.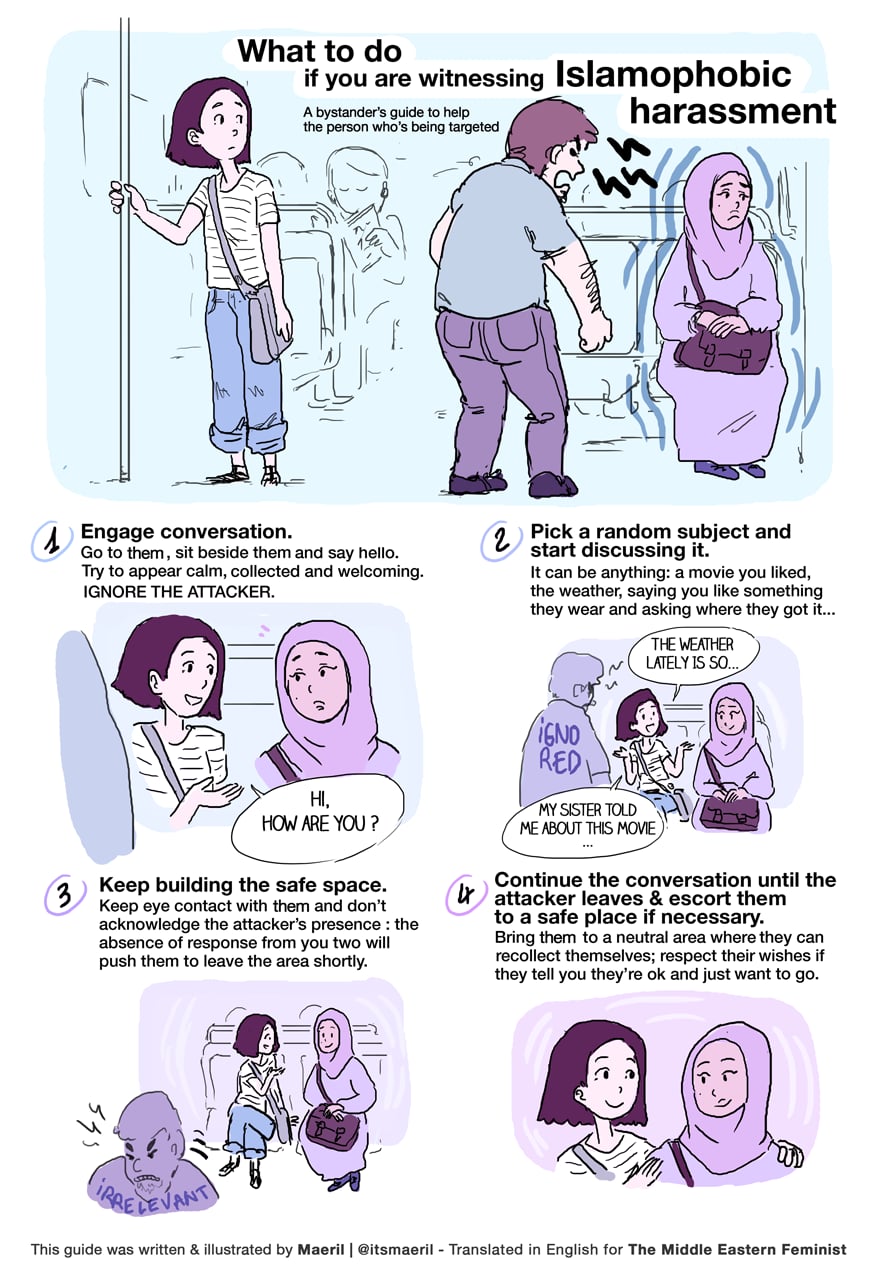 Maeril lives in Paris and told POPSUGAR over email that she originally created the illustration as a response to "the burkini ban and the Islamophobic attacks in France, as they were on the rise (and still are)." She said she first translated it for a website called The Middle Eastern Feminist and it went viral from there. "I think it's because there was a need for such directions on how to intervene in a non-violent way."
She doesn't identify as Muslim but believes she has an obligation to speak up for Muslims and other minorities. "If someone outside of that minority speaks out about the issue, then they have more voice, and when you have that privilege, I believe you need to put it to good use for those [who] don't have it."
The hate crime reports coming out of the US are "terrifying" to her. "I have family in the US, friends too, and I'm very worried for their safety," she said. "Now that Trump was elected, I think the guide has taken a bigger role. It serves as an emergency guide that people pass around, and that will now be applied to every minority being targeted, because it works for all of them."
Still, Maeril's working on another illustrated guide about how to be an ally to minorities after what she calls the "Trumpocalypse." "The current guide was first created to respond to a wave of anti-Muslim hatred that spawned in France," she said, "so I feel like I should address the issue in the broader way."
If you want to see more of Maeril's work, follow her on Facebook and Tumblr.