Farmers Protest: What's Happening in India Right Now?
Why Are India's Farmers Protesting? Here's What You Need to Know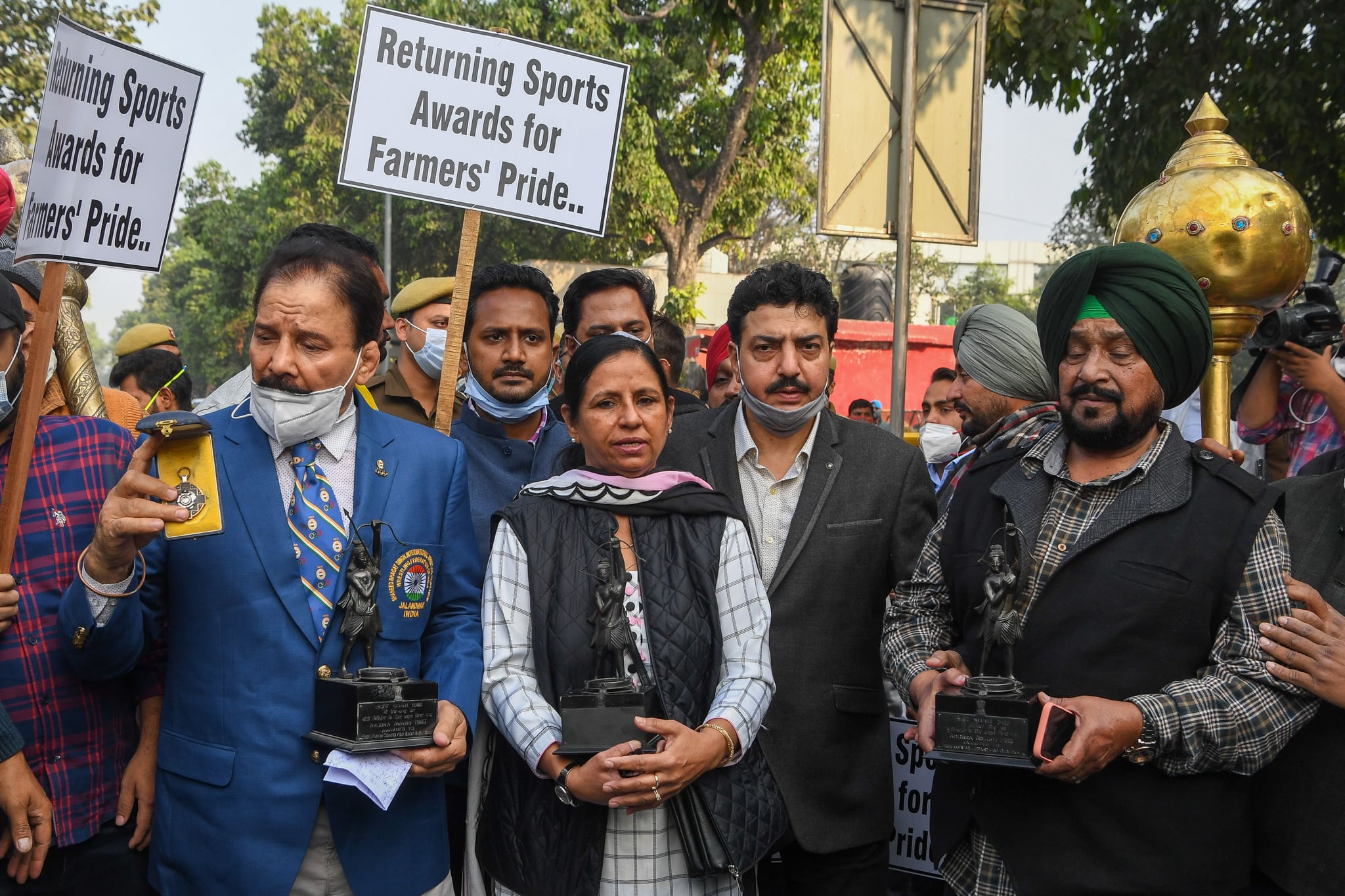 Protests have been taking place all over India in the past month, and this week, they spread to the UK. The protests have come about as a result of three major farming and deregulation laws that were passed in India back in September, that don't have farmers' best interests at heart. Not only do the laws negatively impact the livelihoods of India's farmers, but they also weren't consulted during the decision-making process, and since passing, their pleas to repeal have been consistently ignored.
As a result of the laws being introduced, and approved by Prime Minister Shri Narendra Modi, farmers in Punjab have taken part in peaceful protests in order to get their voices heard. Note the word peaceful. As with many peaceful protests that go against government rules, things can get violent, and sadly, India has been no exception. Protesting farmers in India have been met with tear gas, water cannons, and assault weapons deployed by the riot police and paramilitary officers. Members of Modi's party are even going so far as to say that these farmers are "anti-national", simply for exercising their rights and asking for support. Sound familiar?
There's been a lot of simplified posts on social media recently about what's been going on in India, but it's important to have a view on all the facts and know exactly what they mean. We had a look at the laws in question and their possible impacts to help distinguish what the farmers are protesting for and how they're being treated in return. Though there's a lot of conflicting opinions about what the laws actually state, and whether or not they will impact farmers in the way they say, but what's clear is that the protests symbolise a human rights issue for India's farmers.
Read on to find out more about the laws, how they may be negatively impacting farmers, and what this means for the millions of us that directly benefit from the crops they grow.
A Little Background on Farming in India
Agriculture has long been one of the main sources of income for the people of India. In fact, it employs over half of their population (approximately 58 percent) according to IBEF. Specifically for the people of Punjab, located in the north west of India, farming has been one of the only ways for them to earn their livelihood and provide for their families. Punjab has long been known as the "breadbasket" of India because of its fertile land, but despite the sheer number of people — both male and female — employed in this lucrative and important industry, the conditions in which they work are far from ideal. In fact, women actually work longer hours on these farms than men, according to statistics published by The Second Angle from Oxfam India, which states that "women log 3,300 hours of work on farm labour during a crop season, compared to the 1,860 hours logged by men." This means that not only are the hours long and the financial reward minuscule, but more women are also being adversely affected.
Farmers in India today don't earn much money, face mountains of debt (and more so now, after Prime Minister Modi increased the prices of fuel, fertiliser, and pesticides during the coronavirus pandemic), and frequently work overtime in order to feed their families and keep their homes afloat. The reason they work this hard is simple: there is an increased demand from other countries for the crops that they grow. We need their crops to survive. But in the age of fair-trade farming and a desire for increased sustainability, how can we continue to demand the crops these farmers struggle to grow, knowing the conditions they're forced to suffer in?
Speaking of suffering, India has one of the highest suicide rates in the world, according to World Health Organisation (WHO). In 2019, a total of 10,281 farmers and farm labourers died by suicide across the country, as evidenced by statistics from the National Crime Records Bureau published by the New York Times. In the past five years, farmer suicides in Punjab have increased by more than 12 times, based on government reports.
In the 1940s, the British empire left India and dismantled the region of Punjab, displacing thousands of people. Farmers in the region have long suffered from generational trauma as a result, and today, the fight continues.
What are the new laws being proposed, and how do they hurt India's farmers?
Previously, the Indian government had offered guaranteed prices (the Minimum Support Price, or MSP) to farmers for crops, providing longer term financial safety, which in turn, enables them to make investments for future crop cycles. Now, the government has introduced three new agriculture laws that arguably offer much less financial safety for Indian farmers:
Farmers' Produce Trade and Commerce (Promotion and Facilitation) Act, 2020
Farmers (Empowerment and Protection) Agreement on Price Assurance, and Farm Services Act, 2020
Essential Commodities (Amendment) Act, 2020
Collectively, these laws allow farmers to sell produce outside of the Agricultural Produce Market Committee (APCM) and abolish mandis (where crops are sold). As a result, they do not guarantee a minimum price for any product, leading farmers to worry that the existing MSP will soon be abolished altogether. The laws state that there will be no licenses required for traders to purchase agricultural produce, meaning that in the eyes of the farmers, they are more susceptible to fraud.
Whilst it's true that these new laws/mandates allow farmers to sell produce to higher paying buyers (corporates, supermarkets, online grocers), the emphasis on free market pricing over MSP leads farmers to believe that they may get less of a profit as a result. Farmers can now enter into contracts with private companies, known as contract farming, but those with smaller farms will have less bargaining power and will most likely be offered lower prices for their crops than they need to survive. As a result, they'll have even less money to put toward the running of their farms — costs that are already putting them in debt.
"The government has left us at the mercy of big corporations," Rashpinder Singh, 27, a farmer from Punjab state, told Al Jazeera in September. "It is preposterous to believe that farmers who have small land holdings will have any bargaining power over private players."
The government, however, stands by its belief that these laws will eventually make farmers richer. "The new agricultural laws have been brought in for benefit of the farmers. We will see and experience benefits of these new laws in the coming days" Modi said last week. The government is posing that the farming industry needs more regulation, as currently, it contributes to just 16 percent of India's GDP, despite the sheer number of people employed in it. According to CNBC, "economists generally agree that India's agricultural sector needs reforms — starting with reducing incentives to produce water-intensive crops like wheat and rice." Economist Ashok Gulati, in his column for The Indian Express states that "A substantial chunk of (the mandi fee, commission agents' fees, and taxes) are never audited by the Comptroller and Auditor General (CAG) of India", meaning that it is unclear as to how these fees are currently decided on and used.
What do the protests in India have to do with me?
India's farmers contribute to a number of well-known spices and pharmaceuticals. In fact, India is known to be the third largest producer of plants approved by America's Food & Drug Administration (FDA) to be used for medicine. Examples of common spices exported from India (which are frequently used for medicines), include turmeric, spirulina, liquorice root, cardamom, and cloves.
Outside of spices and medicines, India is known for introducing a number of foods into our diets: Basmati rice, wheat, lentils, cane sugar, and cashews, to name a few. India is the largest producer of cotton in the world and also manufactures silk, denim, and yarn. That means not only do Indian farmers help grow the foods you eat and medicines you take, but they're also responsible for growing the crops that create the textiles you use and the clothes you wear.
As a result, farmers are urging the world to stand with them, to put pressure on India's government to hear their views, and to avoid ridding the land of all the culture and heritage they've worked so hard to preserve. What India's farmers really want is a guarantee that MSP will not be harmed and a guarantee that their livelihoods will not be affected even more so than they have been. It's really not a lot to ask. Though economists agree the farming industry needs more regulation, it should be in the interest of the farmers first, and they shouldn't be beaten, tear-gassed, or branded "anti-nationalist" simply for asking questions.
What's happening now?
Since the start of December, India's government has been unable to reach a decision on the status of the new laws. They've had multiple meetings with farmer leaders and unions in an attempt to negotiate the changes imposed, but have not yet agreed to repeal the laws or make any changes. According to the Financial Express "A select group of farm leaders, made it clear that they would not accept any amendments and would continue to protest unless the government repeals all three farm laws."
On 26th Jan., also known as India's Republic Day which marks the adoption of India's constitution, the protesters reached the Red Fort in India, an iconic Mughal-built monument. The Red Fort previously served as the main residence for the Mughal Emperors — an early-modern empire who ruled most of India and Pakistan in the 16th and 17th centuries — and in 2007 was declared by UNESCO to be a World Heritage site. Typically on Republic Day, India's national flag is hoisted on the pole of the Red Fort, but this year, protesters brought the Nishan Sahib flag — a flag that's heavily associated with the Sikh religion — with them to put up in its place and as a result, were met with resistance and classed as anti-nationalist. In a radio address on 31st Jan., Modi stated "The country was saddened by the insult to the Tricolor (Indian flag) on the 26 of January in Delhi."
In response, the Indian government has cut off access to the internet in Delhi and the surrounding areas, in order to avoid additional protesters gathering in support, and the spreading of news. According to a senior official speaking to Sky News, "the government has increased security to avoid any clash or violence when parliament is in session." Protester Bhavesh Yadav also told Sky News that "this step has been taken by the government so that we can't call more people to our aid, as people are increasing in number at this protest site. This is killing democracy. People's rights are being subjugated. It's our right to gather people in our assembly. However, the government is trying to suppress it by cutting the internet fearing that it will reach every nook and corner of the country."
Since the internet ban, influential figures like Rihanna and activist Greta Thunberg shared their support on Twitter.
According to NBC News, "the government has offered to amend the laws and suspend their implementation for 18 months. But farmers insist they will settle for nothing less than a complete repeal."
Sign the petition to support India's farmers here.