Finding Hope During the Australian Bushfires Essay
I'm an Australian Expat Living in London, and I've Never Felt Further From Home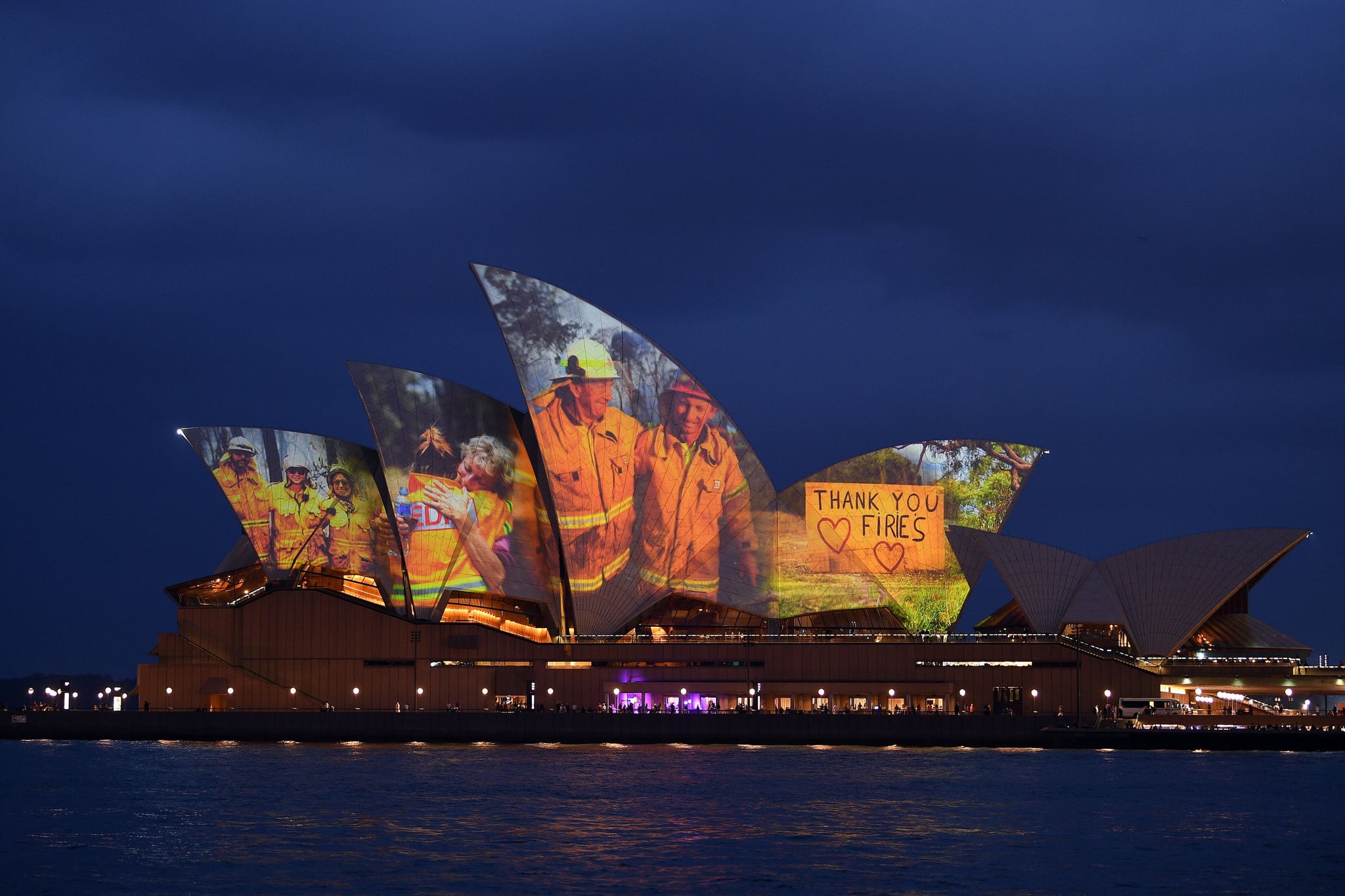 Finding the words to sum up the complex emotions that come with watching from the other side of the world as your home country is on fire is, frankly, impossible. I'm an Australian living in London — like so many others — and while the bushfires rage back home, I've never felt quite so damn far away.
In September 2019, the world heard news that the Australian bushfire season had started early. Soon after, news broke that thousands of native wildlife had been killed, including a koala sanctuary in Port Macquarie, which had been tragically engulfed in flames. Then, on New Year's Eve, social media feeds were flooded with the harrowing images of people huddling on beaches — and in some cases, fleeing into the water — across New South Wales and Victoria, to escape fires so ferocious they resembled a tsunami of flames.
To anyone who's not from Australia, our beaches are intrinsically linked with our culture and national identity.
To anyone who's not from Australia, our beaches are intrinsically linked with our culture and national identity — whether you grew up with the ocean on your doorstep or still cherish memories of making the annual pilgrimage to the beach with your family for a BBQ and afternoon spent in the sun. To see Australians cowering on the white sand beaches, choking on black smoke, while fearing their own house won't be standing when it's finally safe enough to return, was heartbreaking.
So far this bushfire season, there have been 27 deaths, 11 million hectares of land burnt, 2,000 homes destroyed, and an estimated one billion animals killed. I — along with so many other people — have felt an unfathomable amount of grief and fear for what these fires mean for Australians, and of course, for our warming planet. I've also felt shame and disgrace that Australia is currently being led by a government helmed by an out-and-proud climate change denier. And I've been angry that some companies (admittedly — and thankfully — very few) have used the bushfire crisis as a marketing ploy to drive sales, taking advantage of a vulnerable community that's desperate to do everything possible to help. To donate money to every good cause. To support every company that promises that they, too, want to help.
Sometimes it's hard to see the good, but — as I've had to remind myself — that doesn't mean there isn't any. In the past week alone, I've seen friends organise bake sales and small businesses donating weeks' worth of sales to the bushfire crisis. Artists are creating custom pieces for charity auctions, and huge corporations like Cadbury's have promised to donate all profits from some of Australia's most iconic chocolate treats — Freddo Frogs, Caramello Koalas, and Furry Friends — to bushfire relief.
Just last week, Chris and Liam Hemsworth joined fundraising queen comedian Celeste Barber on stage at a charity gig to raise even more money, in addition to the cool £27 million she's already raised in what has become Facebook's biggest fundraiser ever. Just this weekend, one women-led small business from Sydney — Kristin Fisher Eyebrows — enlisted luxury brands and thousands of Sydney locals and celebrities to collectively raise over $250,000 at a single market event.
"We stay busy helping the helpers, and feeling grateful for them, and holding up those who are down."
At a time where so many beautiful things are literally burning to the ground, and a year's worth of terrible headlines were crammed into the first week of 2020, becoming overwhelmed is — to put it lightly — unavoidable. It can be really hard to see the light peeking through the smoke. But as Australian author and businesswoman Zoë Foster Blake put it so articulately, "I believe in looking for the helpers in those terrifying photos of stranded fire evacuees. I believe in catastrophe as a catalyst for change. Or, in other words, I am trying to see the seedling squeezing out of the trunk, rather than the burnt out tree," she wrote in an Instagram post. "We stay busy helping the helpers, and feeling grateful for them, and holding up those who are down."
For me, that means donating to causes that desperately need it — like this one, offering culturally sensitive support to First Nations communities — and choosing to spend money with small businesses (of which many are women led) that are donating their profits to ensure every dollar I spend is making some sort of difference. It means calling my family to check in and see how they're coping, and also allowing my London friends to ask how I'm doing. But, I've realised, it also means allowing myself the space to do something that only benefits myself and my own mental health and acknowledging the privilege I have in doing so: watch a funny TV show, or appreciate the people who're out there spreading joy, just because they can.
So, when the ash settles, and the worldwide news coverage of Australia's ongoing bushfire crisis is replaced with another scary news story, I urge you to remember how humans all around the globe banded together this month, against a terrifying natural disaster. After all, it's the beautiful silver lining of this entire mess, even though we all wish it didn't need to exist in the first place.