Sixth Grader Confessed Her Bus Driver Hit a Parked Car
This Sixth-Grader Told the Truth About Her Bus Driver Hitting a Car, and Holy Sh*t, Not All Heroes Wear Capes
Shoutout to the anonymous 6th grader for saving me a couple thousand (Bus not drawn to scale) pic.twitter.com/7aNK10xSwX

— Andrew Sipowicz (@Andrew_Sipowicz) November 20, 2018
Andrew Sipowicz, a student at Canisius College in Buffalo, NY, got quite the surprise when he went to start his car one morning. According to a now-viral tweet, he walked out to find his vehicle damaged with a note attached to it. And while it's pretty typical to leave your name and insurance info when you get into a fender bender, the note left on his windshield was out of the ordinary for one reason: it was penned by an anonymous sixth-grader whose bus driver hit his car and drove off on the way home from school.
By the looks of it, the female student didn't hold back when it came time to tell the truth. "If you're wondering what happen to your car, Bus: 449 hit your car. It stops here every day to drop me off at 5 p.m. What happened? She was trying to pull off and hit the car. She hit and run. She tried to tear over and squeeze threw but couldn't. She actually squeezed threw. She made a dent and I saw what happened. Sorry, Driver seat left door, A lady in the bus driver seat 499, Buffalo Public School bus. — A 6th grader at Houghten Academy."
While the confession is certainly chock-full of useful information, her illustration of the accident complete with screaming children takes the cake.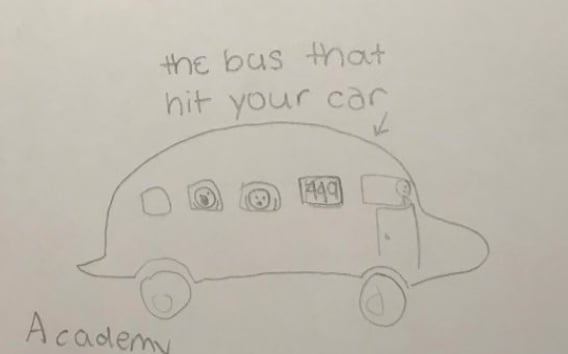 Andrew shared the note on Twitter with the caption: "Shout out to the anonymous 6th grader for saving me a couple thousand (Bus not drawn to scale)." Fortunately, the student's good deed didn't go entirely unrewarded. He posted an update with his followers explaining that they identified the good Samaritan. "Update: The student who wrote the letter has been found and we're in the process of finding a way to reward her for her actions," he wrote. "Very grateful for what she did."
Kevin Garcia, the vice principal at Houghton Academy, is proud of one of the students for doing the right thing in an awkward situation, telling an ABC News affiliate that they'll be "celebrating her outstanding leadership" in the weeks to come.