Why I'm Not Having a Baby Shower Essay
Baby Showers Are on the Rise in the UK — Here's Why I Still Won't Be Having One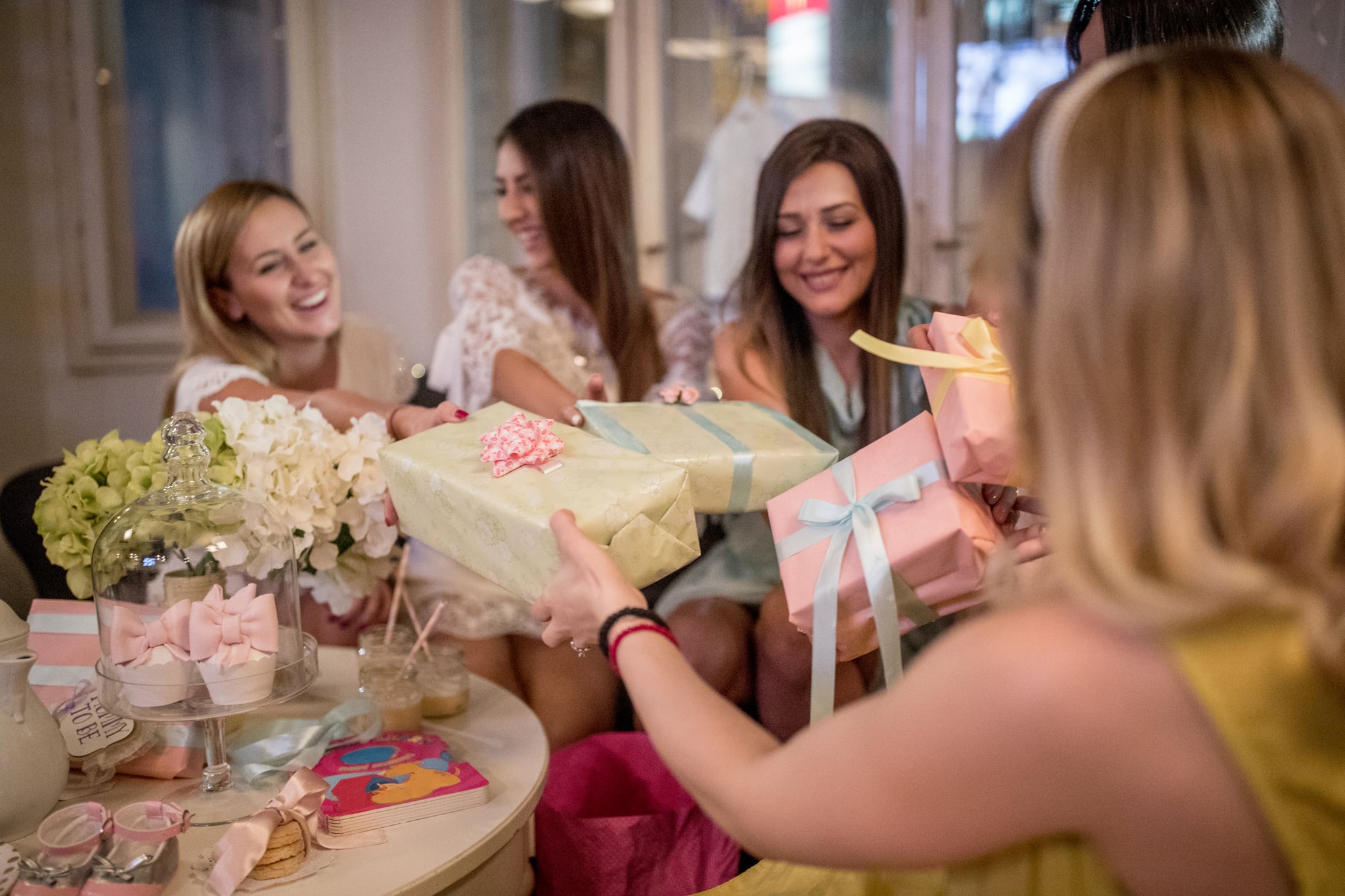 I'll be honest: I didn't really know what a baby shower was until a few years ago. I'd come across the term in American books and films over the years, but I wasn't aware of the details until the likes of Pinterest and Instagram brought this tradition to my attention. Now, apparently, the trend for British baby showers is rising, and even British brands like Pampers are jumping on the bandwagon with advice on how to plan the perfect shower. But I can't be the only one who thinks this is a tradition that should stay where it belongs — on the other side of the Pond?
Let's be honest. The baby-themed games and cupcakes aside, the main reason for a baby shower seems to be the gifts. Though it's rude for a bride to host her own shower and expect gifts, in places where showers are commonplace, there does seem to be a lot of emphasis on presents. Since getting pregnant, I've frequented international forums for fellow moms-to-be and been amazed at the number of people who've created long and detailed baby registries, or stated they're planning not to buy anything for the baby "until after the shower." Apparently it's pretty normal in some communities to have your entire nursery kitted out by your friends and family before the baby even arrives. This just makes me feel awkward. In a country where we trip over ourselves to be polite and apologetic, the idea of a whole event for the purpose of getting given stuff seems a bit weird to me. The love and generosity people show at showers is incredible, and I know it's also about sharing the excitement of welcoming a child into the world, but I do find myself wondering how many people actually enjoy attending baby showers (including, in some cases, the mom-to-be). I also can't shake the fact that there are probably some people for whom attending over-the-top baby showers can actually be a difficult experience.
The forced camaraderie and organised fun of a shower just don't feel necessary to me.
Don't get me wrong: when my friends and family have kids, I give them gifts. I'm not against celebrating new life. But there's a lot less pressure and ceremony when you're just dropping by to meet the new baby after it's born and handing over a cute little jumper or keepsake as you do. This is how it's been in the UK until fairly recently, and I'm desperate for that to be how it is for me. The forced camaraderie and organised fun of a shower just don't feel necessary to me. All my friends already did that for my hen party. And to be quite honest, as I head towards my third trimester, and my hips are beginning to ache and every bra hurts like hell, the last thing I want to do is get all dressed up for a party in my honour. I just want to sit on the sofa in my nightie eating Sour Patch Kids and watching Netflix.
So this is a rallying cry to other parents-to-be (and their friends) in the UK: let's not make baby showers a big thing here. If you want to hang out with your nearest and dearest before the baby is born, do so without an agenda (or a registry). Let those who want to give you gifts do so in their own slightly awkward British way, preferably after the baby is born. Make a John Lewis or Amazon baby list, and send it to your family if they're bugging you for ideas, but don't expect your colleagues at work to chip in for a £150 Sleepyhead just because that blogger you like said it was a "must have". If you're struggling to afford all you need for your baby, get on Freecycle and Facebook marketplace, go to the NCT's next "nearly new" sale, or reach out to friends or family who've already had kids to see if they can hand anything down. Give your crafty pals free rein to knit or crochet whatever the hell they want for your little one, but don't expect them to also give up a weekend to drink tea and play games, or worse, make you a "nappy cake." Please, let's not commercialise childbirth any more than we already have. Let the cultures and countries that have historically had showers continue to host and enjoy them, while we remain awkwardly reserved and terribly British about the whole thing.