Disney Employees' Petition to Delay the Parks' Reopenings
Florida's COVID-19 Cases Are Spiking, and Disney Employees Want the Reopening Pushed Back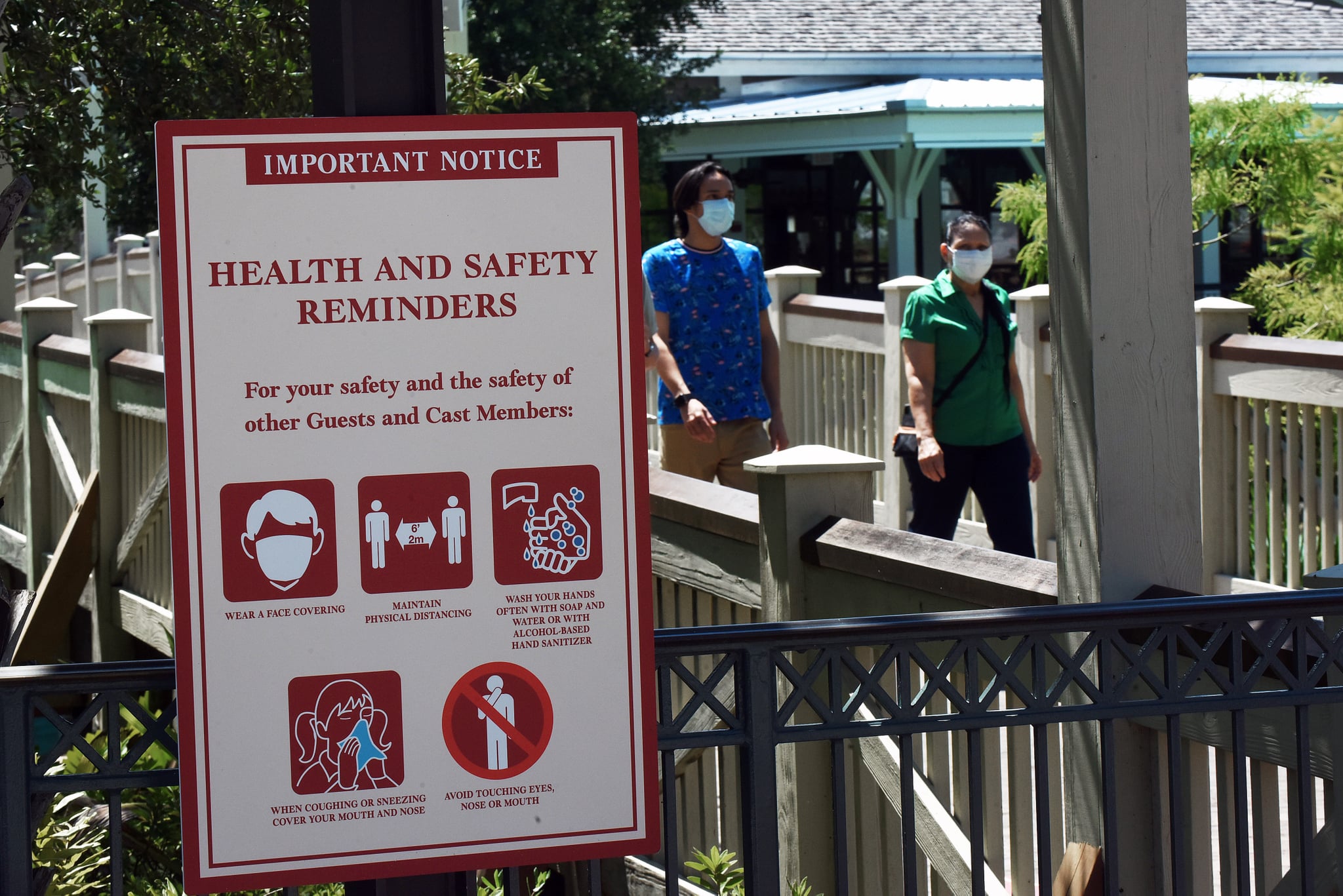 Although everyone is itching to get back to some semblance of normalcy amid the coronavirus pandemic, the virus hasn't gone away and there's no vaccine as of yet, which complicates states' phased reopenings. In Florida, Walt Disney World opened Disney Springs on May 20 and plans on reopening half of its parks on July 11, but some park employees are pushing for the reopening to be delayed.
On June 22, the state saw its highest single-day coronavirus record with more than 4,000 new cases, and is currently reporting over 100,000 cases throughout the state. In an online petition on MoveOn.org called "Protect our Magic Makers: Don't Open Theme Parks Until it's Safe," Katie Belisle, an Attractions Hostess at Disney, argues that the state is "backtracking from where we originally were."
"With the recent spikes in COVID-19 cases in Florida, the plan to re-open theme parks should be re-evaluated," Katie wrote. "The state's proposed plan for re-opening theme parks would start at Phase 2, 'after the successful conclusion of Phase 1, which includes a downward trajectory…this will occur when there is no evidence of a rebound or resurgence of COVID-19 cases.' Because of the increase in cases suddenly, it is clear that theme parks – a non-essential business – should not be planning to operate until the cases have gone down again."
The petition, which is addressed to Mayors Buddy Dyer and Jerry Demings directly and has over 7,500 signatures at press time, is hoping for 8,000 total signatures. In it, Katie argues that keeping theme park employees and park guests safe is the number one priority of the staff in any theme park.
"While theme parks are a great way to relax and enjoy free time, it is a non-essential business . . . People are more important than making a profit."
"This virus is not gone, unfortunately it's only become worse in this state. Having our theme parks remain closed until cases are steadily decreasing would keep our guests, our employees and their families safe. Re-opening the theme parks is only putting our guests, employees, and families at higher risk for contracting COVID-19. While theme parks are a great way to relax and enjoy free time, it is a non-essential business; it is not fair to the people who work there to risk their lives, especially if they are at risk or have family members who are at risk. People are more important than making a profit. Mayors, Theme Park Executives, Government Officials - please hear what we are saying."
Since Disney Springs's reopening, numerous health and safety precautions have been put into place in the dining, shopping, and entertainment district. Employees and guests (3 and older) are required to wear a face covering and temperature checks of every single guest are completed upon entering. Physical distancing practices have been put into place, and there's an increased focus on sanitation and cleanliness throughout the area. All of the above precautions and regulations — in addition to the cancelation of any shows, parades, and events that draw large crowds (such as Mickey's Not-So-Scary Halloween Party) — will be the case within the parks upon their reopenings as well.
As of now, Disney World is expected to reopen Magic Kingdom and Animal Kingdom on July 11, followed by Hollywood Studios and Epcot on July 15. Disneyland in California is expected to begin its reopening in phases starting with Downtown Disney on July 9 and its parks on July 17, though a similar petition exists for the Anaheim park. It has over 49,600 signatures at press time.