What Parents Should Know About the One Chip Challenge
Yes, the "One Chip Challenge" Is Just as Dangerous as You've Heard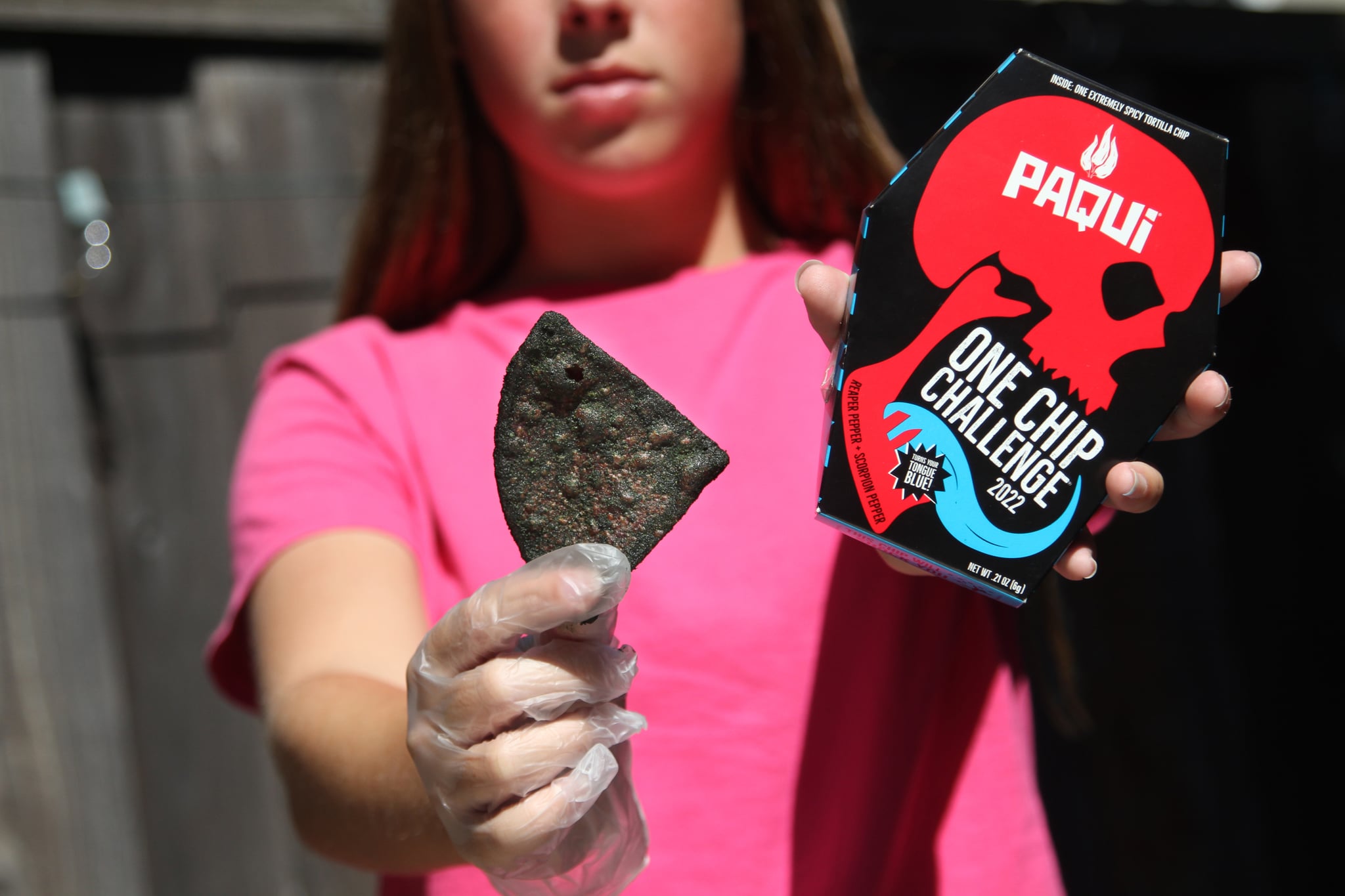 We've seen TikTok challenges gone wrong before — you remember when social media users were boiling raw chicken in NyQuil, right? However, maybe none have been quite as controversial as the "One Chip Challenge," which recently killed 14-year-old Harris Wolobah. While the product itself, a single chip made with Carolina Reaper and Naga Viper peppers, was quickly pulled from shelves following the reported death, Paqui has been selling the fire-hot tortilla chip packaged in a coffin-shaped container since 2016. And the product has still been spotted for sale on certain online retailers.
This isn't the first time that the Paqui product has been linked to serious health concerns. According to Raj Dasgupta, MD, pulmonary specialist and chief medical advisor for Sleep Advisor, there has been a history of mouth and throat pain, nausea and vomiting, seizures, and now death.
"While the Paqui One Chip Challenge is intended for adults only, we have seen an increase in teen usage of the product. We care about all of our consumers and have made the decision to remove the product from shelves," a spokesperson for the brand said in a statement per NBC, adding that the company is "deeply saddened by the death" of Wolobah. "We are actively working with our retailers and are offering refunds for any purchases of our single-serve one chip challenge product."
Here's everything you need to know about the potentially fatal challenge.

What Is the One Chip Challenge?
Though the One Chip Challenge has been around for years, the controversial snack made waves last weekend after Wolobah's death. The social media challenge "involves eating a single tortilla chip made with Carolina Reaper peppers, which are one of the hottest peppers in the world," Dr. Dasgupta says.
The #onechipchallenge hashtag has garnered more than two billion views, with hundreds (maybe even thousands) of users attempting to eat the ultra spicy chip themselves and some having incredibly severe reactions. Case in point:
"I did this… instant regret 🥺," one user wrote in the comments section of the TikTok shown above. Others chimed in, writing, "It is so bad me and my Friend did it and I lost my taste buds 🙃" Another commenter ate two chips and said, "I had to be in the hospital for 9 weeks because of that chip."

What Are Possible Side Effects of the One Chip Challenge?
According to Dr. Dasgupta, eating hot peppers and other food products made from hot peppers can cause a burning sensation in the mouth, throat, and stomach, nausea and vomiting, heartburn, chest pain, and difficulty breathing. He advises anybody that is experiencing those symptoms after consuming hot peppers to "seek medical attention immediately."
Has the One Chip Challenge Caused any Fatalities Previously?
Harris Wolobah's death is the first known fatality linked to Paqui's One Chip Challenge, The New York Times reports, but there have been several related illnesses. Hot peppers, in general, have been linked to deaths before, as well.
"Eating extremely hot chips and other items can be dangerous, and there is a potential for fatality,
especially if you have any underlying health conditions," Dr. Dasgupta says. "The Carolina Reaper pepper, which is used in the One Chip Challenge, is one of the hottest peppers in the world and can cause a burning sensation, difficulty breathing, and seizures."

What Do Parents Need to Know About the One Chip Challenge?
While, hopefully, the One Chip Challenge is no longer an issue now that Paqui is removing the product from shelves, it's still lurking online (along with similar products), and parents need to be wary of the potential risks linked to these sort of snacks and social media fads. As a blanket statement, spicy foods can irritate the gastrointenstinal tract and cause heartburn, acid reflux, stomach pain, and many of the other side effects we've already discussed.
Some people are also more susceptible or could possibly have underlying conditions that make the reaction to these hot peppers much worse. Dr. Dasgupta says that children and older adults, as well, might experience a heightened response.
Dr. Dasgupta adds that children and adults should only consume spicy foods in moderation and "avoid having anything spicy at least two hours before bedtime."