I Tried Bubble Bath Nails: See Photos
I Got So Many Compliments on My £10 "Bubble Bath" Nails
As POPSUGAR editors, we independently select and write about stuff we love and think you'll like too. If you buy a product we have recommended, we may receive affiliate commission, which in turn supports our work.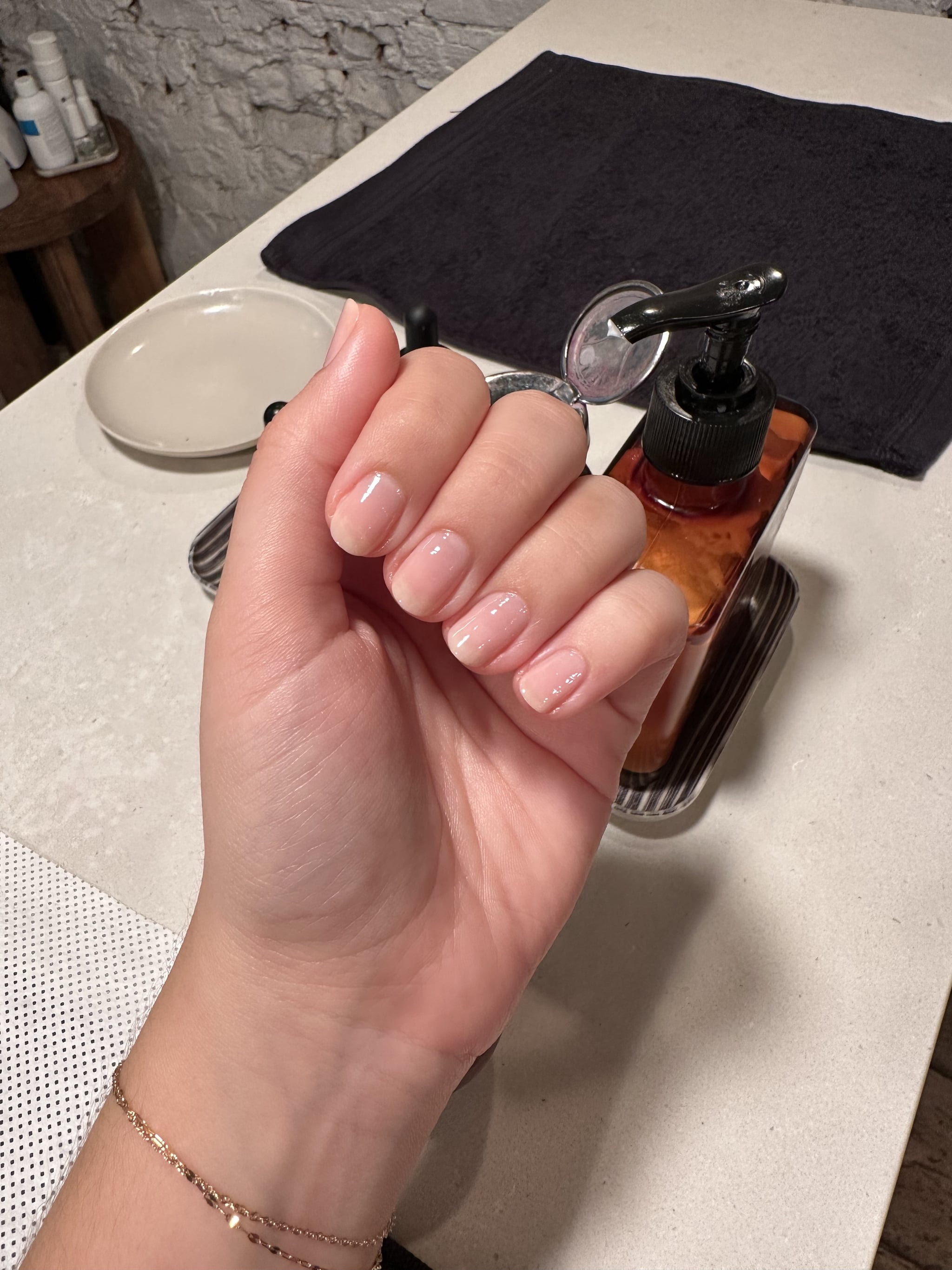 As a beauty editor, having some level of vanity is just a symptom of the job. That said, I don't really consider myself to be all that high-maintenance. More often than not, my hair is not styled, but I pride myself on always having nice nails. That wasn't always the case. I'm a recovered chronic nail-biter, but keeping my fingertips polished is actually what helped me curb the habit once and for all back in college. Still, I don't enjoy getting my nails done at the salon, which means when I do, I want that set to last for weeks. The key to that, I've discovered, is opting for minimal nails in barely-there colours — that way they grow out seamlessly.
Lucky for me, neutral nails are all the rage right now. From the celebrity-loved "supermodel" manicure to the classic french tip and even "baby boomer" nails (which just so happened to be my engagement nails), the options are plentiful. While scrolling my Instagram feed for new inspiration, I came across the "bubble bath" nail trend and instantly needed to try it.
What Are Bubble Bath Nails?
Celebrity manicurist Julie Kandalec described the bubble bath nail colour as similar to strawberry milk. The base of the colour is pink, with a slightly cloudy finish. Kandalec explains that in many instances, the bubble-bath colour comes from a full-coverage structured gel or builder in a bottle (BIAB). However, that's a professional manicure service that you can only get at the salon, and as someone who likes to DIY my nails often, I wanted to find a regular nail polish that offered the same effect.
During a manicure at Tenoverten Salon in NYC, I scanned the wall for the perfect sheer wash of colour and landed on Essie Gel Couture Nail Polish in Sheer Fantasy (£10). The light, baby pink was slightly translucent to give it that milky bubble-bath vibe, but not too white.
After completing the basic nail prep, my manicurist applied a single sheer coat of polish to each of my fingers. It didn't take long for me to decide that it was, in fact, the perfect match for the countless inspiration photos I bookmarked on Instagram and we continued on the other hand. As with most nail polishes (even the full-coverage kinds), Sheer Fantasy needed two coats to make the colour noticeable enough for my liking. (We could have gone for a third, but I didn't feel like sitting any longer.)
After a high-shine top coat was applied and my fingers were sufficiently dry, I assessed the results and was pretty impressed with my shade matching. The colour was like my natural nails but better — clean and fresh. I left the salon happy with the outcome and made a mental note to snag a bottle of my own from Target. Still, nothing could have prepared me for how many compliments I'd get on the colour.
After posting a quick snap of my mani on my Instagram Story, three friends immediately asked what shade I used. In the days following my appointment, I kept getting remarks like, "Wait, your nails are so good," and, "That colour — what is it? It's the perfect shade," which truthfully, took me by surprise. The manicure was pretty basic and yet it nailed the "quiet luxury" trend so well that everyone wanted to copy it.
Confidence-bolstering remarks aside, the other big appeal of the bubble bath nail trend was how great the colour still looked weeks after my appointment. Because it's subtle, you don't notice new growth by the nail beds, nor do chips stand out. It's safe to say I've found my new go-to nail shade.
Image Source: Courtesy of Jessica Harrington