CeraVe Hyaluronic Acid Serum Has Arrived in the UK | Review
The CeraVe Hyaluronic Acid Serum Has Arrived in the UK, and Yes, It's as Good as the Hype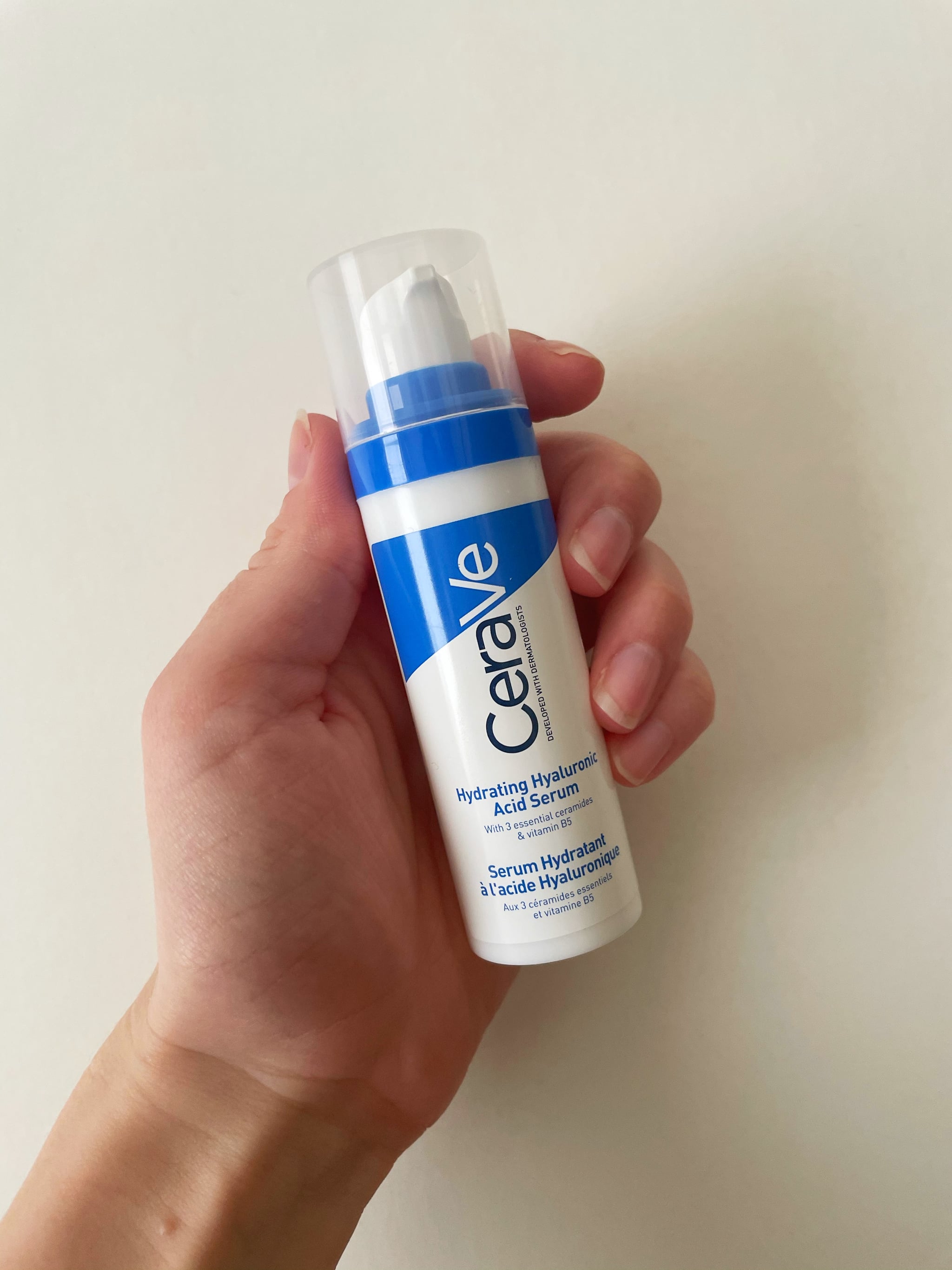 CeraVe's Hyaluronic Acid Serum has finally made its way across the pond — news that is music to our ears . . . and to our parched, dehydrated skin that's been looking rather dull and drab lately, thanks to months stuck inside. But the news isn't just exciting because our skin so desperately needs a massive hit of hydration. It's also due to the fact that not only is CeraVe a brand loved by dermatologists (so you know the formulas are nice to your skin and really work), but this specific hyaluronic acid serum is also quite unique.
The first thing you notice about the CeraVe Hyaluronic Acid Serum (£17) is that the texture is more like a cream than a watery serum, which is what we've become accustomed to HA serums looking like. I was so surprised, in fact, that, after dispensing the serum from the pump, I immediately scanned the label to make sure it was the correct product that was sent to me to review. Well, it definitely was the correct product, and the brand had a reason for the thicker texture. "The concept of a serum is to deliver a high concentration of active ingredients into the skin," a CeraVe cofounder explained via press release. "Watery serums can prove tricky to apply and evenly distribute across the entire face. The CeraVe Hyaluronic Acid Serum was designed with dermatologists, focusing on lightweight emollients for a creamy serum texture that will spread easily and evenly across the face to effectively lock in moisture for all day hydration."
And skin-care experts are definitely a fan of the unique texture. "One of the surprising and lovely things about this serum is it doesn't feel like your average oily based texture. Instead, it is a light creamy texture, but when placed on the skin, it disappears almost immediately," Dr Ifeoma Ejikeme, an NHS medical consultant, aesthetic doctor, and medical director of Adonia Medical Clinic, told POPSUGAR (Dr Ejikeme is a spokesperson for CeraVe). "It feels like a drink of water for the skin – an instant hit of hydration that doesn't leave a veil across the skin and sinks in instantly."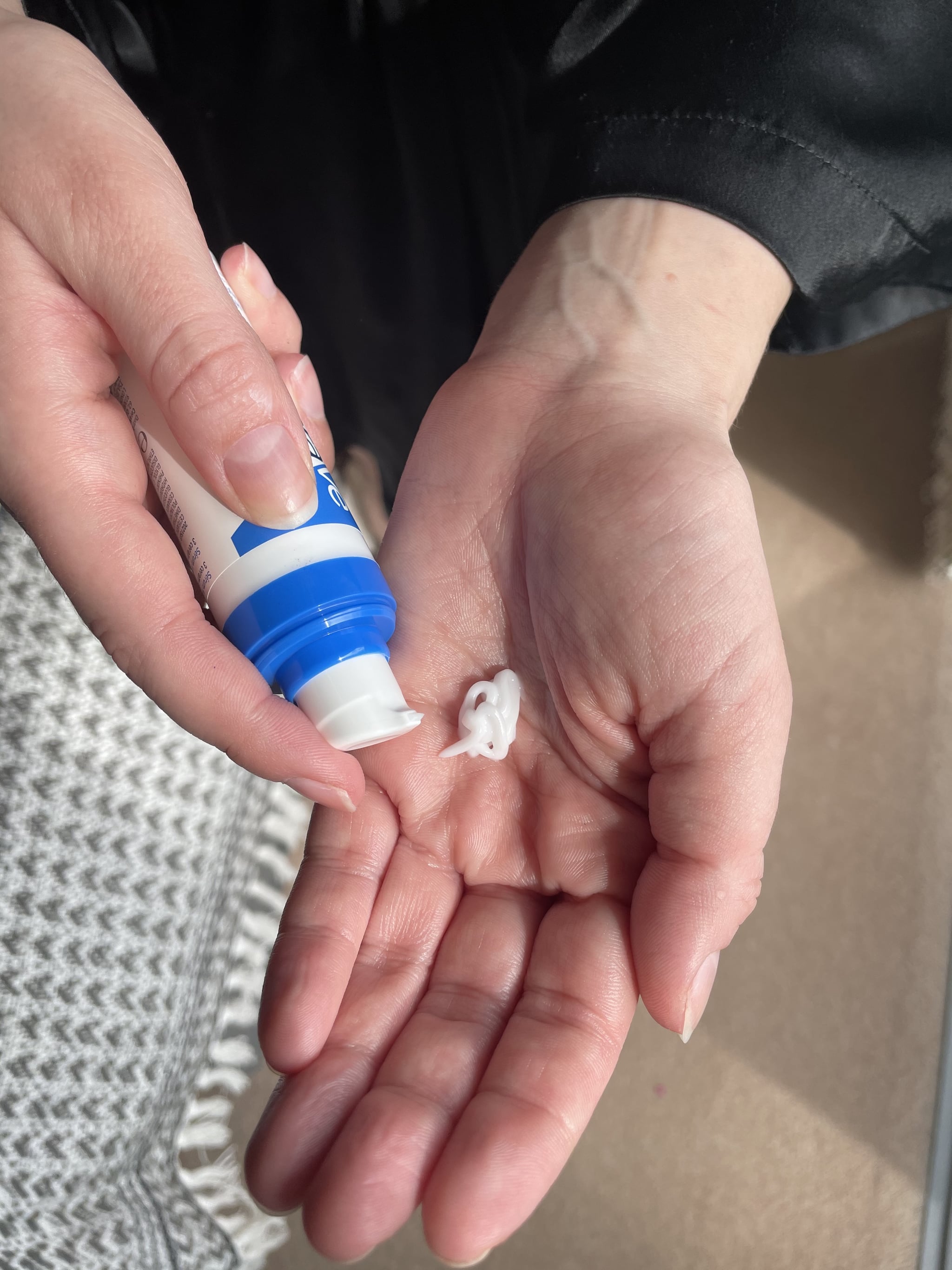 Image Source: POPSUGAR Photography / Sophia Panych
Dermatologists are also a fan of the serum's formulation, which contains three gold-standard, skin-care ingredients: ceramides, hyaluronic acid, and glycerin. A little refresher on those key ingredients. Ceramides — which is the signature ingredient in the CeraVe line — are "naturally occurring molecules in skin," Elizabeth Tanzi, MD; founder and director of Capital Laser & Skin Care in Washington DC, told POPSUGAR. "Skin-care companies have been able to synthesise them in products to help replenish skin's natural barrier function and protect it from the harshness — including dehydrators like wind, cold, and indoor heat — of winter."
Hyaluronic acid is also naturally occurring in the skin; in fact, it's one of the most abundant substances found in the skin, according to Dr Ejikeme. "Hyaluronic acid is able to hold 1,000 times its weight in water, keeping the tissue moist and well-hydrated. Plus, it helps to visibly reduce the appearance of fine lines and wrinkles as the retaining moisture in the skin creates a plumping effect," Dr Ejikeme said. "Not only that, but when the skin is hydrated, increased skin cell production can take place, as the skin isn't busy fighting for hydration, leaving skin looking and feeling more hydrated and plumper for longer." Glycerin, like hyaluronic acid, is also a humectant that helps draw water to the skin.
So what is the benefit of combining all three in this formula? "Hyaluronic acid and glycerin are humectants that pull moisture to the skin," explained Dr Ejikeme. "Ceramides in the skin form part of the lipid barrier, and the addition of ceramides [in the formula] is key to lock in moisture to the skin, helping to maintain moisture and protecting the skin from pathogens. This unique delivery system and ingredient combination help to transport ingredients through the skin for instant and long-lasting hydration."
Another reason this serum has been so popular in the States? It's formulated to work for every skin type. "Everyone, even those with oily skin, still need to moisturise, so this is a great option and can be combined/layered with more traditional moisturisers," Dr Shari Marchbein, a New York City board-certified dermatologist, told POPSUGAR, also highlighting an important fact that CeraVe's HA serum isn't as spenny as many of the other options out there. "There are lots of great HA serums on the market, and this is one area that you can save rather than splurge. The CeraVe Hyaluronic Acid Serum is of my favourites — it contains ceramides and B5 in addition to hyaluronic acid to help boost skin hydration and maintain and healthy skin barrier.
After realising that this was, in fact, a serum, I quickly slathered the creamy formula over my skin (it does, like Dr Ejikeme said, absorb quickly) and layered it under my favourite face cream, which right now is the BioEffect Hydrating Cream(£60). I've been using it for about a week now and I do notice a different in my skin's texture — it's doesn't feel as tight and thirsty, and the plumpness that my skin had prelockdown seems to have returned to some degree. All in all, the CeraVe Hyaluronic Acid Serum is exactly what you'd expect from the brand — gentle, effective, fragrance free, easy-to-use, and recommended by derms. What else could you ask for? A glowing complexion you might add . . . well, use it regularly and you'll get that, too.
The CeraVe Hyaluronic Acid Serum (£17) is available now at superdrug.com.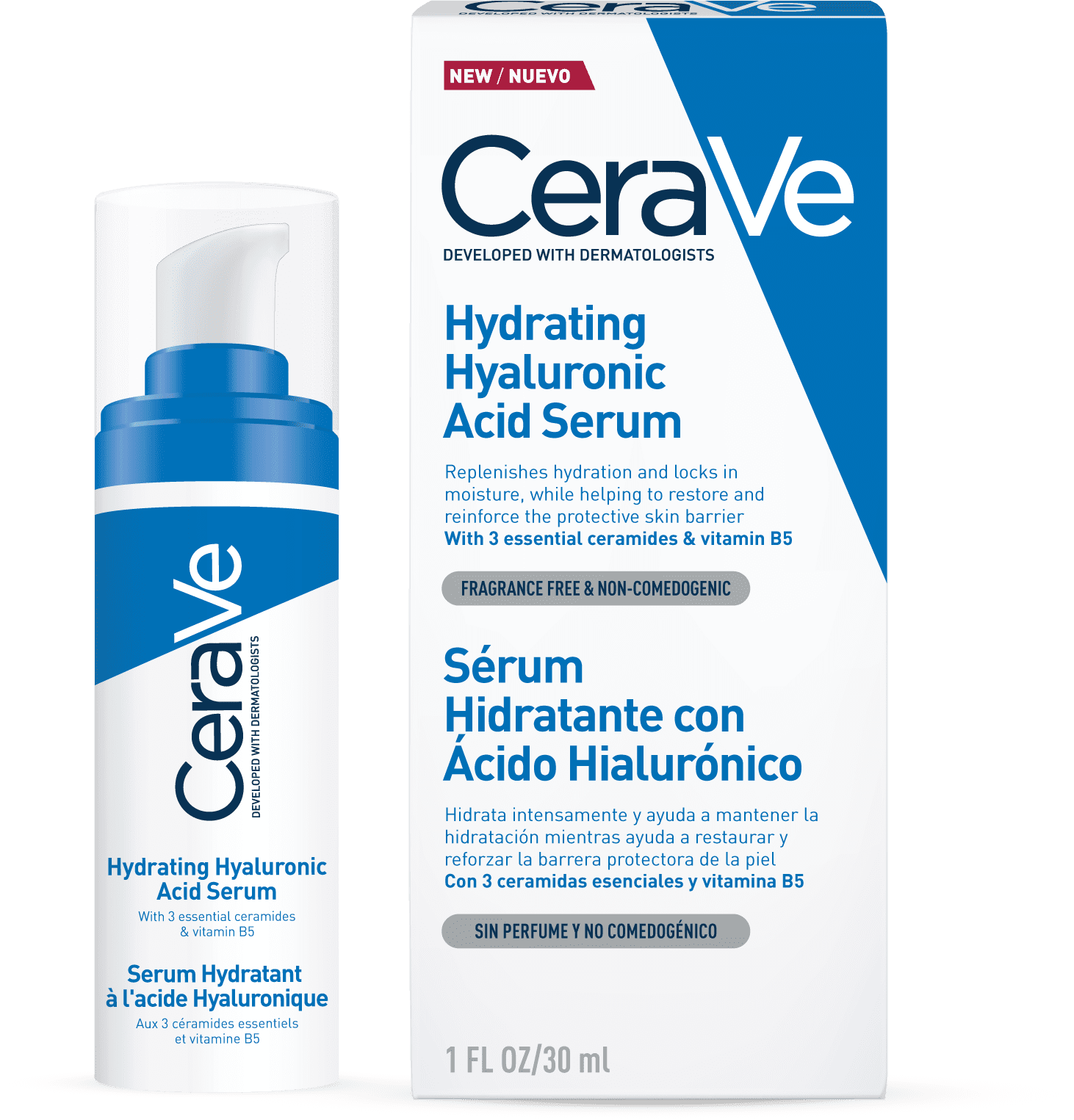 Image Source: POPSUGAR Photography / Sophia Panych