Eucerin Dermocapillaire Calming Urea Scalp Treatment Review
This Scalp Treatment Soothed My Irritated Scalp Without Leaving My Roots a Greasy Mess
As POPSUGAR editors, we independently select and write about stuff we love and think you'll like too. If you buy a product we have recommended, we may receive affiliate commission, which in turn supports our work.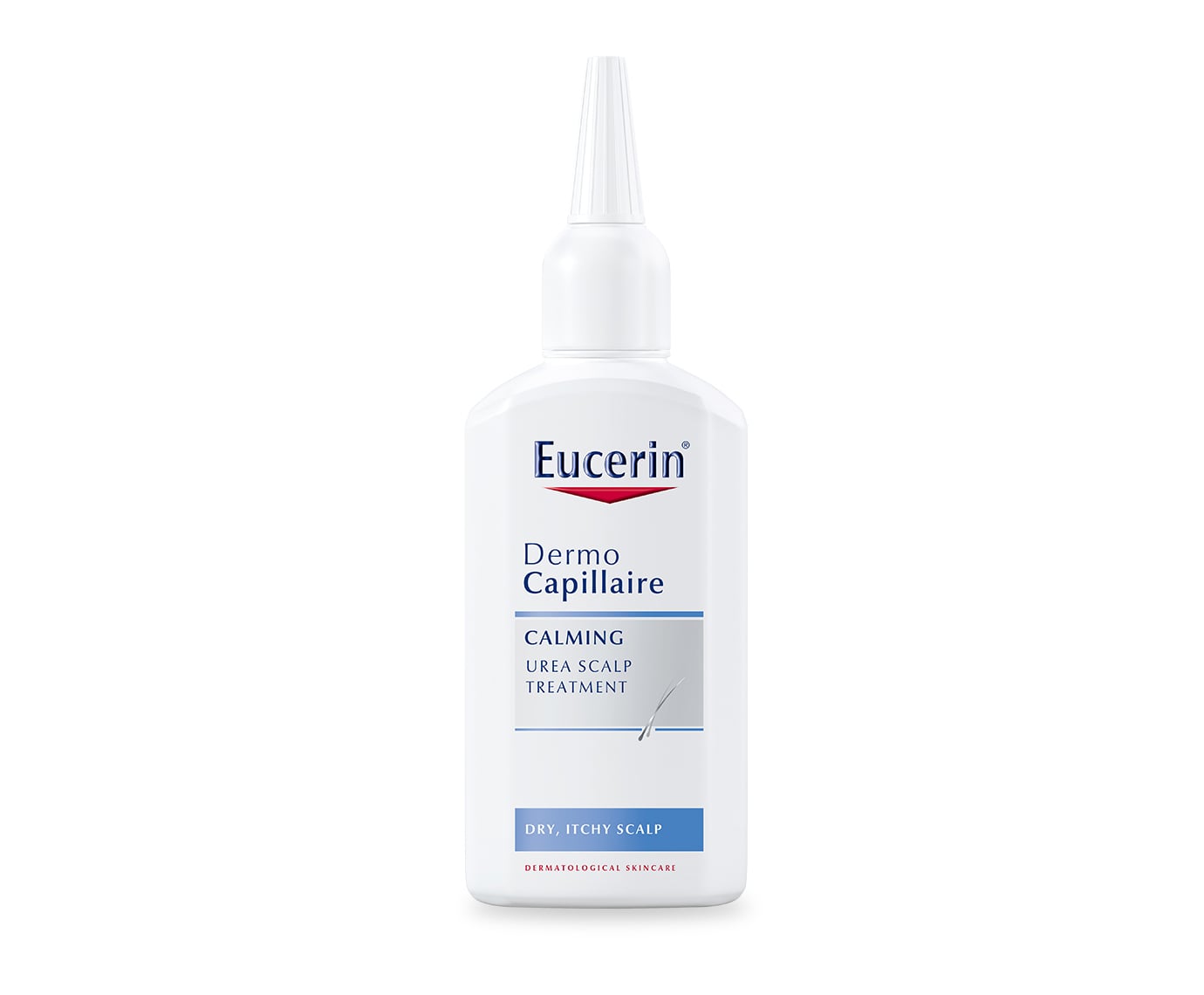 Searches for scalp-care treatments are on the rise, as are product launches dedicated to giving your scalp skin some TLC. It's not really a surprise, either. The cold weather, stress, and less frequent washings during lockdown (anyone else?) means our scalps are itchy, dry, and maybe even flaking. At least, that's certainly the case for me.
The skin on my face is dry and sensitive (mostly thanks to my rosacea), which definitely gets worse when I'm stressed out — and my scalp seems to be follow that same pattern, too. I wasn't sure if I was making a correlation that didn't exist, but my guesses were confirmed by the experts I spoke to. "A shift in hormones [caused by stress] can also trigger reactions on the scalp in the same way the skin on our face. Think: hormonal acne flare-ups," Bridgette Hill, Florida-based certified trichologist and inventive colourist, told POPSUGAR. Certain skin conditions such as seborrheic dermatitis (dermatitis on your scalp), psoriasis, and eczema can lead to a flare-up often aggravated by stress, which can cause flaking and itching.
Whilst I'd done a few things to help my dry scalp already — shampoos specially formulated for sensitive scalps, cutting back on the heat styling and dry shampoo, and trying to wash my hair in colder water — it was still needing some extra TLC. That's when I turned to the big guns: a scalp serum. Just like serums for your face, scalp serums and treatments contain a higher concentration of active ingredients, and oftentimes have a thin nozzle applicator to precisely target those dry, flaky areas. My treatment of choice for this particular period of sad, dry scalp is the Eucerin's Dermocapillaire Calming Urea Scalp Treatment (£12).
From the get-go, this treatment does exactly as it promises: "relieves scalp from minor irritation, reduces itchiness, and soothes the scalp from the first application." The main reason this product works so well is the inclusion of 5 percent urea. Urea is a byproduct of urine, but it's also a natural compound found in the layers of the skin, (don't worry, the urea used in this product is 100 percent made in a lab). Not only is urea a humectant that helps keep skin moisturised, but it's also a keratolytic, which gently exfoliates to get rid of dead skin buildup. Basically, it's a killer combo to help treat dry skin, whether that may be on your body or scalp.
The formula is also fragrance- and alcohol-free, which is something I look for when I want something as nonirritating as possible, just to be absolutely sure it contains nothing that could potentially upset my scalp further.
Upon first application, the Eucerin Dermocapillaire Calming Urea Scalp Treatment instantly took away that slight burning, irritated feeling I had, and instead made my scalp feel instantly soothed; a similar feeling to applying aloe vera to skin that's seen a little too much sun. Within just a few days, my scalp felt much less irritated, and I'm almost certain I had less flaking.
Aside from the results, what was important to me was finding a product that wasn't a faff to use. Most scalp treatments and serums leave my hair feeling sticky, and I can often feel the product buildup on my scalp. But this one didn't drench my roots or leave them feeling wet or sticky, which is in part due to the precise nozzle applicator. The formula dried down almost instantly and didn't leave my roots looking or feeling greasy — a total win in my book.
My scalp is truly thankful for the Eucerin Dermocapillaire Calming Urea Scalp Treatment, and I'm thrilled with how easy it is to use. So if you're one of those people whose been trawling the internet for something to soothe your itchy, irritated scalp amongst the hundreds of products out there, I'm telling you — your search stops here.
Image Source: Eucerin