"Glue Gun" Eyeliner Is the Latest Makeup Trend to Know
"Glue Gun" Liner Takes Graphic Eyes to New Heights
As POPSUGAR editors, we independently select and write about stuff we love and think you'll like too. If you buy a product we have recommended, we may receive affiliate commission, which in turn supports our work.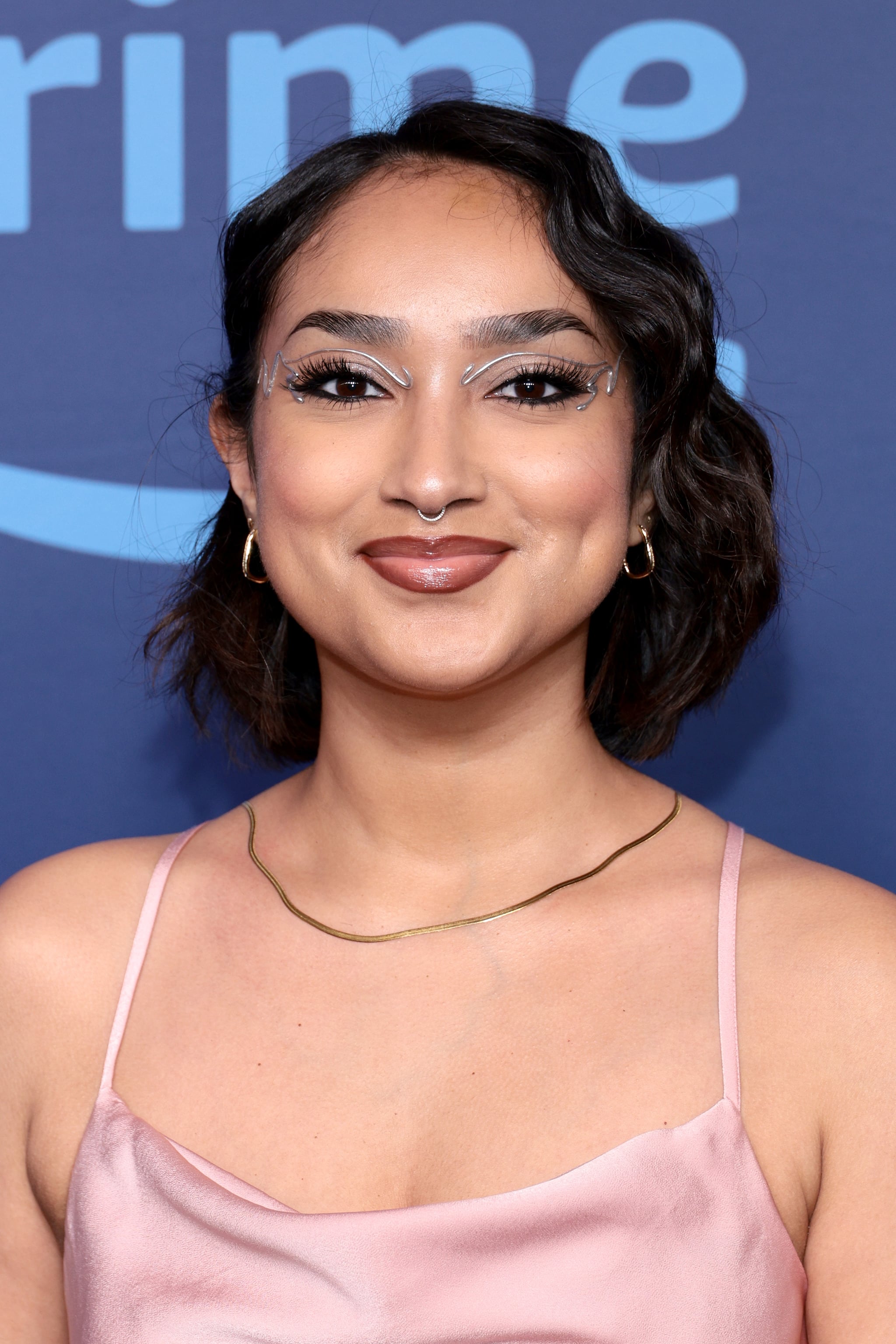 Image Source: Getty/Dimitrios Kambouris / Staff
Social media is a playground for beauty. Every once in a while, a makeup trend surfaces that is so genius, it blows our minds — as is the case of the "glue gun" eyeliner trend currently making the rounds on TikTok.
Popularised by user Vanessa Funes, glue-gun eyeliner is exactly as the name suggests: made of glue. "Glue-gun liner is essentially DIY 3D eyeliner decals created with hot glue and chrome eyeshadows," makeup artist and founder of Pearl Beauty, Elanna Pecherle, tells POPSUGAR. "When dried and decorated, these decals are then fastened to the eyelids with lash glue to create dimensional and ethereal makeup designs."
If you're as fascinated as we are, Pecherle explains the glue-gun liner trend a bit more and shares tips on achieving the look for yourself ahead.
What Is Glue-Gun Eyeliner?
Yes, glue-gun liner is trending now, but it's a technique that has been done before. "This technique has always been used by special effects departments on TV shows and in movies - particularly for the sci-fi genre," Pecherle says. "The trend of chrome 3D designs being adorned across the face started gaining mainstream momentum in the mid-2010s when creators such as Elaine Corredor popularised it."
You can thank one particular TV show for the trend's current status. "The rise of 'Euphoria'-style makeup has a lot to do with why glue-gun liner has become so popular lately," Pecherle says. "The makeup looks for the show have ushered in a new era of beauty that allows creators to express themselves freely, and in the most bespoke ways to suit their personal styles."
How to Do Glue-Gun Eyeliner
As far as getting the look at home, this is a trend you want to be extremely careful with. "Never be tempted to use a hot glue gun directly on your skin," Pecherle says. "This is incredibly dangerous and can lead to serious burns and even scarring." The proper technique? Creating the designs on a baking sheet before transferring them to your face. Better yet, do a patch test somewhere a bit less sensitive, like on your arms and legs, before putting it on your eye.
Pecherle the process down to a science. "Once your glue gun is heated, lightly sketch your designs directly onto baking paper and carefully trace around them with the hot glue gun, being careful of your hands and fingers," she says. "Wait until the glue has gone cold, then take your favourite chrome eyeshadows, and paint your glue in your desired colour" Pecherle recommends the Pearl Beauty Spotlights (£12) — we also like the Half Magic Beuaty Eyeshadow Singles (£23). "Lastly, you'll gently peel your glue decals from the baking paper, apply lash glue to the back of them and wait for it to get tacky, then you'll place the designs to your lids to create the look you desire."
This trend is one that is the definition of experimental beauty, so don't be discouraged if it takes you a while to get right. Still, for results like the ones you've likely been seeing all over your For You page, practice will definitely make perfect.