Goop Goopgenes Lift + Depuff Eye Masks Review With Photos
These Goop Undereye Patches Are My Secret to Faking a Full Night's Rest
As POPSUGAR editors, we independently select and write about stuff we love and think you'll like too. If you buy a product we have recommended, we may receive affiliate commission, which in turn supports our work.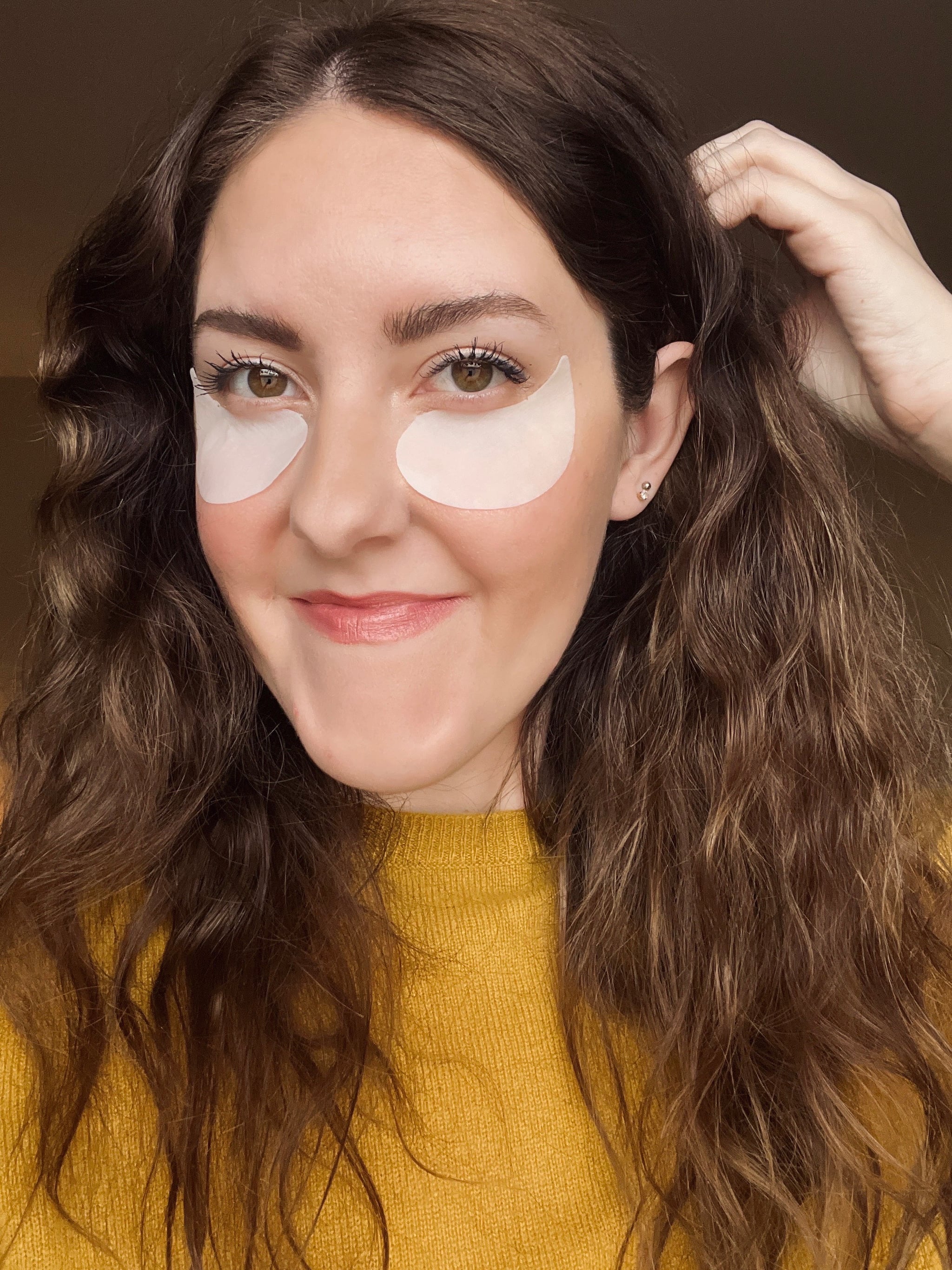 Despite my best efforts to avoid it, I've finally reached that point in adulthood where I'm chronically tired all the time — and often without any real reason. Even with a good eight hours of rest under my belt, I still find myself waking up with a puffy face, foggy brain, and undereye shadows so dark, not even the most brightening makeup could disguise them (though Ole Henriksen's Banana Bright Face Primer puts up a good fight). After months of caking on concealer and burying my anguish in endless cups of coffee, I decided it was finally time to invest in some quality undereye patches that could help give my eyes the subtle, gentle lift they so desperately needed.
Evidently, Instagram seemed to (rather suspiciously) know exactly what I was in the market for when a video of Gwyneth Paltrow using the new Goop Beauty Goopgenes Lift and Depuff Eye Masks ($125) popped up onto my feed. Even with all of her outrageous forays into wellness, I still can't help but trust Paltrow's impeccable taste and knew that if anything could cure my tired eyes, it would probably come highly recommended by her. After a month or so of using these hydrating eye masks, my skin looks fresher and feels undoubtedly better. I've even garnered a few extra compliments from friends who've been dying to know the secret to my undereye revival (thanks, GP).
Keep reading for my honest review of these ultraluxe eye masks and to see whether they're worth adding to your own beauty routine. Spoiler: they totally are.
What to Know About the Goopgenes Lift and Depuff Eye Masks
The material for these eye patches is made from sustainable, paper-thin fibres that are lightweight and soft to the touch.
The mask is infused with hydrating ingredients like niacinamide and olive leaf stem cells, both of which work to improve the skin's overall texture.
The product can be used as a daily treatment that works to firm, brighten, and hydrate the delicate skin under the eyes.
Goop's website claims these undereye masks specifically target "puffiness, dark circles, crow's-feet, lax skin, wrinkles, and more."
Each pack features 30 pairs of undereye patches.
What I Like About the Goopgenes Lift + Depuff Eye Masks
The better question is what's not to like? These ultrahydrating masks provide an immediate feeling of relief and moisture from the moment I put them on. I love that they coat every area of my undereye space and that I can actively feel the product's ingredients working throughout the entire process. They not only help me to relax and unwind with the feeling of a cool and soothing, spa-like experience at home, but the product also delivers visible results.
After two or three wears of these masks, I started seeing a notable difference in the appearance of the skin around my eyes — they look less puffy and irritated, all signs of redness have dissipated, and they even feel less tender. I also love that these undereye patches don't slip off my face, so I can easily move around and multitask without fear of them falling off.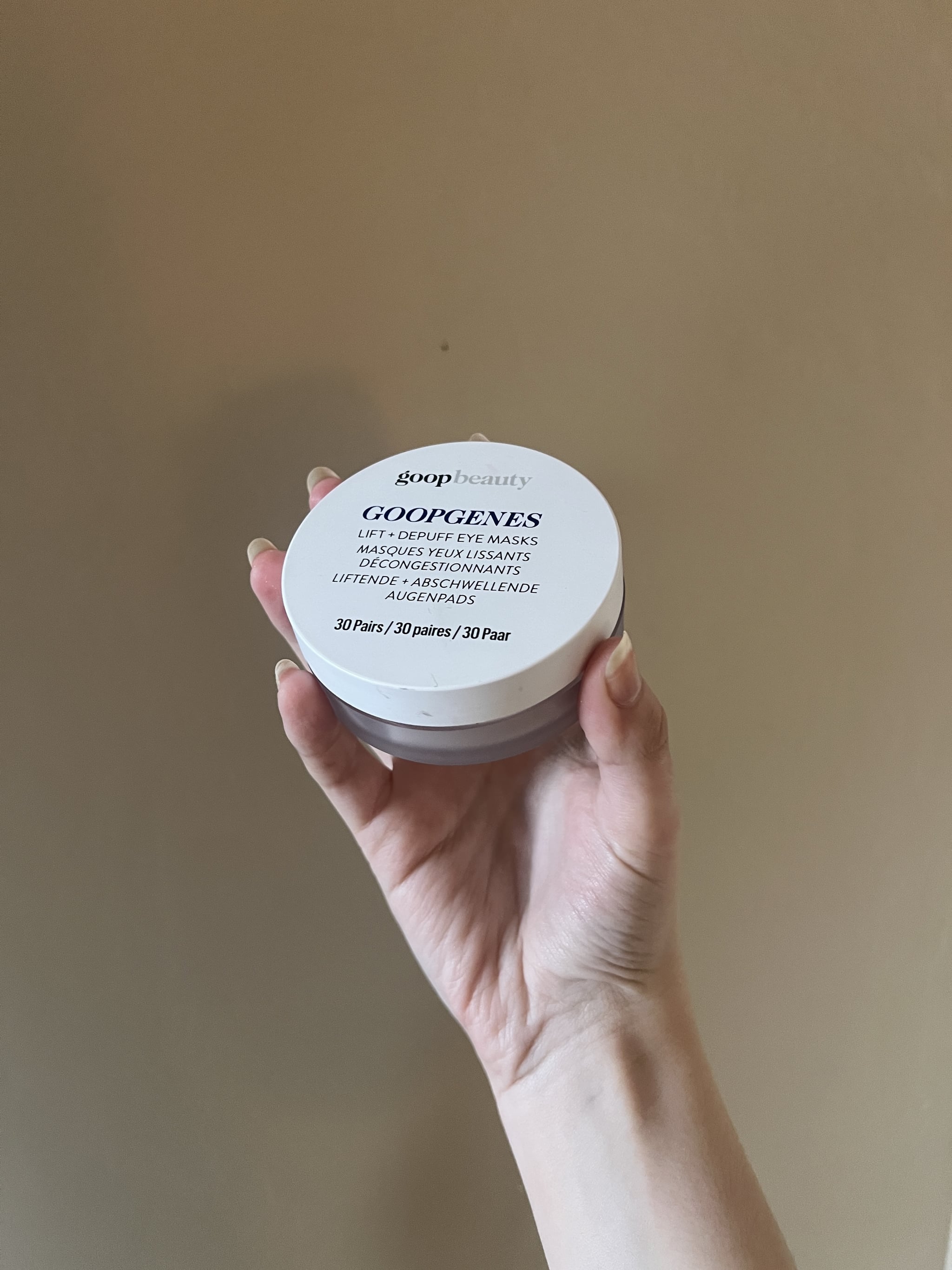 How to Use the Goopgenes Lift and Depuff Eye Masks
Unlike other undereye masks, these don't require a rigorous skin-care regimen in order to get the most out of them. Whether I'm incorporating them into my morning or nighttime routine, I like to start by removing my makeup, then cleaning my face with a gentle cleanser. After patting down my sky dry, I'll then pop open the eye-mask bottle and begin pulling out a pair. These patches are super dewy and soaked in a concentrated milky serum; fortunately, each pack comes with a tweezer-like tool that makes it easy to pick up the masks (without having to use your fingers) and pull them apart from one another. I then gently place the masks on the skin under my eyes while simultaneously smoothing out the edges to ensure the product stays in place and doesn't slip down.
Per recommendation from the instructions, I leave on these undereye masks for about 10 minutes to ensure my skin has ample time to soak up the ingredients and will then continue with the rest of my skin-care routine in the meantime. After the 10 minutes are up, I'll slowly peel the product off of my skin, usually to find my eyes looking much more awake and revived than before the treatment. The masks tend to leave a bit of leftover serum once removed, so I'll then pat any remaining formula into my skin to give my pores a little extra moisture.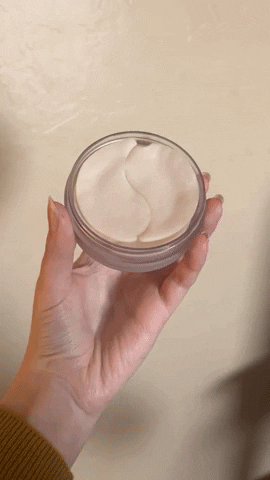 What to Consider Before Buying the Goopgenes Lift and Depuff Eye Masks
Similar to other cult-favourite brands like Peter Thomas Roth, each pack of these Goop undereye masks comes with 30 pairs. This number is pretty standard if you're buying the product in bulk or from a more luxurious brand. However, if you're a serial eye-mask wearer (like me), you might prefer opting for a more affordable undereye patch that has all the same depuffing benefits but with more masks and a lower pricer tag. Because these patches are on the pricier side, I try to reserve wearing them only in situations when my skin is in desperate need of a pick-me-up — i.e., before a big meeting, after a long flight, or even when I'm just lacking adequate sleep. For anyone who likes to wear undereye masks on the regular or frequently incorporates them into their skin-care routine, I'd recommend purchasing a more affordable alternative.
Additionally, these masks feature highly active ingredients like honey locust seed extract, olive leaf stem cells, and niacinamide. Before testing out any new product — particularly ones with unique skin-care ingredients — I always recommend patch testing it first or even consulting with a dermatologist if you have sensitive skin. My own skin is well-adapted to more concentrated serums and formulas, so I didn't personally experience any irritation or negative side effects after using this treatment. But as advised by Goop's website, it's important to be aware of the ingredients and limit your use of these eye masks if any persisting skin irritation occurs.
Where Are These Goopgenes Lift and Depuff Eye Masks Available?
These eye masks are available to shop at Goop and Thirteen Lune ($125).
Rating:

Image Source: POPSUGAR Photography / Kyley Warren