Hey Dewy Facial Humidifier Review With Photos
TikTok Can't Get Enough of This Portable Facial Humidifier, and Neither Can I
As POPSUGAR editors, we independently select and write about stuff we love and think you'll like too. If you buy a product we have recommended, we may receive affiliate commission, which in turn supports our work.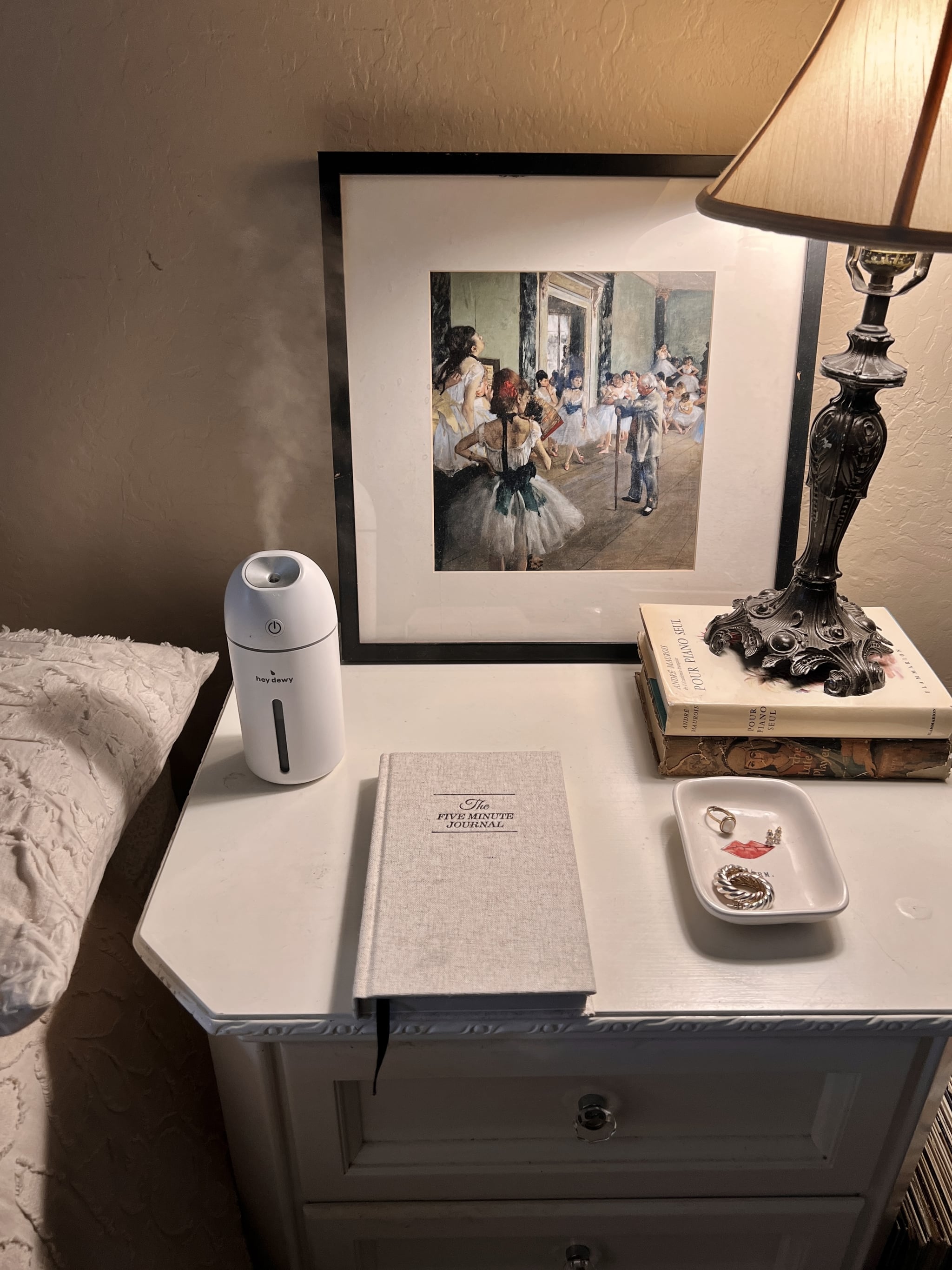 For as long as I can remember, I've had a humidifier in my bedroom. My mom has always been a huge advocate for the tool, claiming that it's helped to keep her healthy during even the most contagious flu seasons and ultimately sleep better at night. I'm biased, but I'm convinced she's the smartest woman I know — so, naturally, it wasn't long before I also adopted her best-kept wellness secret and added a model to my own home setup. Not only can I feel the difference that having a humidifier in my room makes, but alternatively, I can feel the difference of a space without one, too. I've long wished for a way that I could take the living essential on the road with me to hotel rooms or Airbnbs, and was pleasantly surprised to discover that such a unicorn product existed — and in the form of this Hey Dewy Portable Facial Humidifier ($60), no less.
Hey Dewy's compact humidifier has been plastered all over my TikTok feed for the last few months, with users calling it an "absolute essential" for dry skin types who struggle to keep their skin well hydrated throughout the day (and distressingly dry winter season). The product's capabilities are sort of endless — some claim to use it as part of their morning skin-care routine, while others say it's a soothing must-have to keep desk-side. Regardless of how you use it, you're bound to become obsessed with the beauty tool and wonder how you ever lived without it — trust me.
Keep reading to see my honest review about how this internet-loved essential really does live up to the hype.
What to Know About the Hey Dewy Facial Humidifier
This facial humidifier is a portable and handheld device that charges via a USB power cord.
The model weighs just over seven ounces, and can hold 12.4 ounces of liquid.
Designed with convenience in mind, this compact tool has a built-in ultrasonic wave technology that helps to efficiently dispense cool mist into the air. It also has an intermittent setting that releases the mist sporadically for up to 12 hours.
The Hey Dewy Facial Humidifier is designed to help provide continuous hydration for your skin, hair, and face, even while you're on the go. Users have also discovered that the tool is great for relieving sinus pressure during the winter months and flu season.
What I Like About the Hey Dewy Facial Humidifier
My favourite part about this facial humidifier is how compact and convenient it is. I've had a traditional humidifier in my bedroom for years, but for obvious reasons, have never really been able to take it with me when I'm on the go. The benefits of having one in my home have been endless — from clearing my sinuses to helping me sleep better at night and even making my skin feel better throughout the day.
Investing in a portable and compact facial humidifier like this model from Hey Dewy was a total no-brainer, and practically every area of my life has improved since adding it to my beauty arsenal. It's elevated my morning skin-care routine, helps to keep me calm throughout the workday and breathe better at night. I love that I can soak up all of the product's benefits when I'm travelling; it seamlessly fits into my car's cup holder for longer road trips or commutes, and is an easy travel essential to squeeze into my carry-on for when my skin needs a mid-flight pick-me-up.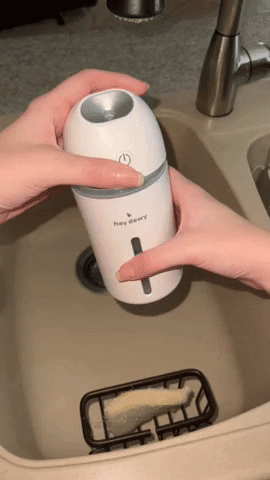 How to Use the Hey Dewy Facial Humidifier
This portable humidifier is as easy to use as it's marketed to be. To start, I simply plug my humidifier into a USB cable (each humidifier comes with a USB cord) and let it charge for a few hours. As detailed on the website, you'll need to allot about 4.5 hours in order to ensure the product is fully charged. Once the small blue light on the back of the model stops flashing, that means you're good to go. From there, I simply twist off the cap, fill the humidifier up with water to its max capacity line, and tighten the lid back on. I then press the power button at the top of the model twice, and am instantly treated to a cool mist that dispenses at the top of the humidifier.
In terms of the best way to use this humidifier, I've found the options to be pretty endless. I'll incorporate it into my morning beauty routine most days by pointing the mist onto my skin for about 10 to 15 minutes before dousing my face in a gentle cleaner and carrying on with the rest of my skin-care routine. This just helps to soften my pores and help ingredients penetrate better.
The portable humidifier also doubles as a great desk-side companion that helps to keep my skin hydrated all throughout the workday, while also opening up my sinuses during the notoriously dry winter months. The model has already made its way into my car on a few longer drives, and I have a hunch it'll also come in handy on my next flight, too. Come nighttime (assuming I have any remaining charge left), I also love perching it on my nightstand so that the cool mist fills my bedroom while I'm sleeping. Hailey Bieber swears there are a ton of benefits to sleeping with a humidifier, and I've certainly found that to be the case with this compact model, too.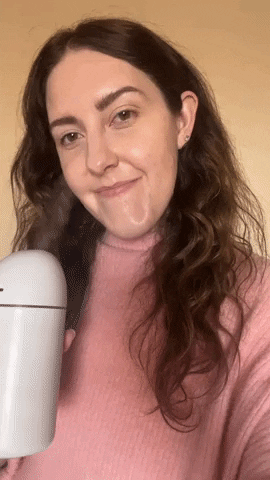 What to Consider Before Buying the Hey Dewy Facial Humidifier
As previously mentioned, this product requires a pretty decent charge time before you can begin using it at full capacity. While it's understandable given the humidifier's continuous misting and ability to operate for up to eight hours, it does require you to pick and choose a bit with how exactly you'd like to use the tool. As an example, I'll usually have to forgo using the mister during the day if I plan to turn it on come nighttime when I sleep.
Alternatively, if I'm travelling or just want to have it on hand at a moment's notice, I'll usually keep it turned off at night so that it has ample time to charge. If you want to have the portable humidifier available for different uses, I'd recommend investing in two models: one to have at home 24/7, and the other for travel.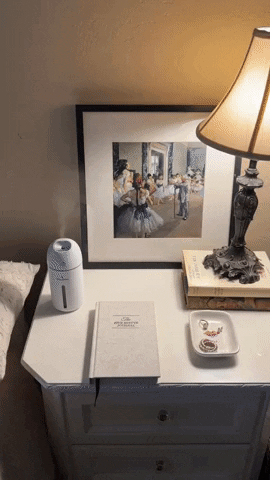 Where Is the Hey Dewy Facial Humidifier Available?
The Hey Dewy Portable Facial Humidifier is available to shop at Amazon, Revolve ($60), and Hey Dewy ($50).
Rating:

Image Source: POPSUGAR Photography / Kyley Warren