Jessica Plummer Talks About Her Hair Journey For Pantene
Jessica Plummer Talks About Her Hair Journey and Stealing AJ's Luxury Item in I'm a Celeb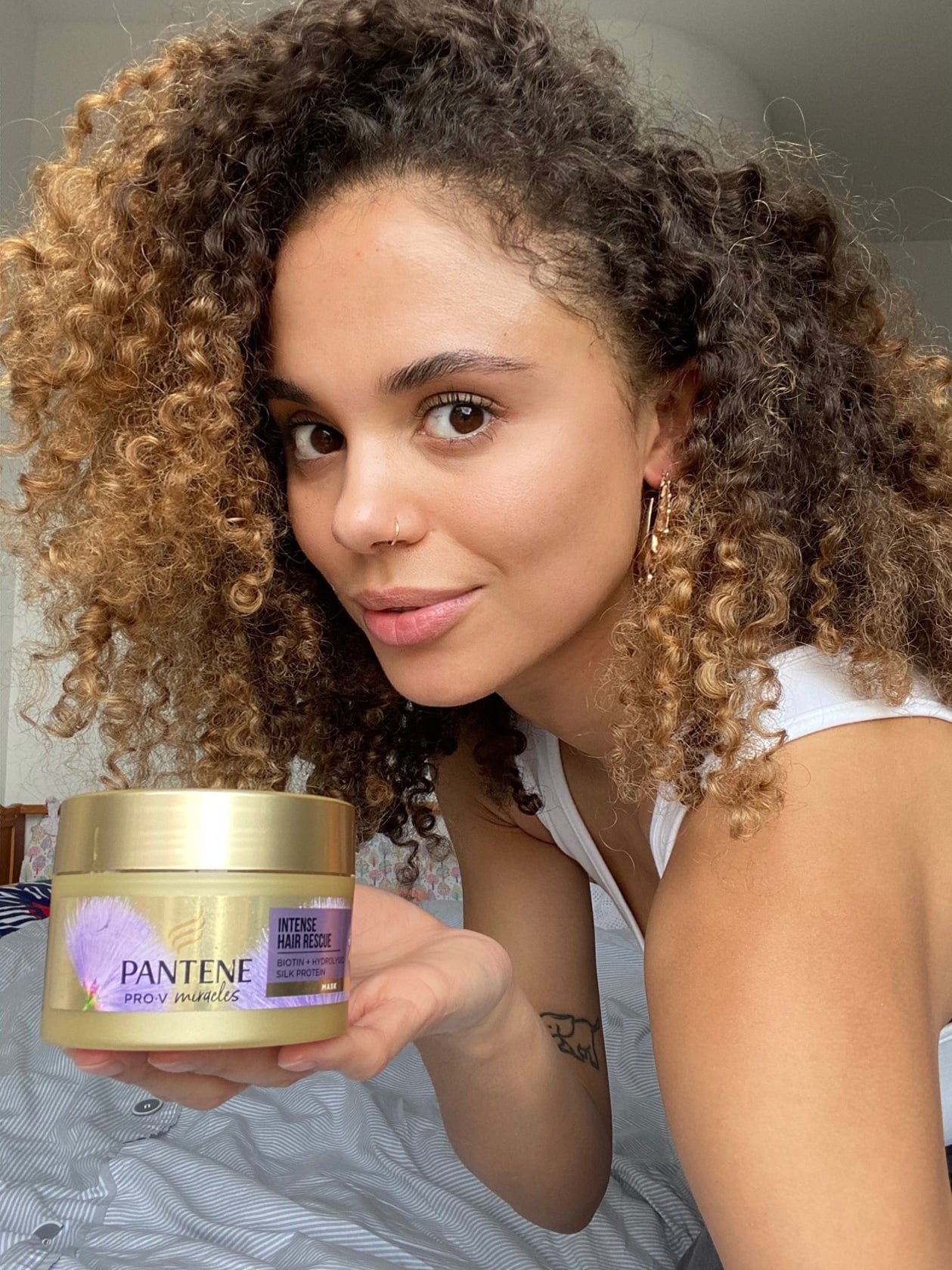 Ex-Eastenders actor and I'm a Celebrity . . . Get Me Out of Here campmate, Jessica Plummer has become known for her bubbly personality, keeping it real on social media, and of course, her incredible hair. But like a lot of people, especially those with curly textures, her self-love hair journey hasn't always been without its ups and downs.
To celebrate all things hair, Plummer partnered up with Pantene for the Silky & Glowing range and collaborated with the brand for its "My Hair Won't be Silenced" campaign, helping to end discrimination against Afro hair in the UK. In April, POPSUGAR sat down with Plummer over Zoom to chat all about her lockdown experience, her love of baths, her hair journey, and how she's passing her knowledge and passion onto her daughter.
POPSUGAR: So, Jessica, how are you? How have you been? How's lockdown?
Jessica Plummer: I've been good. Lockdown on the whole has been OK. Everyone in my family has been safe and healthy, luckily. We've had that time uninterrupted to just connect and spend some quality time with each other. Although the first lockdown, my daughter was in nursery, so there was no homeschooling. Now, in the second lockdown, she's in Reception so we had to homeschool. The first lockdown and the second lockdown were very different, but I think everyone felt like the second one was a lot harder than the first.
PS: Absolutely. Have you had any lockdown beauty and wellness product heroes?
JP: I love a bath, I have a bath every day. People think that it's really weird. I hardly have showers. I don't know if it's because I'm lazy, but in the evening I have to psych myself up to get ready for bed, so I run the bath to help wind down. To answer your question, it's been nice to have this time, because I haven't been working as much and have had more time to experiment with things. So trying new products and making the most out of being at home, trying different masks and just leaving it in for the whole day. And I've been experimenting with the new Pantene Silky & Glowing range.
PS: What's your favourite product is from the Pantene range, Silky & Glowing range?
JP: I think probably the Pantene Pro-V Miracle Silky & Glowing Mask (£5) or the Pantene Pro-V Colour Damage Reverse Hair Shot (£4). It's hard, I love them all but, I think it's the hair mask, only because there's slightly more in it, so it lasts a lot longer. The difference I notice in my hair after I've washed it out is amazing, visibly my curls are a lot more defined — considering the price that you pay for it, it's unbelievable. My hair is so soft, so unbelievably soft. It has silk protein, and it's quite a high ingredient on the list, so I think it's the silk protein that makes it so soft.
PS: Could you talk us through your hair-care routine?
JP: I try not to shampoo my hair too often. My hair is quite dry naturally, so I only shampoo it once a week on a Sunday. In between washes, I use conditioner just to wash it, wet it, and restyle it. On a Sunday, I'll also use the hair mask and leave it in. I try and do it in the morning and wash it out in the evening, so it has the whole day to work. I style my hair when it's wet, so I put all my products in — the Intense Hydrating Hair Oil with Argan Oil (£8) from the Pantene Gold Series, which is lovely — and let it dry naturally. I try not to use too much heat if I'm not in a hurry and then the next day it doesn't look exactly like this [editor's note: incredibly voluminous, bouncy, and healthy], but something similar.
PS: How has your hair routine changed from when you were younger?
JP: I was just figuring it out as a kid and I think I started doing my own hair when I was 12, just when I went into secondary school. My routine basically was, I would wet my hair every morning in this sink — which, I actually had quite right because you can't brush hair like this without water in it, unless you want it to be huge — and then put conditioner in. My mum would buy the supermarket brand conditioner that was really, really big and smelt of strawberry. I needed a big one because I went through so much of it. I put loads of that in and then literally that was it, that was what my routine was.
So, I just hacked it off and then made an appointment to get it sorted out the next day. Since that day, I made a promise to myself to just take better care of my hair.
PS: The Pantene Hair Health Report found that some people start dyeing their hair as young as aged 11. Could you tell us when did you start dyeing your hair? You also shaved your hair off in 2015, didn't you?
JP: I did, yes. I probably started experimenting with dyeing my hair at a similar age actually. I think the first time was with a non-permanent dye, just a washout one, which was red. At the age of around 14, I started using bleach on my hair, and it got lighter and lighter and lighter. I also texturised my hair, chemically had treatments to make it less curly around a similar age, too. I dyed my hair every colour under the sun after the blonde. I remember when Rihanna dyed her hair red, so obviously I had to dye my hair red.
It was when I was in the Neon Jungle, roughly around seven years ago, my hair was so badly damaged, I had to use extensions to cover the fact that it was so bad. I took out my extensions and I looked in the mirror and the damage was just here, there, and everywhere. There were straight bits, curly bits, blonde bits, ginger bits, it was just all over the place. One day six years ago I woke up and thought "I can't do this anymore, I need to give myself a fresh start." So, I just hacked it off and then made an appointment to get it sorted out the next day. Since that day, I made a promise to myself to just take better care of my hair. Although it's only hair and it grows back, it plays such a huge part in your confidence.
PS: Congratulations on your time in I'm a Celebrity. . . Get Me Out of Here. Did you get any beauty items or hair care in there?
JP: Well, AJ [Pritchard, Jessica's campmate] had it as his luxury item. He got some curl defining cream, but before that, I was just leaving some conditioner in my hair and it was okay. On a show like that, though, your appearance is the last thing you're thinking about. But yeah, I did nick some of AJ's curling cream. Not so much with skin care or hair, but makeup got people improvising — using bits of coal to fill in their eyebrows. I was the camp hairdresser, so I did everyone's hair in the jungle.
PS: How important is it to you to teach your daughter about self-love and loving and embracing her hair?
JP: It's incredibly important. I grew up, at her age, not loving my hair. Times were very different, especially what was being portrayed as beautiful on TV and toys when I was growing up. If you weren't stick-thin with blonde hair down to your bum, then you weren't the cool girl. I remember even being as young as seven and going to school discos and asking my mum to straighten my hair for me and always wanting it to be wet so that it could be as straight as possible. I've grown into loving my hair but would love it if my daughter Noa doesn't have to go through that journey. Her hair is really similar to mine, it's slightly thinner, but I every day tell her that her curls are beautiful and try and make sure she can see herself represented in things that she watches on TV and reads in books.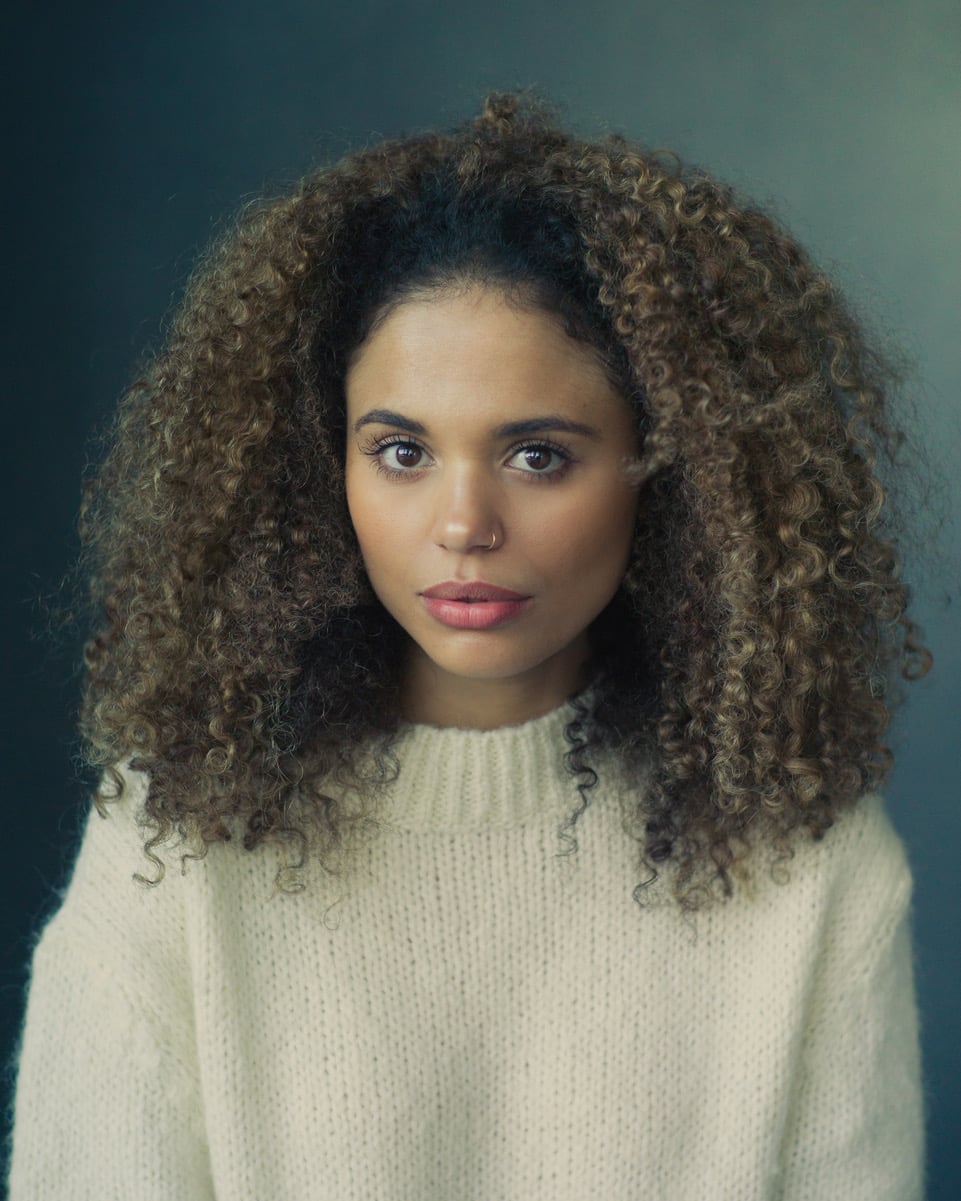 Image Source: Pantene