Kiss Impress Press-On Falsies Review With Photos
This Is the Easiest Way to Apply Lash Extensions, Period
As POPSUGAR editors, we independently select and write about stuff we love and think you'll like too. If you buy a product we have recommended, we may receive affiliate commission, which in turn supports our work.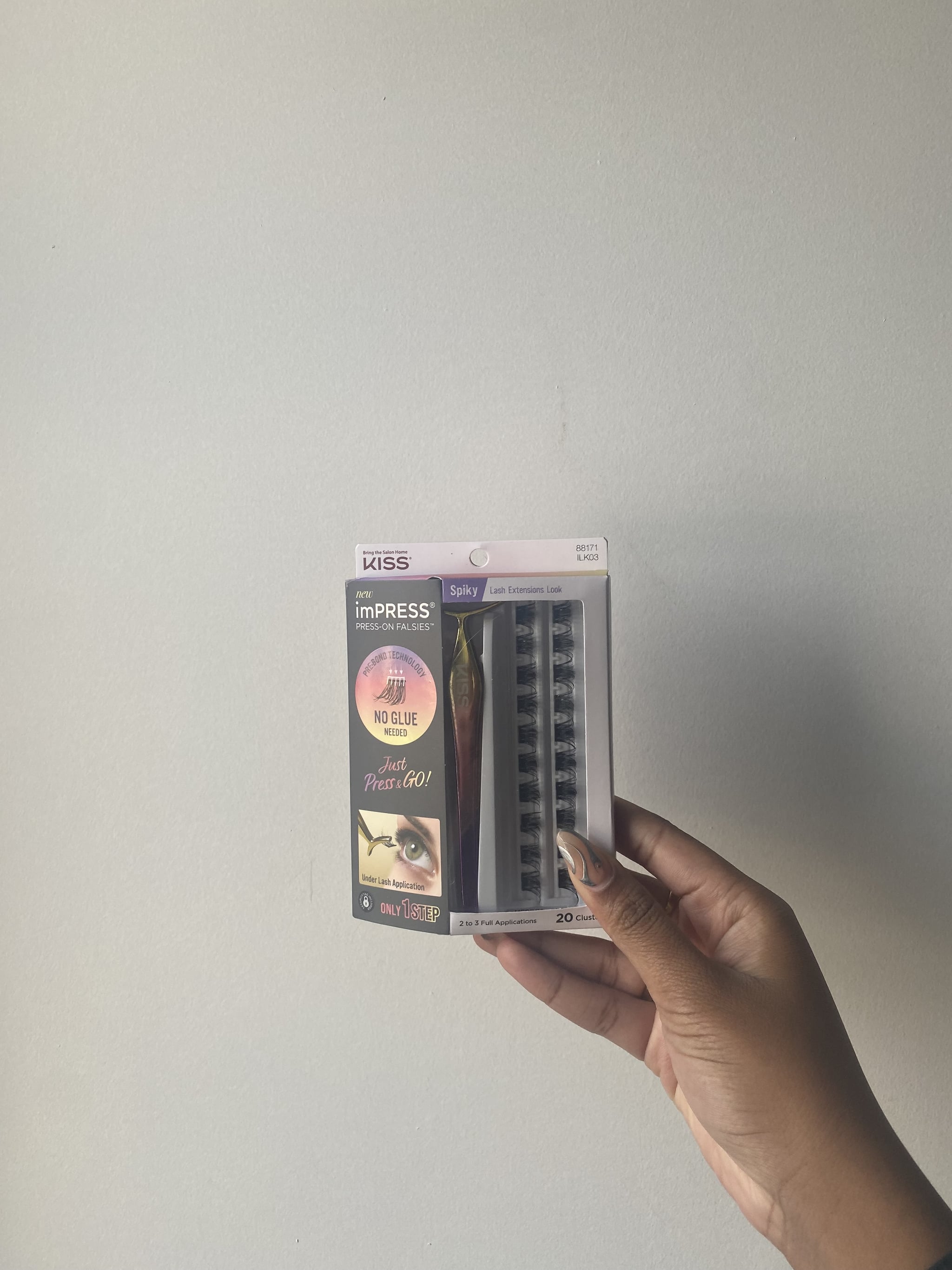 Kiss recently launched the Impress Press-On Falsies system.
The kit comes with preglued lash clusters to give the look of lash extensions with the ease of a strip lash.
One editor tested the kit and was impressed with how easy it was to apply and how long the results lasted.
Even though I'm a beauty editor, I often don't have as much time to spend on my beauty rituals as I'd like. Between work, rushing to events, and generally just trying to keep myself alive as a functioning human being, I tend to have to streamline. Still, I love a good makeup look. As a result, I have learned how to perfect my five-minute face and have a real appreciation for convenient products that save me time.
Therefore, when I learned about the Kiss Falscara ($25) lash system, which made it easier to get the look of lash extensions at home, I was ecstatic. Then, the brand once again revolutionized the lash space with its latest launch: the Impress Press-On Falsies ($17). Similar to the original Falscara, with this set, you can glue on lash clusters underneath the lash line for a more natural lash-extensions look. Where this version differs is with the use (or lack thereof) of glue. While Falscara has a bonding and sealing agent, the press-on falsies come with the lash clusters preglued, which should make for much quicker application.
Of course, my chronically late little heart fluttered at the mere idea of being able to glue on a full set of lashes in just a few easy steps, so I had to try it out. Keep reading to see how it went, along with photos every step of the way.
About the Kiss Impress Press-On Falsies
The full system includes 20 lash clusters as well as an applicator.
The lashes come preglued for easy application and are available in six styles: glamour, voluminous, spiky, natural, curly, and wispy.
The lashes are meant to adhere for 24 hours.
The set retails for $17.
What I Like About the Kiss Impress Press-On Falsies
Right off the bat, I was extremely impressed with how easy to apply these lashes were, and I love the intent behind the kit. The process is extremely intuitive and comes with everything you need to achieve the look you desire — the clusters even come in different styles. I chose the "natural" set as I was going for a subtle my-lashes-but-better look, and the clusters in this one only added a bit of length as opposed to volume.
Additionally, while they look pretty seamless under the lash line, the bands of the clusters aren't hard to see, so it's fairly easy to map out where you will want each lash to go as you're applying them.
How to Use the Kiss Impress Press-On Falsies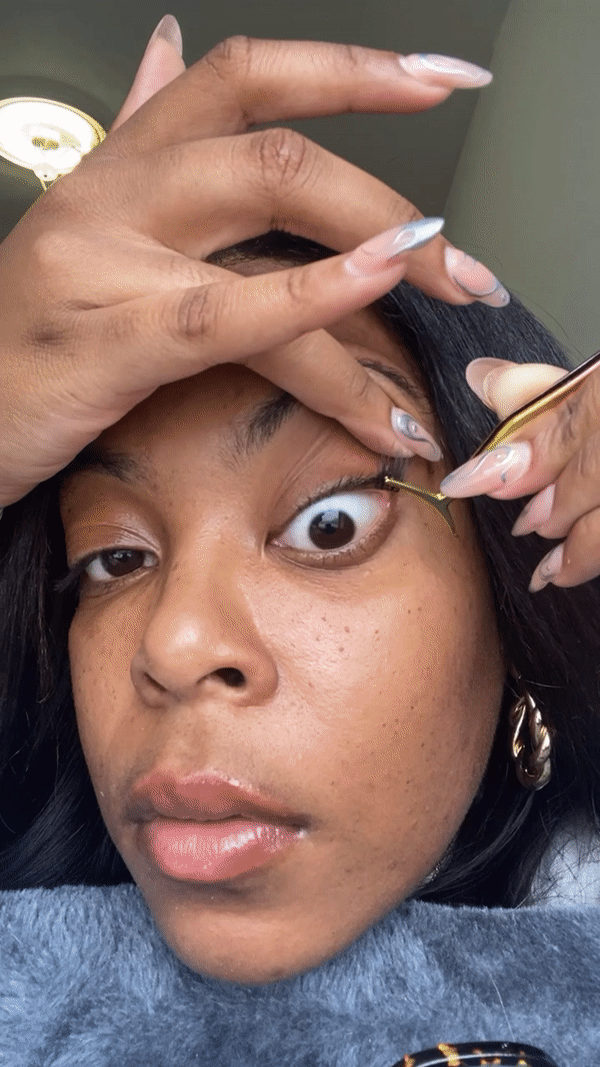 Using the product is pretty straightforward; all you have to do is take a cluster using the included applicator, apply it directly underneath your upper lash line, and hold the cluster near your natural lashes for a second to make sure it stays in place.
Using the "natural" set, I followed those directions to the letter, with each application becoming more seamless than the last. I was going for a more elongated cat-eye effect, so I opted to add lashes until I got to the middle of my eye. Once I applied all the clusters, I squeezed them together to make sure they blended with my natural lashes, and I was done.
What to Consider Before Trying the Kiss Impress Press-On Falsies
I thoroughly enjoyed using these lashes and absolutely loved my results once they were applied. I will say that it may take you a few tries to apply these clusters as quickly as you would a strip lash if you're a regular wearer. Until you get the hang of it, applying and then reapplying it could in turn impact the adhesive, which might affect the lash's ability to stay on.
Additionally, the kit only has enough applications for two to three uses. With some lashes being able to be reworn somewhere between five and 20 times, if you are a frequent lash wearer, you may actually end up saving money by simply rewearing your favourite strip lash.
However, if you have previously tried the Falscara and have the bond and seal ($10), you may be able to get more consecutive daily wear out of these lashes using them together (similar to the look of real lash extensions) than you would a strip lash. While that isn't explicitly recommended by the brand, half the fun of beauty is experimenting, so I, for one, will be trying the hack.
Where Are the Kiss Impress Press-On Falsies Available?
The Kiss Impress Press-On Falsies is available on the Kiss website, ultabeauty.com, target.com, walgreens.com, walmart.com, and cvs.com.
Rating
Rating:
Image Source: POPSUGAR Photography / Ariel Baker