Lil' Kim's Hairstylist on the Wigs That Influenced Hip Hop
The Woman Behind Lil' Kim's Iconic Wigs Remakes Them For "The Culture" Exhibit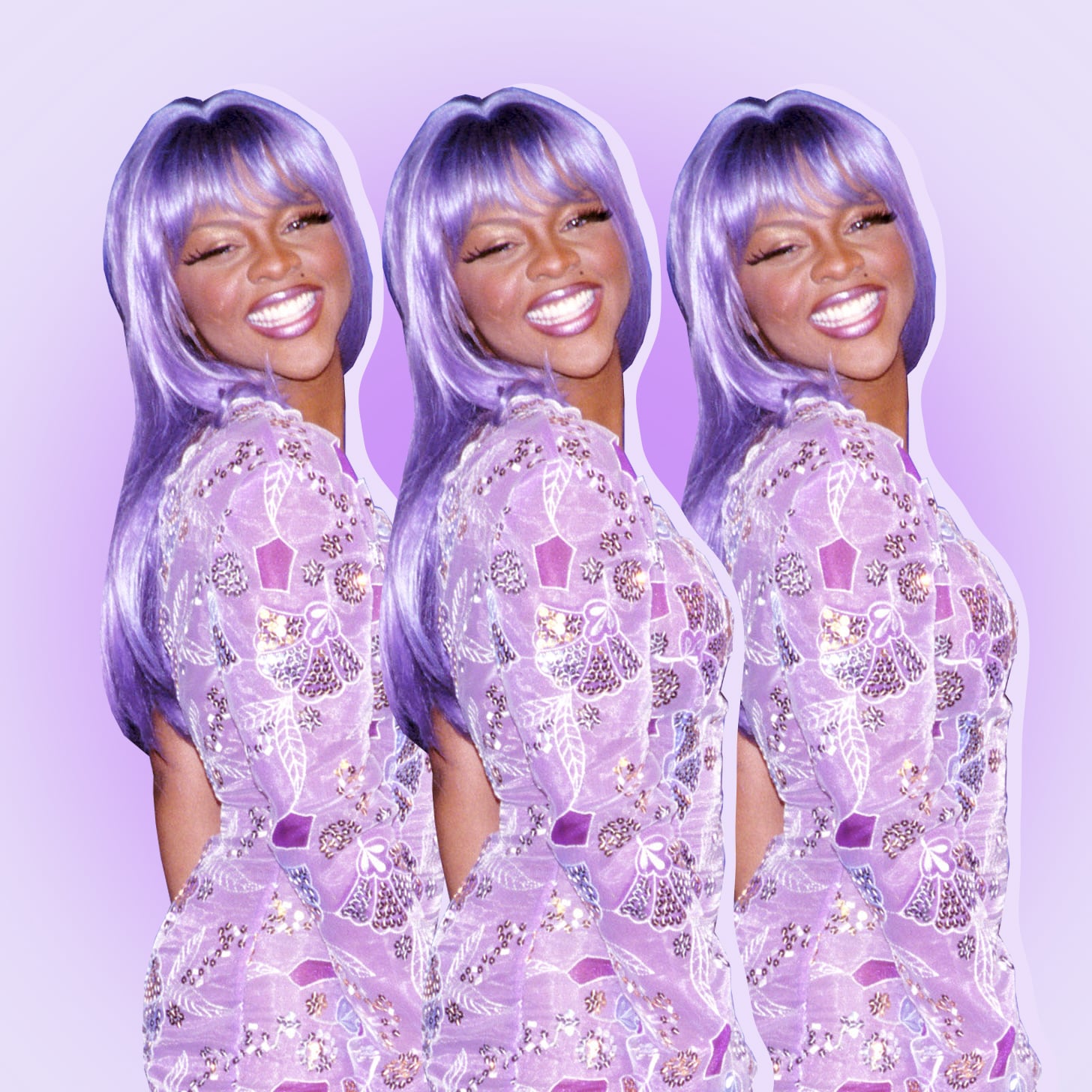 In 2023, we're still talking about the wigs Lil' Kim wore 25 years ago.
It's hard not to. They're what the word "iconic" is reserved for. You can immediately place them, even when they're disembodied from the full ensemble. You remember other details, too: scotch taping the cover of Manhattan File to your bedroom wall in 2001 because that teal wig with the Chanel logo stamped on the bangs was so fly. The spot in the living room you were sitting when Lil' Kim hit the 1999 VMA red carpet in that purple jumpsuit, accessorised with that purple pasty and a matching purple wig.
Those moments are a part of hip hop history, and as the genre turns 50 this year, there is no more fitting time to honour the artists that helped make them happen. From April 5 to July 23, the Baltimore Museum of Art does exactly that with "The Culture: Hip Hop and Contemporary Art in the 21st Century." The exhibit explores the influence of hip hop through art and fashion, showcasing artifacts of the genre and pieces inspired by the culture. Virgil Abloh, Telfar Clemens, Chance The Rapper, and Kendrick Lamar are just a few of the several interdisciplinary artists whose work is featured in the show.
Included in the exhibit are four recreations of wigs Lil' Kim wore in the late '90s and early 2000s, done by her then-hairstylist, Dionne Alexander. Alexander, now based in Dallas, was part of a team that included stylist Misa Hylton and makeup artist Nzingha. The three worked with Kim and unwittingly created the aesthetic blueprint female rappers still strictly adhere to.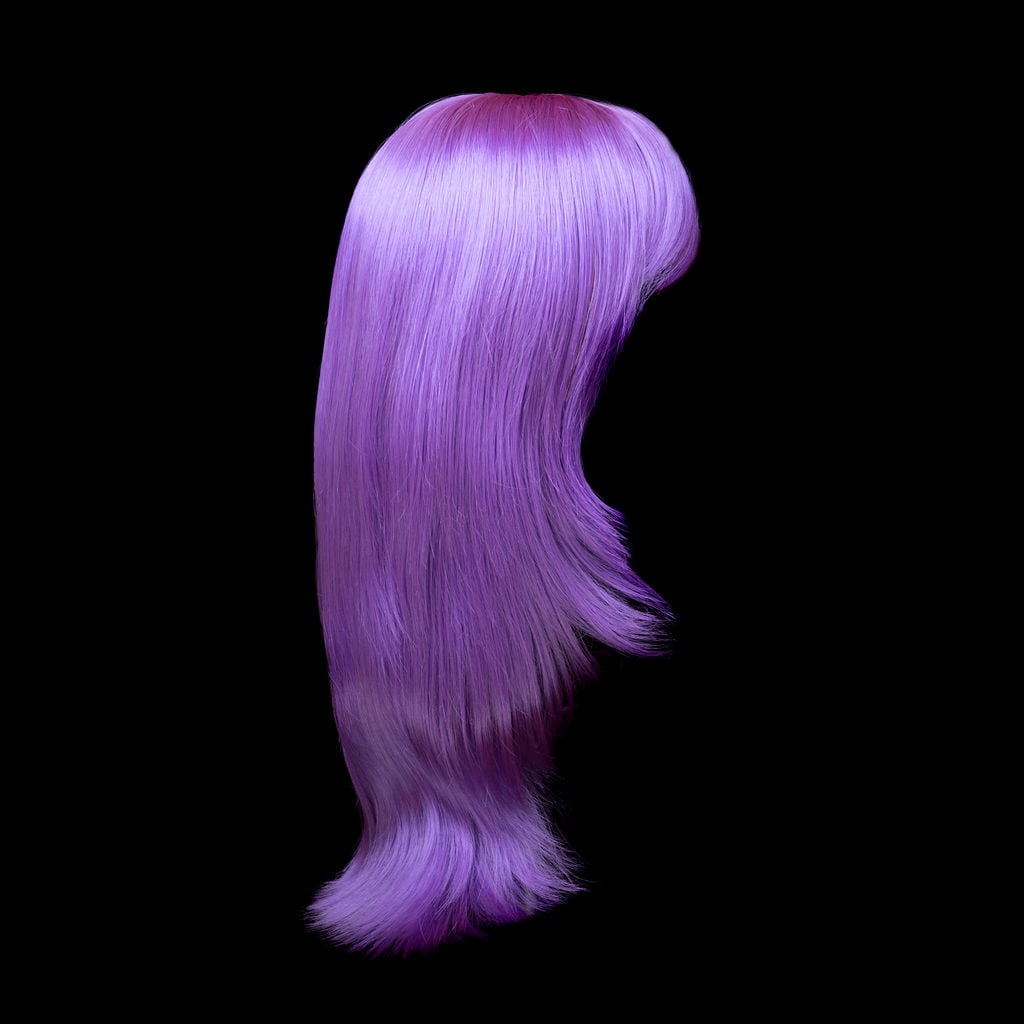 Image Source: Courtesy Baltimore Museum of Art
Not that Alexander knew it at the time. "I didn't understand the depth of the influence," she tells POPSUGAR over a Zoom call. It wasn't until the actual exhibit that Alexander realised the impact of the work she'd done all those years ago. "People were getting emotional about those wigs, telling their stories about Lil' Kim and what the femininity she brought to the hip hop game meant in their lives. To know that I'm the person that spearheaded the whole hair thing, it's overwhelming — it's still blowing my mind right now."
Lil' Kim's aesthetic made luxury fashion hip hop — not the other way around. She isolated high fashion's shameless excess, dialed it up, then sprinkled in ghetto-fabulous femininity and an unapologetically vixenish vibe. It was the right amount of too much — a little gaudy but always glamorous. The influence of what Lil' Kim and her team put forth all those years ago is clear when you look at how most mainstream women rappers are styled today. And the wigs, much like they were for Kim, are still very much an important part of the entire ensemble.
But when she was finessing synthetic wigs for the red carpet 20 odd years ago, Alexander was just having fun being creative. The Maryland native got her start in celebrity hairstyling in the early '90s working with MC Lyte, then Mary J. Blige. Both had looks that were iconic in their own right. But Kim's outgoing personality and willingness to try anything inspired a distinct kind of magic.
"She was a creative person, open, adventurous, daring," Alexander says. "She was not afraid to change. I could bring five different wigs in, and she'd love and want to wear all of them. It was no problem, I didn't get a lot of pushback. It was the best thing ever — I was able to express my creativity."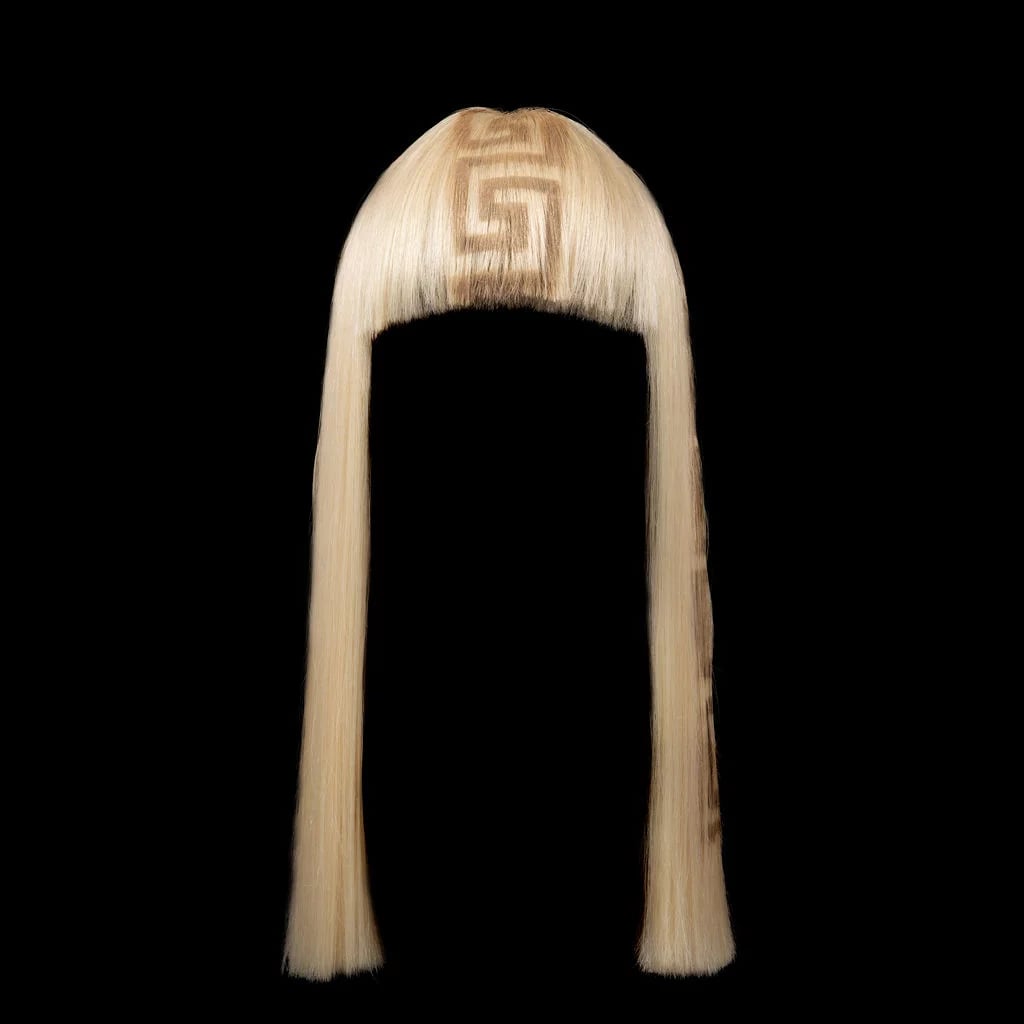 Image Source: Courtesy Baltimore Museum of Art
Alexander was also able to demonstrate her incredible craftsmanship abilities, too. Remember: these wigs were first created some 20-plus years ago, long before lace fronts were a mainstream thing. "Wigs are different now," Alexander says. "All the styles [I made back then] had bangs. When I worked with Mary J. Blige, they were swoop bangs." Those were synthetic wigs Alexander was cutting and stacking into now legendary works of art. "You can't dye synthetic wigs, so back then, I was using a lot of sharpies and magic markers." Such was the case for the Versace logo-stamped platinum blond unit Kim wore to the brand's spring 2001 show, a remake of which is also included in the exhibit.
Wig technology has advanced a lot over the past quarter century, which, as Alexander tells it, posed a bit of a challenge when it came to remaking each piece. "Everything is lace-front, and there aren't as many thick bang styles," she says. "I had to build upon the wigs." Some of them had to be stacked together in order to get the same shape and density as the originals. She'd start with a base: to remake the turquoise Chanel wig, for example, she used a platinum blonde unit. "It was a bit shoulder length, but it had the bang area that I wanted, so I built on it [adding length]. Then I coloured it and added the logo." This time around, Alexander airbrushed it on — no Sharpie needed.
To Alexander's delight, the exhibit gave her a chance to give one of her favourite units she did for Kim its proper time in the sun. Included in the lineup is a charcoal-coloured wig with dark-blue highlights, with a velvety black zipper boasting rhinestone teeth cutting across it. She wore the original in a strawberry blond hue for her 2001 "In the Air Tonite" music video.
"Not a lot of people know about that wig," Alexander shares. "It wasn't really seen — she wore it a couple of times on the red carpet. We had a few different colours because we made several of them." Alexander bet on black. "I feel like it didn't get the play that it should have gotten, so I'm glad [the museum] trusted me to add it."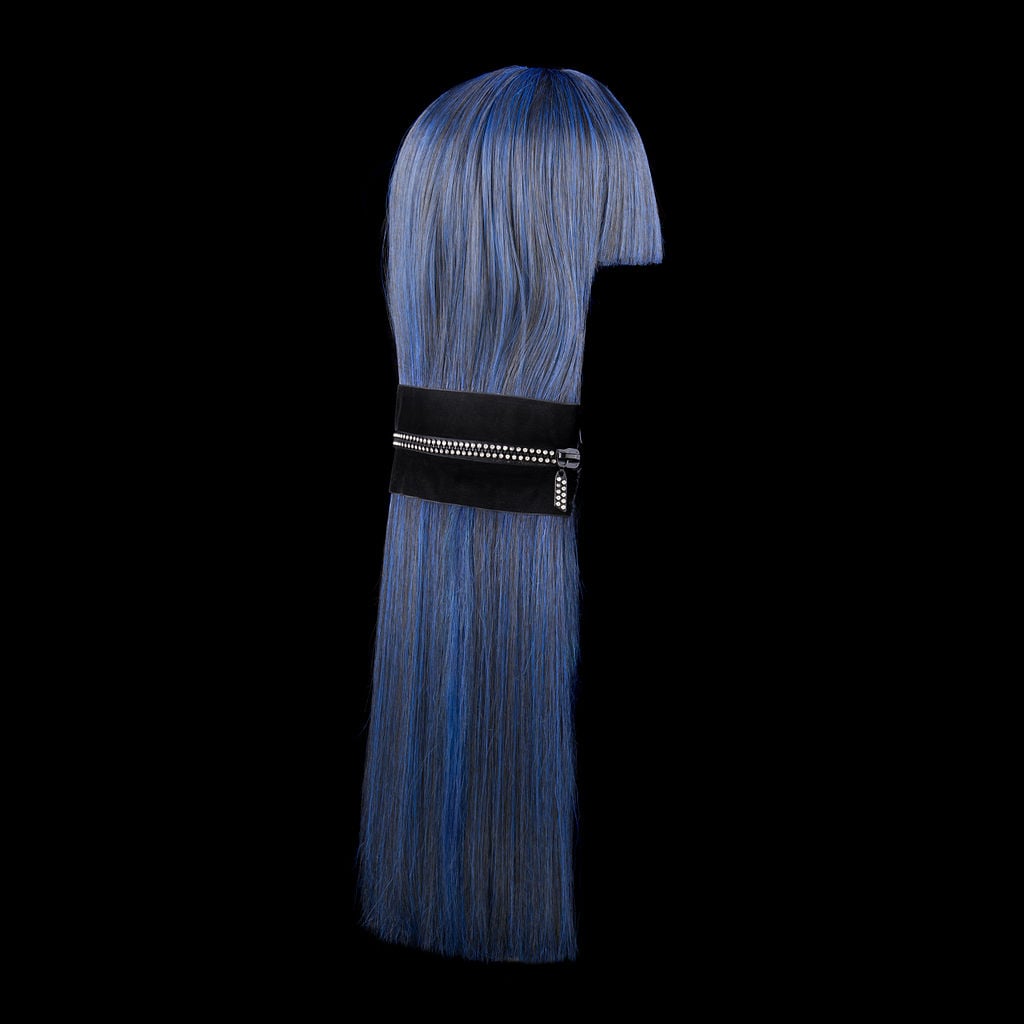 Image Source: Courtesy Baltimore Museum of Art
Alexander created the replicas out of her home in Dallas. "My assistant, Dawn Best, was really in it day in and day out," she says. "We would start working at midnight and she'd be at my house until four in the morning. Sometimes, I'd be sitting watching television and start stitching a wig." Those long hours produced stunning recreations of hairstyles that were generation defining.
So what of the OG wigs, the ones that graced Lil' Kim's head in the late '90s and early aughts? Alexander wagers the rapper probably has them . . . somewhere. "Back then, everything was raw. We had no idea these moments would happen," she says, noting that it's possible that Kim may have taken them off set with her. Perhaps the originals are in a mansion in some suburb, propped up on a mannequin head alongside other fabulous vintage designer pieces from 25 years ago.
Regardless, Alexander is getting her flowers now. "I'm grateful for this moment and that I'm being recognised in that way," she says. She's since retired from celebrity hairstyling, now quite content running her own salon. Her focus now? Building her collection of event wigs and reformulating her product line, LaTure Hair, and enjoying this moment. "I hope that I can inspire more people in other ways [from this]. Creativity comes from within, and we've all got it."
Image Source: Getty / KMazur Photo Illustration by Becky Jiras