Lion Pose Unspotted 4x Acid Jelly Night Serum Review
This Mindy Kaling-Approved Dark-Spot Serum Delivers Results in Just 2 Weeks
As POPSUGAR editors, we independently select and write about stuff we love and think you'll like too. If you buy a product we have recommended, we may receive affiliate commission, which in turn supports our work.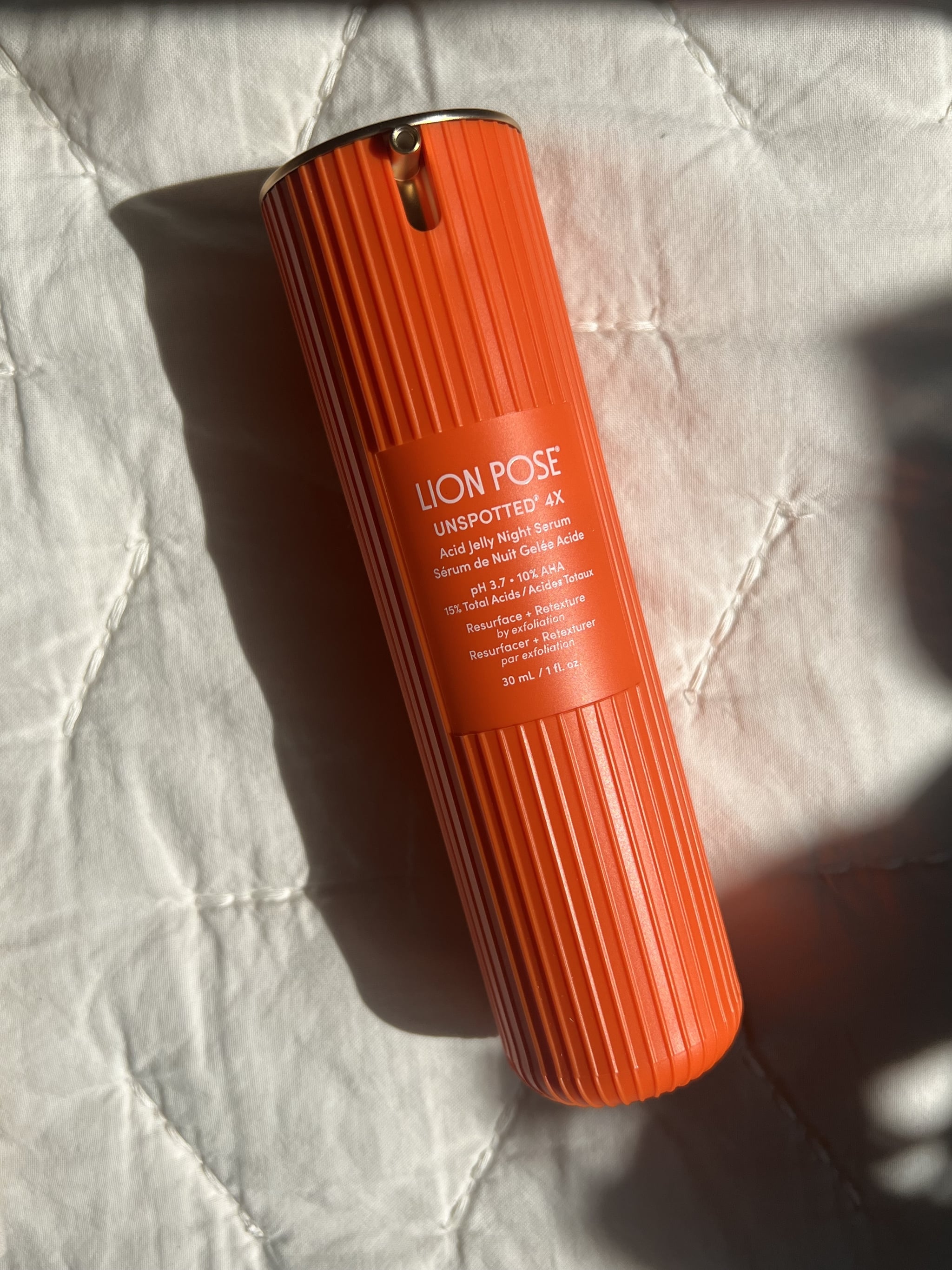 Dark spots and hyperpigmentation are some of my biggest skin concerns. Whenever there's a new product on the market that claims it can deliver results quickly, I jump at the opportunity to test it out. Enter: Lion Pose, a brand focussed on developing products catered to those with dark skin tones to help tackle the skin issues they face. The brand is founded by Silicon Valley software alums and Harvard MBA graduates Madhu Punjabi and Nisha Phatak, with formulations developed by Harvard-trained dermatologists Dr. Laura Scott and Dr. Tia Paul, who specialise in skin of colour. Its Unspotted 4x Acid Jelly Night Serum ($79) has already gained rave reviews, specifically from Mindy Kaling, who's an investor and ambassador for the brand.
Kaling previously told POPSUGAR, "The reason I use it at night is that it's pretty powerful. It has glycolic acid, lactic acid, it has a lot of these good acids to reduce the look of dark spots and things like that. I like to wear it at night underneath like a thick moisturiser and let it seep in and do its thing." This serum is a must have for Kaling, and that was all the convincing I needed to try it out for myself.
About the Lion Pose Unspotted 4x Acid Jelly Night Serum
The Unspotted 4x Acid Jelly Night Serum is developed by dermatologists and aims to visibly reduce the appearance of hyperpigmentation, dark spots, and acne in just two weeks.
The key ingredients are a 15 percent blend of azelaic, glycolic, lactic, and tranexamic acids; glutathione, an antioxidant that helps the skin with free-radical damage; and hyaluronic acid, tiger grass, and aloe to help calm the skin and boost hydration.
This dark-spot serum is formulated for all skin types.
It is vegan, hypoallergenic, gluten-free, and cruelty-free.
What I Like About the Lion Pose Unspotted 4x Acid Jelly Night Serum
The Lion Pose Unspotted 4x Acid Jelly Night Serum gets the job done efficiently, and the results speak for themselves. After using it for about two weeks, you can clearly see a difference in my complexion. The dark spots got significantly lighter or faded away altogether for a more even-toned complexion, and my skin just looks more radiant and brighter overall. My skin's texture is also smoother, and my breakouts have subsided; my skin looks less congested in general.
With tyrosinase inhibitors like azelaic acid, tranexamic acid, and glutathione, this serum targets and diminishes dark spots and brightens hyperpigmentation. It also contains lactic and glycolic acid, two AHAs that help exfoliate the skin and help with cell turnover. This serum balances those powerhouse ingredients with skin-calming and hydrating ingredients like hyaluronic acid, tiger grass, and aloe for barrier repair.
I've tested out a lot of dark-spot serums, and it's rare to find one that delivers quick and significant results like this. It's a lightweight, translucent white gel-like serum that quickly absorbs into the skin. I get a tingly sensation when I use this serum, but I don't mind it, because it feels like it's working. After every night that I use this, I wake up and notice my skin getting better and better.
How to Use the Lion Pose Unspotted 4x Acid Jelly Night Serum
The Lion Pose Unspotted 4x Acid Jelly Night Serum is best used at night on clean, dry skin. All you need is one to two pumps of the formula for it to work its magic on your skin. I like to dot the serum along the areas that have more dark spots and hyperpigmentation so it is concentrated in the areas that need it the most, then massage the serum into my skin. When you use the Unspotted Jelly Serum, you'll notice a tingly sensation on your skin immediately, and for that reason, I try to avoid using it on sensitive areas like my undereyes. The brand suggests letting the product sit and absorb into your skin for 30 seconds before applying your moisturiser; that's about as long as the tingly feeling lasts before fading away.
What to Consider Before Trying the Lion Pose Unspotted 4x Acid Jelly Night Serum
This serum has a pretty potent blend of acids. Taking that into account, it might be a little too strong to use on a nightly basis for those with sensitive skin. You should start off with a patch test and then see if you can tolerate using it every other night. My skin leans sensitive when I over-exfoliate or do too much in general, and I had to make sure the rest of my skin-care routine was hydrating and packed with barrier-repairing ingredients to balance out the potency of this product. I would not recommend using this with retinol or other acid-heavy products if your skin gets easily reactive or sensitized. This product can do the job without the need for any other actives in your routine.
As always, you should be putting on adequate sunscreen in the mornings to help protect your skin and really see progress with your dark spots.
Is the Lion Pose Unspotted 4x Acid Jelly Night Serum Worth the Splurge?
My personal philosophy in skin care is that if it works, it's worth the splurge, and as you can see from my results, it's done wonders for my skin. Hyperpigmentation and dark spots take a long time to fade, but this serum works in both fading existing ones and preventing new ones from forming. It is worth every penny to see such a dramatic change in two weeks. Although it's a pricey serum, it's pretty much been the heavy lifter in my skin-care routine, tackling my concerns in just one to two pumps nightly. Investing in this one serum has allowed me to streamline my routine and only use gentle, drugstore products as my cleanser, moisturiser, and sunscreen. I saved on unnecessary and extra serums that I really didn't need; this has truly been the only splurge-worthy item in my routine.
Where Is the Lion Pose Unspotted 4x Acid Jelly Night Serum Available?
The Lion Pose Unspotted 4x Acid Jelly Night Serum is available at Sephora.
Rating:

Image Source: POPSUGAR Photography / Anvita Reddy