Live Tinted Hueskin Serum Concealer Review With Photos
Live Tinted's Hueskin Concealer Covered My Dark Spots Flawlessly
As POPSUGAR editors, we independently select and write about stuff we love and think you'll like too. If you buy a product we have recommended, we may receive affiliate commission, which in turn supports our work.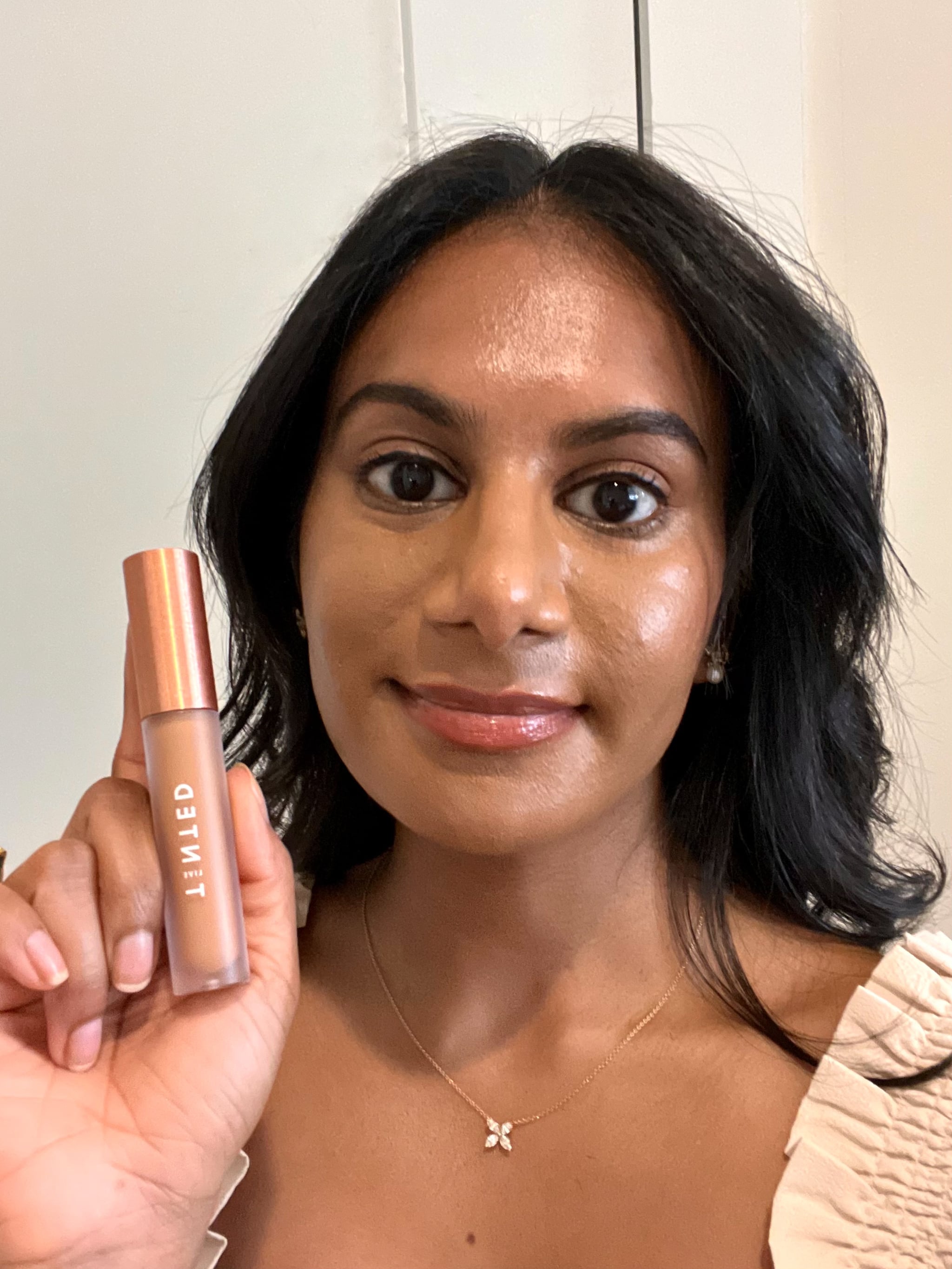 I've been following Deepica Mutyala and her journey building Live Tinted ever since her red lipstick hack went viral. And when she shared her colour-correcting tip for her dark circles, I used it for my dark spots, too. One of my biggest insecurities is my hyperpigmentation, and although I don't necessarily deal with dark circles, I can relate to struggling to cover up uneven skin tone for a flawless look.
It's no secret that I'm a huge fan of the brand: the Hueguard sunscreen is one of my favourites because it leaves no white cast, the Huebrow sets my brows and baby hairs perfectly for that "clean girl" look, and the Huebeam Blushing Bronzer is a seamless match for my skin tone.
From the moment she created her beauty brand, Mutyala's followers have asked her to launch a concealer. When we interviewed Mutyala about her must-have products a few months ago, she gave us a heads-up that the concealer launch was in the works, and we're happy to announce that the time has finally come. Live Tinted's much-awaited Hueskin Serum Concealer ($26) is here. I got to test it out and see if it lives up to the hype.
Live Tinted Hueskin Serum Concealer Product Details
The Live Tinted Hueskin Serum Concealer is a buildable, medium-to-full coverage concealer with a lightweight, hydrating feel.
It contains skin-care ingredients like niacinamide, bakuchiol, caffeine, vitamin C, and hyaluronic acid to help brighten up and fade dark spots and dark circles over time.
The Hueskin Serum Concealer comes in 20 shades.
The concealer has a clean formula that is noncomedogenic, vegan, cruelty free, and fragrance free.
What I Like About the Live Tinted Hueskin Serum Concealer
It's very rare that I find a concealer that's pretty much my exact skin tone match down to the shade and undertone, and the Hueskin Serum Concealer is exactly that. I'm shade 7, which is described as a medium-deep skin tone with cool rosy undertones. Speaking of shade range, the brand made it a point to have the darker shades go first in the lineup.
Although finding an exact shade match for my neutral undertone skin is rare, I was even more impressed with the formulation and wear. This concealer is a dream come true for hyperpigmentation; not only is it on the fuller-coverage end, but it's also incredibly lightweight. The creamy texture feels so elegant, and it's easy to blend it in so that it melts into the skin. The Hueskin Serum Concealer is aptly named: it does feel like there's nothing on your skin except a hydrating serum or moisturiser. The radiant skin-like finish of this concealer delivers a natural look that's flexible and long-wearing, so when I talk or smile, there's barely any creasing. Plus, I don't have to touch it up, even after being out and about all day and night long.
To top it all off, the Hueskin Serum Concealer isn't just there to cover up dark spots or dark circles, but it also helps brighten them over time with niacinamide, bakuchiol, and vitamin C. If you're primarily using this for the undereye area, it also contains caffeine and hyaluronic acid to diminish hollowness and help achieve a more awakened appearance. This product is truly made for those dealing with hyperpigmentation, dark spots, and dark circles.
How to Use the Live Tinted Hueskin Serum Concealer: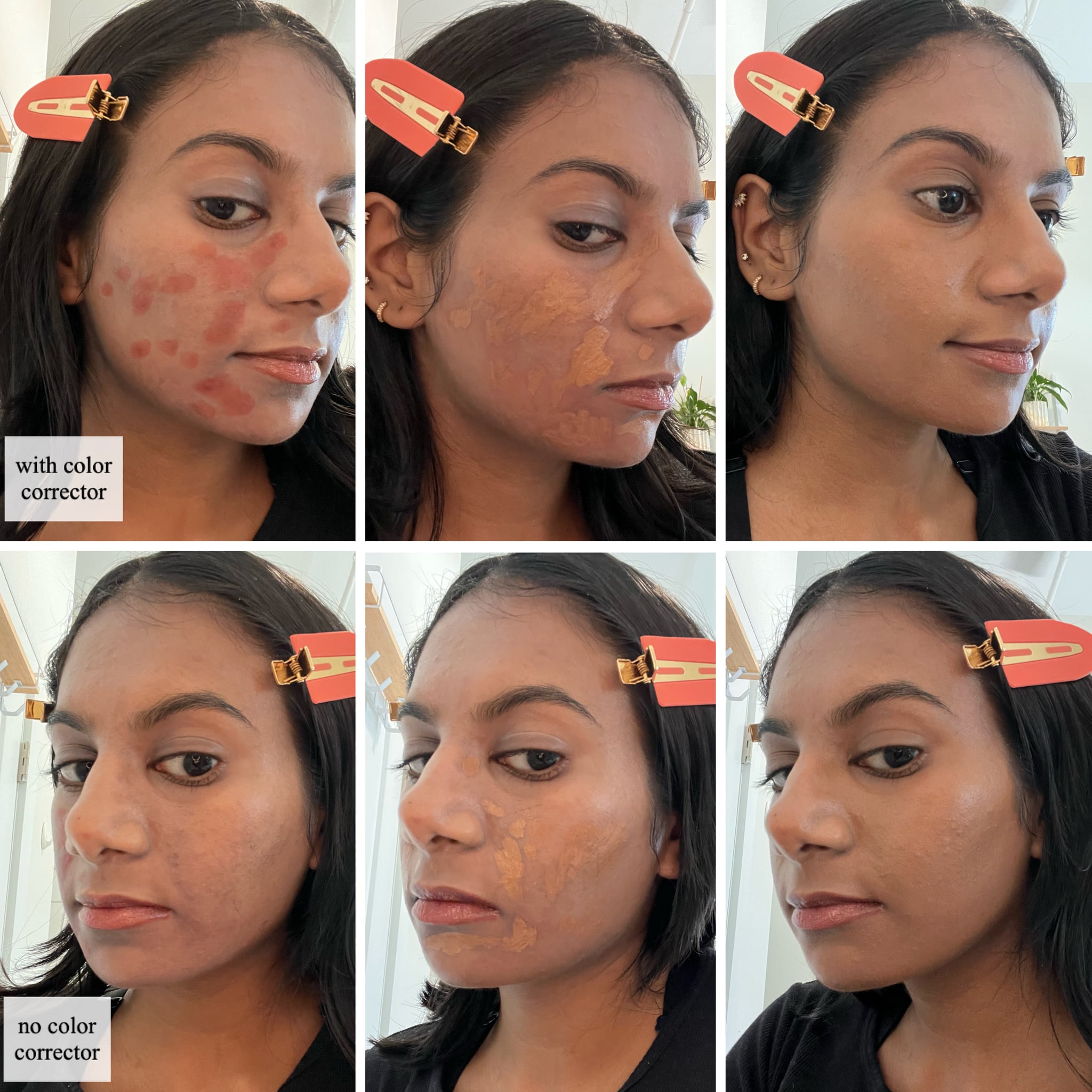 The unique thing about the Hueskin Serum Concealer is its applicator. It's a dense, flat brush rather than a traditional doe foot applicator. I found that this helps with applying the product precisely to the areas that need more coverage. To truly test out its coverage capabilities, I prepped and primed my skin with the brand's Hueguard Sunscreen Primer ($32), which leaves my skin with a subtle glow, and I did not wear any foundation. On one side of my face, I colour-corrected with the brand's Huestick Corrector in Origin ($24), and the other side had no colour correction. I applied the concealer on all my dark spots and then blended it out with a dense concealer brush. To concentrate the coverage in one specific area, I generally like to let the creamy concealer sit and dry down for a few seconds, and then blend it into my skin. I primarily do this for my laughline area. The brand says you can use your finger to blend it out as well.
After blending it out and seeing the coverage results, you don't need to colour correct unless you want that flawless appearance. I can notice a tiny bit of a greyish undertone where my stubborn hyperpigmentation is, but that can really only be seen in person and not through my iPhone camera.
What to Consider Before Trying the Live Tinted Hueskin Serum Concealer:
Although it is a medium-to-full coverage concealer, this definitely leans more towards the full side. As I stated before, when I use this concealer, I don't even need a single drop of foundation for evening out my skin tone and covering up my hyperpigmentation, so it's ideal for those who want that strong type of coverage. The concealer has a more radiant, skin-like finish. If you have oilier skin or prefer a matte finish, you can set it with a powder. The shade I got is my exact match, but if you want to brighten up the undereye area, I'd suggest going a shade lighter for that highlighting effect.
Where is the Live Tinted Hueskin Serum Concealer Available?
The Live Tinted Hueskin Serum Concealer is available at Ulta.
Rating:

Image Source: POPSUGAR Photography / Anvita Reddy