I Tried the Lyma Laser: See Photos
I Tried the $2,700 At-Home Laser Celebrities Swear By
As POPSUGAR editors, we independently select and write about stuff we love and think you'll like too. If you buy a product we have recommended, we may receive affiliate commission, which in turn supports our work.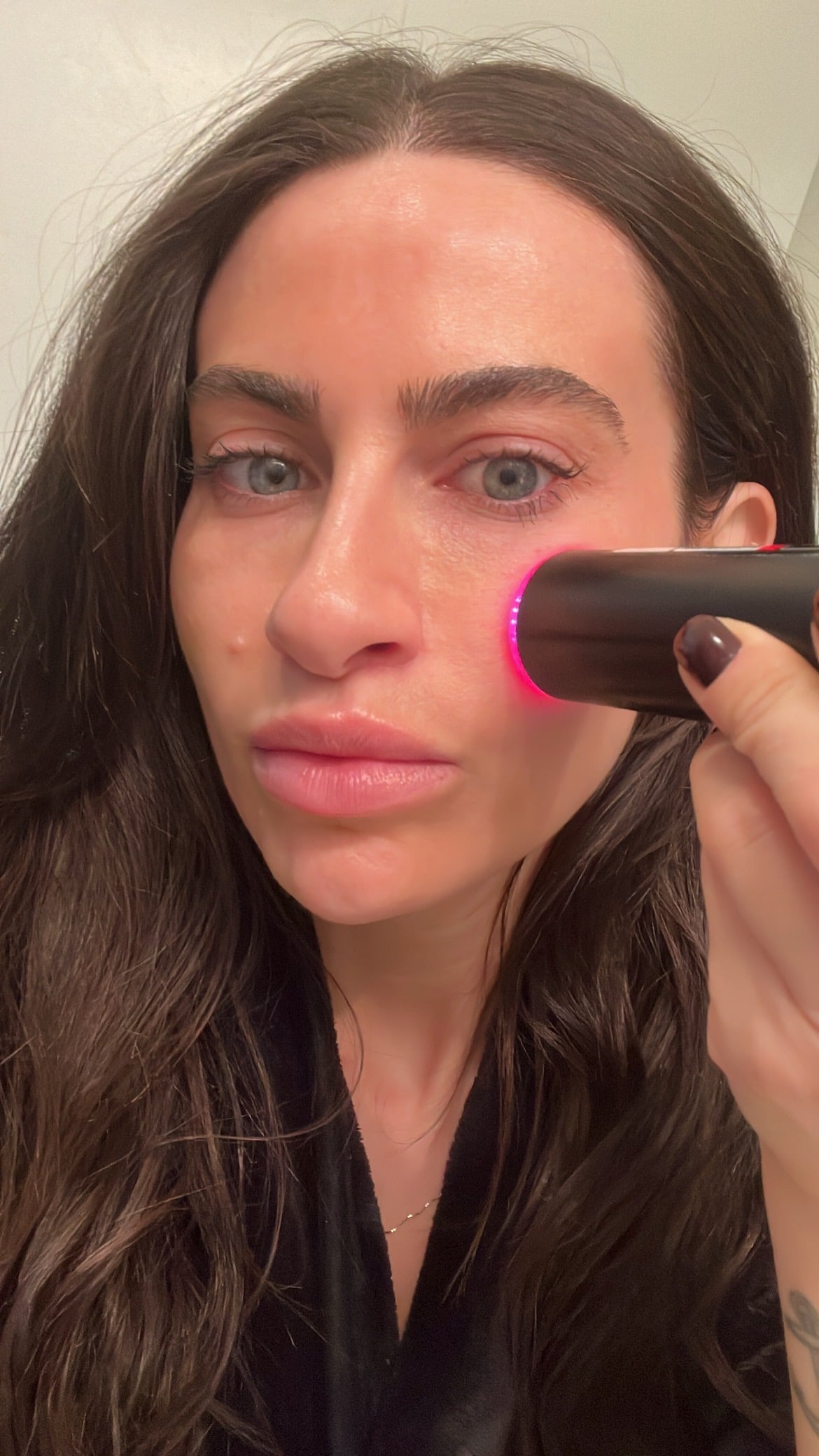 At-home LED red light therapy devices have skyrocketed in popularity over the past several years, becoming an integral part of many people's skin-care routines. They're safe, easy to use, accessible, and known to help with the production of collagen, skin tone and texture, and fine lines and wrinkles. Despite the benefits, these at-home tools tend to be more of a slow burn and can't quite compare to in-office laser technologies. Enter Lyma Laser ($2,695), the first handheld medical-grade device that promises professional results — safely, from the comfort of your home.
Since receiving FDA clearance in May 2022, this groundbreaking at-home device has gone viral on social media. Founded by Lucy Goff, the technology has been backed by years of research and engineering for safe at-home use. Though it's seen its share of sceptics on social media, it's nevertheless garnered a dedicated celebrity following and endorsement from top skin-care experts such as master aesthetician Joanna Czech and New York City dermatologist Dendy Engelman, MD, who are dedicated users of Lyma Laser themselves.
"One of my favourite things about the Lyma Laser is how practical, low-maintenance, and easy it is to use on your own time," Dr. Engelman says. "I love that you can use it in your home and that it works from head to toe. It is more powerful than at-home LED devices and targets wrinkles, texture, tone, and elasticity."
Keep reading for everything else you need to know about the technology and my full experience trying it out.
How the Lyma Laser Works
The laser itself is a portable, six-inch-long cylindrical device with an on-off button at the opposite end of the laser that appears nonthreatening, considering its power. It utilises low level laser therapy (LLLT) or near infrared laser light technology that helps to remodel and rebuild skin without causing damage to skin cells in the process. "It was originally developed for the medical industry by scientists developing a medical laser who found amazing results on transforming wrinkles, pigmentation, and scars," Dr. Engelman says.
Inside the device, there are two patented internal diffusers that fragment the near infrared light into 25,000 smaller beams, operating at 500mW power at the 808nm wavelength. "The laser light activates fibroblasts, encourageing cells to recharge and regenerate, increasing collagen and elastin production," Dr. Engelman says. The light energy reaches the deepest layers of the skin but also into the fat and muscle tissue beneath the surface. Despite this, the treatment is painless, causes no irritation to the skin, and is incredibly easy to use — leaving little to no risk of the average person using the device to overdo it.
Comparatively, in-office laser rejuvenation works by inducing a stress/damage response, essentially inflicting injury to the skin in order to stimulate collagen, Goff explains. Dr. Engelman adds, "Lyma offers many benefits to the skin because it triggers the skin cells to recharge, regenerate, and repair, instead of dying off like traditional lasers." The technology "switches" your cells from the degeneration process to the regeneration process.
For best results, it's recommended that you use the device for three to 15 minutes daily over the desired treated area, such as the entire face, for 12 weeks. If there's a particular area on your face that you're looking to treat, such as crow's feet, it's instructed that you hold the laser still on that area for three minutes, then move on to the next area you wish to treat.
Benefits of the Lyma Laser
Czech not only uses the Lyma Laser on herself but also on her clients during facial sessions. "The Lyma is great [at reducing] inflammation; I've had clients use it on their scars as well," she says. "When it comes to at-home treatments and technology, ease of use plays a huge factor. I call it Netflix-friendly; you can use it while in bed or pack it easily in your carry-on."
Depending on your personal skin-care goals, Lyma Laser can be used for both prevention and also rejuvenation. "It [works especially well on] mature skin, sensitive skin, blemish-prone skin, and dry skin," Dr. Engelman says. The laser treats a multitude of concerns, from signs of ageing — like fine lines, wrinkles, sagging, and loss of volume — to pigmentation, acne scarring, spider veins, and bruises. "One of my favourite tricks is to use it on my arms as well," Czech says.
How to Use the Lyma Laser
The device requires four hours of charging and, if used as instructed, requires charging once a week. Once the device is charged, fully cleanse your face (or double cleanse if necessary), then "apply an emollient serum or cream so the laser is able to glide more smoothly without tugging the skin," Dr. Engelman says.
If you're not keen on using the Lyma-branded products that come in the starter kit (like the Lyma Oxygen Mist and Glide), Czech says she loves to apply all of her favourite serums before using the laser, including the Joanna Czech Skincare The Soothing Serum ($275) and The C + Serum ($340). Goff says you can use any product with the laser and follow your normal skin-care routine as usual, including vitamin C, retinol, and SPF — there are no contraindications.
Without pressing the device too hard against your skin, slowly glide the laser upward and outward all over your face — from your chin to the outer edge of your jaw, under your cheekbones, up to your temples, and across your forehead. If you're using it on your neck, glide the laser in upward strokes. As mentioned, if there's a particular area you want to focus on (i.e. crow's feet or the 11 lines) or you have a scar or pigmentation spot, hold the laser over that area for three minutes a day. Goff says that after two weeks, you should see improvement in your skin, but to continue daily use for 12 weeks.
If you're wanting to use the Lyma Oxygen Mist and Glide, the products deliver pure oxygen into the skin to increase the results of the laser, allowing it to glide seamlessly. If so, Goff recommends cleansing your face as usual, applying six pumps of the mist to the area followed by six pumps of the serum, then moving it across your skin. Dampen the Lyma sponge (which is also included in the starter kit) in water, and carefully remove the product in circular motions. Rinse, then continue with your normal skin-care routine.
Though the laser has to be used as recommended for full efficacy, results are still immediate. "Many people notice almost immediate results in reducing redness and mild flare-ups," Dr. Engelman says.
Lyma Laser Results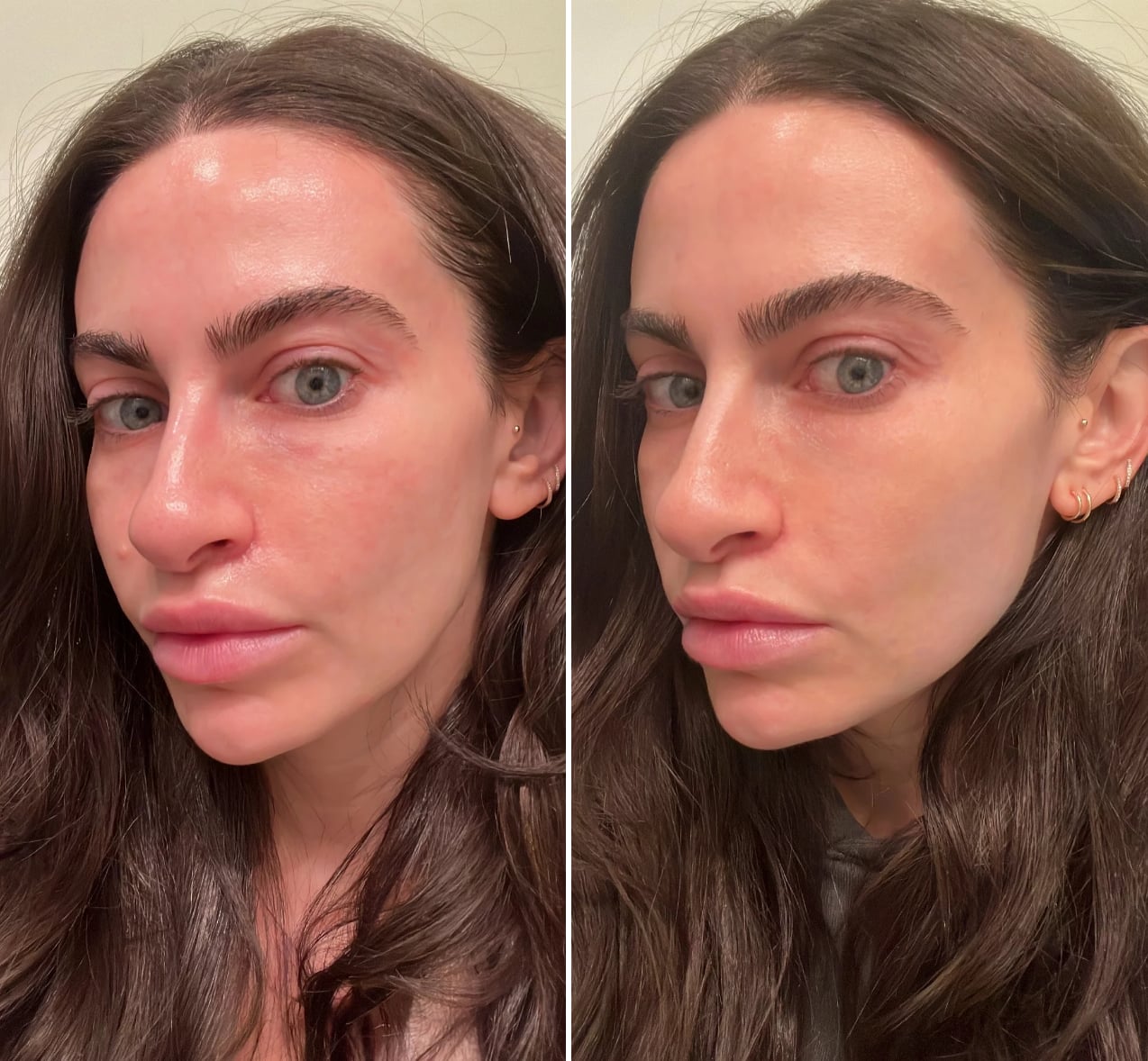 I rarely get as excited about trying something as when I received the Lyma Laser and started using it at home. Its reputation had preceded it, and I was sold on the endorsements alone.
Lyma Laser is hands down one of the easiest and most comfortable at-home devices I've tried. It really was as simple as me cleansing and applying my entire skin-care routine, topping it off with my favourite oil to help the device glide easily, pouring myself a glass of wine, and very slowly moving the laser all over my face. I would hold for three minutes on each side at my crow's feet and then at the corners of my mouth, hoping for an eventual lift.
When I initially started using the laser, I had finished a three-month course of oral tranexamic acid to treat my melasma, so my overall goal (aside from building collagen and treating fine lines) was to keep my melasma or any other dark spots on my face from reappearing. I've been using it consistently for about three weeks, and my skin has remained mark-free and looks less red or inflamed overall. I also noticed that it helped clear up two extremely noticeable blemishes on my cheek after a day or two, which I'm assuming would not have cleared up as quickly if not for the laser.
Is the Lyma Laser Worth the Splurge?
With a price tag of about $2,700, the Lyma Laser is not cheap. Though its benefits are worth the price tag when you consider the costs of an in-office laser treatment, which can run you thousands of dollars for several sessions, making the Lyma Laser a good investment. The device comes with a two-year full replacement warranty, and you can expect the device to last you about 10 years, according to the brand's website.
"It is an investment, but the clinic-grade technology delivers a multitude of benefits. Lyma's low-level laser therapy delivers in-office results but at home. Given the longevity of the device and the medical-quality results, it is a cost-effective option," Dr. Engelman says.
Rating

Image Source: Taryn Brooke