Makeup Artist Shares How She's Cleaning Her Kit Due to COVID
How One Pro Makeup Artist Is Preparing Herself to Return to Work Safely Post-Lockdown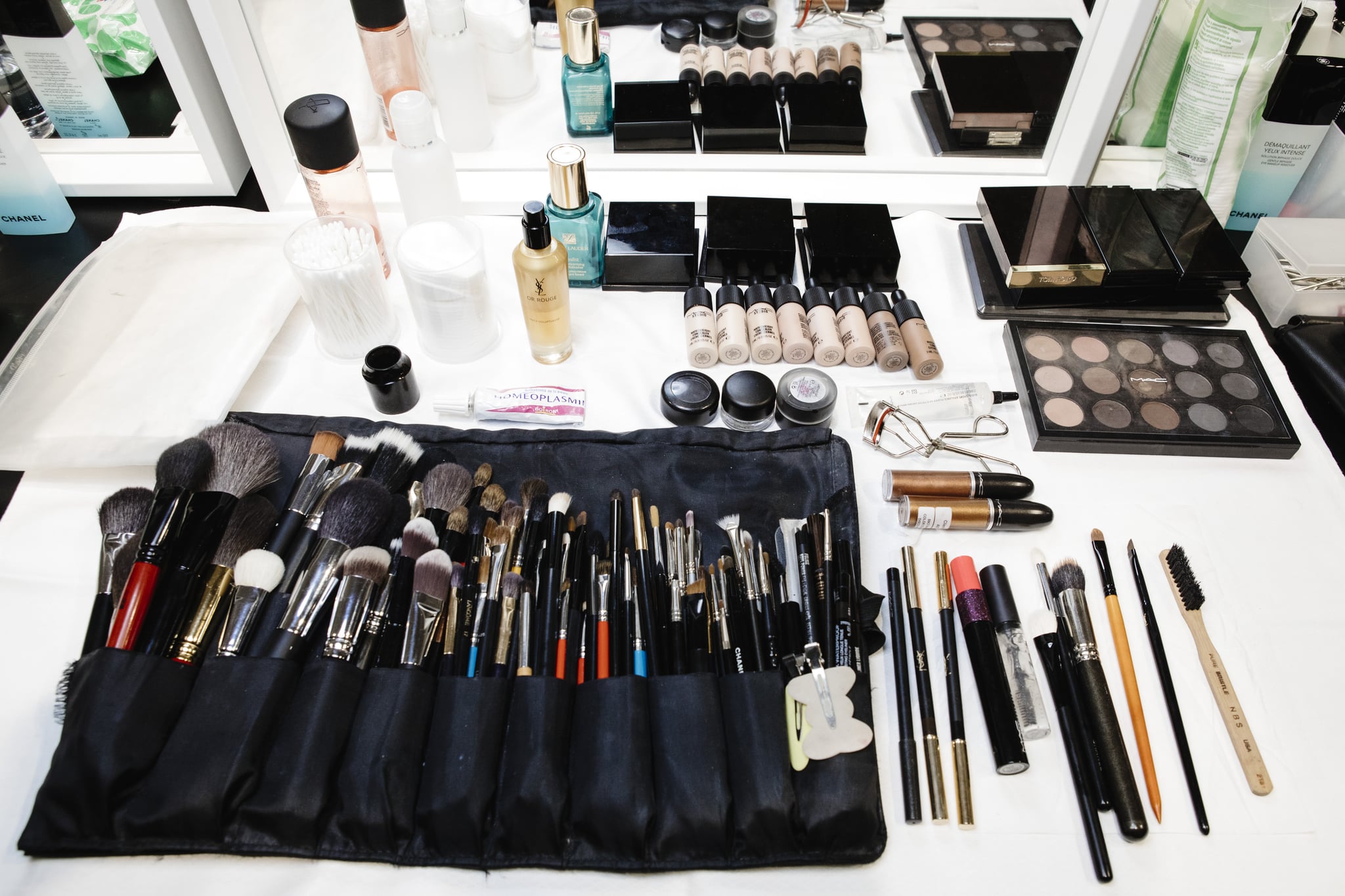 Before the coronavirus pandemic, professional makeup artists always needed a bottle of hand sanitiser and thoroughly disinfected kit — their jobs and livelihoods depended on. Passing along germs to a client via a dirty brush or eyeliner, even if by accident, could be a career ender and the reason why a makeup artist's day wasn't over until every single item in their kit was cleaned.
As government lockdown measures begin to loosen and we all start looking to the future, makeup artists are busy planning on how they can eventually return to work safely, a challenge seeing that their work involves touching peoples' faces. One of those makeup artists diligently preparing her kit, and herself, is Georgina Graham.
Based in London, Graham has worked on photo shoots for esteemed magazines (Vogue Paris, Harper's Bazaar, Allure, Dazed, Self Service), major brands (Givenchy, Topshop, A.P.C, Nike), and top models (Adwoa Aboah, Georgia May Jagger, Anja Rubik). Ahead, in her own words, Graham shares with us the steps she's taken whilst in lockdown, to clean out both her professional kit and personal makeup stash and to be ready for returning to work — steps that any of us makeup-lovers, pro or not, can incorporate into our routines as we all begin to navigate our new reality: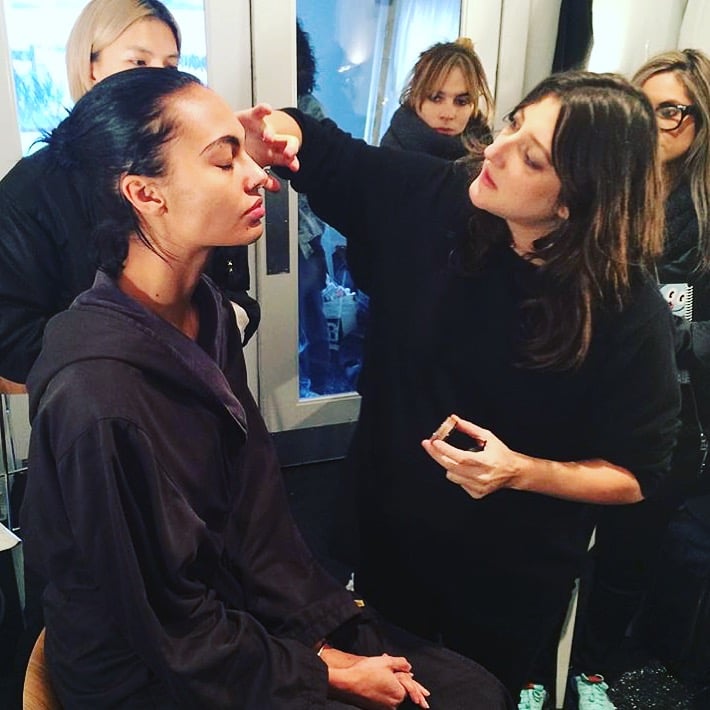 Image Source: Georgina Graham
Step 1: Brush Up on Healthy and Safety
"Two months ago, I didn't even know what PPE stood for, and I certainly never thought I would have an extra kit bag, which was just filled entirely with personal protective equipment to take back to work post-coronavirus lockdown.
Right now, makeup artists and other beauty practitioners are not only wondering when we can get back to work but also how to go about it safely for ourselves, clients, and colleagues. One of the ways that I have started doing this is through online courses on healthy and safety in the beauty industry. I have taken the Barbicide Covid-19 Certification Course, which covers the most up-to-date professional beauty hygiene information and practises, as well as the Online Health, Hygiene and Safety in The Beaty Workplace online course, so that I feel totally confident when I do start working again.
Additionally, I've spent lockdown making sure that my professional kit is ready to go when it's safe to return to work, which has meant recleaning everything and disinfecting every single product, tool, bag, and container. Throughout the process, I figured this would also be a good moment to go through my own personal neglected makeup stash and practise what I preach. Since many of us are thinking about cleanliness and how to keep ourselves safe post-lockdown, I thought it might helpful to share some of my tips on how to both clean and clean out your makeup kit at home.
Step 2: (Responsibly) Get Rid of Old and Unused Makeup
I decided to take a Marie Kondo-style approach when it came to cleaning out my personal beauty product collection. I made three huge piles in the middle of my floor: 1) makeup and tools 2) face stuff and skin care 3) hair and body products. Pre-coronavirus, any beauty products that I had tried out and were still in great condition but didn't necessarily think I would use, I either donated to friends or various women's shelters in and around London. Now, due to hygiene guidelines, that is simply not possible. To remedy this, I had two biodegradable refuse sacks ready: one for products that needed to be binned and another one for packaging that could recycled.
Following Kondo's KonMari method, I looked at each product and thought: do I love this? Am I using it? Will I ever use it? I try really hard to use everything up with a "waste not, want not mantra," but honestly, some items I've kept even though they've never really worked for me. Maybe they were a gift or from a fancy brand, or I liked how they looked in my overloaded bathroom cupboards. Or perhaps I secretly wished I could rock a neon eyeliner that has been sitting there since the mid 2000s waiting in vain for Glastonbury. In loosely interpreted KonMari words, if it doesn't spark joy, ditch it. Now is the time.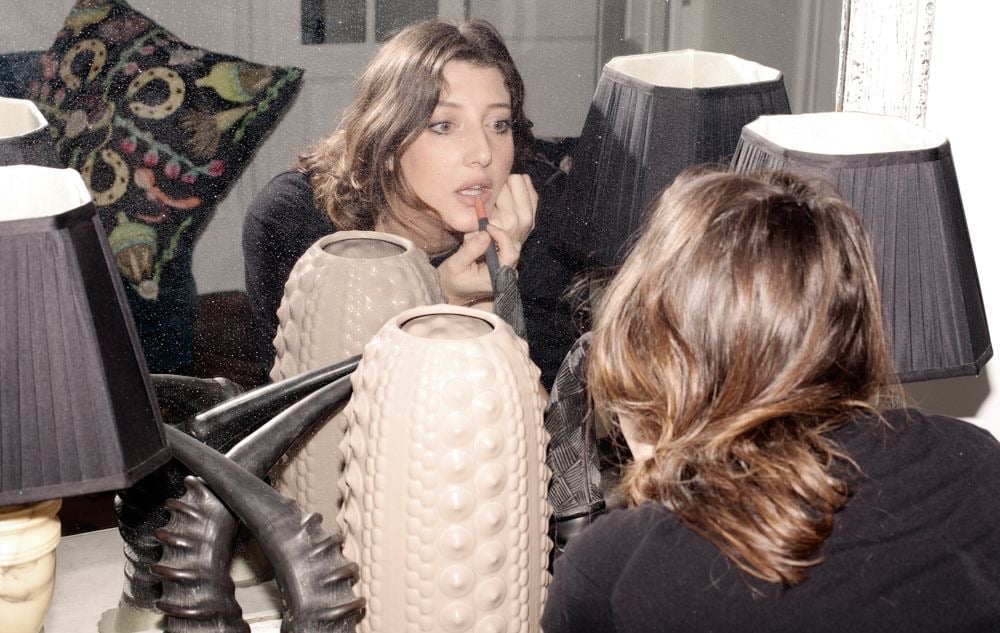 Image Source: David Dunan
Step 3: Wipe Down Every Product's Packaging
Once you have made your edit — and editing is the hardest part, be ruthless my friends you can do it — it was time to clean what's left. I used hand sanitiser that contains isopropyl alcohol (editor's note: it needs to contain at least 60% alcohol to be effective), which is what makeup professionals typically rely on to disinfect a product's exterior packaging and hardware. Some artists also use something called surgical spirit, which you can order online from any pharmacy. Just remember the liquid is flammable, so store responsibly to keep it out of reach of children and make sure it's in a dry, cool place. Antibacterial Wipes are a quick fix for cleaning products and great for travelling, but they are expensive and they're not great for the environment, so make sure to look for biodegradable ones if this is the route you choose.
To best clean makeup packaging, I suggest using a cotton-wool pad dipped in isopropyl to wipe down the actual bottle, tube, palette, or lipstick bullet, and a cotton bud dipped in isopropyl to get in the corners of compacts and hinges of palettes. This obsessive level of cleaning is strangely satisfying — just be careful not to get isopropyl on any powder product because it will ruin it.
Step 4: Disinfect the Makeup Itself
To clean the makeup itself, brush cleaner and cosmetic sanitiser mist from Beauty So Clean removes bacteria and germs on the surface of both powder-based products (eye shadows, blushers, pressed powder, bronzers) and cream-based products (compact foundation, concealers, cream blush/eye shadows), and quite frankly is a must-have product today. Brush cleaner is also important to give all your brushes a much-needed and well-deserved clean, and the same goes for all of your sponges.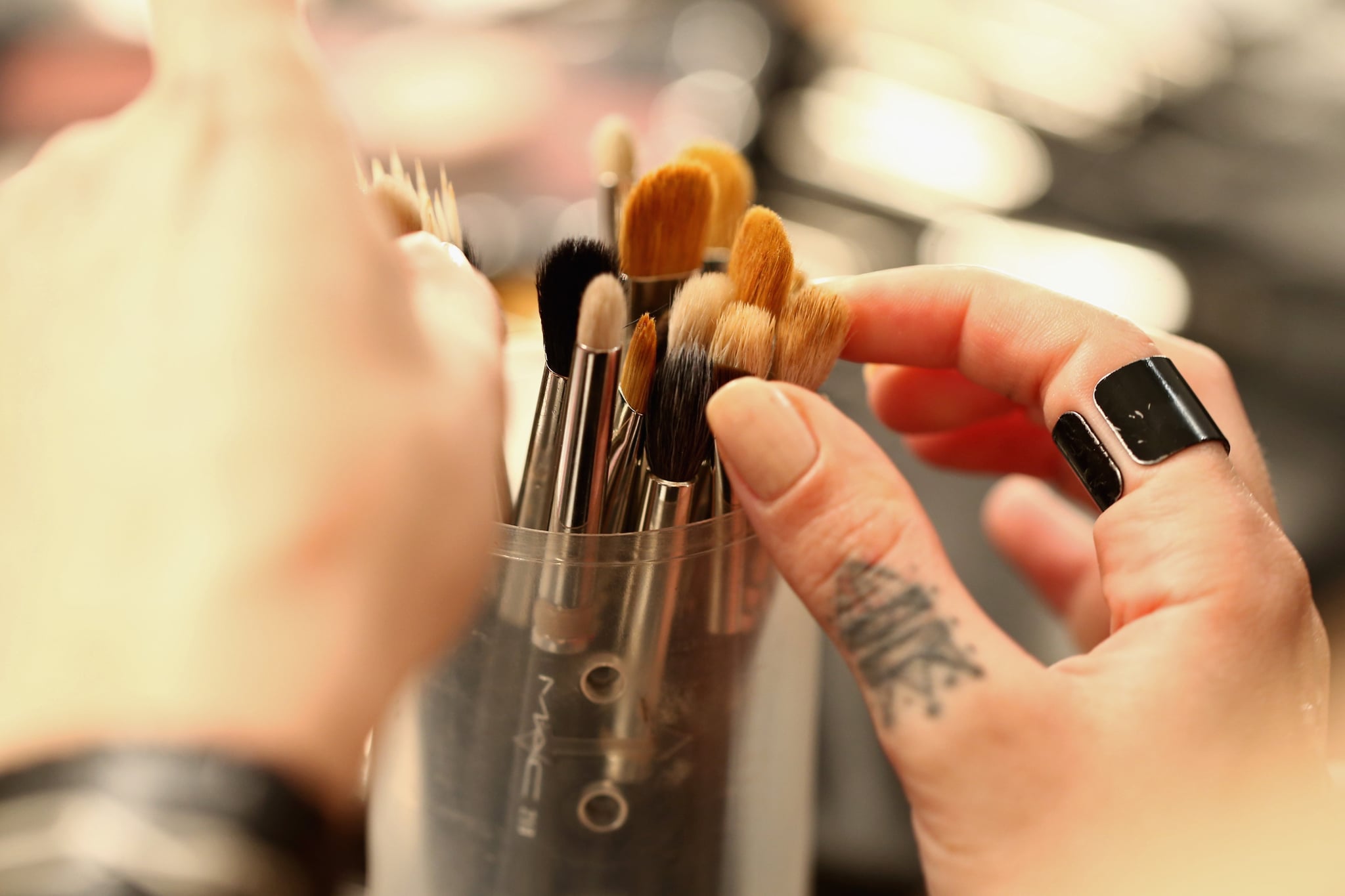 Image Source: Getty / Andreas Rentz
Step 5: Move on to Your Tools
All metal tools from eyelash curlers to tweezers can be disinfected with Barbicide or wiped over with isopropyl alcohol, while all makeup bags can be wiped over with disinfectant and then washed on a high machine wash if they are machine friendly. Lastly, my favourite recent purchase has been an LED light wand, which you swipe over items to kill any bacteria lingering on the surface. The wand's easy to use, and its mild Star Wars lightsaber connotations, will definitely make you inward chuckle and will be fun to break out in public when we can finally resume life as we sort of knew it in restaurants, at pubs, on planes, and have a one up on Naomi Campbell, who knew what she was talking about."