Meghan Trainor on Postpartum Hair Loss and Drugstore Beauty
Meghan Trainor Talks Postpartum Hair Loss: "That's When the Chunks Come Out"
As POPSUGAR editors, we independently select and write about stuff we love and think you'll like too. If you buy a product we have recommended, we may receive affiliate commission, which in turn supports our work.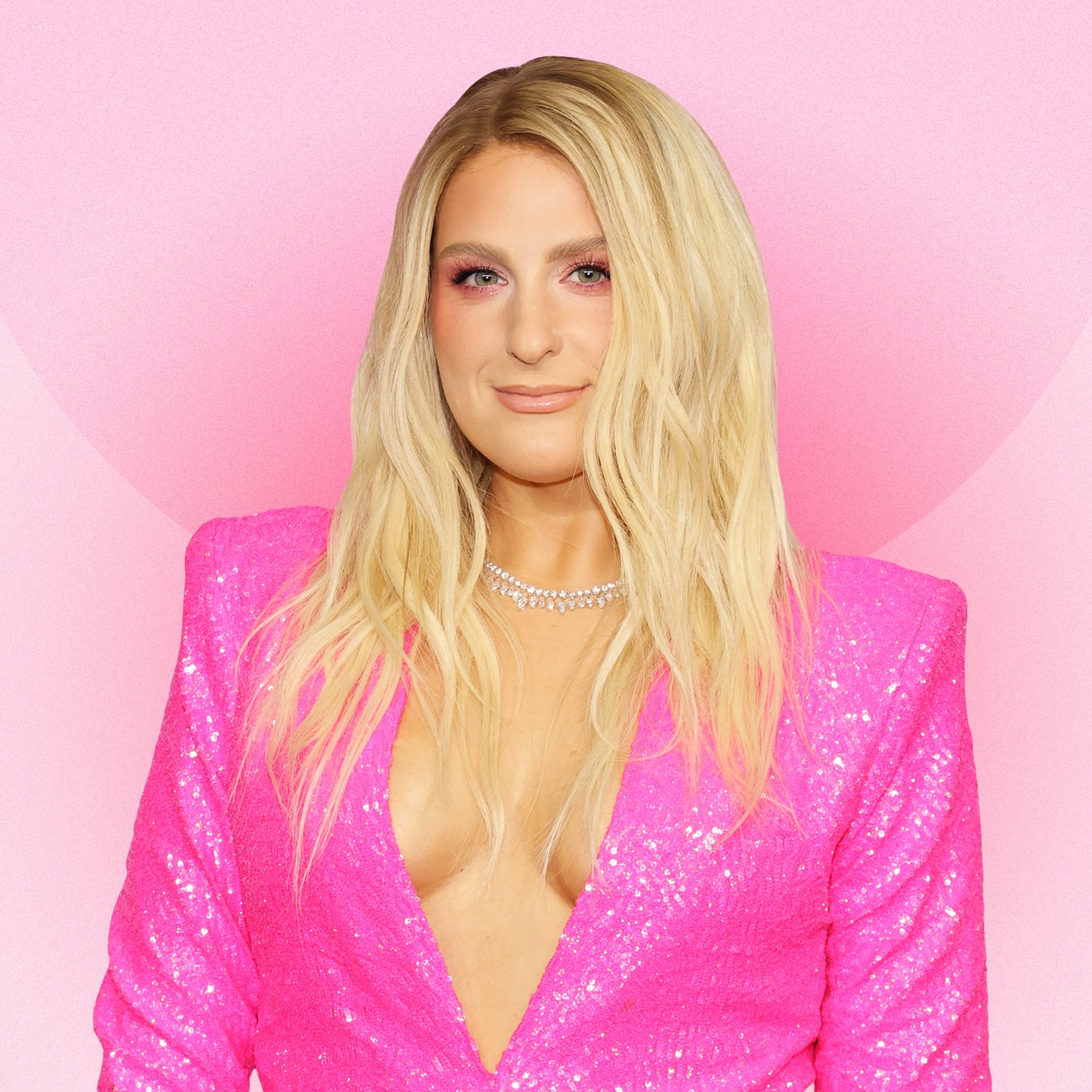 While some celebrities prefer to stay tight-lipped about things like past relationships, pubic hair, and their sex life, Meghan Trainor addresses all of it and more, head-on. The "Mother" singer is an open book, quite literally in her new novel, "Dear Future Mama."
The same goes for her beauty routine, too, especially her hair. She's not going to put on airs and tell you she's always been perfect, never needing extensions in her life. That's why she partnered with hair-care brand Nexxus for its new Unbreakable Care Collection, which features a shampoo, conditioner, and thickening spray for thin, damaged hair.
"I'm someone that always has to take care of my hair because it was always thin," Trainor tells POPSUGAR. Pop star life and two pregnancies didn't help matters. She's straightened, curled, cut, and dyed it numerous times. "I went redhead to blond again, and lost like all of it," she says. "I went to a doctor and was like, 'Why won't it grow?'"
Pregnancy also changed her hair, as it does for many people — but both times were slightly different. "My first one — I thought my hair was growing because of all the vitamins I was taking," says Trainor. "Postpartum, that's when the chunks come out."
Now her first son is two and she has another baby on the way. She's by no means a master at this mom stuff (or the fame stuff), but she's learned that no one really is. "My confidence — that's one I'm working on all the time," Trainor says. Her family — specifically her husband, Daryl Sabara, who she calls her "number-one cheerleader" — and her fans are her two biggest sources of it, but a good glam team doesn't hurt. "I get it in moments when I get to get all dressed up — good hair gives me confidence."
Sometimes the best way to learn is to do, which is something Trainor discovered during her two months in Australia as a judge on "Australian Idol." Though she had a hairstylist with her, she opted to do her own makeup for the tapings. "I didn't know makeup went on your eyebrows — I didn't know anything about makeup before," she says. But after watching a pro paint your face for 10 years, you start to pick up on a few things.
That said, she did have an assistant of sorts. Her mom was backstage with her helping in any way she could. "My mom's so impressed," says Trainor. "She's like, "Think about you in high school," when I'd do just dark eyeliner on the waterline and that's it." But in Australia, fully on her own to create TV-ready looks, she even dabbled in crystal eye makeup. "[My mom] would wet the sponge for me before, and get it all organised — I couldn't have done it without her."
"I get it in moments when I get to get all dressed up — good hair gives me confidence."
Working with celebrity hairstylists and makeup artists, you start to learn what's what, but she stays a drugstore girl. "The mascara's always better there," she says. That's also where she can pick up a bottle of the Nexxus Unbreakable Care Root Lift Hair Thickening Spray ($16) — which she says makes her hair "nice and thick and sturdy" — and the E.l.f. Halo Glow Liquid Filter ($14), because "E.l.f. has been popping off."
Trainor's done a lot beauty-wise over the years (see: heart-shaped pigtails for proof), but there's one look she's still mustering up the courage to try for real. "I want pink hair — since like high school," she says. And she's not just talking about a fun wig moment or some clip-in extensions. "I wanna wake up and just see pink."
Image Source: Getty / Amy Sussman and Photo Illustration: Aly Lim